social
What if Bollywood secretly produced an 'Avengers' film in the '80s?
Insta artist's AI-reimagination of Amitabh Bachchan as Captain America, Anil Kapoor as Iron Man and more
Published 02.10.23, 09:07 AM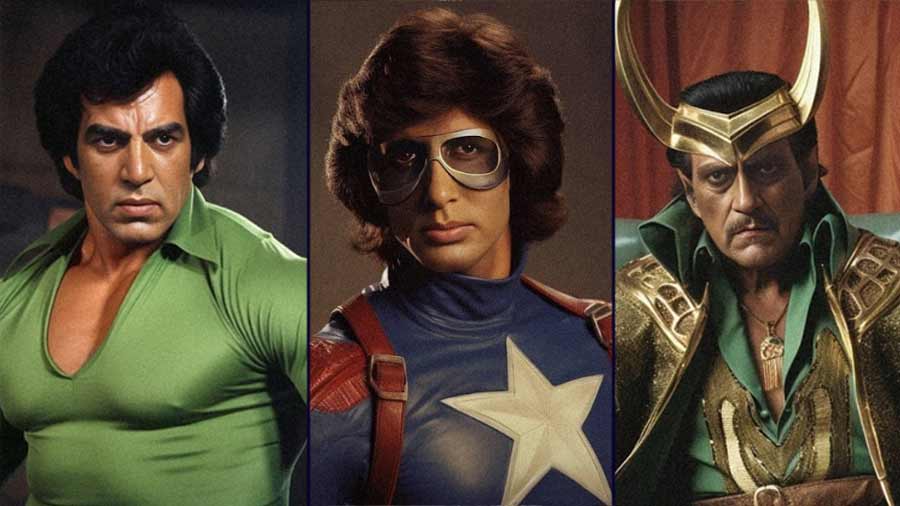 Image courtesy: @manojomre/Instagram
Male leads in 1980s Bollywood weren't just considered to be actors. They were 'heroes'. Visual artist Manoj Omre (@manojomre) has lit up Instagram yet again with his AI art, reimagining the most popular actors of the era as a part of their own Avengers movie.
In the mix are Amitabh Bachchan as Captain America, complete with the iconic glasses and the padded suit; Dharmendra as the bulked-up Hulk; Sanjay Dutt as Thor, equipped with a typical '80s hammer; a goatee-wielding Anil Kapoor as Iron Man; and Bollywood's biggest baddy, Amrish Puri, playing the God of Mischief, Loki.
The comments section has gone even crazier, with people sprouting innovative suggestions like Hema Malini as Wanda and Rekha as Black Widow!
— Vedant Karia
Want to get featured in the Try This Today section of My Kolkata? Mail us at trythistoday@tt-mykolkata.com