register
Learn all about the art of boxing from Shahrukh
Sign up for the session ASAP
Published 03.06.23, 09:08 AM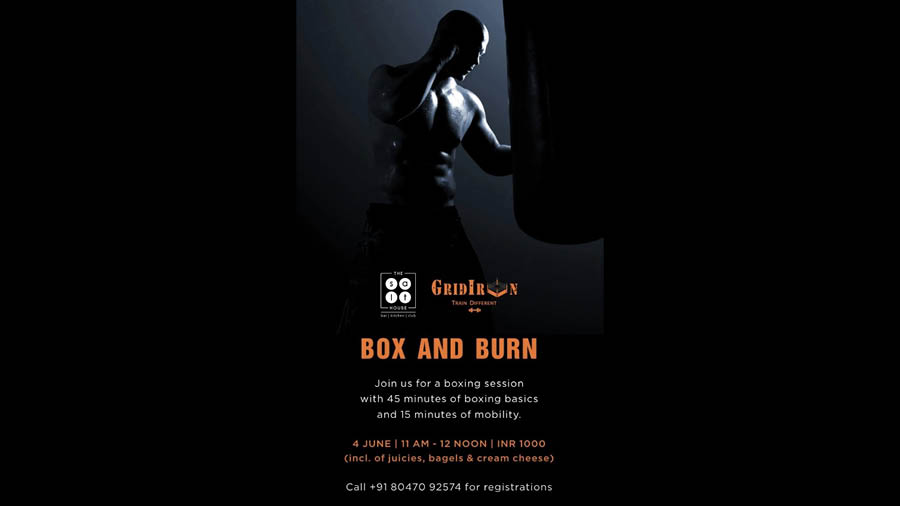 Image courtesy: @gridiron_official
While The Salt House on Shakespeare Sarani is known for its out-of-the-box events, the diner is now hosting a boxing session for beginners, called Box And Burn. Conducted by boxer Shahrukh of Gridiron Fitness Studio, on June 4, 11 am to noon, the trainer will first train the clients for a 15-minute mobility session followed by the basics of boxing. Along with the fun, fitness activity, the event will also be serving up juices, bagels and cream cheese.
Shahrukh, an MBA graduate specialising in marketing, discovered his true passion for boxing. In 2017, he made the brave decision to leave his corporate job and pursue a professional career in boxing. Since then, he has participated in various state and national-level tournaments, showcasing his skills and dedication. In addition to his competitive journey, Shahrukh established Gridiron Fitness Studio. The primary aim of the studio is to enhance people's lives through fitness and boxing. With their motto 'Train Different,' the studio strives to offer a unique blend of fitness and boxing tailored to suit their client's needs. Their goal is to provide the best of both worlds and make a positive impact on the individuals they serve.
To sign up call on +91 8047092574, Rs 1,000 (INR) per person.
— Urvashi Bhattacharya