listen
'Tu Jhoom' by Abida Parveen and Naseebo Lal
Coke Studio's 14th outing opens with a soul-stirring message of hope
Published 18.01.22, 08:14 AM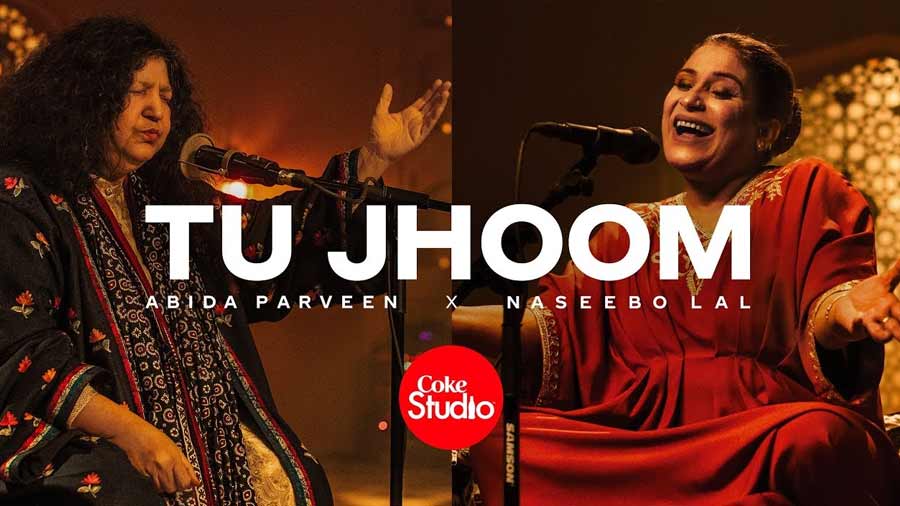 Image courtesy: YouTube
Produced by the Hum Zalmi hitmaker – Xulfi – Tu Jhoom is a soft, hypnotic tune that steps away from his usual roaring, aggressive numbers. Naseebo Lal's high crescendos perfectly complement Abida Parveen's rooted vocals, resulting in a bizarre, blissful collaboration that leaves listeners mesmerised.
The music video to the tune is equally intoxicating. An ode to India's roots – Lal and Parveen are shot as the stars of the clip, in a halo of red, amidst silhouettes of break dancers and an angelic choir. Lyrically, Tu Jhoom oozes messages of hope for young listeners to forget the trying times of the past and move forward to a better tomorrow.
What about this tune has netizens in an uproar? The calming notes, its salient message of hope or the unbelievable combination that is Lal and Parveen? Tune in and find out.
- Lygeia Gomes