laugh
Vagmita Singh takes us on a hilarious ride to 2050
Here's what she has to say on the future of parenting…
Published 09.06.23, 09:14 AM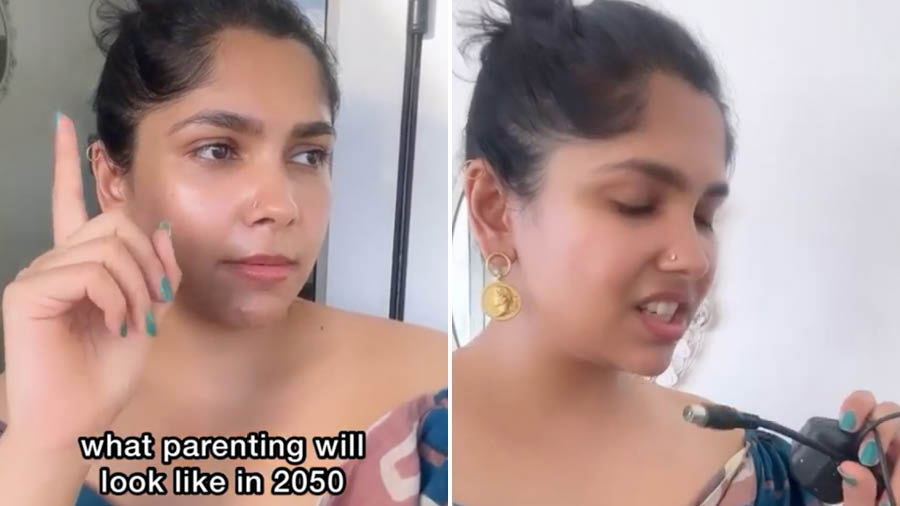 Image courtesy: thatindianchick_ /Instagram
Get ready and fasten your seatbelts because @thatindianchick_ just dropped a mind-blowing reel that takes us straight into the future of parenting! In her hilarious video, she gives us a sneak peek into what the year 2050 might look like for all the moms and dads out there.
Digital Creator Vagmita Singh hilariously imagines a world where our little ones have robotic BFFs, go on dates with AI partners, and embark on school trips to Neptune. Can you picture it? Kids strolling hand-in-claw with their robot pals, while discussing the latest intergalactic gossip? She surely gives a vivid picture of how youngsters in 2050 will be living the futuristic dream.
But wait, there's more! @thatindianchick_ playfully pokes fun at the inevitable confusion of having robot friends around the house. Is that charger lying around the living room meant for your kid's phone or their robotic buddy? It's a tech-filled mystery!
So, get ready to giggle and let your imagination run wild watching this video.
— Ananya Kesh