laugh
Pet parents, have you seen these people-doggo interactions?
This hilarious reel encapsulates every kind of relative-dog relationship, from the overly affectionate to the excessively paranoid
Published 28.09.23, 09:11 AM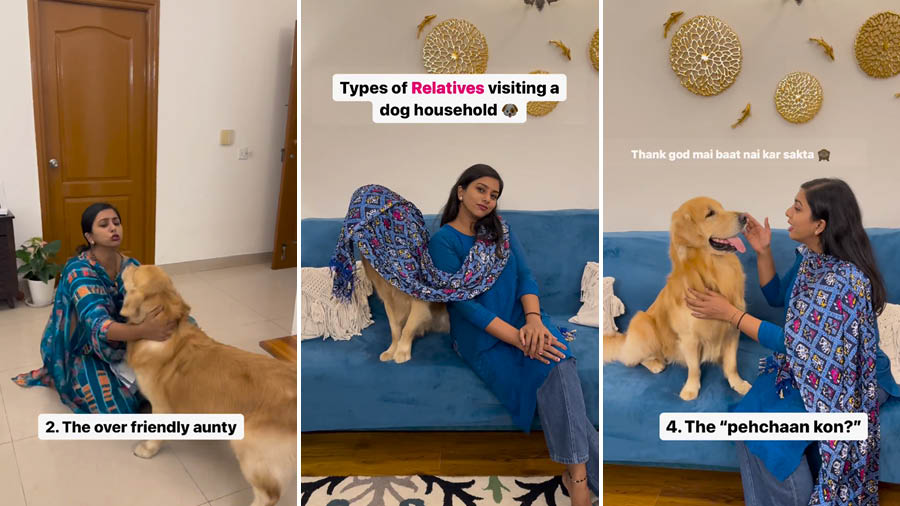 Image courtesy: @thepawsomelifeofmurphy/Instagram
If you're a dog parent, you have probably witnessed some interesting interactions when someone visits your home and meets your furry resident. Your pawsome buddy's interactions with relatives are sure to be contrasting, each one equally hilarious. Aishwarya Nair Shetty (@aishwarya_nair_shetty) and her furry friend Maffu (@thepawsomelifeofmurphy) created a hilarious reel with a detailed representation of all these moments. From the ones who channel their inner Usain Bolt the moment they hear a dog bark, to those who lock dogs into a hug with the gusto of an insecure boyfriend, and the ones who come bearing so many gifts that they might as well own a stake at Archies'. Which ones have you witnessed?
— Vedant Karia
Want to get featured in the Try This Today section of My Kolkata? Mail us at trythistoday@tt-mykolkata.com