laugh
Is your 'desi' mum a champion at bargaining just like this one?
Every mommy loves a good bargain — especially when shopping
Published 22.09.23, 09:33 AM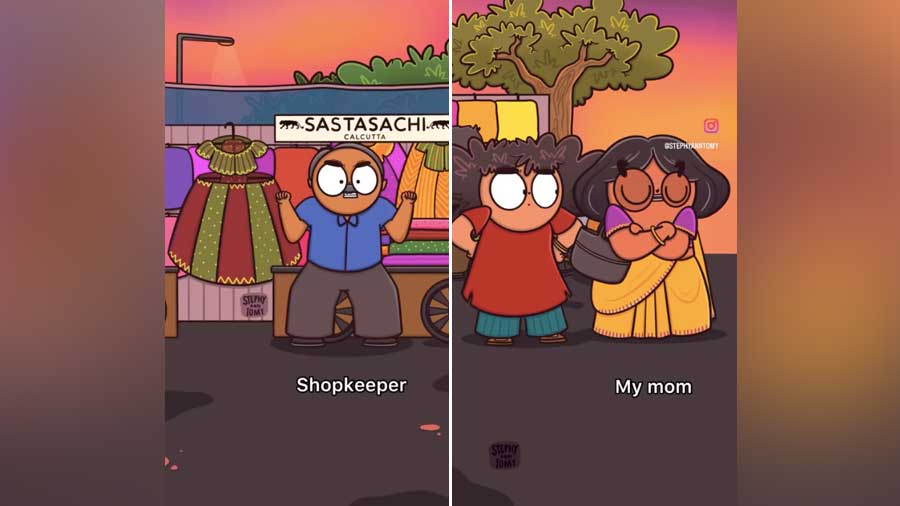 Image courtesy: @stephyanntomy/Instagram
From Rs 5 crore to Rs 150 — that's the kind of jump you'll see when a desi mum bargains. It's almost Durga Puja time and as shoppers throng the markets and malls, Stephy Ann Tomy's reel on shopping with mum is all things relatable.
When a desi mother sets out for shopping and bargains like a boss, a 'Sastasachi' lehenga can go from crores to hundreds. The currency value might not do a nosedive but the price of your purchases surely will in this scenario.
Popular cartoonist content creator Stephy Ann Tomy (@stephyanntomy on Instagram) brought this real-life hilarious (in hindsight) scenario to life with a recent animated reel. While we are LOLing at the "Moms have zero chill while shopping😂🤌🏽" scene by Stephy, the expression on the child who has in all likelihood been "asked" to join the mum on her quest, is undoubtedly the most relatable part of it. We've all been there! Until you crossover to the dark side — mum's side — this one will make you chuckle with a sniffle.
—Pooja Mitra
Want to get featured in the Try This Today section of My Kolkata? Mail us at trythistoday@tt-mykolkata.com