groom
Sport a sari the spunky way like Sujata of Suta
The fashion ace dropped a drape reco, and we are saving it now!
Published 21.11.23, 10:01 AM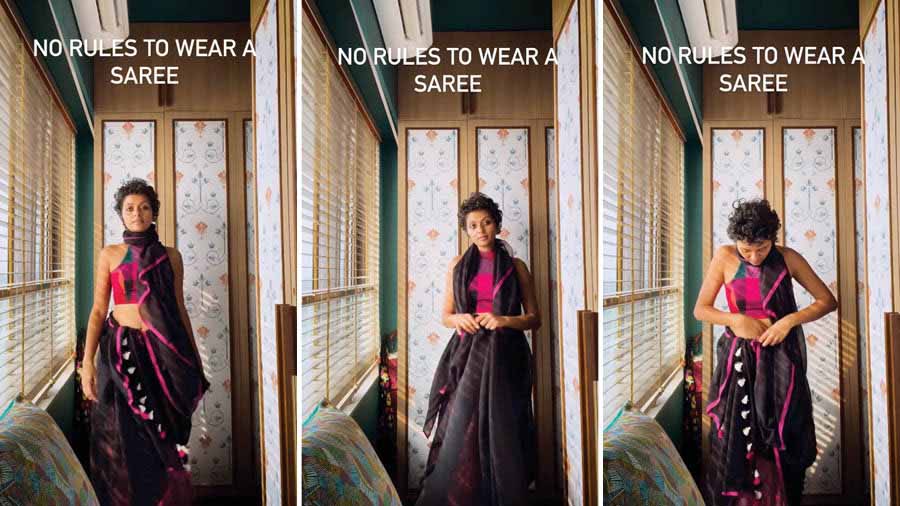 Image courtesy: @sujatabiswas86/Instagram
SuTa sister's Sujata Biswas has a snazzy sari draping recommendation, and it's so fetch! The fashion designers grooved and moved M.I.A's trending song Time Traveller, and slipped into a sari over a palazzo. Teamed with a gamchha print top, the non conventional style is fashionable, and great for days when you want to break the rules. With the wedding season on and the nip in the air setting in, trying out wearing sari the Sujata-way for the functions and dates can lead to quite a few snapshots for the 'gram.
"​​Saree is a mood: You ask me, what's the formulae to drape a saree! I say there is none! Do what your heart tells, go with the FLOW!! ☺️…" wrote Sujata on Instagram, with the reel.
— Pooja Mitra
Want to get featured in the Try This Today section of My Kolkata? Mail us at trythistoday@tt-mykolkata.com