groom
Nyveda x Phool Co has perfect festive TLC hampers
Pre Durga Puja TLC kick-knacks are here for your and your loved ones
Published 22.09.23, 09:33 AM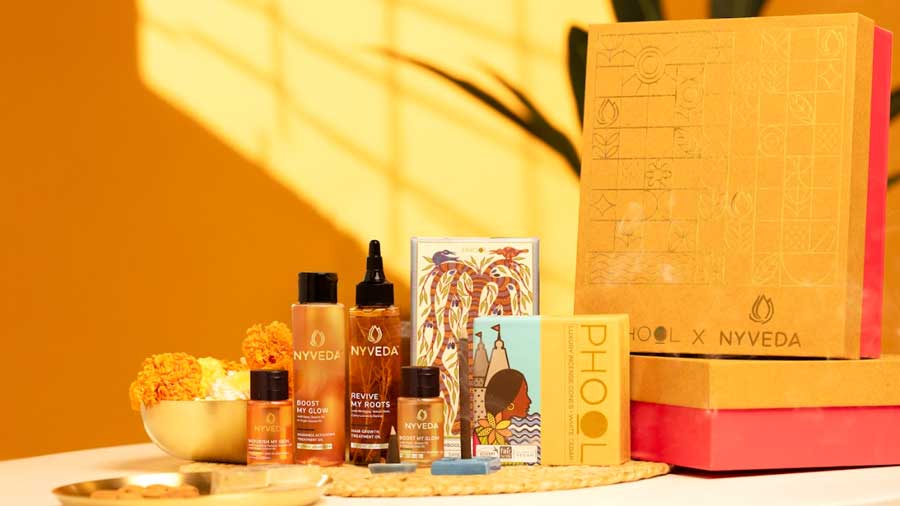 Image courtesy: Nyveda x Phool Co
While you have picked the OOTDs and OOTNs for the days of Durga Puja, have you selected your TLC-musts? Nyveda — the Ayurvedic beauty and wellness brand from the house of Nykaa — and collaborated with sustainable lifestyle brand Phool Co to curate indulgent hampers. These gift sets have picks from both brands to create a little wellness experience of your own at home.
The Nyveda X Phool - Body Care Festive Gift Set Limited Edition and the Nyveda X Phool - Hair Care Festive Gift Set Limited Edition have items like incense cones and sticks, along with body and hair products like oils, body wash and shampoos. After a long day at work, rejuvenate by lighting the incense and indulging in a relaxing time with a massage and some deep cleansing.
The two gift sets are priced at Rs. 1499 and Rs. 1399 respectively, and are great gifting options too. If you are looking for organic and eco-friendly products for yourself and your loved ones, check this one out!
You can add them to your cart here.
—Pooja Mitra
Want to get featured in the Try This Today section of My Kolkata? Mail us at trythistoday@tt-mykolkata.com