eat
Dig into this heavenly bowl of pasta today
It's creamy, luscious and oh-so wholesome!
Published 18.11.22, 05:48 AM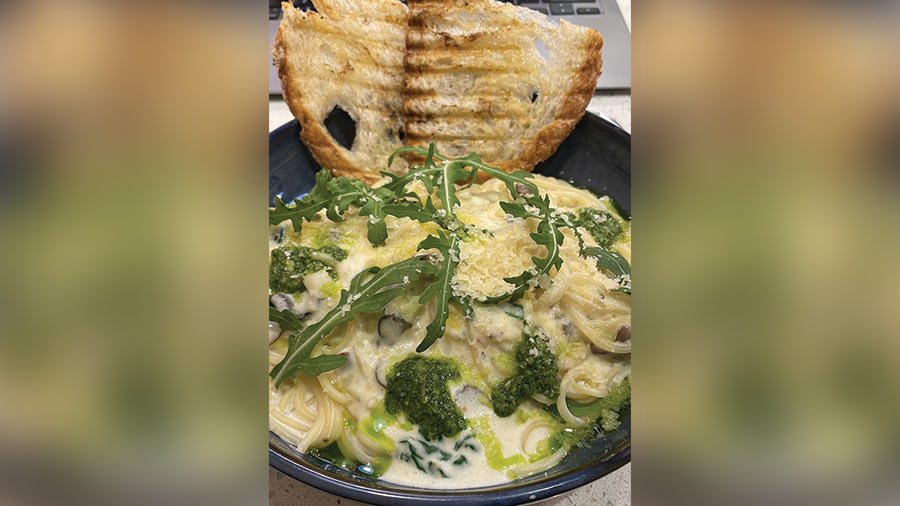 Image courtesy: Aatreyee Mohanta
Carbs are really sinful, at least pasta surely is! If you find yourself working out of Blue Tokai Coffee Roasters, this bowl of Spaghetti in Mushroom Florentine will satisfy your hunger pangs in no time. Perfectly al dente spaghetti gets lathered with a creamy mushroom sauce, which simply makes it irresistible. The bowl of pasta also has hints of green with blanched spinach that add a bright freshness to the otherwise rich bowl of carbs. They also pour generous spoonfuls of pesto onto your bowl, which helps cut through the luscious sauce, giving it just the right touch of umami. Fresh arugula leaves also add the much-needed subtle peppery notes. The bowl is dusted with parmesan cheese, which melts as you swirl your spaghetti around. It is served with bread — toasted and crunchy with a slight tang from lemon juice. What's not to love?
— Aatreyee Mohanta