eat
Burma Bombe at Burma Burma
Location: 18 M, Ground Floor, Stephen Court, Park Street
Published 19.10.21, 08:28 AM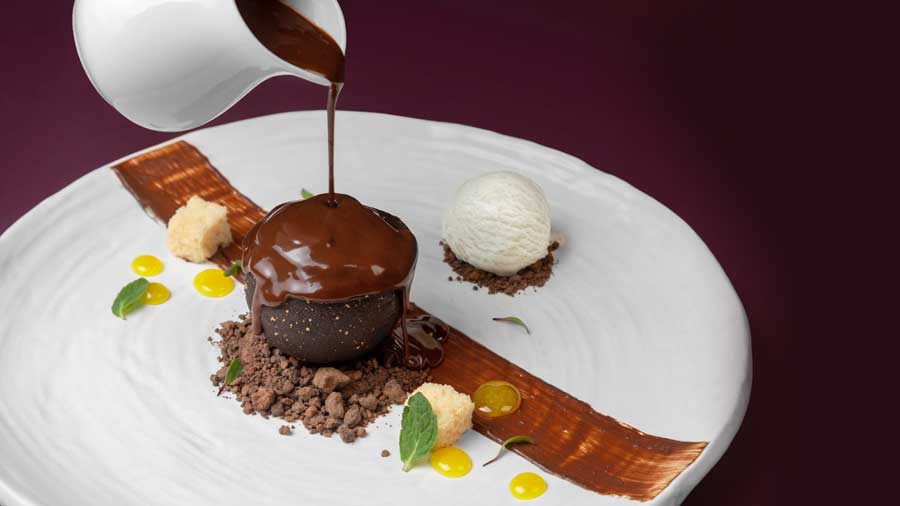 Image courtesy: Burma Burma Facebook page
It's time to bid adieu to Burma Burma's extravagant Burma Bombe, as the tea room and diner prepares to say goodbye to some of its standout desserts to make room for new additions. Pastry chef Vinesh Johny (also the founder of Lavonne Academy) had curated the original line-up for the award-winning Burmese diner that has its Kolkata outpost in Park Street; the new menu (also by Johny) is set to be unveiled by next week.
This means Kolkatans have a week to indulge in the spectacle of the dramatic Burma Bombe – a chocolate and almond dome entirely made of smooth chocolate mousse, sea salt caramel, moist chocolate cake seated on a bed of chocolate sand and roasted almonds, topped with piping hot caramel sauce that melts the chocolate shells and peels them open. The salty caramel is the perfect accent to the subtle sweetness of the chocolate, and the vanilla ice cream on the side makes for a great addition. The imploding chocolate sphere is Instagram's favourite dessert trend that makes for the most incredible reels or boomerangs. The Park Street venue also boasts a live dessert bar where you can experience your confections being assembled in real-time!
Dig into the Burma Bombe as many times as you can this week!
-Ujjainee Roy