drink
Ring in World Cocktail Day with these Tiki-inspired cocktails
A little fruity and a whole lot tipsy!
Published 13.05.22, 07:27 AM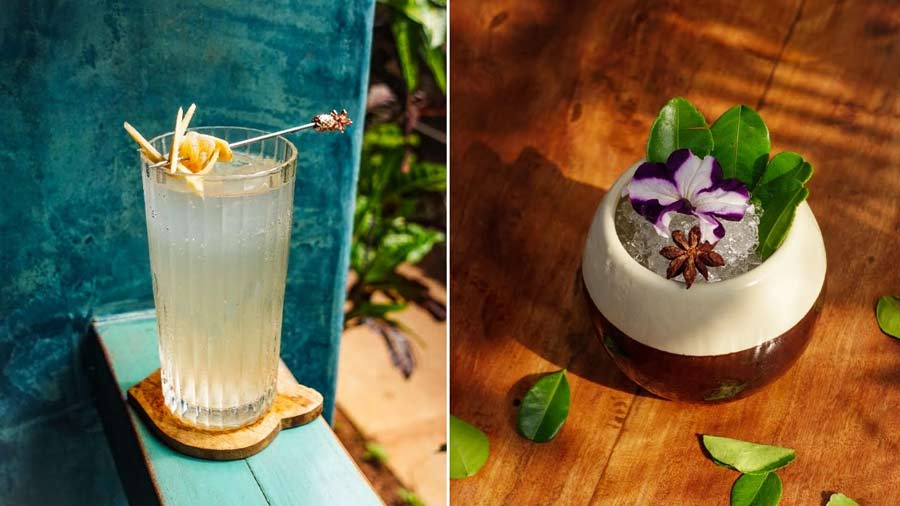 It's World Cocktail Day! If you're staying in, splurge on a bottle of white rum and explore some fruity, Tiki-inspired mixes at home.
Lono's Benedictine
Ingredients
Maka Zai White Rum (or any white rum) - 45ml
Falernum liqueur - 15ml (a sweetened lime and spice concoction that was created in Barbados somewhere between 1826 and 1930. You'll see both syrups and liqueurs referred to as falernum, but the key ingredients are always lime zest, cloves, and sugar—usually combined with ginger and almonds or almond extract.)
Fresh Lime Juice - 15ml
Kaffir lime syrup - 10ml
Kaffir lime - 3no.
Herbostura bitters- 3 Dash
Garnish- Kaffir lime, edible flowers and Star Anise
Method
In a shaker tin, add all the ingredients, stir it well and then add ice and shake it well.
Strain and pour the shaken mix into a chilled old fashioned glass.
Fill up the mug with crushed ice and garnish it with fresh kaffir lime leaves, edible flowers, and star anise.
Viva Ridley
Ingredients:
Maka Zai White Rum (or any white rum) - 60ml
Ginger syrup - 10ml
Salted Lemonade - 90ml
Garnish - Ginger candy
Method:
In a chilled highball glass, fill it up with ice.
Pour a double shot of white rum, add about 10ml of spicy ginger syrup and top it up with your favourite lemonade.
Garnish it with ginger candy.
Recipe courtesy: Stilldistilling Spirits