drink
Slurp and scoop your fruity sangria with this easy sorbet recipe
Pour it in a glass or indulge in a frozen boozy treat with @crowded_kitchen's Sangria Sorbet
Published 23.09.23, 09:32 AM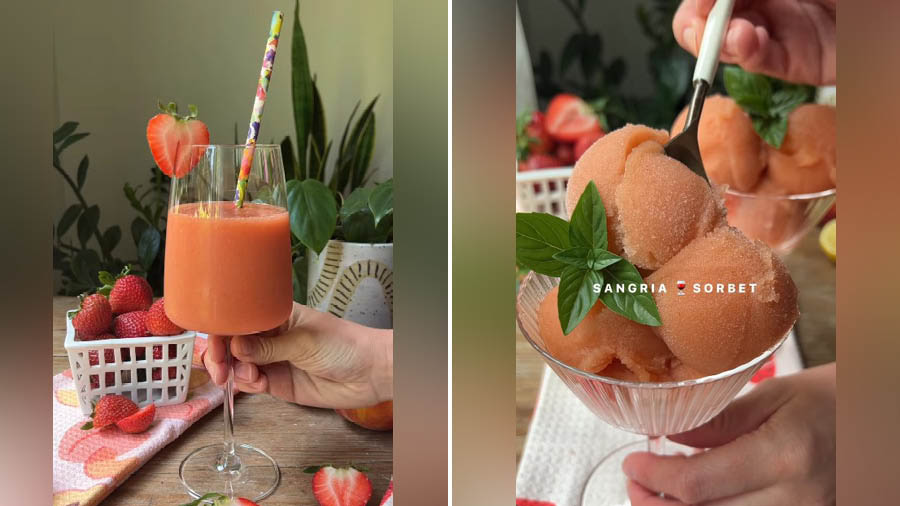 Image courtesy: @crowded_kitchen/Instagram
It's a cocktail, it's a sorbet. Well, it's both! Festive season means a lot of entertaining at home, and if it is a fun gathering, having a handy recipe for some not-so-sweet desserts that the adults will enjoy is a bonus. If still you're undecided on what to serve guests, @crowded_kitchen on Instagram has the perfect recipe for a fruity cocktail and a boozy dessert all in one.
The mother-daughter duo from Michigan is known to whip up interesting dishes with a unique twist, and our current favourite is their Sangria Sorbet. Comprising just four ingredients, this dish is very easy to make. All you need is fruits of your choice, your favourite white wine, a blender and some lemon.
The best part? It can be enjoyed both as a sangria slushy, and relished as a sorbet upon freezing!
— Vedant Karia
Want to get featured in the Try This Today section of My Kolkata? Mail us at trythistoday@tt-mykolkata.com