cook
Have you ever made the Kothamalli Kaara Podi?
Up your culinary game with a secret spice blend
Published 26.06.23, 09:10 AM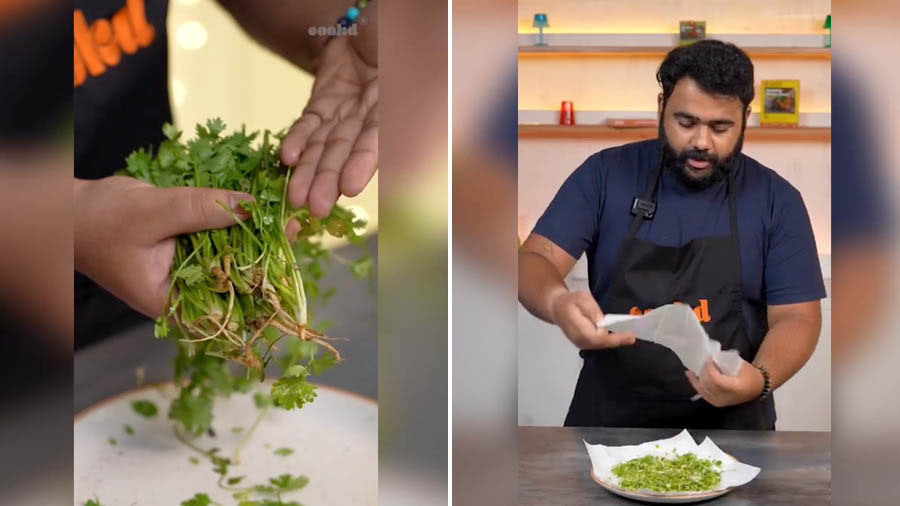 Image courtesy: @cookdtv/ Instagram
Are you ready to embark on a flavourful adventure that will tantalise your taste buds? Just try this secret ingredient that has been captivating kitchens for centuries — coriander! Thanks to the culinary genius of @cookdtv, we've been granted a sneak peek into the magical world of Kothamalli Kaara Podi, a spice blend that will add a zing to your meals.
With just a few simple steps, this recipe unlocks the true potential of coriander. Starting with the root and stem, @cookdtv guides us through the process of preparation, ensuring we get the most out of this versatile herb. A bit of washing and drying sets the stage for the real magic to happen. The aroma starts to fill the kitchen as we witness the art of dry roasting. The beauty of Kothamalli Kaara Podi lies in its versatility. A sprinkle of this flavour-packed powder can turn a simple bowl of rice into a gourmet delight. Paired with a dollop of ghee, it's a match made in heaven. Let this reel be your guide as you unlock the hidden potential of coriander and experience a symphony of flavours in every bite.
— Ananya Kesh