cook
The mutton kacchi biryani recipe to cook, eat and repeat
For all the biryani lovers in the house!
Published 25.05.22, 06:03 AM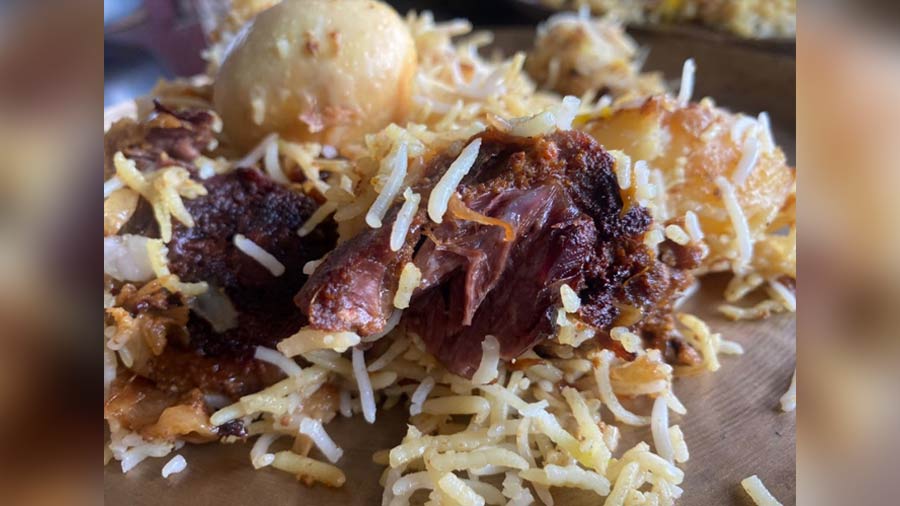 Image courtesy: Pooja Mitra
Biryani is all 90% love and 10% labour and this flavourful kacchi biryani just proves our point. If you're hosting friends this weekend, skip the take-out and surprise your friends with an easy home-cooked biryani!
Ingredients
1 kg mutton (non-lean meat)
1 kg biryani rice
8 big potatoes, cut into half (optional)
4 eggs (optional)
4 large onions chopped
5-6 tablespoons of ginger-garlic-green chilli paste
2-3 tablespoons of whole or powdered cumin and coriander paste
2-3 tablespoons of tomato-whole red chilli and 1 tablespoon red chilli powder paste
5-6 tablespoons of curd (preferably hung)
Salt
Turmeric powder
Red chilli powder
Sugar
1 tablespoon rose water
1 tablespoon kewra water
1-2 drops of biryani attar
1 teaspoon kesar
1 small cup of milk (preferably full fat)
250gm ghee
1 small cup of atta
15 gm garam masala
Process
(Preparation)
Marinate the mutton with salt, red chilli powder, turmeric powder, ginger-garlic-green chilli paste, cumin-coriander paste, tomato-red chilli paste, half of the chopped onion, hung curd, 3-4 tablespoons ghee. Keep aside for at least 2 hours

If you love your aloo and egg in biryani, marinate them with a pinch of salt, turmeric powder and red chilli powder and deep fry till golden. Don't forget to poke some holes in the potato

Wash the rice and cook with salt to taste till the point when the grains are half-cooked. Add whole garam masala in a potli or in a tea infuser while cooking the rice. Drain the water and set aside

Meanwhile, make the birista with the remaining chopped potatoes and keep it aside. This will be used in biryani layers and as garnish

Mix the Kesar strands in milk and keep aside

Pour the rice into a container that has a lid and stir periodically

Make a roti dough out of the atta and keep it covered
Cooking the biryani
Now, that the meat is marinated enough and rice is half-cooked, grease the biryani handi with ghee. Pour 5-6 tablespoons of ghee at the bottom of the container so the ingredients do not stick to the bottom or burn

The bottom layer of the biryani is would be the marinated meat. Don't forget to add the leftover masala mix over the mutton for a succulent outcome

The next layer would be half of the rice. Over this layer, add the potatoes and eggs, as well as a few spoons of the kesar, a little birista and milk. Add 1 drop of biryani attar, one teaspoon each of kewra and rose water. Don't forget to add 4-5 spoons of ghee (you can mix it with sunflower oil if you prefer). Check salt and add some if required. Sprinkle a pinch of sugar

The topmost layer would be the remaining rice. Pour the remaining kesar and milk, add a little bit of attar, 5-6 tablespoons of ghee, 1 teaspoon each of kewra and rose water. Top it off with the birista you made. Sprinkle another pinch of sugar and check salt

Make a semi-thick roll out of the atta dough and seal the lid with it

Cook on high flame for 5 minutes and on low flame for 40 minutes. Give a periodic shake every 15-20 minutes to the container to ensure the bottom layer is not burning. Remember, a good but gentle shake so the rice grains are intact

Serve smoking hot with mutton chaap, chicken chaap, raita or mutton kosha