cook
Sunday Classics: Dimer Devil
Afraid to eat out because of the pandemic? Bring that street food home!
Published 17.10.21, 12:10 AM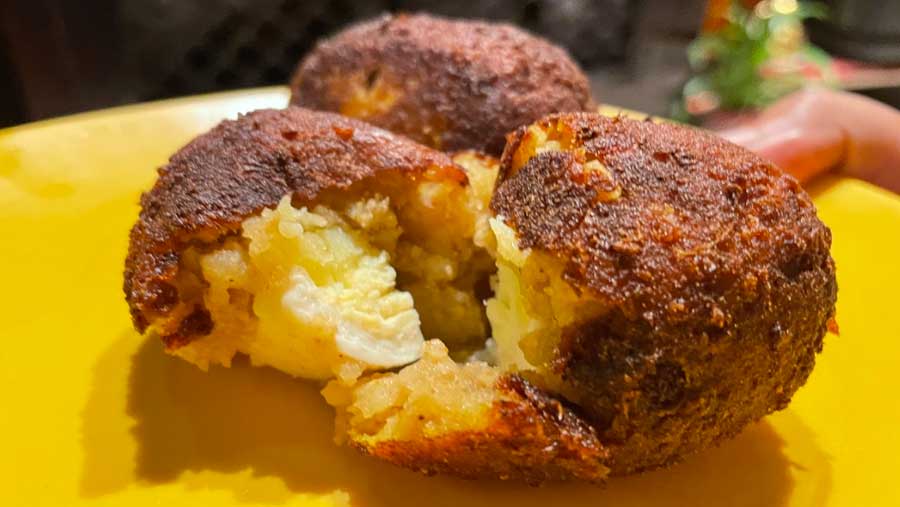 If you overdid the eating-out this Puja and are now finding it hard to go back to plain ol' home food, here's a recipe to recreate that classic roadside snack in the safety and comfort of your home.
Ingredients for 10 devils:
5 eggs, hard boiled (cut in half)
8 medium sized potatoes, boiled
2 slices of bread
1tsp dry mango powder
3 tsp roasted cumin powder
1 tsp red chilli powder
2 handfuls of bread crumbs
3 tbsp cornflour
Salt to taste
Method:
Mash the potatoes until smooth, add in all the spices and mix.
Wet the pieces of bread with water, squeeze the water out and mix into the potatoes. This will help bind the mixture to the egg.
Make a flat patty out of the potatoes and put the egg in the centre. Fold the patty around the egg.
Dip the coated egg into a mixture of cornflour and water, and roll in bread crumbs.
Fry till golden brown and serve hot!
- Aatreyee Mohanta