cook
Summer Fro-yo — a fruity dessert that'll refresh you instantly
Revisit your childhood with every spoonful of thai delish delight
Published 17.06.23, 09:12 AM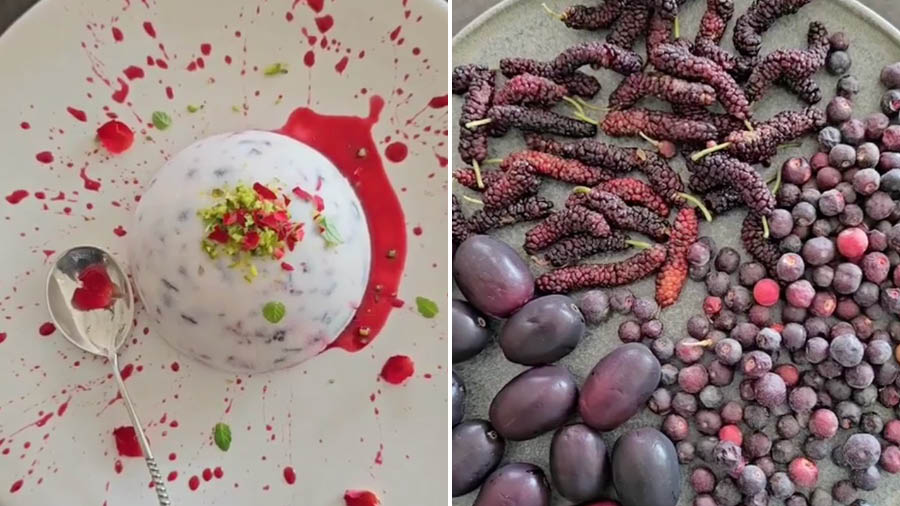 Image courtesy: @supaintsonplate/Instagram
Step into a world of whimsical flavours and childhood nostalgia with Surabhi Sehgal, the creator and PlantForward Chef. She has concocted a summer sensation that will transport you back to the carefree days of sticky fingers and sun-kissed laughter. So, brace yourself for a tantalising twist on a classic treat: the Summer Fro-yo.
Picture this: a vibrant medley of jamun, shahatoot, and phalsa, lovingly handpicked from the local vegetable market. These fruits, long forgotten by many, hold a special place in Surabhi's heart. With a sprinkle of kala namak, the magic ingredient that adds a savoury surprise, she transforms a simple frozen yoghurt into a masterpiece.
And for those embracing a vegan lifestyle, Surabhi Sehgal ensures that her Summer Fro-yo recipe is inclusive and adaptable. Simply substitute plant yogurt for dairy yogurt and replace honey with agave, sugar, or your preferred sweetener for a delightful vegan twist. Try it today.
— Ananya Kesh