cook
Easy peasy 'maacher chop', anyone?
Looking for a mid-week munchy?
Published 21.09.22, 05:40 AM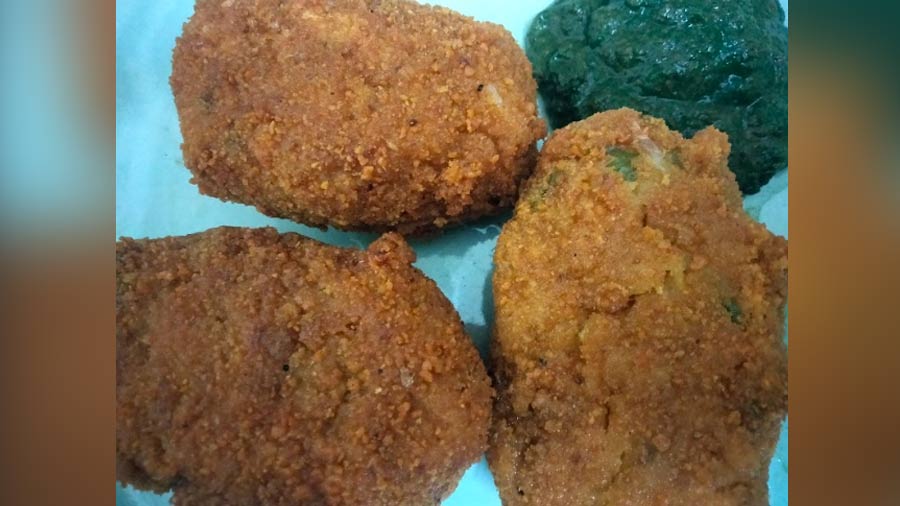 Image courtesy: Pooja Mitra
Is the rain dampening the pre-Puja spirit? Well, while some things are beyond us, and some things aren't. But fret not, a maacher chop recipe, which can be made in under 40 minutes, is an instant mood-lifter . Add some cha on the side and some kasundi, and you're set to chase the blues away.
Ingredients:
Rui or Katla: 300 gm
Boiled potatoes: 2 large
Finely chopped onion: 1 large
Finely chopped green chilli: 2
Finely chopped coriander leaves: 3 tablespoons
Finely chopped tomato: ½
Roasted coriander and cumin powder: 1 tablespoon
Blackpepper powder: 1 teaspoon
Lemon juice: 1 tablespoon
Ginger and garlic paste: 1 tablespoon
Garam masala powder: ½ teaspoon
Red chilli powder: 1 teaspoon
Turmeric powder: 1 teaspoon
Bay leaf: 1
Green chilli: 1
Salt
Sugar
Beaten eggs: 2
Bread crumbs: ½ cup
Chaat masala: 1 teaspoon
Recipe:
Marinate the fish pieces with a pinch of turmeric powder and salt
Boil the fish pieces with bay leaf and green chilli for one full whistle
Devein the pieces and set them aside
In a mixing bowl, take the boiled potatoes and mash into a smooth pulp
Add chopped onion, green chilli, tomato, coriander leaves along with salt, sugar, red chilli powder, turmeric powder, ginger and garlic paste, cumin and coriander powder and black pepper powder. Mix well
Now, squeeze any excess water in fish and add to the bowl
Also add garam masala powder and knead into a soft dough
Heat oil in a pan to deep fry the fish croquettes
Take a little bit of the filling in your palm and give desired shape
Coat each croquette in egg and bread crumb and deep fry till light brown
Drain excess oil, sprinkle chaat masala and serve hot
Tips:
You can also make this recipe with leftover fish or any fish or meat of your choice
Make sure that the potato and fish do not have excess water. That will make your croquettes soggy