cook
Whip up a delish Goan dessert with this easy recipe
Bebinca can be a great addition to your Christmas party menu
Published 15.12.22, 06:45 AM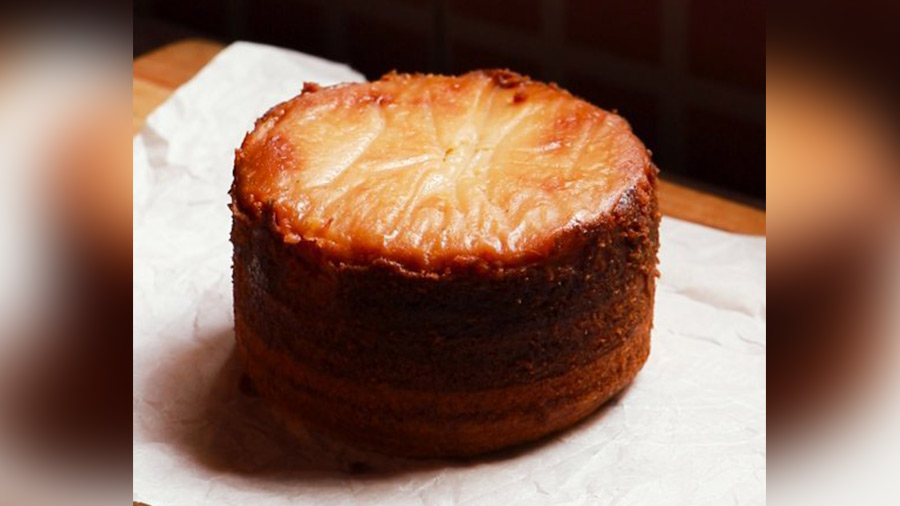 Image courtesy: Instagram
Are you working hard on what to serve your guests for Christmas dinner? Add Bebinca to the menu! This decadent, layered Goan dessert, known for its buttery flavour and caramelised notes, will be a unique addition to the list and it is very easy to make too.
Ingredients:
· 5 large egg yolks
· 150 gms powdered sugar
· 350 ml coconut milk
· 100 gms all-purpose flour
· 3 tbsp sugar +1½ tbsp water for caramel
· ¼ tsp grated nutmeg
· ⅓ tsp salt
· 3 tbsp melted ghee for the batter and some more to brush every layer
Method:
· To prepare the batter, whisk the egg yolks and sugar until you have a cake batter-like consistency. Add nutmeg, salt, and coconut milk and whisk again until all the ingredients have come together well.
· Sieve some flour into the mix and whisk. Add three tablespoons of melted ghee and whisk again. Strain the batter and divide it into two portions.
· To prepare the caramel, heat sugar and water in a pot. Keep the heat at medium. Once your caramel has got a nice colour, take it off the heat. Immediately mix it with one of the two portions of the batter.
· Take a circular baking tin and brush it generously with melted ghee. Pour ⅓ cup of caramel batter and bake the layer for 15 mins in a preheated oven at 180°C.
· Once the first layer is baked, brush the layer with ghee. Pour ⅓ cup of the batter without caramel on top of the first layer. Bake again for 10 mins. Once this layer is ready, brush it with ghee and pour the batter with caramel on top and bake. Repeat this process till your batter is finished.
· Bake the Bebinca for 20 minutes for the last layer. Once done, let it cool inside the oven for about an hour. Take it out and let it rest at room temperature for eight to 10 hours. Then demould the dessert, cut it into pieces, and serve.
Recipe courtesy: Binita Das (@__justanothercook__ on Instagram)
— Sohini Dasgupta