cook
Try this quick and easy salsa recipe, with a Turkish twist
Pavitra Kaur has a Middle Eastern treat that's a perfect side for your snacks
Published 27.09.23, 09:22 AM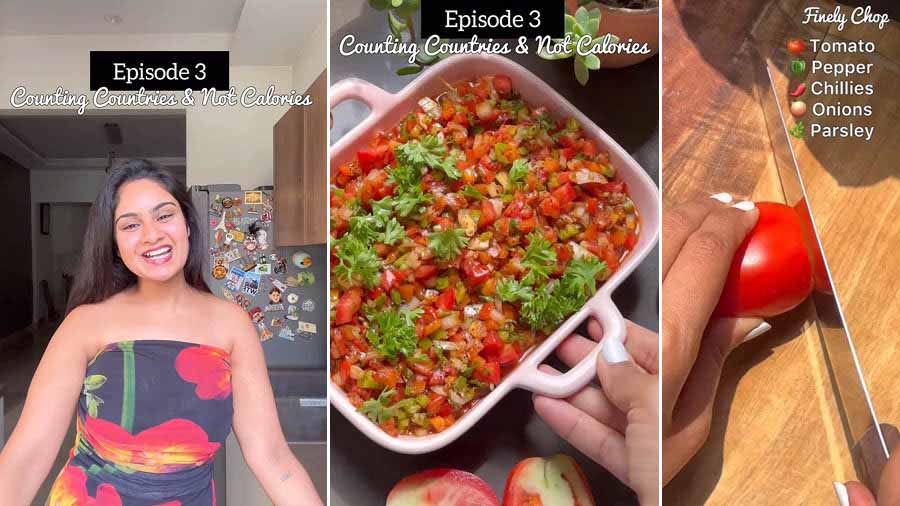 Image courtesy: @theclassyfoodophile/Instagram
Like multicoloured confetti in a bowl, this salsa recipe is worth a try, especially on movie and game nights. Pavitra Kaur (@theclassyfoodophile on Instagram) has a series on recipes from around the world, as part of her 'Counting Countries Not Calories' series and the latest offering is a tangy-sweet salsa, Turkey style.
Incredibly easy to make, the recipe involves just chopping and mixing and a bunch of ingredients that should be easy to source, or find alternatives for.
In the third episode of her world food series, Kaur stirs up this quick mix, which she says is also had as a salad in Turkey. All the regular salsa vegetables — tomatoes, peppers, onion, etc — go into the recipe but what makes it stand out is the dressing which has ingredients like pomegranate molasses and the spice sumac.
All you need is some nicely toasted bread — we recommend a good garlic sourdough — or some tortillas or chips, and you have a fantastic sharable dish for all those get togethers or even a date.
—Urvashi Bhattacharya
Want to get featured in the Try This Today section of My Kolkata? Mail us at trythistoday@tt-mykolkata.com