cook
Sunday Classics: The cheese-less pasta recipe we've been waiting for!
Your pasta doesn't have to be about the cheese, you know…
Published 13.03.22, 12:21 AM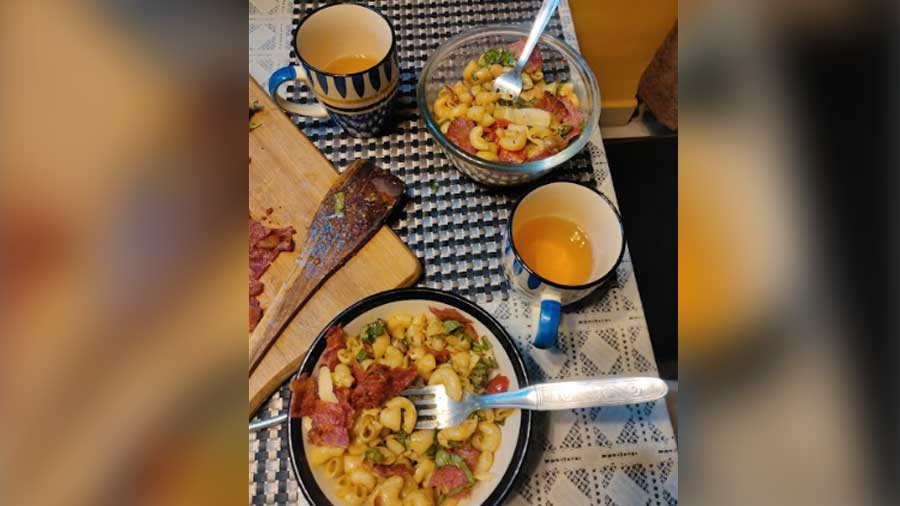 Are you a fan of bacon and mushrooms in your pasta but don't want a heavy cheese sauce? Here's a quick recipe for a bacon-mushroom-tomato pasta.
Ingredients
50-75 gm butter (try the herb and garlic version if you have some)
250 gm Penne pasta (fusilli works too)
Finely chopped garlic
6-8 strips of bacon (but indulge away if you want more)
One pack of button mushrooms
¾ pack of cherry tomatoes
A small bunch of fresh basil leaves
Salt and pepper to taste
Parmesan or cheddar cheese to grate on top
Tools
A ridged grill pan, if you have one
Method
Boil the pasta in generously salted water and add the mushroom stalks, basil sticks and some basil leaves to the boiling water. Drain the pasta when it is al dente, and save the water. Remove basil and mushroom stalks and mix through a dollop of butter or some olive oil to keep the cooked pasta from sticking to each other.
In a normal pan, add a generous helping of butter and fry some finely chopped garlic until golden brown. Put some extra if you like your pasta garlicky. Add the chopped button mushrooms and saute until mushrooms are lightly fried and golden brown. Chop into smaller pieces and keep aside (along with any butter in the pan)
Cook the bacon strips, without any oil, on the grill pan until crispy and set aside. Once all the bacon is cooked, add cherry tomatoes cut in half to the bacon fat in the pan and let it sizzle. Cook down the tomatoes until mushy and add some of the pasta stock.
Transfer to the frying pan and reduce down the sauce until thick and flavourful, add the mushrooms and cook down some more before adding the pasta and mixing through. Sprinkle some roughly chopped basil, and stir in the bacon pieces.
Serve with some freshly grated parmesan or cheddar on top
- Rumela Basu