Among the many popular tourist destinations in West Asia, Yas Island in Abu Dhabi is an oasis that's thrilling yet heartwarming and it gives you the experience of a lifetime. It makes your heart skip a beat, it makes you live on the edge, it makes you hold on to your dear life with all your strength and return with the desire of living Waterworldthat experience again and again. After all, it houses the world's fastest rollercoaster ride, the world's tallest indoor climbing wall, the world's largest theme park and many biggest and tallest stuff that act as a great escape from the mundane routine.
This first destination on our three-day itinerary was Warner Bros. World Abu Dhabi and it's nothing short of an alternative world or heaven of DC Superheroes and iconic cartoon characters. A major treat to the eyes, this world has a hypnotising effect on people of all ages and races. It's a mystical world of fictional characters we have loved on big and small screens. Bugs Bunny is the first one to greet you and even take a picture with you patiently at the Warner Bros Plaza, the central part of the theme park that transforms into a grand theatre playing a small movie that lifts up faces and makes one watch in awe, every time it plays occupying the ceiling and the faux architecture.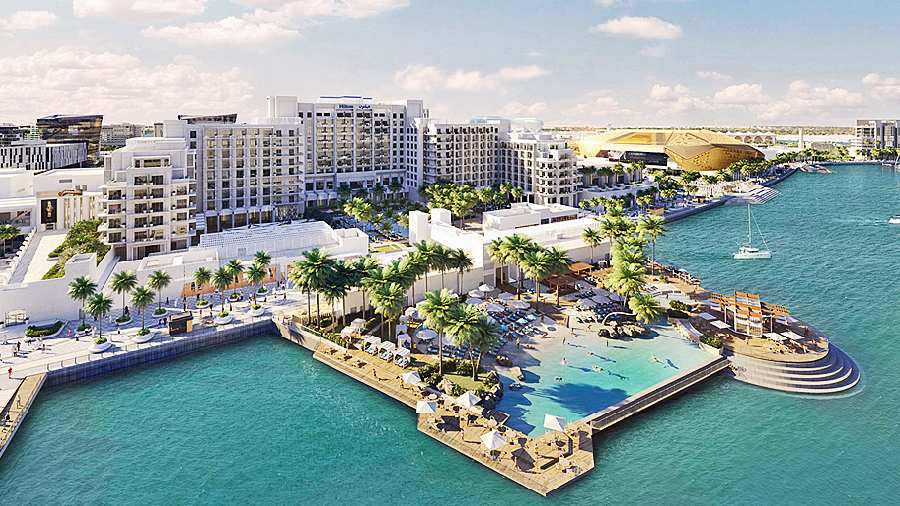 Ariel view of Hotel Hilton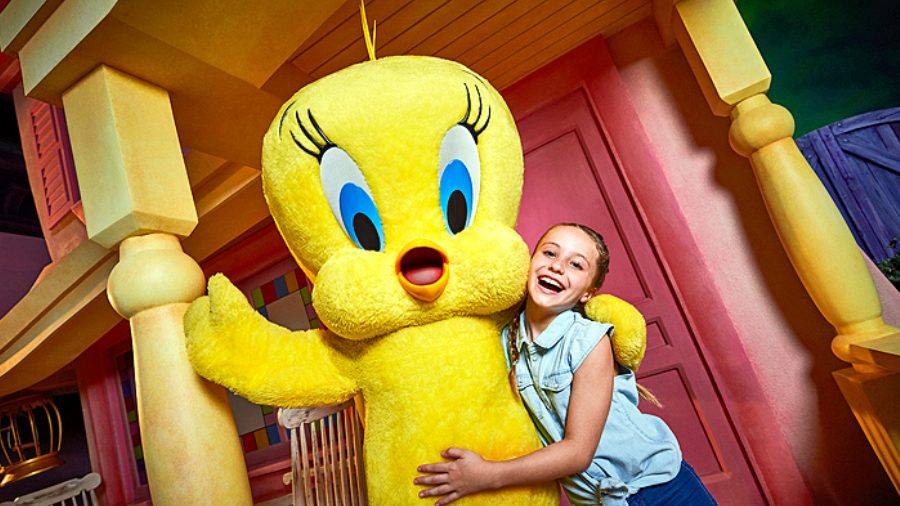 Glimpses of Warner Bros Abu Dhabi
Warner Bros. World is roughly divided into five zones — Metropolis, Bedrock, Dynamite Glutch, Cartoon Junction and Gotham City — and each of these sections offers experiences that make you go wow! At Metropolis we watched an action-packed short film on Superman 360 Degree: Battle for Metropolis; travelled across the cosmos to extraordinary worlds in an awe-inspiring flying theatre experience with Green Lantern: Galactic Odyssey, and joined DC Super Heroes in an epic face-off against one of justice league in a thrilling immersive ride. You will find Batman, Super Woman and Wonder Woman in this zone, obliging everyone with a picture. Gotham City's sinister music and façade, an overarching hue of black and red get on to your skin as soon as you enter the zone. This zone has a few thrilling rides which are certainly for thrill seekers. The Scarecrow Scare Raid and The Riddler Revolution will make you spin, roll and suspend mid-air, making it the scariest ride in the zone. The other attractions in this zone are Batman Knight Fight, Rogues' Gallery Games and The Joker. The other three junctions have a bright and joyful atmosphere. Dedicated to cartoons, it comprises rides that are moderate and kids friendly.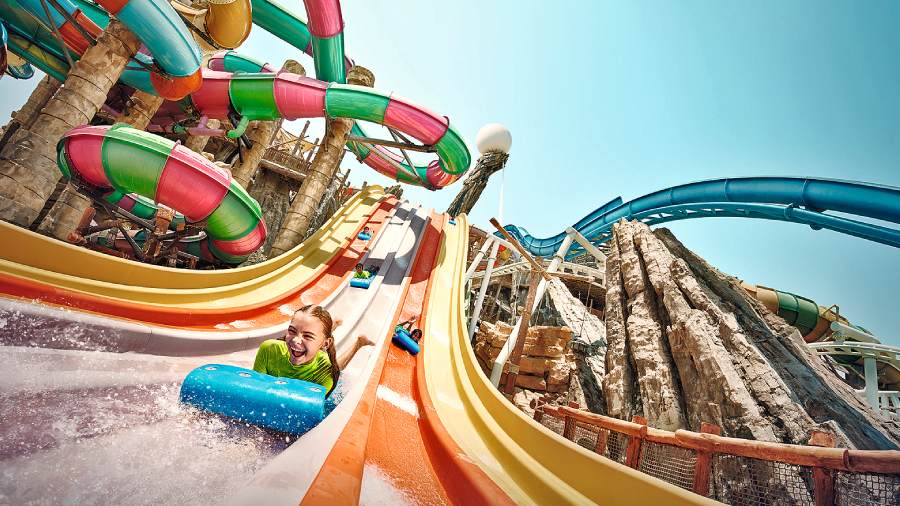 Next to the Ferrari World is Clymb Yas Island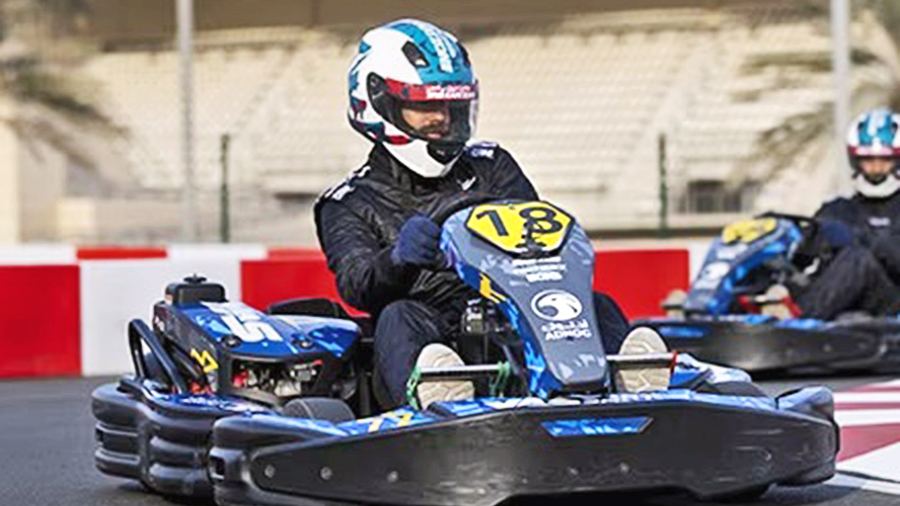 Yas Kartzone
At the Dynamite Glutch we joined Willie E Coyote in chasing Road Runner in Fast and Furious, a roller-coaster with multiple turns. Bedrock took us to the world of The Flintstones, rekindling memories from our childhood. Don't forget to hop in the boat for a smooth ride, meeting all the characters on the way, and sitting on the replica of their cars with wheels made of stones. At Cartoon Junction our appointment with Tom and Jerry Swiss Cheese Spin was on time and we enjoyed their chase that was dotted with twists and turns. There's also Scooby-Doo The Museum of Mysteries in this zone, along with Acme Factory and Anti- Mayhem and you will enjoy every bit of these mini adventures. There's also a Cartoon Junction Carousel where you can ride with Loony Tune and Hanna Barbera characters and be a kid again.
There are plenty of options to satiate your cravings and we dined at The Starlight, which gave us an experience of 1930s Hollywood Glamour.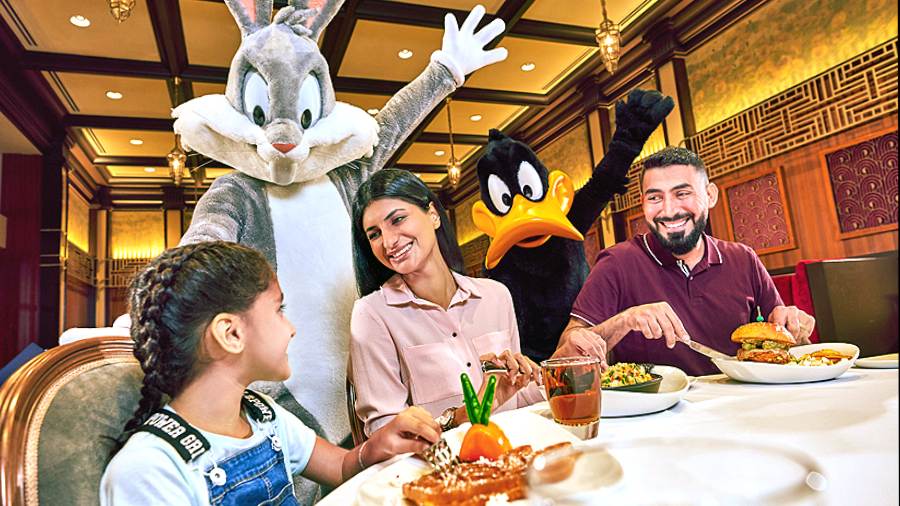 Scenes from Warner Bros. Abu Dhabi
Tweety and Bugs Bunny are regular visitors here and a must-order here would be Bugs Bunny Waffle, which is super soft, delicious and worth adding to your social media feeds.
Ferrari World, Abu Dhabi is the ultimate spot for adrenaline junkies as this is the station to experience the world's fastest rollercoaster ride that goes from 0 to 240km/hr in 4.9 seconds! Turbo Power is yet another ride that defies gravity and you'll feel the bounce as you fall from a 13.5m high tower. The fun doesn't stop here as there is Flying Aces as well that offers extreme gravity-defying acrobatics including a non-inverted loop. The thrill-o-meter travels in the same speed taking one to a height of a whopping 52m.
The Racing Zones have many other rides here which are moderate like Junior GP and Driving With The Champion. Here too there are a couple of rides that offer a sensory experience like Viaggio in Italia, Speed of Magic and more. Get lost in the world of the world's fastest racing car with Made in Maranello that gives you a sneak peek into the world of Ferrari GT from the first step to the final stages of production and design and when it hits the road on Ferrari Fiorano Circuit. If you want things to slow down a bit and soak at the moment then hop on Ferrari 250 California at Bella'Italia, and take a lazy tour around Little Italy. The tortuous route with Italy's landscape and popular architecture in miniature sizes has a distinct charm. A hot tip, if you want to enjoy all 30 rides and experiences here then make sure to arrive early and divide your time wisely.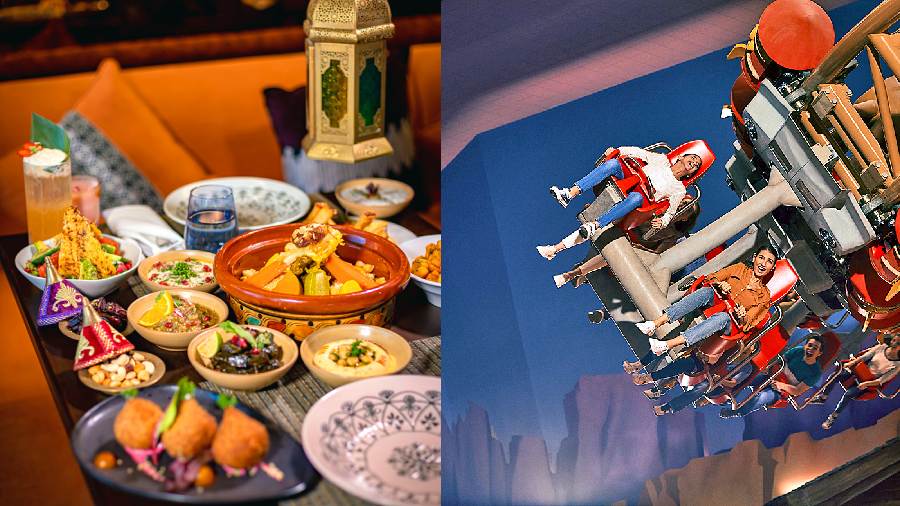 The iftar spread at Bushra (Left) and Scenes from Warner Bros. Abu Dhabi (Right)
Refuel your system for a second or third round of the rides with dine-ins that include Mamma Rosella, Officers Foodquarters, Il Podid and more. We gorged on some amazing Neapolitan pizza at Mamma Rosella, an award-winning family dining trattoria. There's major scope for retail therapy as well and while there are multiple merchandises that are hard to resist, don't come back home without a replica of a Ferrari.
Next to the Ferrari World is Clymb Yas Island, which is certainly the world's ultimate adventure hub housing the world's widest indoor skydiving flight chamber. Feel your body go weightless as you soar up to 104ft high and experience skydiving in the wind tunnel.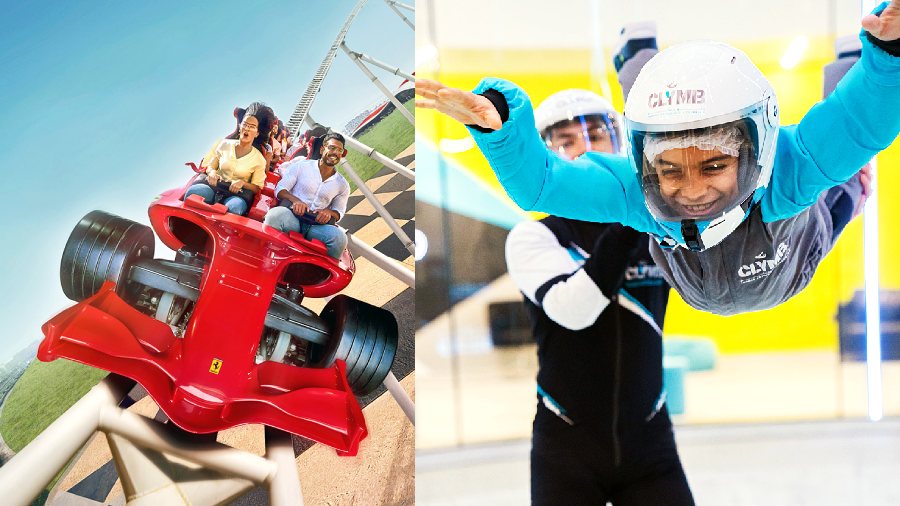 Glimpses of Ferrari World (left) and Clymb Yas Island (right)
The fun and excitement doesn't end here and Yas Waterworld is the place to beat the heat. With more than 40 exhilarating rides, slides and attractions including Bambit Bomber, Dawwama, Jebel Drop and Rush Rider, Yas Waterworld is the perfect family entertainer in the hot weather. We took a spin in the world's largest and longest six-person tornado water coaster and made a big splash in serpentine slides.
The trip couldn't be complete without visiting the spectacular Yas Marina Circuit which is home to Formula 1 Etihad Airways Abu Dhabi Grand Prix. Karting at Yas Kartzone brought an end to our adventure, as we indulged in a friendly competition all geared up like a professional Karting challenger.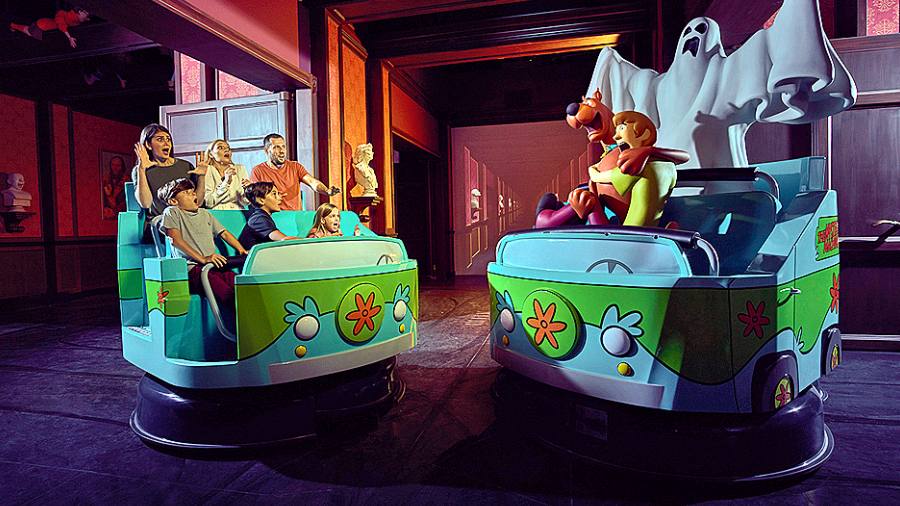 Glimpses of Warner Bros Abu Dhabi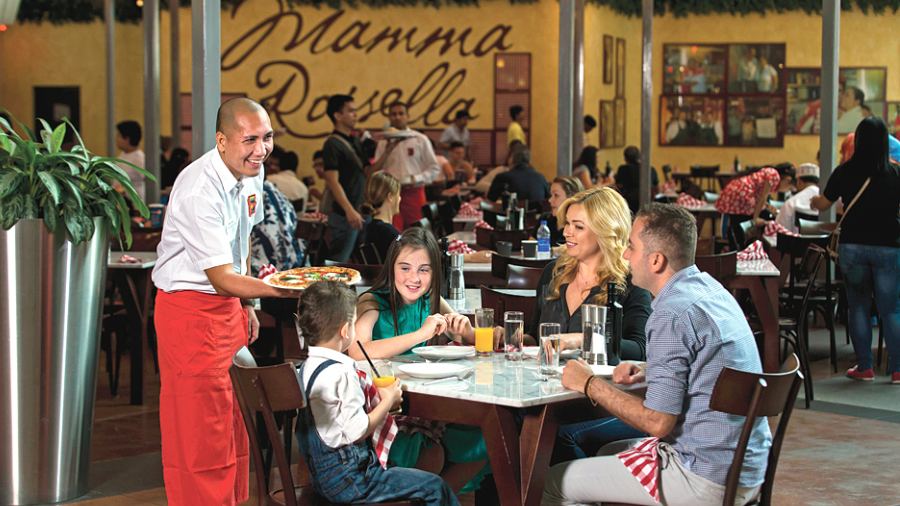 The iftar spread at Bushra
Beyond the adventure zones, there are also great options to savour food and we experienced a lavish iftar meal at Bushra with delicacies like Harira Soup, Tahini Moutabel, Jar Jeer Salad, Lamb Couscous and more. Not to forget our last gastro station, Penelope's at Yas Marina which was made unforgettable with its food and live music.