If you're a fan of street shopping, if Gariahat's stalls and shops are among your regular haunts and if you enjoy showing off your bargaining skills — Sarojini Nagar Market is a must-visit when you're in Delhi.
The Delhi Metro's Pink Line will take you to this treasure trove for self-admitted shopaholics — a Gariahat-meets-New Market-and-more complex. Here's looking at why Sarojini Nagar is such a popular shopper's paradise.
Trendy and plenty
One of the best things about Sarojini Nagar is that the pieces you find always align with the latest fashion trends. If you can think it, you will find it. From clothing and accessories to seasonal wear, this market has it all and in large amounts. All you need is the stamina and determination to browse through hundreds of shops and dig through piles of clothes.
Some of the best picks include tops of all the varieties — off-shoulder, one shoulder, cropped, tie-ups and more, as well as an amazing collection of chic and comfortable sneakers. Don't forget the wide variety of slippers that will be the perfect addition to your wardrobe this summer.
Right now, Sarojini Nagar has the perfect in-trend spring-summer catalogue including tie-dye t-shirts, streetwear caps, denim skirts, knock-offs of high-end sneakers and crop tops.
Pocket-friendly
Being budget-friendly is one of the biggest USPs of this market and why people of all age groups flock to the shops here. Apparel and accessories start at just Rs 100. You can get denim skirts for Rs 300 and shoes for Rs 350, while earrings and necklaces begin at Rs 100. Set yourself a budget and we bet you can put together a whole outfit for just Rs 1,000.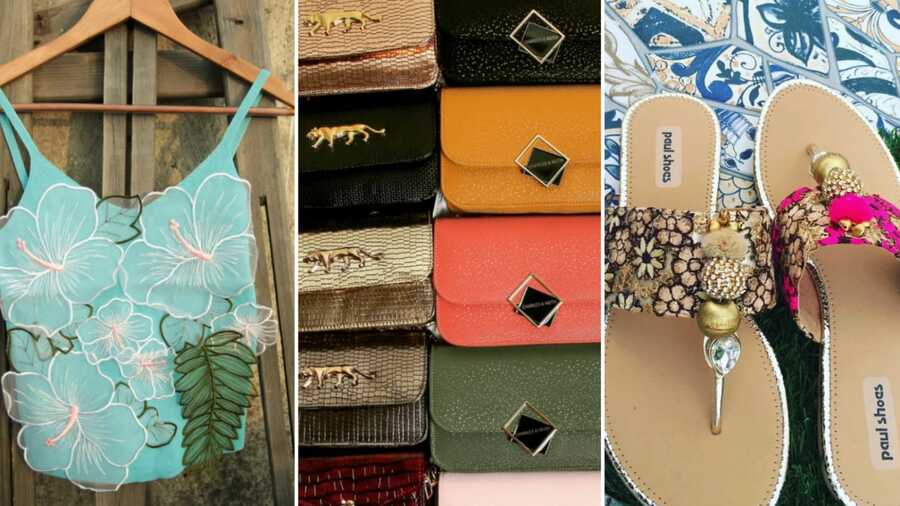 From clothing and accessories to seasonal wear, this market has it all
sarojinimarketonline/Instagram and sarojininagarmarketnewdelhi/Facebook
High quality for the price
Most of the clothes you see at Sarojini are either export surplus or export rejects that didn't make the cut due to almost-invisible defects. Either way, this means that the quality of the clothing and accessories is good. If you're lucky and have the tenacity to explore all the shops, you might even find clothes from brands like Zara, H&M and Primark lying among the heaps of garments at every shop. However, as with street shopping anywhere, make sure you check for any tears, stains or spots on the clothing.
Bargaining is welcome
As is it everywhere else, shopkeepers at Sarojini Nagar are adept at identifying novices at bargaining. But the good news is that the tried-and-tested method of walking away after quoting a price and waiting for the shopkeeper to agree and call you back works here too! Be fair in your quotation and you're sure to bag what you want at the best rate.
Pro tip: Reach the market early. Most sellers are accommodating to the first few buyers of the day.
Foodie's delight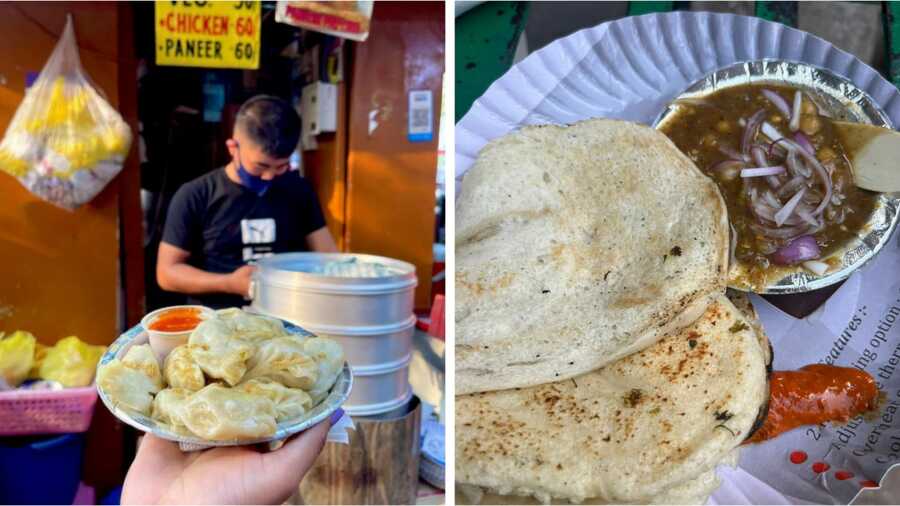 Momos and 'chole kulche' are among the must-haves at the numerous food stalls scattered throughout the market complex
sarojinimarketonline/Instagram and Aatreyee Mohanta
Numerous food stalls selling snacks and drinks are scattered throughout the complex. From juices to street-food favourites like chaat and momos, you have a large selection of grub to choose from. Definitely try the much-loved chole kulche and the momos from the stall right in front of the Babu Market.
How Kolkatans can get a Sarojini haul
Started as a pandemic project to help vendors during the lockdowns, Vandit and Medha Chawla began Sarojini Market Online to bring the famous Delhi market to the rest of the country. Being brought up in the area themselves, the loss of business during the lockdowns was a big blow.
They began selling the apparel, footwear, bags and accessories from the stalls and stores online, and continue to do so on their website. They put up their regular hauls, bought in bulk from the vendors, on their Instagram page and give you a glimpse into the latest collections at different shops with details. The best part? You can ship the pieces home at affordable prices.
Tips to navigate Sarojini Nagar market:
Set aside a whole day for your shopping excursion and don't club any other activities with it. You will end up spending much more time browsing and bargaining than you anticipate
Always carry some cash. While most sellers accept digital payments now, there will always be some who will ask for cash.
There are multiple entrances to the gated complex. If travelling by metro, there's an exit right in front of one of the entrances
Reach early to avoid the rush and get a good bargain
Brush up on your bargaining skills. If you like something, bargain and buy it right then — it will probably be sold by the time you return
Everything is labelled 'free-size' by the shopkeepers, so you have to be able to eyeball the size of the clothing you want. Insist on getting the size measured especially for jeans and fitted tops