Before Rath Yatra every year, the deities of Puri's Jagannath Temple go on a 15-day sabbatical. During this period, a patachitra (pattachitra in Odia) takes the place of the original wooden idols. For generations, this patachitra has been drawn by artists from the nearby village of Raghurajpur.
Every house in this Odisha village, just 15km from Puri, is a studio and every villager is an artist. Along Raghurajpur's two streets, amid coconut groves, there are over 100 homes covered in colourful murals — each a museum of art. In 2000, Raghurajpur was declared as the state's first heritage crafts village, after a two-year extensive study by the Indian National Trust for Art and Cultural Heritage (INTACH).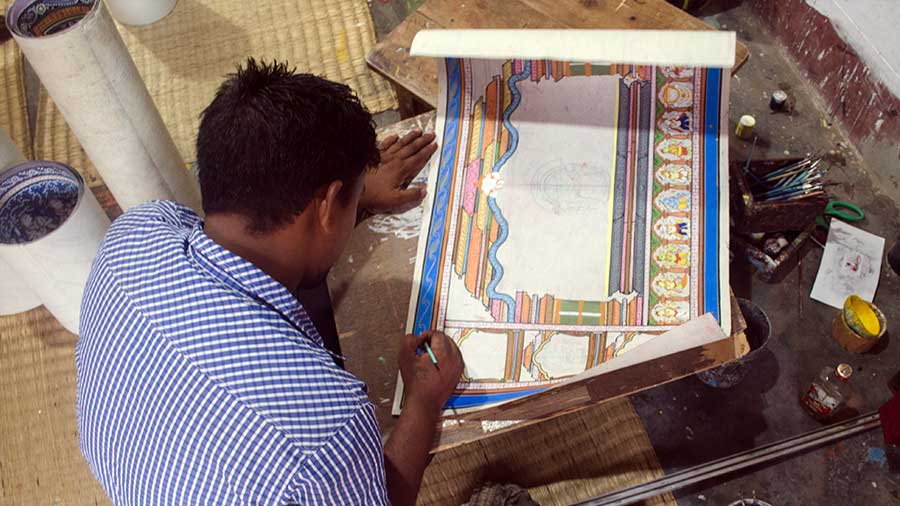 A Raghurajpur artist at work
A traditional art
Patachitra is a folk form of painting usually done on scrolls of cloth or bark, known as pat. The traditional pat is made using a technique practised for generations. Cotton cloth is first soaked in tamarind-seed water and then coated with chalk and gum. Seven such sheets are pasted together and the final sheet smoothened out with stone to create the canvas for the patachitra.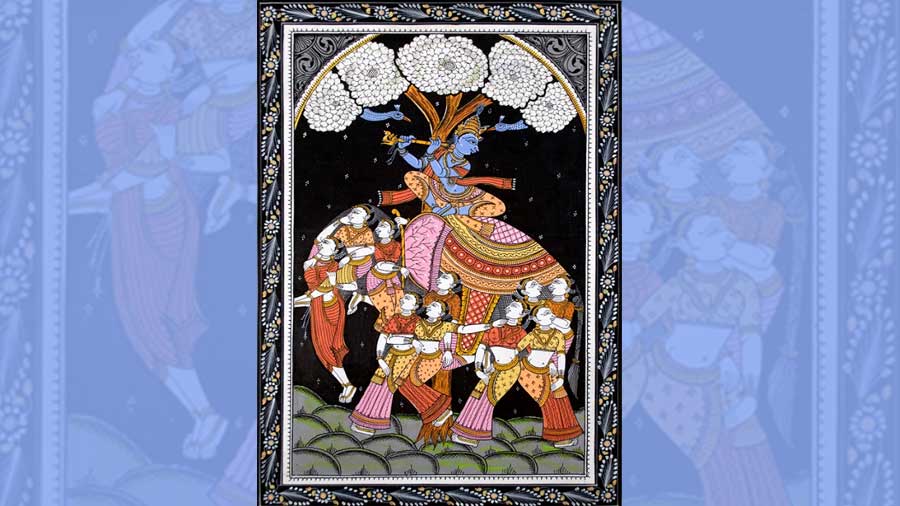 A Raghurajpur patachitra showing Nabanarikunja
Traditionally, the paintings were made using colours derived from natural sources such as minerals and plants. White came from the powder of conch shells, yellow from a stone called harital, red from the red-oxide stone or geru, blue from indigo and green from various leaves. The paintings were finished with a coating of natural lacquer to give them a glossy finish. In recent times, with some of these sources being difficult to procure, often mineral or synthetic colours are used.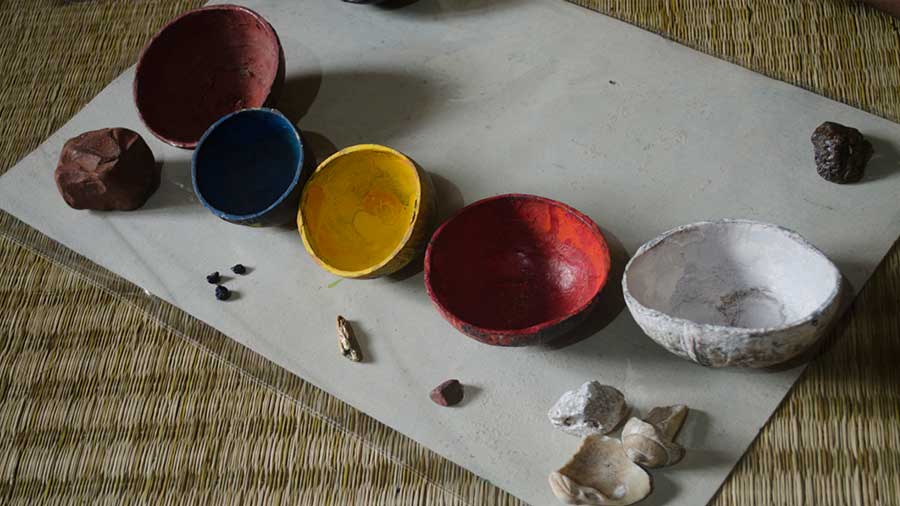 Vessels for organic colours traditionally used used by Raghurajpur artists
The patachitra of Raghurajpur is said to date back to the 4th century AD. Each family has a distinct style of painting and the craft is passed down through generations. Apart from the need to introduce synthetic colours, the art has remained unchanged.
Adapting modernity to tradition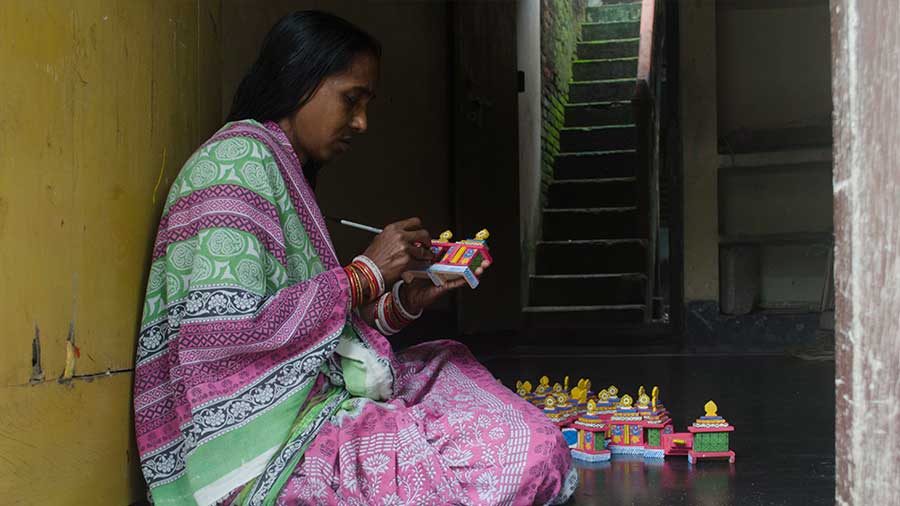 In recent times, the art has been adapted to make designs that people can take back as souvenirs
With art-loving travellers seeking out the craft, artists are replacing traditional long scrolls — that can sometimes be a few feet long — with smaller versions that can be framed in urban homes as souvenirs. The themes of the paintings remain true to their roots, featuring most popularly, the triad of Puri, followed by Lord Krishna. Paintings of the Dasavatars and the Dasa Mahavidyas are also common, as are scenes from mythological texts and stories.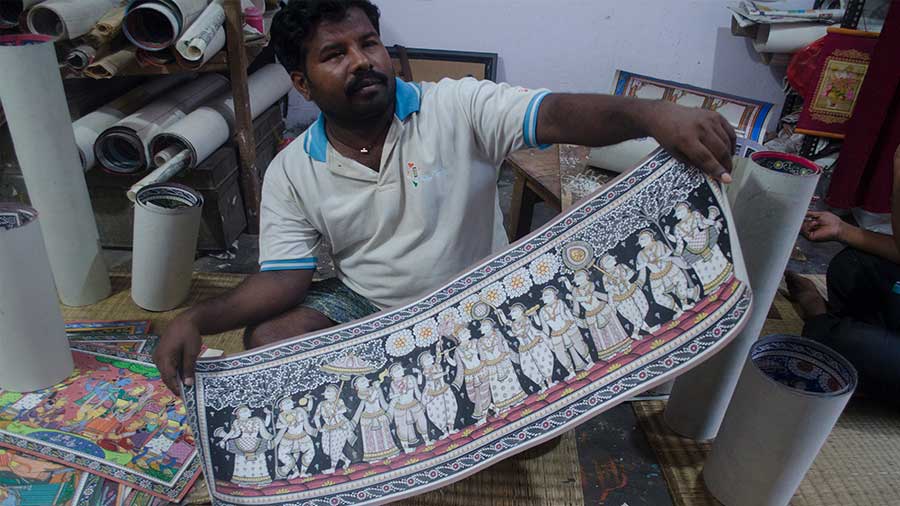 An artist displays his work
Though patachitra holds pride of place in Raghurajpur, the local artists also practise other art forms such as palm-leaf engraving, bamboo-mat painting, stone and wood carving, and making papier-mâché toys and masks.
The artisans of Raghurajpur are always happy to showcase their work to visitors. For the art-loving traveller, watching the process of this traditional art form in the artist's own home is a unique experience.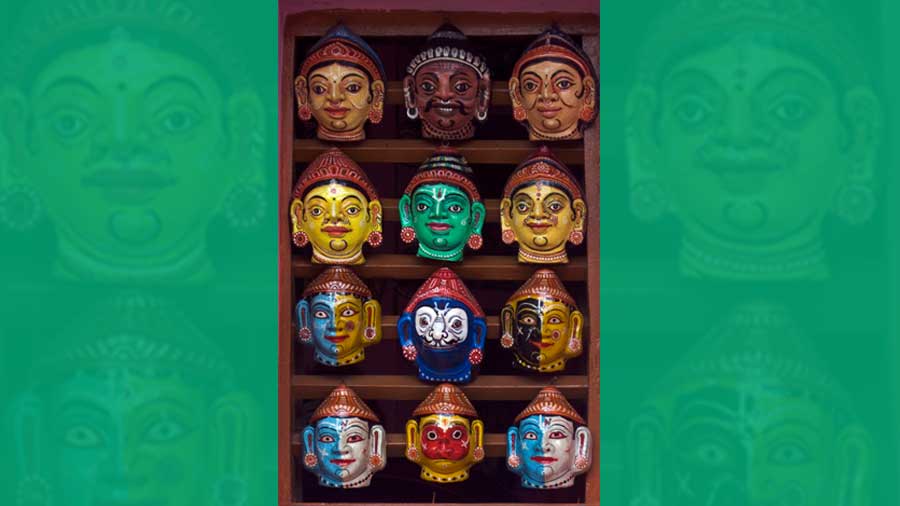 Artists also make other forms of arts such as these papier-mâché masks