Anyone familiar with the epic Mahabharata knows the name of Sisupal — the king of Chedi who was killed by Shri Krishna with the Sudarshan chakra. Named after the king, Sisupalgarh is the site of a fortified township that dates back to at least 5th century BC, located just south of Odisha's capital Bhubaneswar.
Historians believe that the original name of the ancient fortified city, which is often compared to Athens, might have been different but the excavations at the site have not revealed any inscriptions or other clues. However, inscriptions from nearby archaeological sites such as the Udaygiri Caves, about 10km away, suggest that Sisupalgarh may have been called Kalingnagari or Toshali.
The discovery of an ancient smart city
The excavations at Sisupalgarh began in 1948 under noted archaeologist B. B. Lal, and subsequent excavations since then have revealed a fortified citadel that was continuously occupied for at least 1,000 years starting in the mid-1st millennium BC. At its prime, the city is believed to have a population of around 20,000 to 25,000.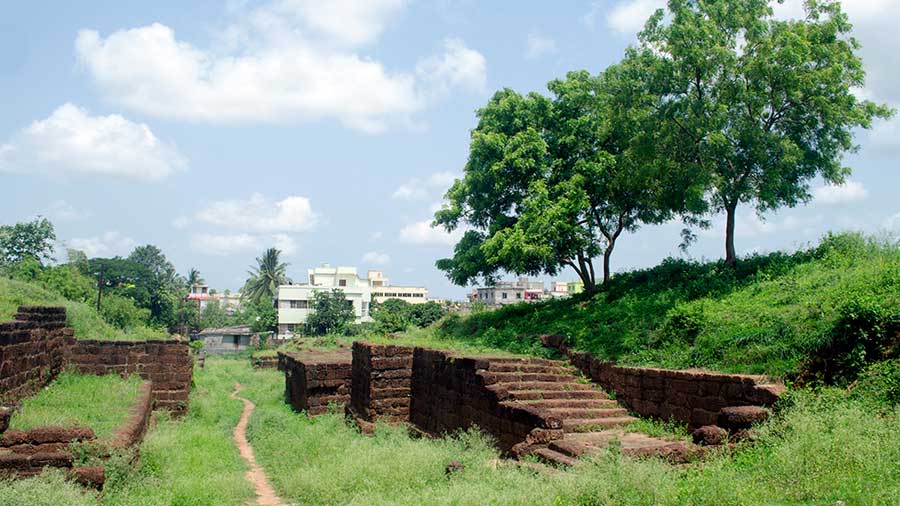 Features showcasing intelligent town planning have led to many calling Sisupalgarh an example of India's first smart city
Set on a square plan, the settlement is surrounded by a nine-metre high defensive wall, which has an artificial moat running alongside. There's evidence of eight gateways — two on each of the four sides — that were once elaborate stone-and-brick structures, complete with a check post, guard rooms and watch towers. The gateways were connected by streets that were part of a grid-like arrangement with the palace in the centre.
What sets Sisupalgarh apart from the other ancient cities is the town planning. Intelligent traffic management, pedestrian-friendly pathways, grand gateways with guard houses, wide roads and a vast open space were some of the key features of the ancient citadel. In many ways, it could be considered one of the earliest examples of an Indian "smart city" that existed almost 2,500 years ago.
Glories in ruins
A fort-style gateway, with 'Sisupalgarh' written in Odia, welcomes visitors to the present day ruins of Sisupalgarh, that comprise the remains of one of the eight gateways and a pillared complex. A road meandering through the busy eponymous township leads to the ruins of the northern gateway on the western wall. When the citadel was still standing, this was an elaborate structure with a guard house and watch tower.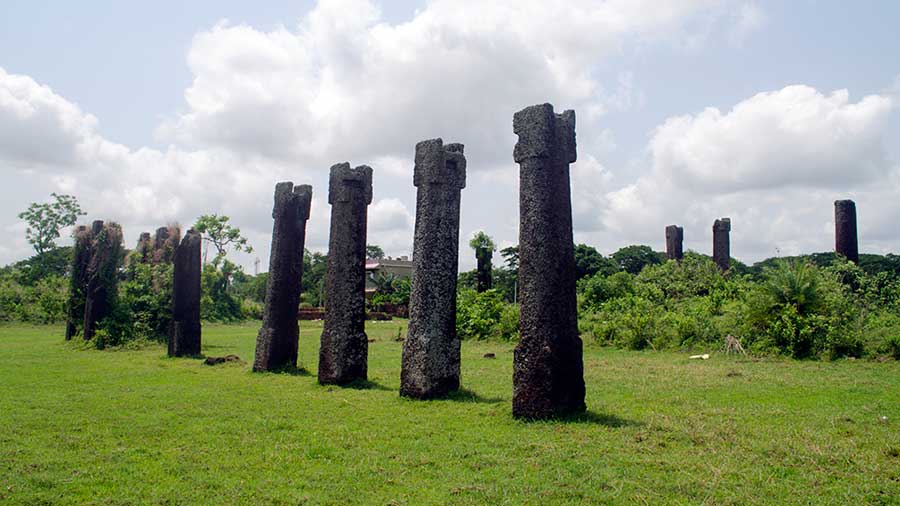 A series of monolithic stone pillars in different arrangements can be seen on the site
A short distance away, are a series of monolithic stone pillars locally known as Shola Khamba, meaning '16 pillars'. However, not all are standing anymore. Five pillars, one of which has eroded down to just the base, are arranged in a row at the front. On the eastern end, is a cluster of four pillars in a square arrangement, and four more make up the back row, but do not stand in alignment. In 2008, an excavation revealed the existence of several more pillars but the nature of the structure they formed cannot be ascertained.
Although a protected site under the Archaeological Survey of India (ASI), the ruins at Sisupalgarh lie surrounded by overgrown vegetation and are in danger from encroachment, with houses being constructed just a couple of yards from the site. A fragile piece of history, these remnants of a pre-Mauryan era citadel may soon vanish.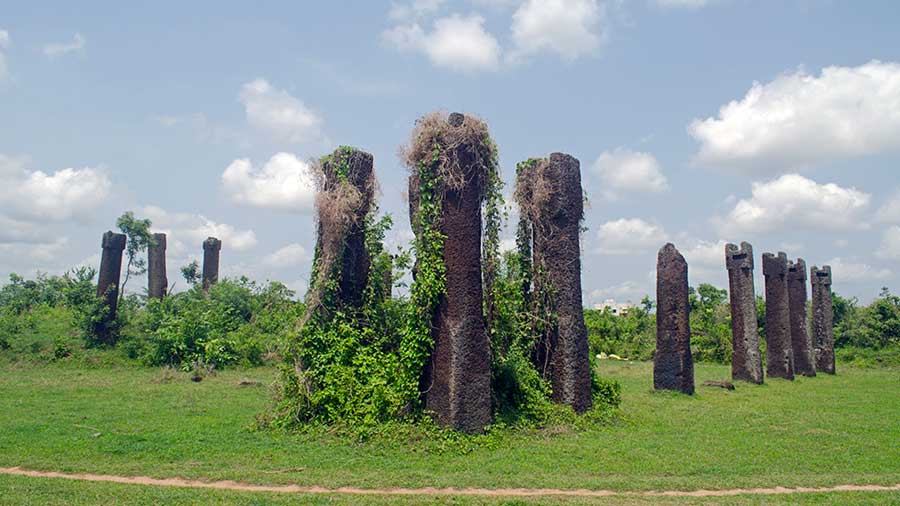 The stone pillars seen on the site are locally known as 'Shola Khamba'
How to go: Sisupalgarh is about 5km southeast of Bhubaneswar, 30km south of Cuttack, 55km north of Puri and about 450km south of Kolkata. The nearest airport and railway station is Bhubaneswar. Rental cars from both Bhubaneswar and Puri will take you to Sisupalgarh.