A kingly man, with a curled moustache and a silver crown, dressed in a dhoti-kurta and boots, with a gun on his shoulder — this is not a character from a story, but the king-god of the Sunderbans, Dakshin Rai. He is the local deity who rules over beasts and demons, and is worshipped by all who enter the forest for subsistence, irrespective of their caste, creed or religion. Many consider Dakshin Rai as a god, but for some others he is a demon, considered an arch rival of the revered goddess of the forest, Bon Bibi.
Author Amitav Ghosh, in his best-selling novel The Hungry Tide, describes Dakshin Rai as "...the powerful demon king, who held sway over everything that lived in the forest — every animal as well as every ghoul, ghost and malevolent spirit…" who has a craving for human flesh. Whether he is a demon or god is not where the debate ends. There is a third theory too. He is considered to be human, a son of Danda Baksha, who was the ruler of the legendary Atharo Vatir Desh (land of the 18 tides) that finds mention in the stories about Bon Bibi.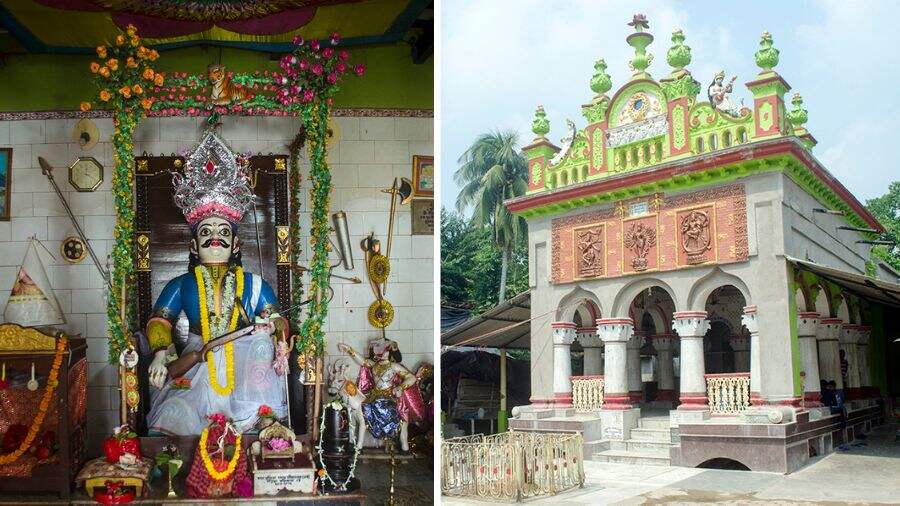 Demon, god or king, Dakshin Rai temples are scattered all over the South 24 Parganas district of West Bengal
The largest of Bengal's Dakshin Rai temples lies in Dhapdhapi near Baruipur. A short toto ride from the railway station will take you to the temple, which the locals prefer to call Dakshineswar Temple. The temple dates back to 1908, but not much of the original facade remains due to several extensions and modifications over the years. It is an active temple, with pujas and aarti held every day. A large number of devotees assemble daily to offer their prayers.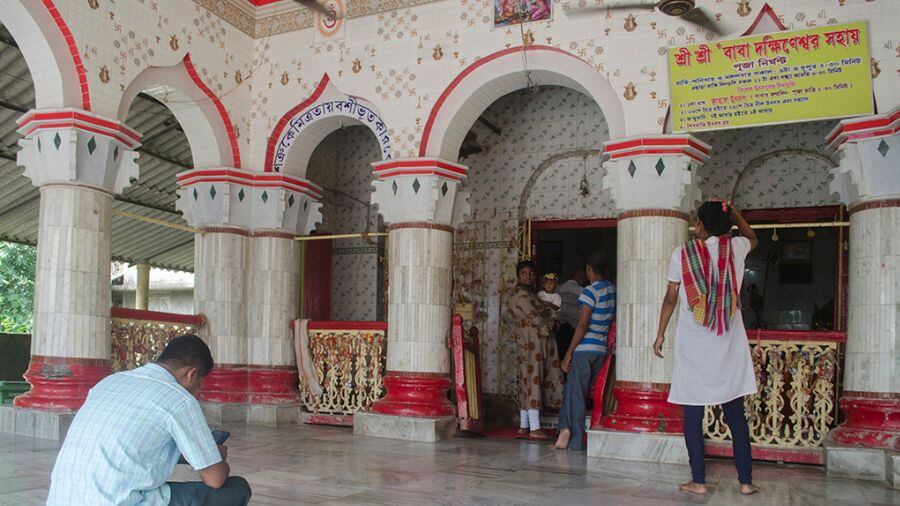 Much of the original facade of the still active temple at Dhapdhapi has been lost due to modifications
At the altar, sits an approximately seven-foot-tall idol of Dakshin Rai. It is dressed in a dhoti with a bandhgala style jacket and pair of boots, and several smaller idols of Dakshin Rai are placed around the main altar of the inner sanctum. On the wall behind the idol are displayed several weapons including a spear, a bow and a quiver of arrows, and a sword-and-shield set.
Travel details:
Dhapdapi is a station along the Sealdah-Lakshmikantapur/Namkhana line. The train journey from Sealdah takes about an hour and the fare is Rs 10. From the station, a 10-minute toto ride will take you to the Dakshin Rai temple (fare Rs 15 approx).
Rangan Datta is a mathematics and management teacher by profession and a travel writer and photographer by passion. He has been addicted to discovering off-beat places since his undergraduate days at St. Xavier's College. Blogging and contributing to Wikipedia are his other passions.