A square or a park often features in the list of tourist destinations in a city. It is however, not very often, that a square at the heart of the city becomes a part of its cultural and political movements.
College Square is to Kolkata what Trafalgar Square is to London, and even more, according to some. Situated off College Street and opposite the University of Calcutta's main campus, College Square is a fenced square with a huge swimming pool and decorated with historical structures including a war monument, a famous grave, statues of famous people and many old swimming clubs.
The colleges of College Square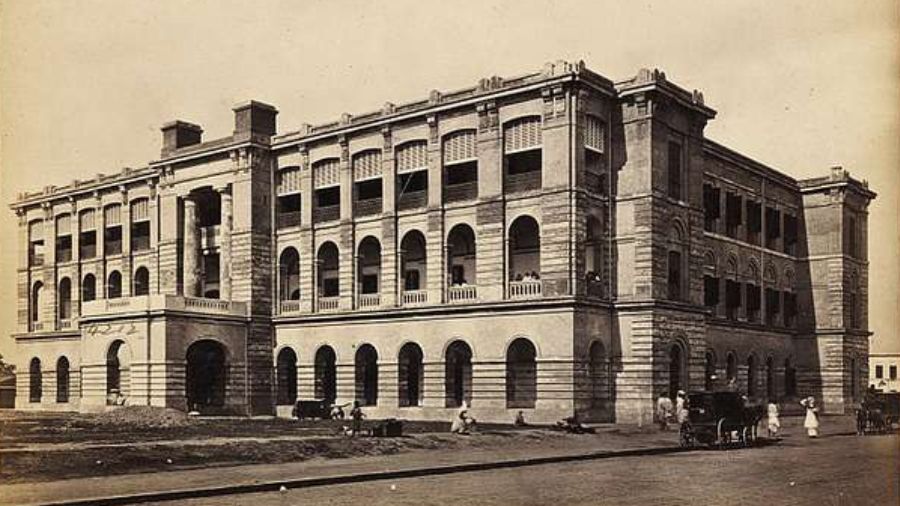 'The University. Calcutta', photographed circa mid-1800s by Francis Frith
GetArchive LLC
The square is surrounded on all sides by some of India's oldest educational institutions, which are gargantuan in their own reputations.
Calcutta Medical College, University of Calcutta, Indian Institute of Social Welfare and Business Management, Sanskrit College, Hindu school, Hare school, Presidency College are all notable Indian schools and have been a paramount force in India's intellectual journey to the new age from the 18th century.
Other iconic institutions near this square, which have been a part of Bengal's socio-cultural history, include the Mahabodhi Society, Baptist Mission, School of Tropical Medicine, Indian Institute of Health and Hygiene, City College, Albert Hall — now known as Indian Coffee Housen and University Institute Hall. College Square has been a silent witness to every event that shaped this educational centre of the city.
The 'gol dighi'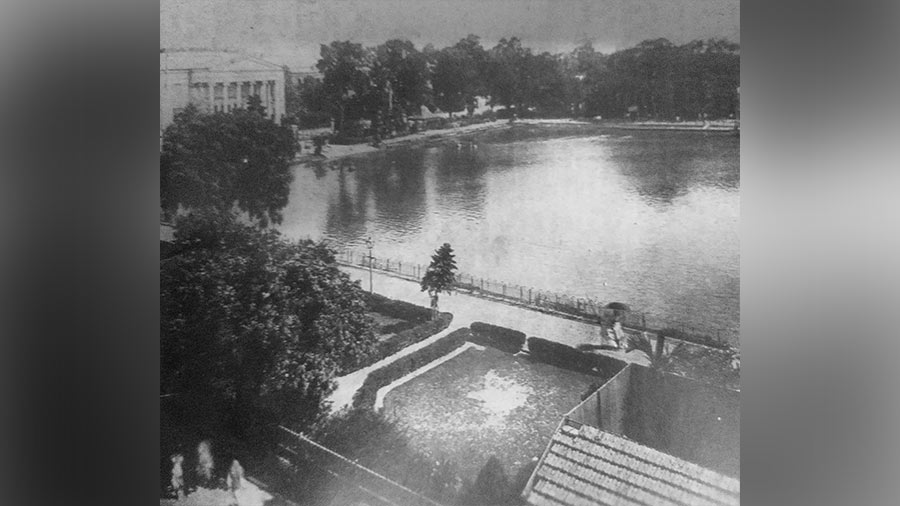 The waterbody at College Square, 1926
Calcutta Municipal Gazette
One of the square's most striking features is the waterbody, which was created between 1817 and 1836 by Calcutta's Lottery Committee. It was redone in 1869 and filled with water. In 1906, a massive development project was executed in and around the square and the present shape that we see today slowly emerged.
Popularly known as gol dighi, the round waterbody has an interesting story to its name. It has also been known as Madhab-babu ka talao, named after a certain Madhab Babu, who used to own a huge market in the spot where the University of Calcutta now stands. Many think that the name gol dighi was derived from the round shape of an aquatic plant that once grew here.
However, researcher Radharaman Mitra provided an alternate theory. He produced old maps designed by Major Schalch in 1825, which showed adjacent roads such as Cornwallis Street, College Street, Wellington Street, and Wellesley Street along with the waterbody. In that map, a waterbody next to College Street is shown as College Square and is circular in shape. Mitra also referred to a map drawn in 1833 that shows College Square as a circular spot. He also mentioned Sisir Kumar Bhadhuri, the doyen of Bengali theatre, who clearly said that till 1912 the waterbody was round in shape and then made square.
A walk along the tank and inside the square is more than just a heritage walk, and uncovers various interesting vestiges of history.
A tribute to a stalwart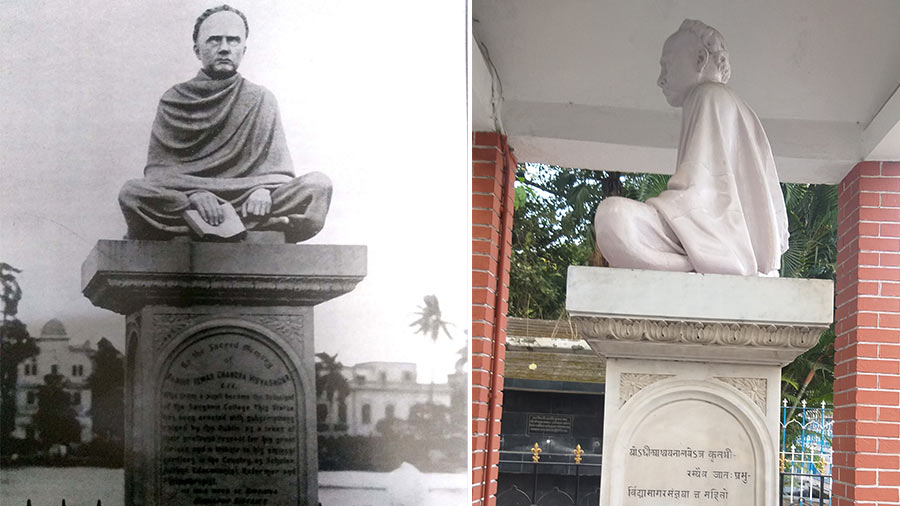 The statue of Ishwar Chandra Vidyasagar in 1926 and present
Calcutta Municipal Gazette and Somen Sengupta
An entry from the western side takes you to the most famous statue that the square houses — that of Ishwar Chandra Vidyasagar.
The decision to make the statue was made at a public meeting held at Calcutta's Town Hall on August, 27, 1891, after Vidyasagar's demise in July of the same year. An Indian sculptor from Benaras named Durga Mistri was assigned the task. The statue is made of Jaipur marble and it is the first statue installed in the city that was made by an Indian sculptor. As per records, the cost of the statue was Rs 1,050.
The statue was first installed inside Sanskrit College in 1899 and inaugurated by then Lieutenant Governor of Bengal John Woodburn. Later in 1907, with the permission from Calcutta Corporation's chairman, CGH Allen, Justice Saradacharan Mitra moved it to College Square for the cost of Rs 300. A mindless beheading of this statue by ultra-Left factions in the 1970s made big news, however, the figurine was immediately repaired and reinstalled.
The statue was once fenced with vintage iron railing. The plaque on the pedestal reads, "... as a token of their profound respect for his great virtues and a tribute to his eminent service to the country as a scholar, author, educationist, reformer and philanthropist".
The other statue is of someone not as familiar — Sri Lankan Buddhist monk Anagarik Dharmapala, who founded the Mahabodhi Society in 1891. He also played a significant role in reclaiming Gaya's Mahabodhi temple for the Buddhist community. The majestic statue was gifted to Kolkata by the Sri Lankan government in 1964.
Another statue, found near the one of Vidyasagar close to the western gate, is that of Acharya Prafulla Chandra Roy. Created by Pradosh Dasgupta and installed in 1955, this statue of Roy is hardly visible now. Impressed by its artistic beauty, cartoonist P.K.S Kutty had once remarked that it was a "fine piece of art" in which "Acharya's modesty is highlighted remarkably well".
Hidden gem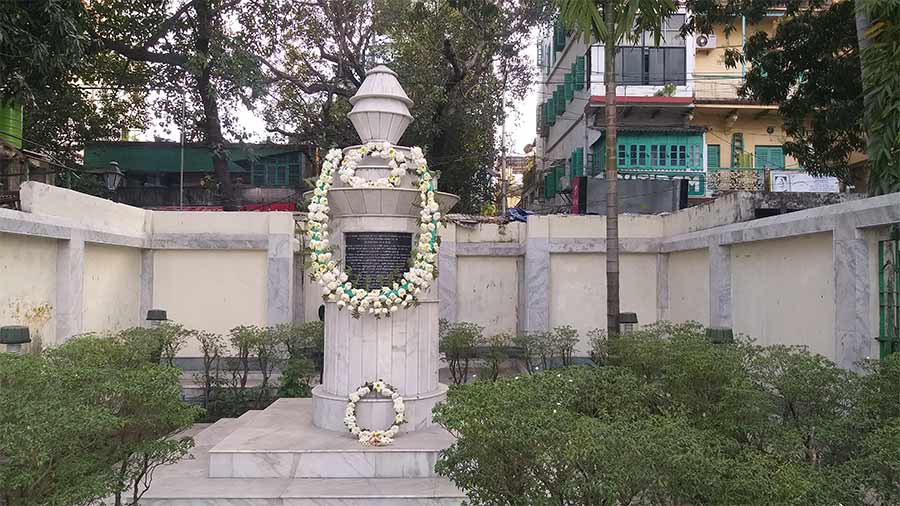 The grave of David Hare
Somen Sengupta
A hidden historical gem in College Square is the grave of a great man, one Indians should remember for his contribution to spreading new-age education in this country. That man is Scottish watchmaker and philanthropist David Hare, who founded and helped in founding numerous educational institutions in the city including Hindu School and Presidency College. After his death on June 1, 1842, Hare was not buried in any cemetery, but right here under the shadow of the many educational institutes where he made paramount contributions.
A small pillar with a decorated crowning dons the small memorial of David Hare. The dedication stone reads, "... Thousands of whom regarded him in life with final love and reverence and lament him in death as their best and most disinterested friend who was to them even as a father". The site is nothing less than a pilgrimage for many.
A witness to war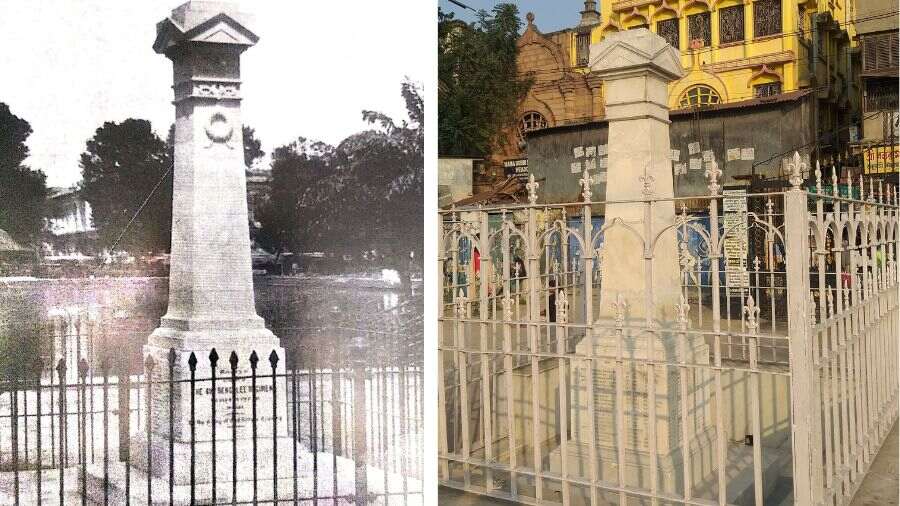 The World War I memorial in 1926 and now
Calcutta Municipal Gazette and Somen Sengupta
College square also has a World War I connection. Near the eastern gate, there is a small war memorial dedicated to the 49th Bengalee Regiment who died in the Great War of 1914-1918. This regiment was sent to the front in 1917 and lost 63 of its members to the war. The marble memorial has the names and origins of each soldier who did not return home from the front. It was established in August 1926, and is reportedly the only war memorial in India dedicated to the Bengalee regiment of the British Army.
The prestigious swimming clubs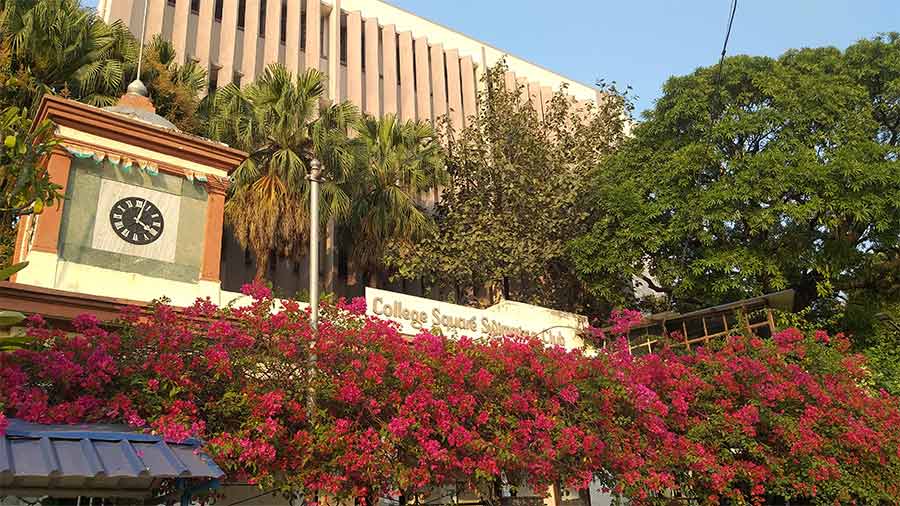 College Square Swimming Club
Somen Sengupta
The sports culture, especially of the swimming clubs of College Square, is legendary. The story of these clubs started on a sad note when in 1916, few members of the Young Men Christian Association (YMCA) drowned in a boating accident in the river while visiting the Botanical Garden for a picnic.
Overnight, people realised the value of learning swimming, and from 1917, many swimming clubs were given space inside the square to pitch tents and train young locals to swim. Out of those, the most reputed was the College Square Swimming Club, founded on March 17, 1917, with 17 young members and Pramothonath Ghosh as founder secretary.
The current club house, set up in 1927 and designed by General P. A. Hathway, the chief city architect of Calcutta Corporation, has a small, beautiful clock tower with a typical European style running veranda. Stalwarts like G.D. Birla, B.M. Birla, Anandilal Poddar and members of many royal families graced its management over the decades. Members of the club have represented India in many Olympics and Asian Games since 1928. Ganesh Das, captain of the gold-winning waterpolo team of India in the 1951 Asian Games, was a member of this club.
Apart from this, other prominent sports clubs inside of College Square are Bowbazar Bayam Samity (1923), Vivekananda Sporting Club (1931), Sailendra Memorial Club (1928), Calcutta Ha-du-du club (1931), YMCA Swimming Section, and The Calcutta University Institute Swimming Section.
A beloved Durga Puja adda and more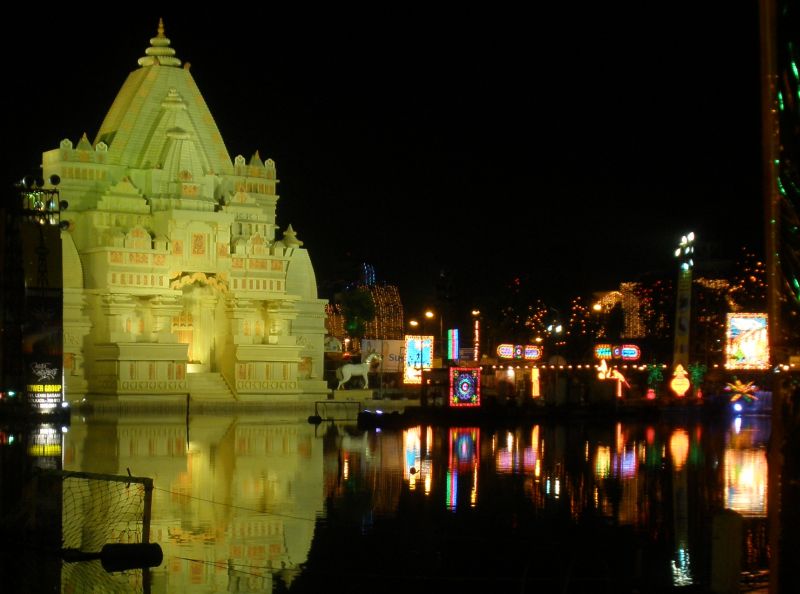 Durga Puja at College Square
Wikimedia Commons
The Durga puja of College Square, which started in 1948, is one of the biggest crowd-pullers in the city. For well-known idol maker Ramesh Pal, this puja was where he got his recognition and he continued to make idols of the puja until 2000. The College Square Puja is especially known as the spot for food stalls and adda during the five days of Durga Puja.
The square has been a venue for many important political meetings and demonstrations through the years. One of the iconic such events was the protest meeting during the Partition of Bengal on September 2, 1905, that was attended by a huge crowd. In the mid-Sixties, when the student movement in Kolkata was creating waves across the country, College Square was a central place for political demonstrations.
Given its importance in Bengal's socio-political history, the square has not seen preservation as a heritage spot. From the late 1960s, the periphery of the spot has been encroached upon by book vendors and other commercial shops, hiding the beautiful iron railing. The renovation of the statues have also not been done with the care they deserve, spoiling the original look. The colonial-era iron railing around each statue has long gone and construction of utilities and commercial spaces like a corporation godown has diminished the beauty of one of the most important squares of the city.