Over the years Kolkata has grown to become a melting pot of cultures — Christian, Parsi, Jewish, Buddhist, Aga Khani, Chinese, Greek and Armenian. As people from different countries and of various ethnicities began settling in 'Calcutta', they established their own places of worship, and temples, churches, synagogues, mosques dotted the Kolkata landscape. As the communities grew, they included members of sub-sects and of various ethnicities, and their places of worship too.
Kolkata has a Buddhist community consisting mainly of Bengali and Tripuri Buddhists. The city also has its share of Buddhist temples, including some that were established by Japanese, Burmese, Chinese, Tibetan and Taiwanese Buddhist communities. These temples are scattered all over the city – from Lake Town in the north to Dhakuria in the south. The Buddhist communities settled in the city much after many others, and only a few temples date back to over a 100 years. 
These are a few of the temples that are not only places of worship, but historical, often little-known landmarks worth a visit.
Bauddha Dharmankur Sabha, Bow Barracks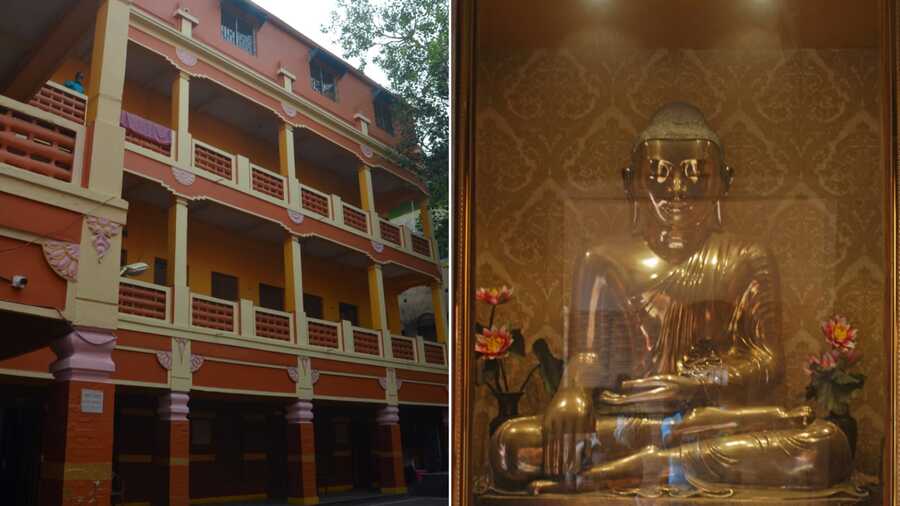 Rumela Basu, Rangan Datta
The Dharmankur Buddhist temple, located on Buddhist Temple Street in central Kolkata's Bow Barracks neighbourhood, is run and managed by The Bengal Buddhist Association, which was set up in 1892. The temple at Bow Barracks came up in 1903. It has a small shrine with a golden statue of the Buddha inside a glass chamber. The large complex has a library and a guest house, which mainly houses Buddhist students and pilgrims, but guests of all faiths are welcome.
Sri Dharmarajika Vihara, College Street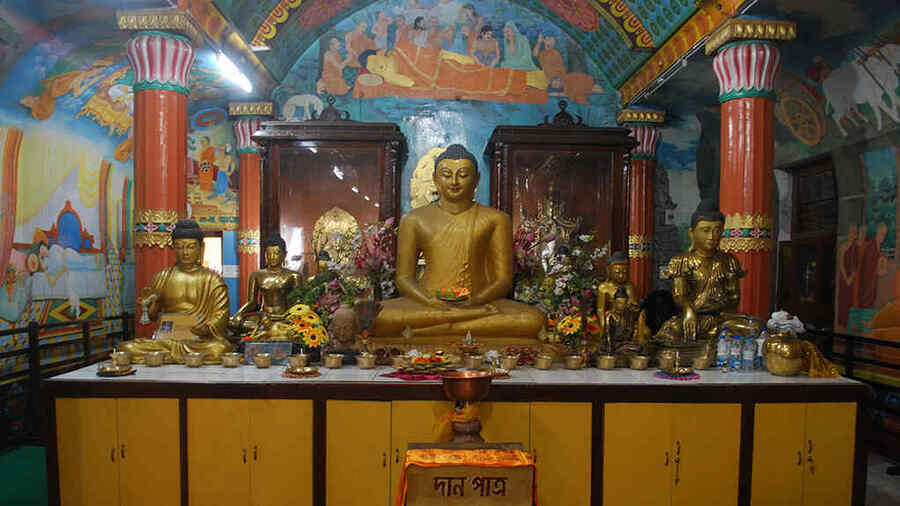 Rangan Datta
Located on Bankim Chatterjee Street near College Square, the Sri Dharmarajika Vihara is a Mahabodhi Buddhist temple and probably one of the grandest Buddhist temples of the city. The founding stone for this temple was laid in 1918 by Sinhalese Buddhist monk Anagarika Dharmapala, who was also one of the speakers at the famous World Parliament of Religions in Chicago attended by Swami Vivekanada. Dharmapala is often referred to as the first global Buddhist missionary.
The temple in College Square contains a relic – a tooth of Lord Buddha, which is displayed on his birthday. Many gilded statues of Buddha are placed on the shrine inside, and the walls and curved ceiling covered in brightly-coloured murals depict the life of Buddha. The temple is housed on the top floor and the building also serves as the headquarters of the Mahabodhi Society of India and also has a library and a guest house.
Myanmar Buddhist Temple, Central Avenue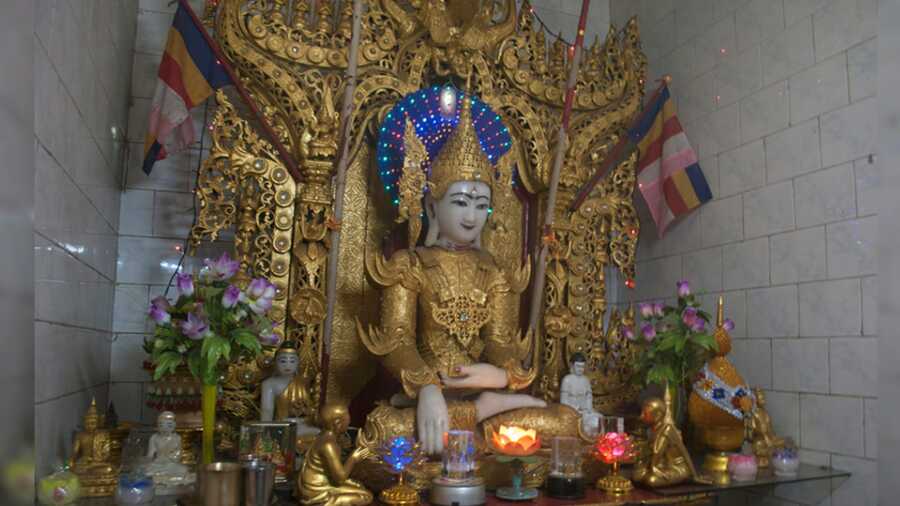 Rangan Datta
The Myanmar Buddhist Temple, once known as the Burma Buddhist Dharamsala, is located on 10A, Eden Hospital Road, next to Central metro station. Two signboards on the outside of a nondescript building indicate the entrance. The Myanmar Buddhist Temple of Kolkata was established in 1928 by U San Min. The shrine is located on the top floor of the three-storied building, while the lower stories have an office, guest house and a library.
The unique Buddha idol is actually an assembled creation of five different parts, which can be dismantled and packed in a small case. This feature was a means to protect the idol in case of a foreign invasion. There are reportedly only five such Buddha idols in the world, and the remaining four are in Myanmar.
Nipponzan Myohoji, Dhakuria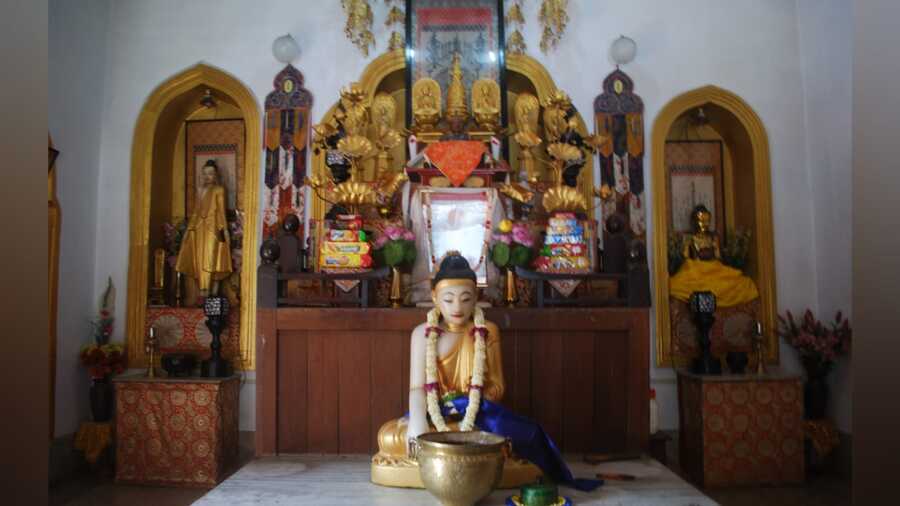 Rangan Datta
Located on the eastern side of Rabindra Sarobar and next to the Dhakuria flyover, Nipponzan Myohoji is a Japanese Buddhist temple built in 1935 by Japanese Buddhist monk Nichidatsu Fujii, follower of Nichiren Daishonin. The stupa-like white and gold temple is situated within a large compound with manicured gardens and monks's residences. A marble statue of the Buddha is placed in the shrine.
Calcutta Karma Gon Monastery, Paddapukur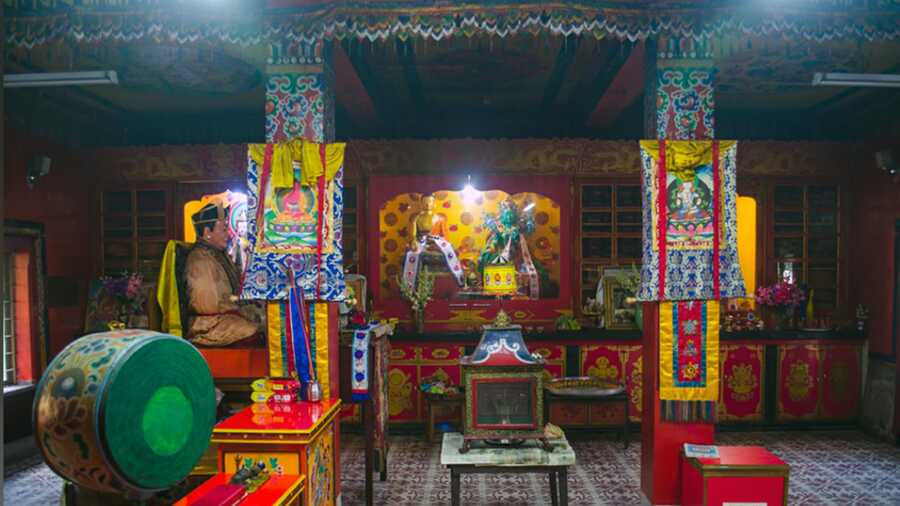 Rangan Datta
This temple located in the Paddapukur area of Ballygunge is a temple of the followers of the Karma Kagyu school, a sub-sect of one of the four major schools of Tibetan Buddhism. The temple was established by Buddhist monk Akka Dorjee, who came to Kolkata from Darjeeling in the late 1930s. It was initially known as the Himalayan Buddhist Gomba. In the 1970s, the monastery was handed over to the care of Sikkim's Rumtek Monastery and its name changed to Calcutta Karma Gon Monastery. The present monastery building dates back to the late '70s.
Tucked away between high-rises, this is a temple as well as a residence for community members. A large prayer hall on the first floor, with distinctly Tibetan aesthetics, has statues of several Tibetan Buddhist deities enshrined. There is also a glass-enclosed shrine of the Buddha on the rooftop.
Chinese Buddhist Temple, Jessore Road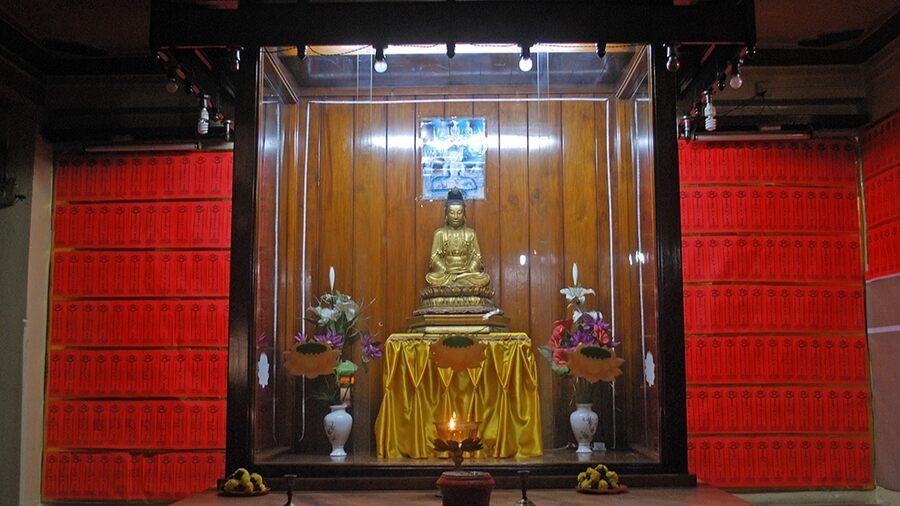 Rangan Datta
This small shrine on a narrow lane by Jessore Road between Lake Town and Bangur, is one of those buildings in need of some TLC. The main temple dates back to around 1962 and was expanded a decade later. Inside, there is a large prayer hall and many small shrines. The building also houses a library with numerous handwritten religious texts.
Hsuan Tsang Monastery, Chowbaga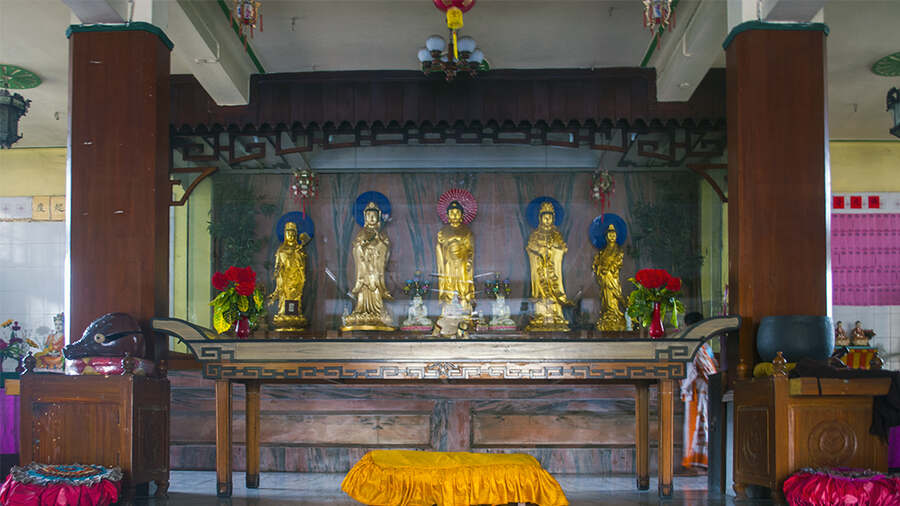 Rangan Datta
Located on the eastern fringes of the city, this monastery is named after famous Chinese traveller Hsuan Tsang (also known as Hiuen Tsang or Xuanzang). The monastery complex houses several shrines, monks' quarters and a Buddhist school. The main temple is a two-storied building with large prayer halls on both floors that have idols of Buddha and several deities enshrined. The walls and ceilings of the halls have brightly coloured murals.
Fo Guang Shan Buddhist Temple, Tangra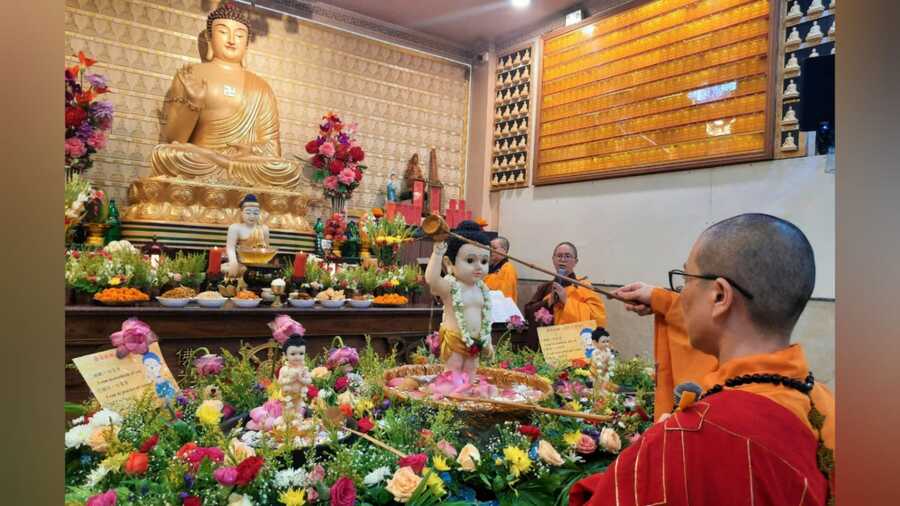 Rangan Datta
Among the newer temples is the Fo Guang Shan temple, part of an eponymous Chinese Mahāyāna Buddhist organisation and monastic order based in Taiwan. A giant golden statue of Buddha graces the ground-floor prayer hall, while the first floor has a library with a large collection of religious texts. The temple is headed by woman nun Miao Ru and organises various outreach and recreational programmes and classes for the community including free Chinese calligraphy classes.
Note: The list is not exhaustive and does not cover the Buddhist Temple in Garia and a few others.
Rangan Datta is a mathematics and management teacher by profession and a travel writer and photographer by passion. He has been addicted to discovering off-beat places since his undergraduate days at St. Xavier's College. Blogging and contributing to Wikipedia are his other passions.