The scenic Tonglu-Tumling trek is perfect for any traveller with wanderlust and a desire to experience trekking in West Bengal — without much rigorous walking. It is an enjoyable experience hiking through the rhododendron forests, breathing in the mountain air and ultimately, getting that rewarding view of Mt. Kanchenjunga.
For those who do not feel comfortable walking all the way up to Sandkaphu, the hamlets of Tonglu and Tumling offer a small preview of the main trek. Walking past tall pine trees and enjoying the colour burst of rhododendrons in April-May, or the snowfall in December-January, is a refreshing experience for first-time trekkers.
To reach Tonglu and Tumling, one needs to take a five-hour drive up to Manebhanjan from New Jalpaiguri. From Manebhanjan, it's a 90-minute drive in a vintage Land Rover to Tumling, followed by Tonglu.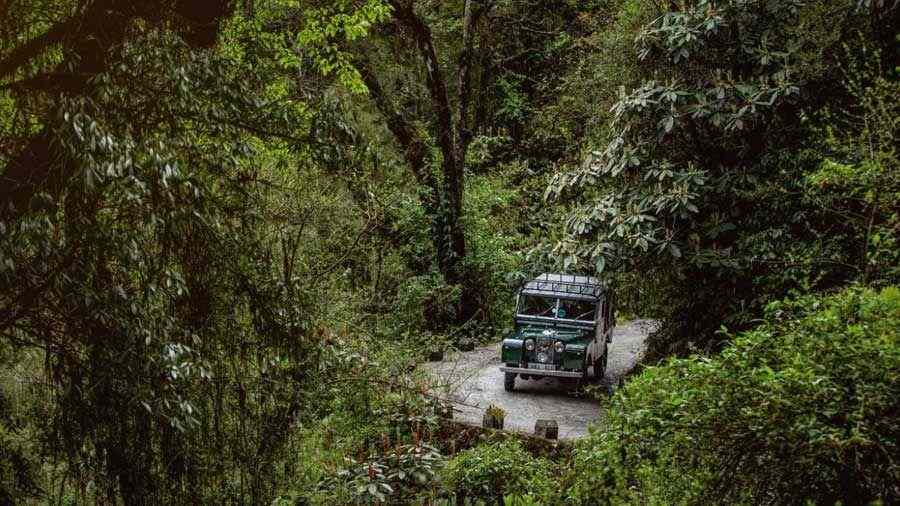 A Land Rover drives up from Manebhanjan
@landroverindia/Twitter
However, to reach these destinations on foot, trekkers have to take a detour from Manebhanjan to Dhotrey, which is a village comprising 80-odd houses at an altitude of 8,500 feet. From this serene village, a six-kilometre walk through a forest takes trekkers to Tonglu and then Tumling. The return journey is through Meghma and Chitre on the Land Rover route.
It is better to book a car beforehand from New Jalpaiguri Station or Bagdogra Airport to Dhotrey. The route is through Kurseong, Ghum, Lepcha Jagat, Sukhia Pokhri and Manebhanjan — covering a distance of about 105 km.
Leaving in the morning, Dhotrey is usually reached by lunchtime. Lunch is usually a simple affair of momos, Wai Wai soup and an omelette, followed by a cup of hot coffee. Dhotrey has some simple and clean homestays with western toilets. Sherpa Lodge is among the more prominent ones.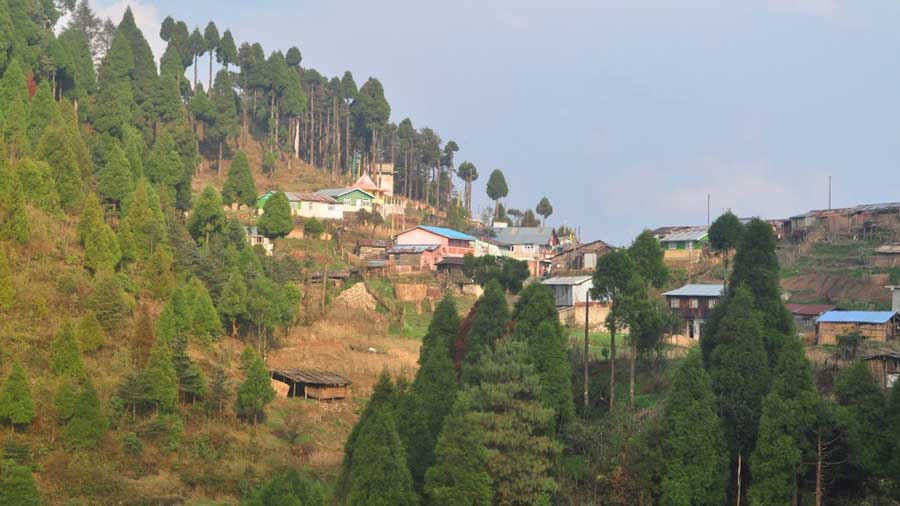 The trek begins from Dhotrey, a village comprising 80-odd houses at an altitude of 8,500 feet
Amitabha Gupta
Trekkers need to arrange for porters from this village to carry luggage to Tonglu and Tumling. The service of a guide can be availed, but isn't essential as the route is pretty straightforward. Although the best time for this trek is in April-May, because of the Rhododendron blooms, winters can be equally rewarding with snowfall and clear skies.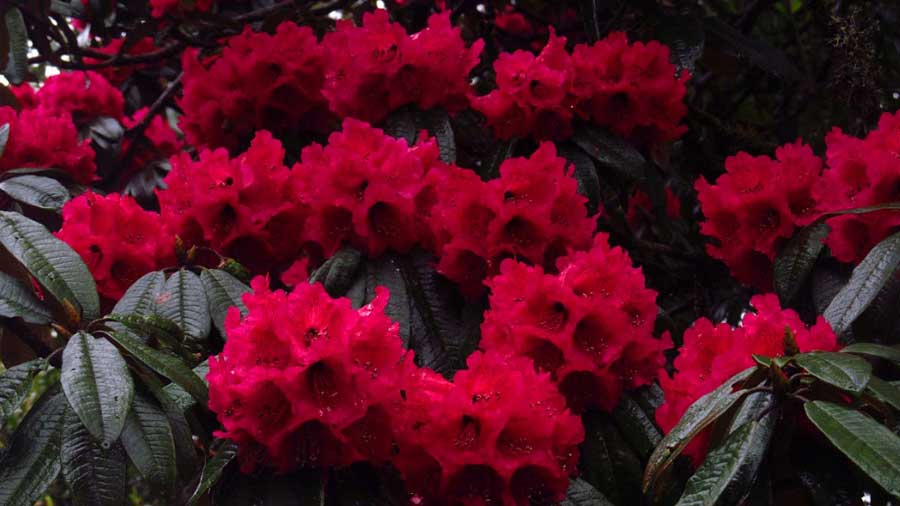 Rhododendron blooms can be seen in April-May
Amitabha Gupta
When trekking in April-May, the trail from Dhotrey to Tonglu is scattered with petals of red and pink flowers. Add a dash of mist and fog, and one is transported to a paradise-like setting. For first-time trekkers coming from a city, it is the perfect opportunity to forgets about selfies and just stare at the platter served by nature.
In December-January, the path is covered with frozen dew on the grass — creating crystalline art pieces. Experiencing a mild snowfall while walking through the forest covered with rhododendron, pine, fir and birch trees is an additional charm in winter.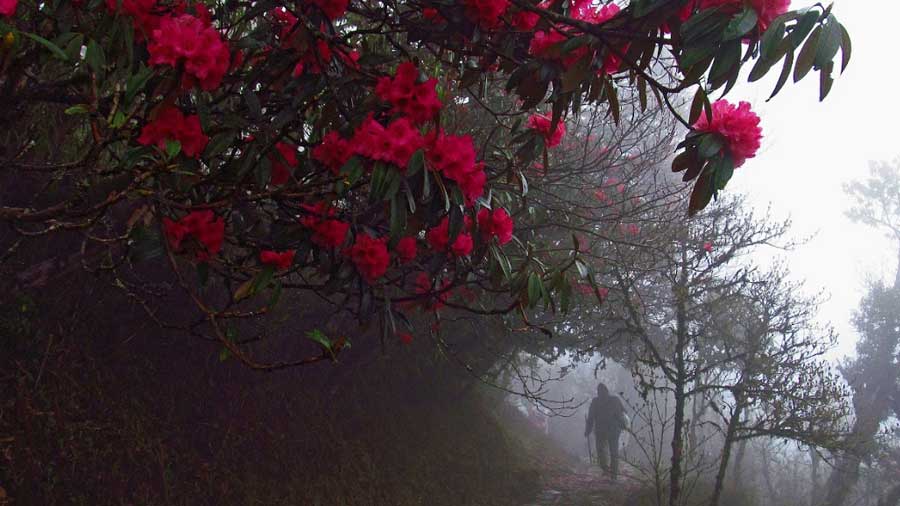 The trail covered in fog
Amitabha Gupta
Hikers can bypass Tonglu and reach Tumling while trekking from Dhotrey. But reaching Tonglu first is advisable and preferable. It is a very calm and quiet place with basic amenities. For visitors seeing Kanchenjunga and other peaks from Tonglu, it feels like the entire mountain range is their personal property — something that could once be felt at Sandakphu, which is now a crowded tourist zone.
There is a small waterbody near the trekker's hut at Tonglu. When it's not frozen, it's the perfect spot for shutterbugs to take a shot of the hut and its reflection with Kanchenjunga in the background.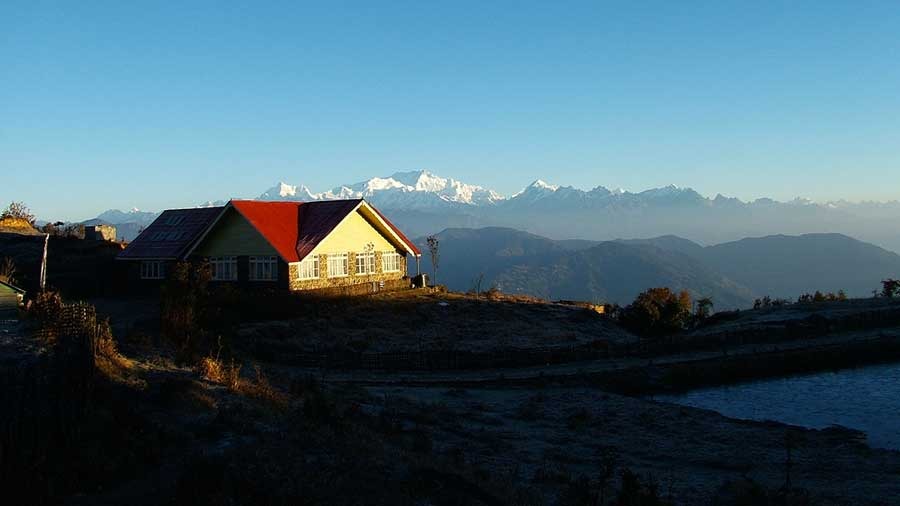 The trekker's hut at Tonglu
Pradiptaray/Wikipedia
Nearing Tumling, trekkers come across a signpost of the West Bengal government, welcoming visitors to the Singalila National Park. A little further, there is another post on the right, which says 'Welcome to Nepal', and if you walk straight down, you actually are in Nepal.
Turning left, the path leads to the gates of the Shikhar Lodge, one of the most popular stopovers in Tumling. In recent times, many other homestays have also come up here, making the place busier. And being on the main road to Sandakphu, Tumling is more popular. The viewpoint in Tumling too offers a relatively wider view of the Himalayan range than Tonglu.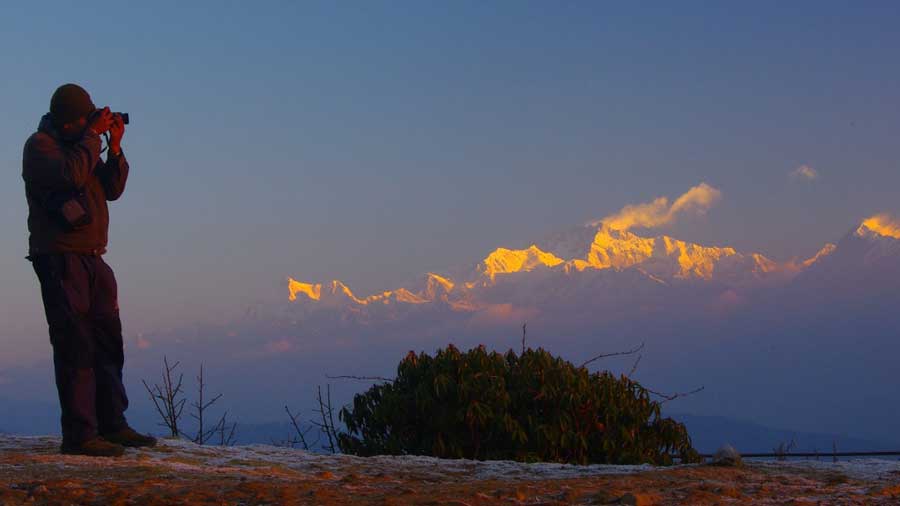 Tumling offers a wide view of the Himalayan range
Amitabha Gupta
The return trip may feel slightly anticlimactic, as trekkers hike down the motorable path towards Manebhanjan — with the significant spots of Meghma Monastery and Chitre Monastery on the way.
Instead of walking straight down to Manebhanjan, travellers can spend the night at Chitre, which is a scenic place by itself. Kanchenjunga can be viewed from here as well, but only after climbing a hillock. Manebhanjan, from where the return-journey vehicles are available, is just 2.6km from Chitre. Hawk's Nest is the best option to stay in Chitre, whose owner can arrange a return vehicle directly from Chitre.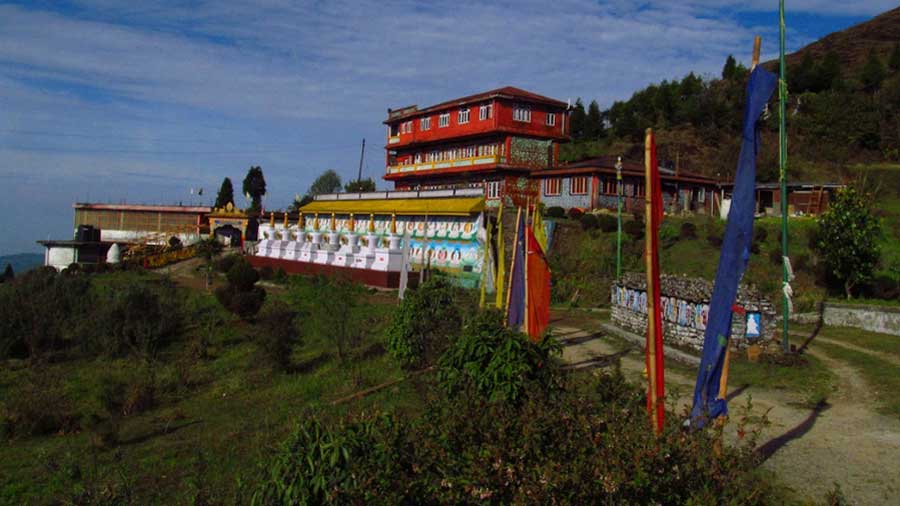 Chitre Monastery
Amitabha Gupta
A trek to Tonglu and Tumling can be a rewarding experience for first-time trekkers and encourage them to embark on more such journeys.
If you wish to travel the entire route by car from Siliguri, then the alternate route will be Bijonbari-Singbari-Lodhoma-Bansbotey and then Dhotrey.
Amitabha Gupta is a travel writer and a photographer who specializes in heritage and history of West Bengal. His work has been featured in many magazines and newspapers — both online and offline. He also conducts heritage walks and tours in and around Kolkata.