Darjeeling & Sikkim experience snowfall ahead of New Year, people cheer occasion
Proximity to the twin tourist destinations meant more excitement not just for Kolkata tourists but locals alike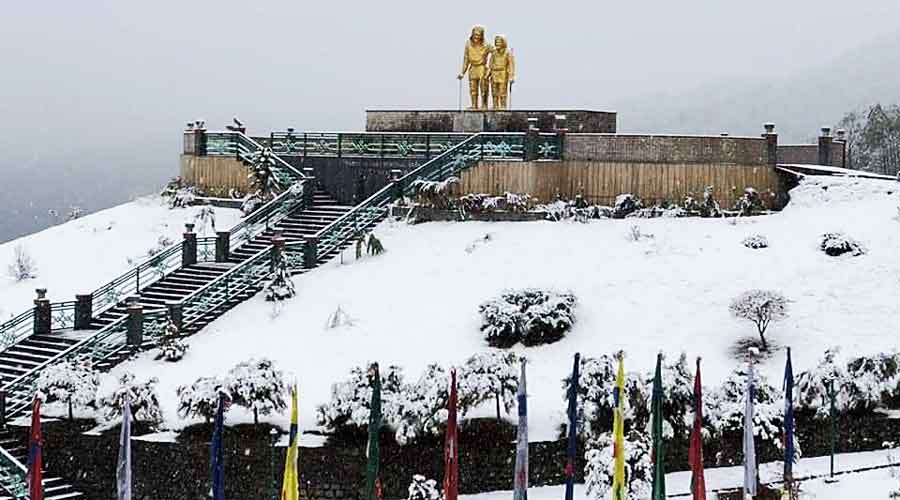 Uttarey in West Sikkim is draped in snow on Wednesday.
Telegraph photo.
---
Darjeeling/Siliguri
|
Published 30.12.21, 01:28 AM
|
---
The Darjeeling hills and Sikkim cheered the second snowfall on Wednesday after Christmas.
This time, it was much closer to the heart of Darjeeling and Gangtok towns, the two popular tourist destinations in the region in Bengal and Sikkim, respectively.
Steady snowfall was witnessed from 6.30am to around 1pm. on Wednesday at Jorebunglow, Ghoom and Batasia, which are within the Darjeeling municipality area and are places that one has to pass to reach Darjeeling from Siliguri. In Tiger Hill, snowfall was steady.
From Chowrasta, the famous Darjeeling square, Batasia falls within a radius of 6km.
Regions within the same radius from Gangtok also received snowfall apart from higher reaches like Gurudongmar, Lachen and Lachung in North district.
Proximity to the twin tourist destinations meant more excitement not just for the tourists but locals alike.
At Chowrasta, it was more of snow accompanied by rain. The rain meant snow did not accumulate at Chowrasta but it was enough for rapture.
"I never thought I would experience snowfall during my visit to Darjeeling," said Karthik Bhattacharya, a tourist from Salt Lake, Kolkata.
While many tourists enjoyed snowfall at Tiger Hill, the sleet at Chowrasta and its immediate vicinity was also a reason for joy.
On December 29, 2018, Chowrasta experienced a similar condition as on Wednesday as snow could not accumulate then because of the accompanying rain.
"I remember it had snowed heavily on February 14, 2007 in Darjeeling town. The next time it had snowed in Darjeeling town was on January 26, 2008 but that year snow had not accumulated. Nevertheless, snow is always exciting," said Saurav Tamang, a resident of Darjeeling.
On Christmas, regions like Sandakphu and Phalut in Darjeeling, at an altitude of nearly 12,000 feet and Gurudongmar in Sikkim, situated at an altitude of 17,000 feet saw snowfall. Darjeeling police issued an advisory asking people not to undertake unnecessary travel across higher reaches of Darjeeling. "Driving on roads covered with snow can be very challenging," the travel advisory read.
Police have also advised tourists in Sandakphu, Tonglu and other areas to stay in their homestays or accommodations in the snow.
"Local police along with the SSB are exploring all possibilities to rescue them at the earliest," read the advisory.
It is estimated that around 300 tourists are in the Sandakphu-Phalut-Tonglu region.
Sources said a tourist fractured her leg at Sonada after falling on a slippery walkway in the snow.
White Sikkim
Sikkim received the season's heaviest snowfall.
Snow lashed different parts of Sikkim since Tuesday night with places like Lachung and Lachen in north Sikkim and Tsomgo and Nathu-la in east Sikkim receiving the season's heaviest snowfall.
Also, many places in west and south Sikkim received snowfall, including Chewabhanjyang on the border with Nepal, Uttarey, Ripdi, Okhrey and Ravangla. Swathes in all the four corners of the Himalayan state were covered with white flakes with snowfall continuing intermittently in some places throughout Wednesday.
Weather forecast
Heavy snow brought down the minimum temperature in the capital, Gangtok, to 3.1°C, the lowest recorded minimum in nearly four decades. According to the Gangtok centre of the Indian Meteorological Department (IMD), the lowest minimum temperature of 1.7°C was recorded in the Sikkim capital on December 28, 1985. "The mercury is likely to drop more in the next two days," said G.N. Raha, the IMD centre head. Many roads in north and east Sikkim have been blocked because of the heavy snow and police have advised local residents and tourists not to venture to these areas.
"Some tourists and vehicles are stuck in Lachung and Lachen, and will be moved out once roads are cleared and the weather improves," said a police source.
Darjeeling recorded a minimum temperature of 1.8°C on Wednesday. Weathermen have predicted dry weather in Darjeeling from December 31.