Christmas Lunch
Snapshots from the The Telegraph RCGC X-Mas Feast
The warm winter sun, al fresco space and live music set the mood as members and their guests sat down for a cosy Christmas lunch under the umbrella set-up
By
Priyanka A. Roy
| Published 29.12.21, 12:01 AM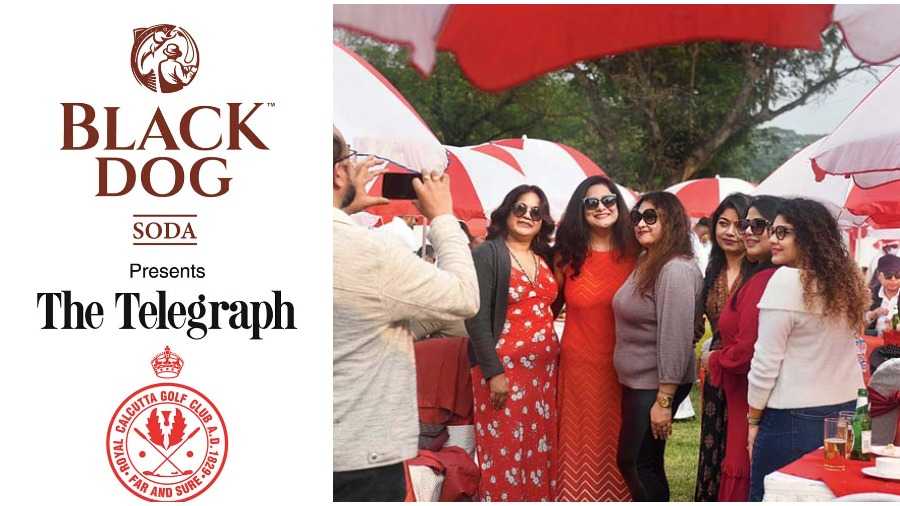 MOOD & MUSIC:
The RCGC 1 A lawns were decked in its signature Christmas decor at Black Dog Soda presents The Telegraph Royal Calcutta Golf Club X-Mas Feast. The 'Royal' colours of red and white embodied the Christmas spirit too. The warm winter sun, al fresco space and live music set the mood as members and their guests sat down for a cosy Christmas lunch under the umbrella set-up. Catching up with friends and family over food and adda, and capturing the moments as memories to be cherished later defined the mood at the club. Snapshots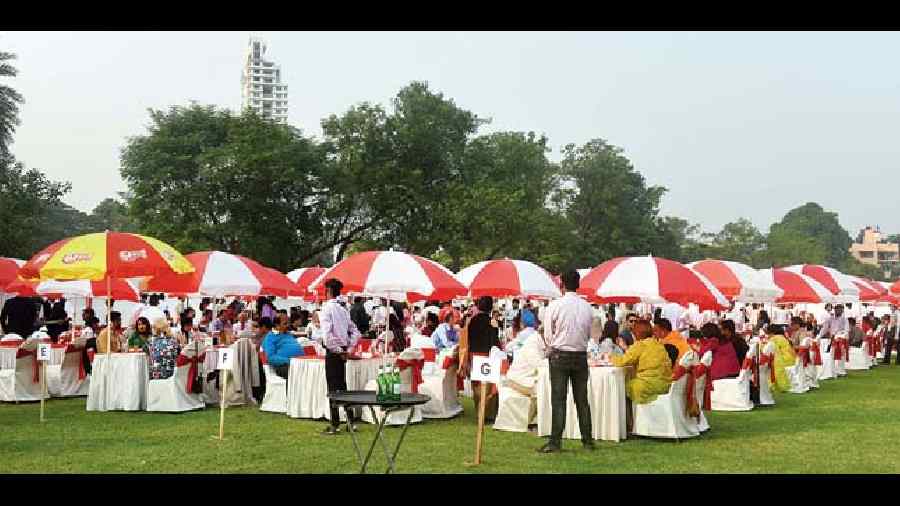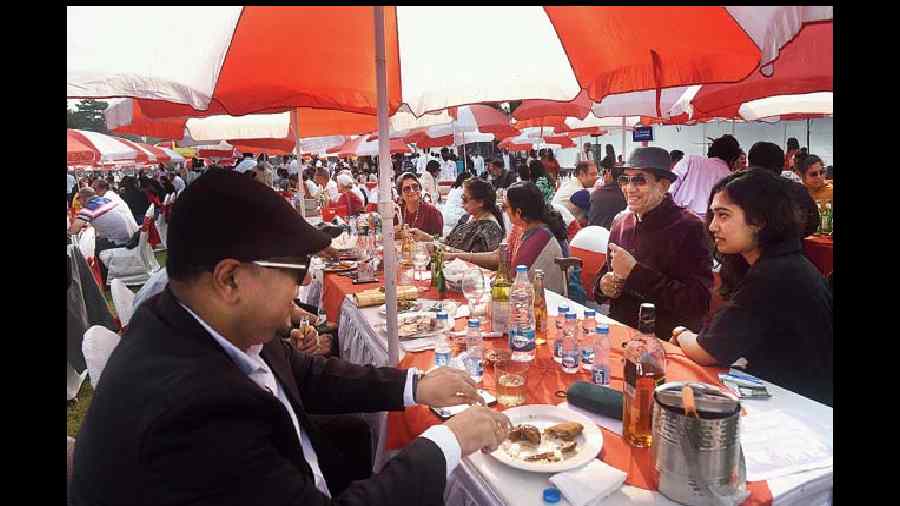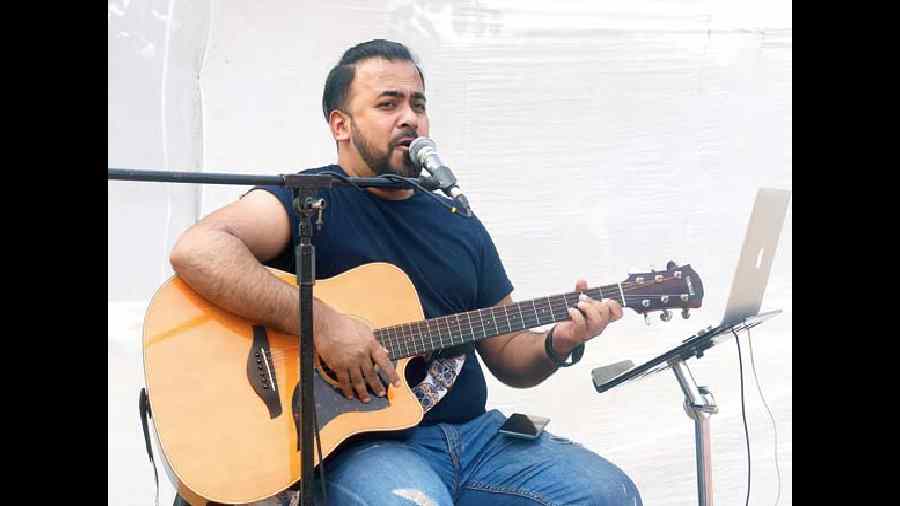 Kaustav Banerjee's playlist for the afternoon was a medley of English classics, rock, country music and Christmas songs. From Queen's I Want to Break Free to John Denver's Take Me Home, Country Roads, the tracks kept everyone's spirits high.
SHE WORE:
Christmas colours red and white along with the internationally trending green dominated women's wardrobe for Christmas this year. Pantsuits, smart dresses and skirts paired with boots and sneakers were popular styling choices.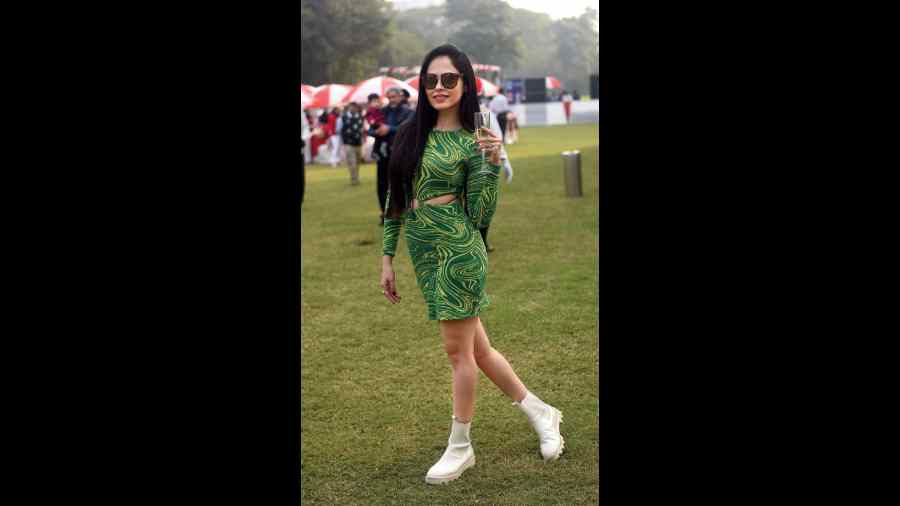 We loved how Malobika Banerjee paired her patterned green Zara dress with white sneakers for a comfy look.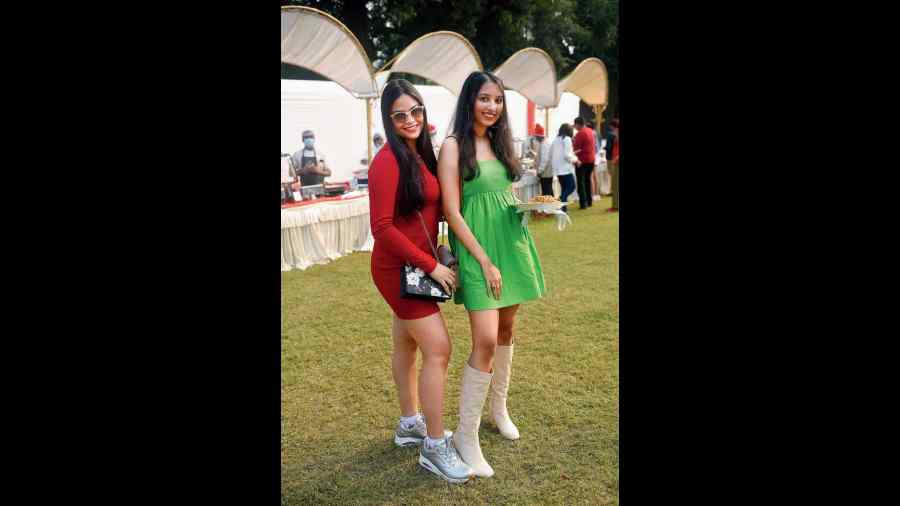 Friends Smeera Sengupta (left) and Shubhangi Roongta, both dressed in Zara outfits cut a trendy frame together.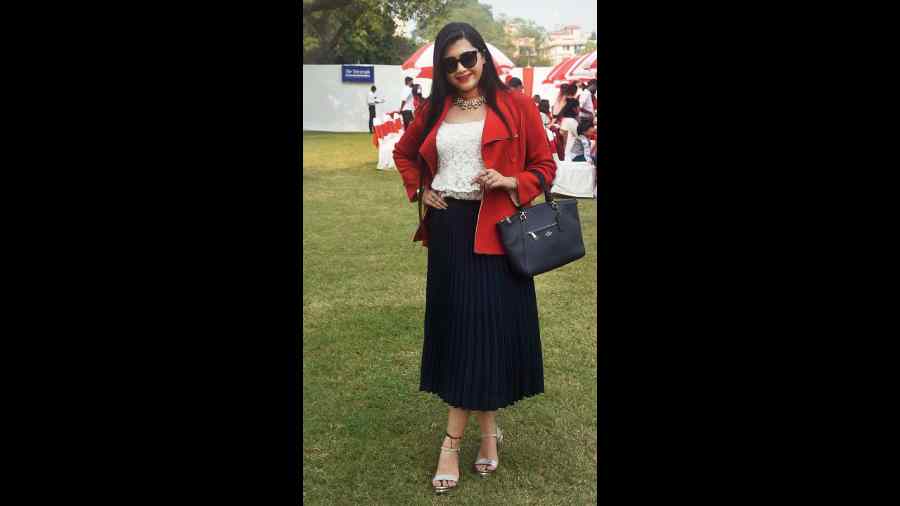 Adolina Ganguly dressed smart and elegant in a red jacket, paired with a white top and ankle-length pleated skirt from Zara.
HE WORE
Different shades of blue dominated men's fashion for their Christmas look. Men kept their looks smart and casual in blazers, paired with tee or shirts and denims.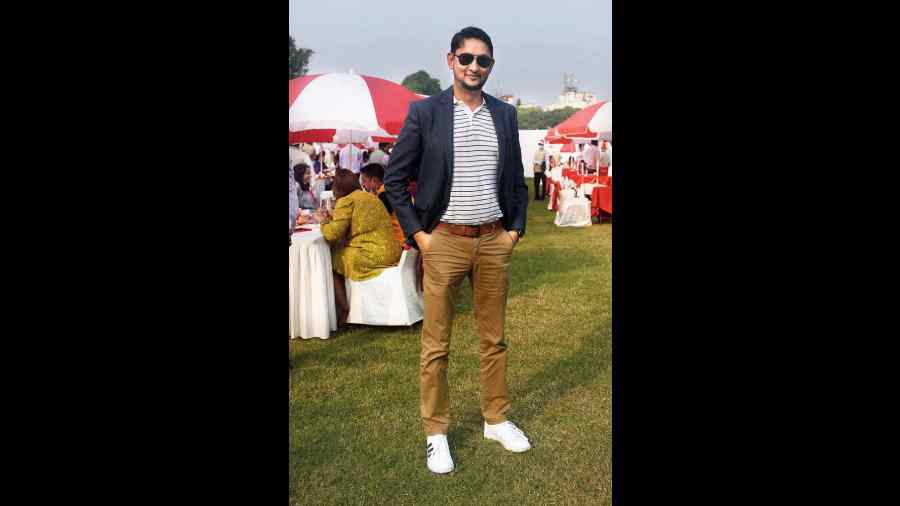 Avirup Chaki chose a Louis Philippe ash-blue blazer for the Christmas lunch with his family.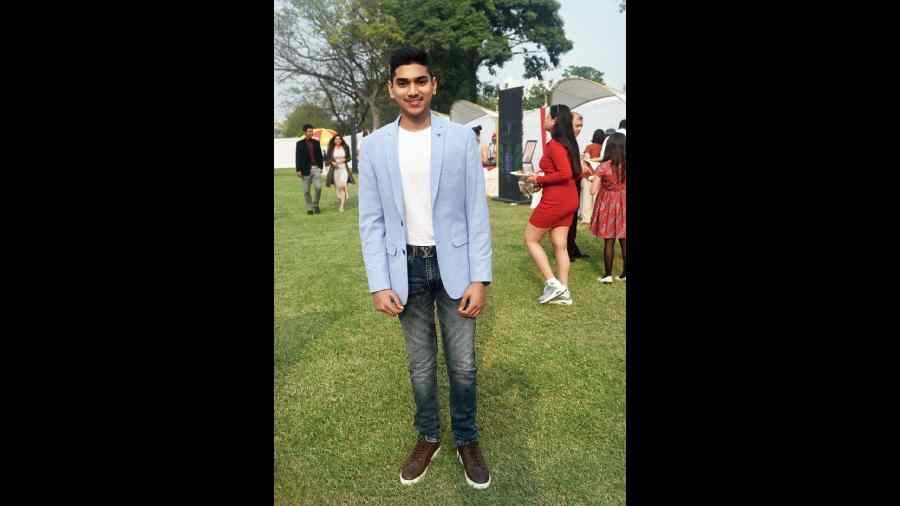 Arrthham Jalan complemented his casual denim look with a smart powder blue blazer from Louis Philippe.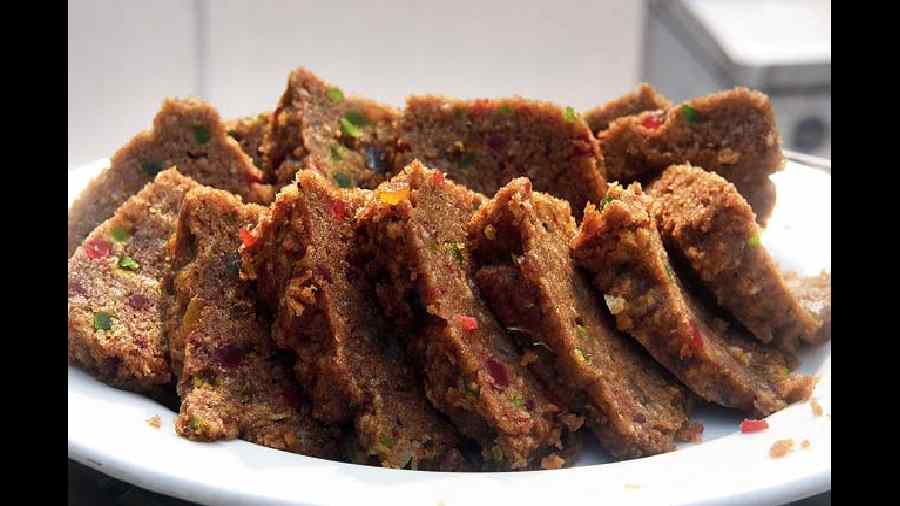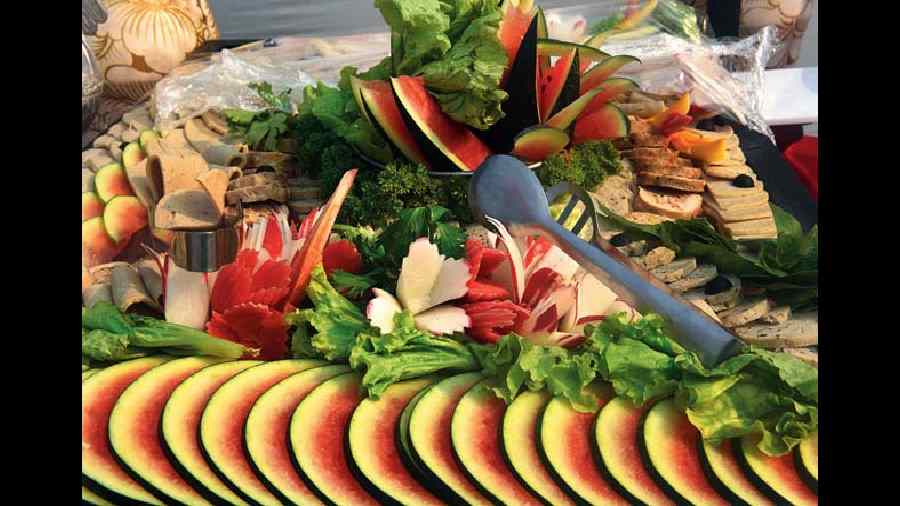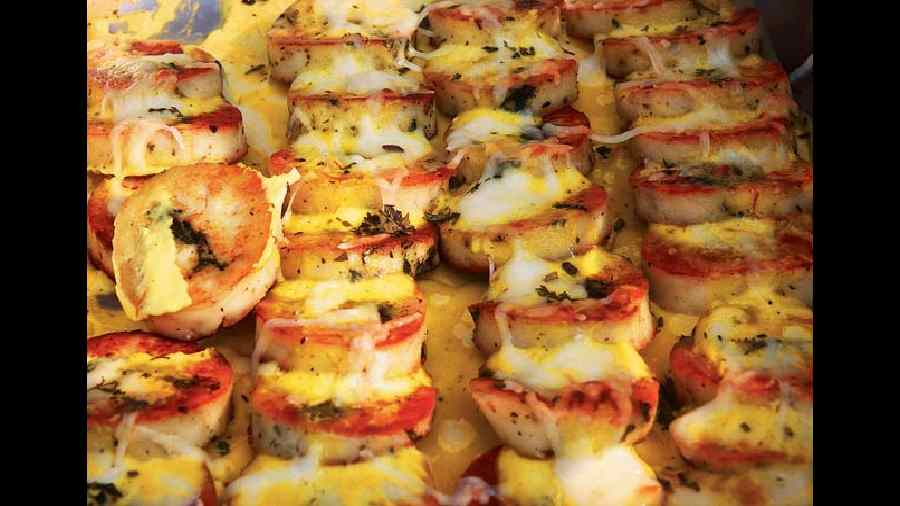 The buffet spread by 6 Ballygunge Place had European, Indian and Japanese delicacies. Alongside the RCGC signature dish Stuffed Turkey in Cranberry Sauce, the menu had an array of healthy salads, veg and non-veg dishes like Grilled Caribbean Chicken, Smoked Ham, Veg Wellington, Teriyaki Tofu, and warm Plum Pudding and ice cream for desserts.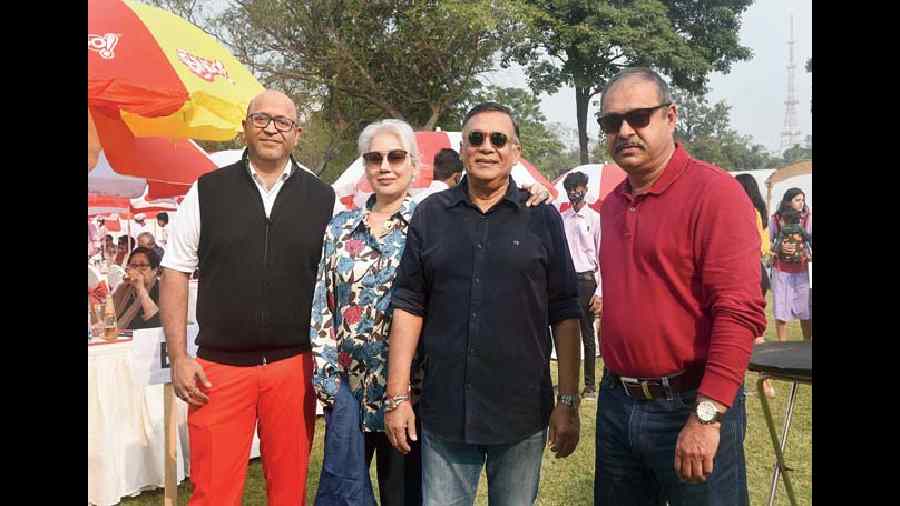 (L-R) Prawal Tulsyan, F&B convenor, Nandini Ghosh, first lady of the club along with husband Rohan Ghosh, club captain and Col. Devrishi Singhal, CEO of RCGC. "We were completely sold out and had to send a message to our members that due to Covid protocol we had to stop selling the passes. There is personalised service for every table and we take care to make the members feel at home. The spread is fabulous plus the music," said Col. Singhal.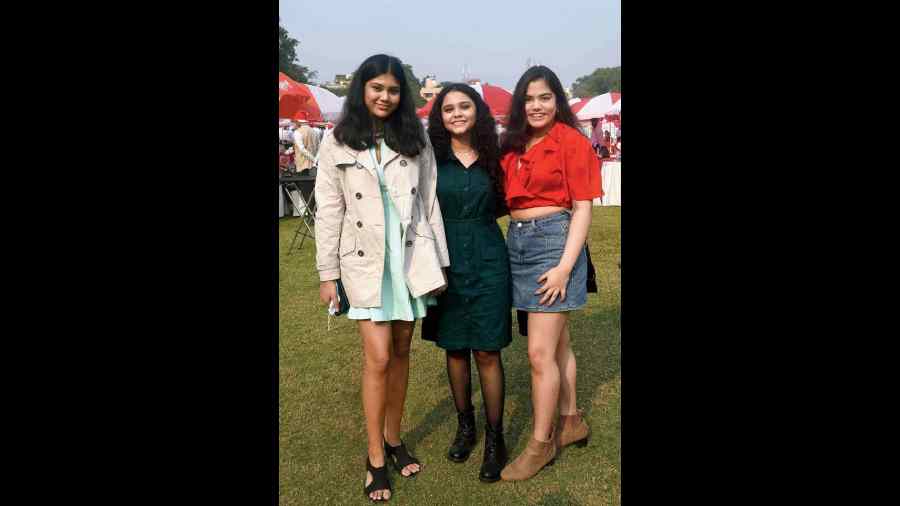 (L-R) Friends Adrija Ghosh, Sonakshi Ghosh and Adrija Dutta of Modern High School for Girls look forward to the RCGC Christmas lunch every year. "We love the ambience and the Christmas-special food," said the trio.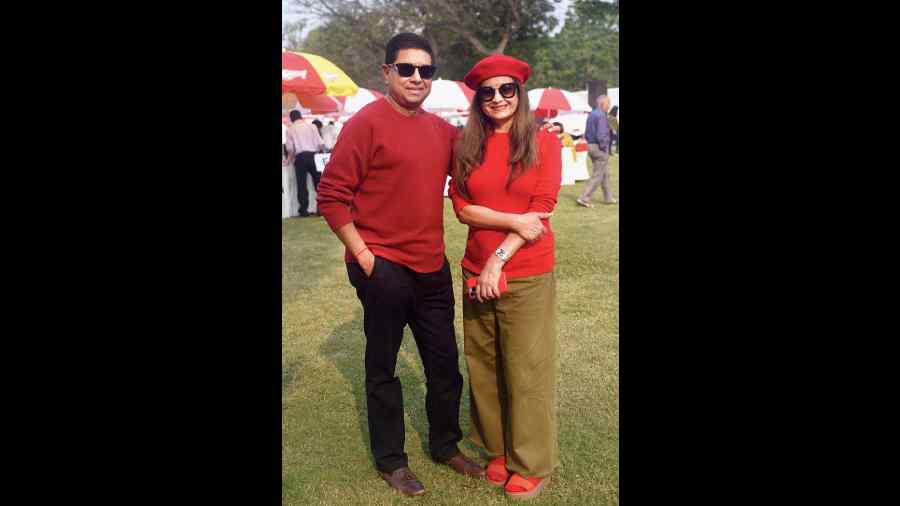 Sanjay Budhia and Minu Budhia had their Christmas style on point in red. "Christmas lunch at RCGC is a much-awaited afternoon. The cool breeze, the lush-greens, the soothing sun and great music have made it to our winter calendar must for years," said Minu.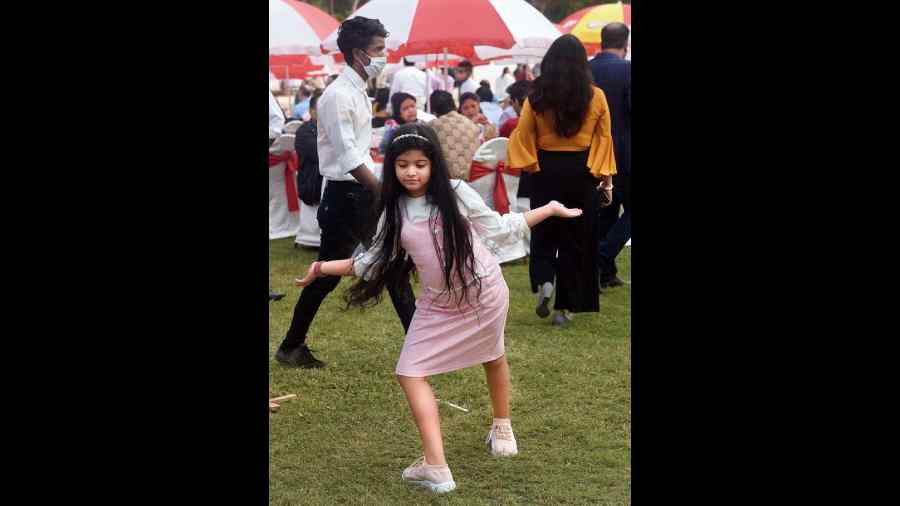 Six-year-old Manville Jha who came with her family had a whale of a time dancing all by herself to the live music on the ground. "I love Christmas because Santa comes and I get Christmas presents," said the munchkin.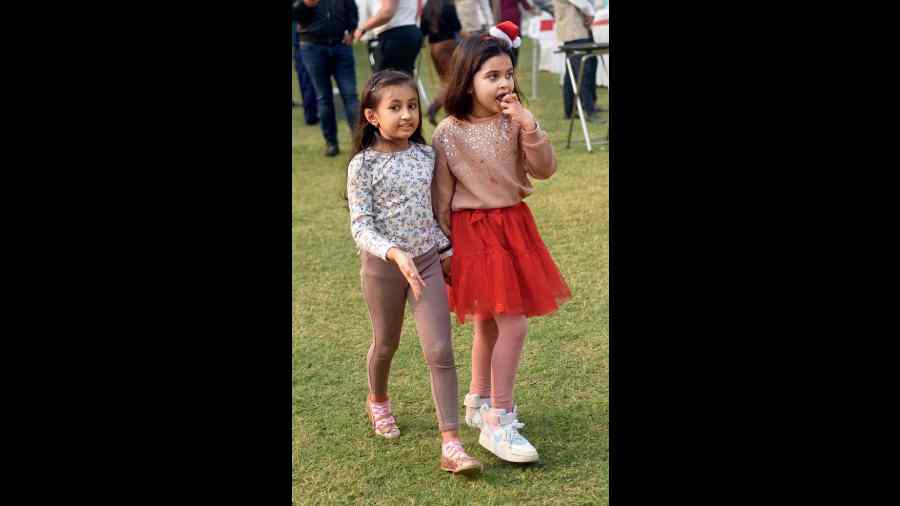 Six-year-old Deetya Poddar (left) and friend Izara Kaushik, who came with their parents, were captured heading towards the buffet counter to get their favourites from the spread.