Near Ganesh Chandra Avenue's Hind Inox Cinema hall, in central Kolkata, stands a memorial with four busts and the outline of a strange-looking gun etched on it. Though it's been there for decades, very few Kolkatans know about its existence. In fact, a few years ago when a popular radio channel hosted a quiz about this memorial, only two listeners could get it right.
The memorial in question relates to a daring arms robbery committed by Bengali revolutionaries in the pre-Independence era that also proved to be crucial to pan-India rebellions.
On August 26, 1914, a handful of revolutionaries successfully carried out a daring arms heist in broad daylight in the busy area of Kolkata's B.B.D. Bagh. The booty consisted of 50 Mauser C96 semi-automatic pistols and 46,000 7.63 mm x 25 mm Mauser cartridges. The robbery was done so masterfully that it took the authorities three full days to discover what had happened.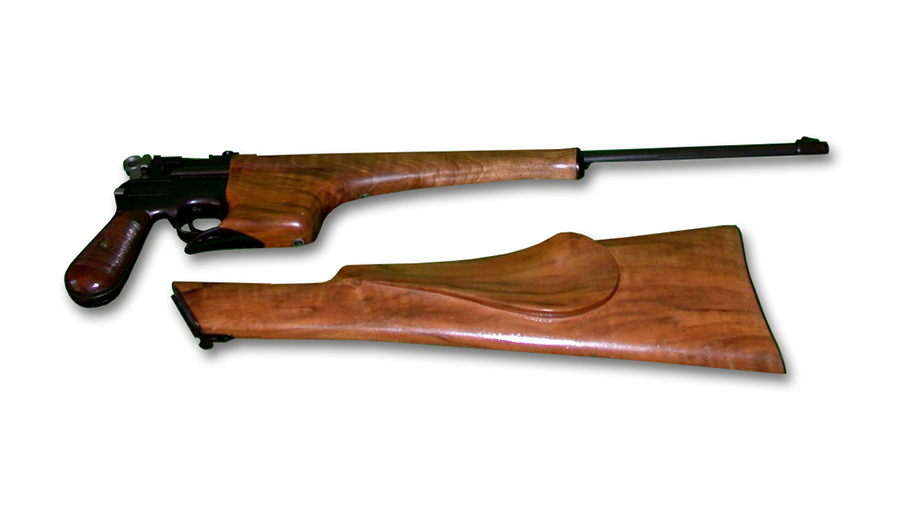 Mauser C96 with case
Wikimedia Commons
The head of the Detective Department, Sir Charles Augustus Tegart was in charge of a special branch created by Police Commissioner Sir Fredrick Halliday. The case of theft of Rodda Arms Robbery was reported to him as late as August 29. The person reporting the case was one Mr. F. B. Prike from Rodda and Company who said that his young Jetty Clearing clerk Shrish Mitra — who had gone in search of the bullock carts transporting the arms — was also missing.
Prelude to the robbery
So, who was Shrish Mitra? Let's move back in time to a day in August 1914 — closer to the day of the actual robbery — when a meeting of revolutionaries took place in a narrow lane of lower Chitpur road named Chatawala Gali (very close to the police headquarters at Lalbazar). It was summoned by Anukul Mukherjee of Attomnnati Samiti and Dacca Mukti Sangha's Srish Paul.
During the First World War (1914-1918) Indian revolutionaries were in desperate need of firearms to helm an armed struggle for Indian Independence, across the country. Rash Behari Bose and Bagha Jatin were among the masterminds of this movement.
The Attomnnati Samiti was founded by Bipin Behari Ganguly and had its base at 39, Malanga Lane (at present near Hind Cinema). Besides Anukul Mukherjee, some of its members were Girin Banerjee and Kalidas Basu. The noted activist and rebel Bagha Jatin had tasked Bipin Behari Ganguly with procuring arms which would give ammunition to their pan-India movement.
Attomnnati Samiti was collaborating with Hem Chandra Ghosh and Ullaskar Datta's Dacca Mukti Sangha to plan an arms heist. The very final meet for the robbery was to take place at Chatawala Gali.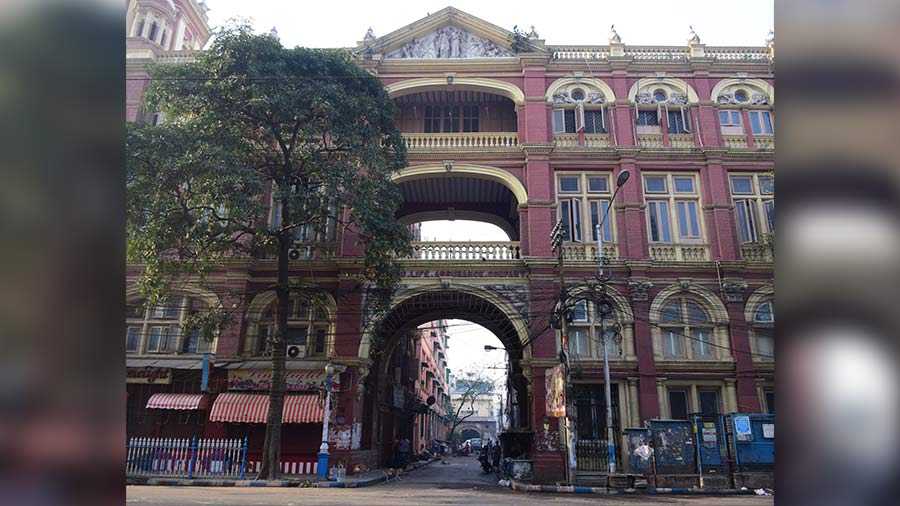 Entrance of Vansittart Row where Godown of Rodda and Company was located
Amitabha Gupta
One of Bipin Behari's close friends Kalidas Mukherjee was employed at Rodda & Co, a prominent gun store situated at the time in Vansittart Row in Calcutta. With his help, Anukul was able to get a young man employed at Rodda & Co. His name was Shrish Mitra alias Habu. Shrish was an informer for the revolutionaries at Rodda and Company and soon became a trusted employee of Mr. Prike.
Shortly after, Shrish Mitra informed his peers that a large consignment of German Mausers had arrived at Calcutta for Rodda and Co. The Mauser C96 was a long barrel gun with the box magazine located in front of the trigger with a round wooden handle along with a wooden shoulder stock.
At the meeting near the Chatawala Gali near Lalbazar, Anukul and Dacca Mukti Sangha's Srish Paul shared their intention of absconding the guns along with the bullets from police custody. Narendra Nath Bhattacharya of the Jugantar Party along with Naren Ghosh Chowdhury of the Barisal party deemed the plan to be absurd and left the meeting. The rest decided to go ahead with the plan.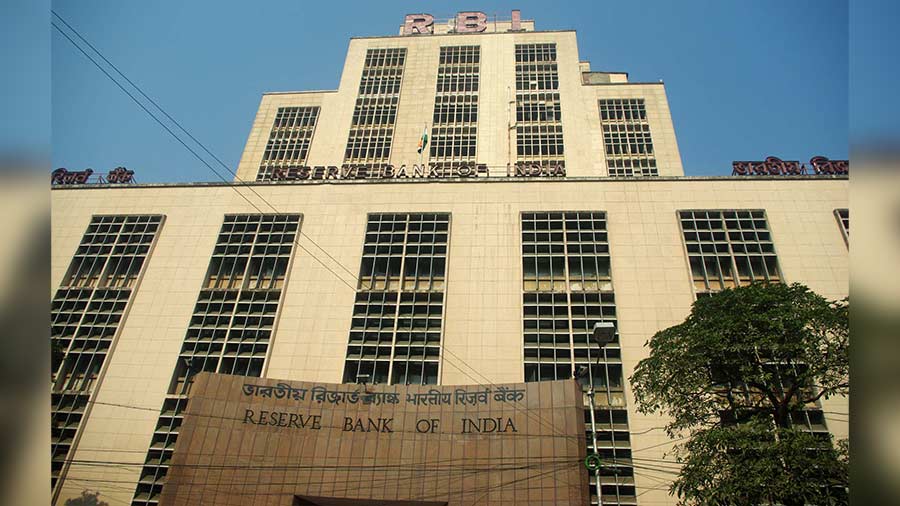 Reserve Bank of India building stands at the place where Customs House stood in 1914
Amitabha Gupta
The pistol and cartridges were to be released from customs by Srish Mitra on behalf of Rodda and Company on August 26. The arms were to be put up in six bullock carts from Custom house and delivered to the godown of Rodda and Company. The seventh bullock cart was to tag along behind the rest as if it was a part of the rest carts. Shrish Mitra was to upload the entire consignment of Mauser pistols, shoulder stock and cartridges on this seventh bullock cart. Anukul Mukherjee was to arrange a cart driven by a stout upcountry bullock. 
A revolutionary named Haridas Datta was to guide the bullock cart to Malanga Lane from Custom Office. Shrish Pal and Khagen Das were to walk beside the cart guarding him. A young revolutionary named Prabhu Dayal Himmatsingka was assigned to the job to give Haridas Datta a makeover so he could resemble a Hindusthani Garowan.
The D-Day
The Custom House was located in the southeastern corner of Lal Dighi at Dalhousie square (presently, the Reserve Bank of India stands there).  
On August 26, Srish Mitra reported to Mr. Prike at 10 am, as he usually did. Mr. Prike handed him all the necessary documents and explained to him his job in detail. 
At that time, consignments this huge only used to come once a year. When the bullock carts left the Custom House, the day was quite cloudy and interspersed with brief showers. As Haridas Datta drove the bullock cart like an expert Garowan on the streets of Dalhousie Square, Shrish Pal and Khagen Das came silently from their designated waiting spot and started walking on either side of the cart.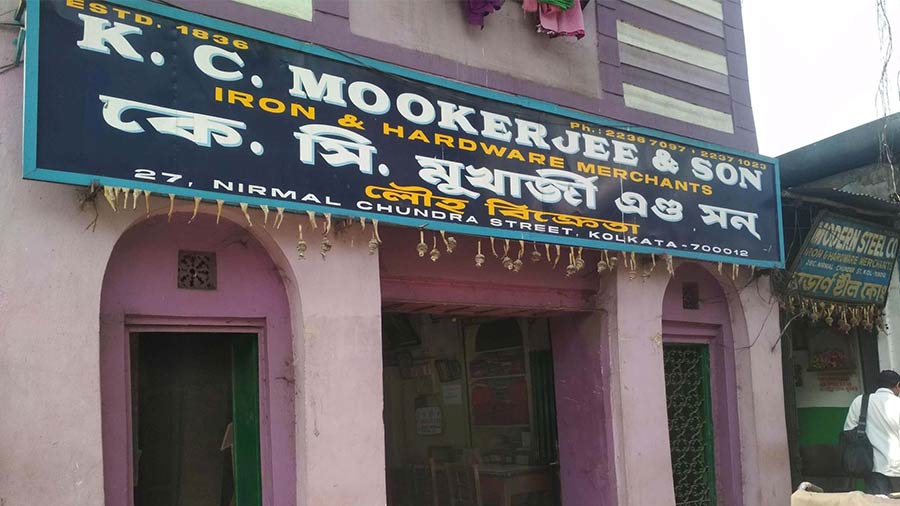 Kanti Mukherjee's Office (in present-day Kolkata) where the arms were unloaded first
Amitabha Gupta
At the entry of Vansittart Row, the six bullock carts went inside the lane towards the Godown of Rodda & Co. Srish Mitra accompanied the carts towards the Godown. The seventh cart driven by Haridas Datta did not turn right into Vansittart row. Instead, it went straight. It was unloaded in front of a godown (or stockyard) on B.B. Ganguly Street belonging to one Kanti Mukherjee near the entrance of Malanga Lane. A car which was supposed to arrive to take over the arms did not arrive. 
Two hackney carriage drivers named Noor Muhammad and Sheikh Abdul agreed to deliver the boxes to Jelia Para Lane at the rate of eight annas each. The boxes were delivered to the house of Bhujanga Bhushan Dhar at 3, Jelia Para Lane. Dhar was an M.Sc Student at Presidency College (now University). The guns and cartridges were then transported to different places after being segregated in steel trunks. Significant consignments were distributed temporarily to the office and godowns of various Marwari locals.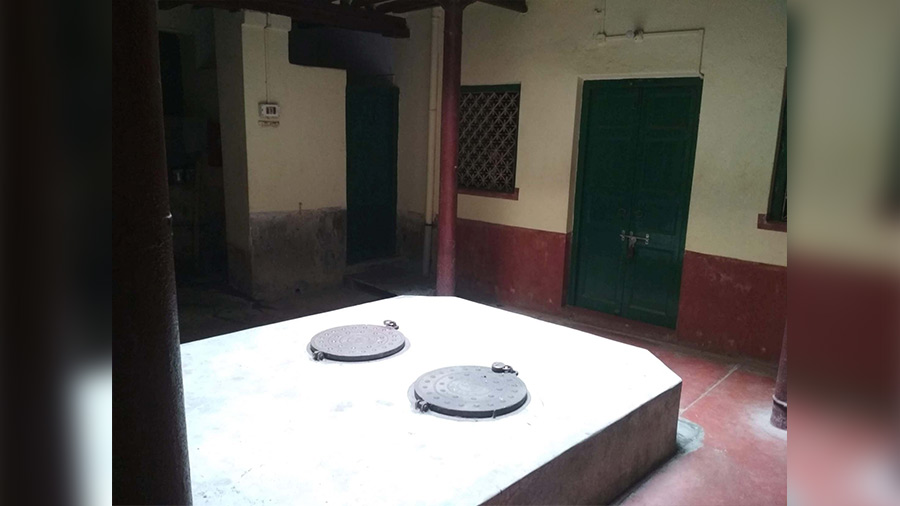 The interior of Bhujanga Bhusan Dhur's residence where arms were unpacked from a wooden case
Amitabha Gupta
Hanuman Prasad Poddar of Gita Press fame along with his friends Fulchand Chowdhury, Jawala Prasad Kanoria and Onkarmal Saraf, under the umbrella of an organisation called Marwari Sahayak Samiti, helped the Bengali revolutionaries smuggle these weapons to a different revolutionary. It is believed that a box of bullets was also kept in GD Birla's house for some time.
The aftermath of the Robbery
It's worth noting here that although many of the revolutionaries including Haridas Datta and Bhujanga Bhusna Dhur were arrested later, none of them was given life imprisonment or death sentences. Many of the arms and bullets packages were recovered too, some from Dukari Bala Devi of Nalhati, the first female revolutionary trained under Bipin Behari Ganguly. Shrish Mitra or Habu, however, could not be traced. 
The significance of the Rodda Arms Heist can be best understood from a statement made in the report of 1918 by the President of the Sedition Committee S.A.T. Rowlatt. In Page 56 of the report, he mentions "The authorities have reliable information to show that 44 of these pistols were almost at once distributed to 9 different revolutionary groups in Bengal, and it is certain that the pistols so distributed were used in 54 cases of dacoity or murder or attempts at dacoity and murder subsequent to August 1914. It may indeed safely be said that few, if any, revolutionary outrages have taken place in Bengal since August 1914, in which Mauser pistols stolen from Rodda & Co. have not been used."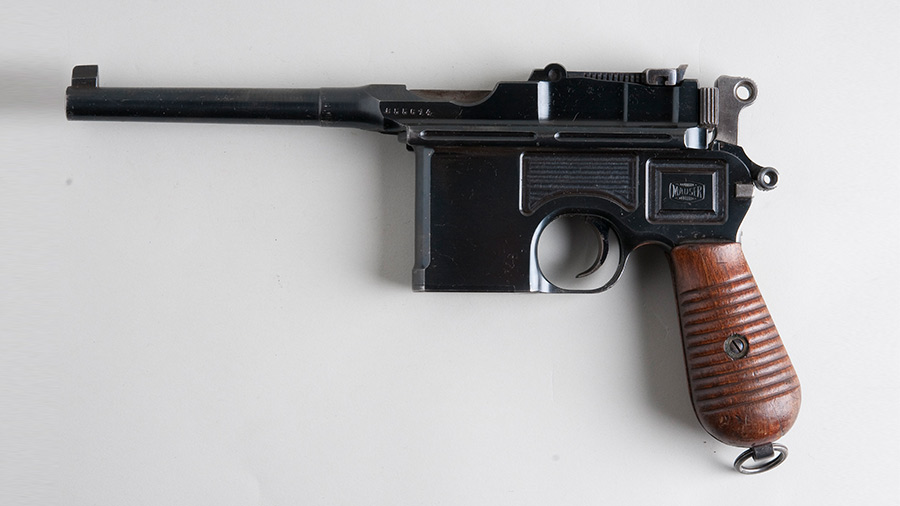 A closer look at Mauser C96
Wikimedia Commons
Though not a single revolutionary was killed during this heist, nor a single bullet fired, this robbery played a crucial role in India's struggle for Independence. From Rash Behari Bose to Bagha Jatin, almost everyone had used the stolen Mauser pistols during their fight.
At least one was used in the famous Chittagong arms robbery of the 1930s as per the writer Satyendranath Gangopadhyay. Rash Behari Basu carried with him one of these pistols. Even Bhagat Singh and Chandrasekhar Azad received at least one Mauser pistol, each from the loot. The looted Mauser C96 played an important role in the Ghadar conspiracy (the Mutiny of 1915) too.
A memorial on Ganesh Chandra Avenue has been built on behalf of a local committee Jatio Artotran Samitee. Four busts of Bipin Behari Ganguly, Anukul Mukherjee, Girindra Nath Banerjee and Haridas Datta stand to this day. A depiction of a Mauser C96 gun with its wooden shoulder stock can also be spotted at the Memorial with an iconic artwork of Shrish Mitra walking towards oblivion. The artificial canons in front of the premises which once housed the office of Rodda and Company, stand as a reminder of the forgotten incident.
You can explore the heist's history in greater detail as Break Free Trails is organising a heritage walk on Sunday, August 21, to retrace the milestone moments of the Rodda Arms Heist, highlighting several hotspots and homes of the revolutionaries.
Visit their social media pages to register for the walk. 
Facebook: https://www.facebook.com/breakfreetrails/
Instagram: https://www.instagram.com/breakfreetrails/