Amidst the glitz and glam of gimmicky restaurants in the city, the heart craves for cosy, non-flashy eateries serving food that would instantly lend a warm fuzzy feeling and light up your face and your tastebuds. If you too are in that quest, you are up for some good times because national food chain SodaBottleOpenerWala has marked its debut in Calcutta at South City Mall's fourth floor. A subsidiary of Olive Bar and Kitchen Pvt. Ltd, this is SodaBottleOpenerWala... first franchisee-owned outlet, by a fast-growing hospitality group in the city — Gourmet Venture Pvt Ltd. This also marks the ninth outlet of the brand in the country after Mumbai, Delhi NCR, Bangalore and Hyderabad.
So what made the brand choose Calcutta? "Our experience in Calcutta has been very delightful with Monkey Bar and Fatty Bao. We are excited to have our most fun, quirky and vibrant offering SodaBottleOpenerWala in this city. The Olive group is glad to partner with the Gourmet Venture team, who strongly believe in the purpose of the brand to revive the dying culture of the Bombay Irani Cafes," said A.D. Singh, managing director, Olive Bar and Kitchen Pvt. Ltd. While for Aayush Killa, partner, Gourmet Venture, it was always an idea "to be associated with their group that's so beautiful". "Secondly, I wanted to come to a mall format and the kind of footfall South City has is mind-blowing. I was looking for a brand that would fit the portfolio of a mall, something that is massy and quick moving and I don't think there was anything better than this brand. If all goes well we are keen on taking the brand to other parts of the city with time," said Aayush.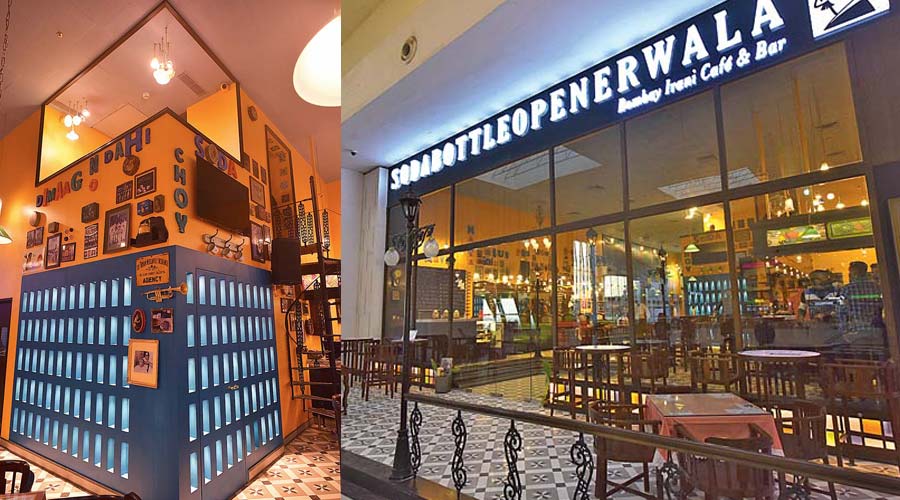 (LEFT) There is a DJ console located right above the "Banta wall" and the place will churn out retro to latest Bollywood music all day long! Also, during the day all the SodaBottleOpenerWala outlets play the same songs as they are connected to a central server run by the Olive Group. (RIGHT) SodaBottleOpenerWala Bombay Irani Cafe & Bar — the signage is hard to miss as you reach the food court of the mall on the fourth floor. If you wish to be away from the music, a provision of outdoor seating is also available. P.S.: Do not miss Rustom's (SodaBottleOpenerWala... mascot) Yezdi motorcycle parked outside.
Once you walk into the 3,300sqft outlet you will be wrapped up in nostalgia and old-world charm. The 135-seater outlet is beautifully done with over 65 chandeliers sourced from Mutton Street in Mumbai, antique mugs, tiffin boxes, telephones, and, of course, photoframes of Parsi families and cool Parsi phrases on the walls.
However, the star of the place is the food. The menu boasts around 90 dishes curated by chef Irfan Pabaney (inset) —  country head, SodaBottleOpenerWala. "The brand is all about the food, the quirkiness and the fun. Our menu is presenting traditional Parsi cuisine and Bombay street food like Vada Pav, Bhel Puri and Kanda Bhaji. We also have a bakery section that will offer freshly made pavs, breads, ginger biscuits, mawa cakes, naan khatai and shrewsbury biscuits," said chef Irfan.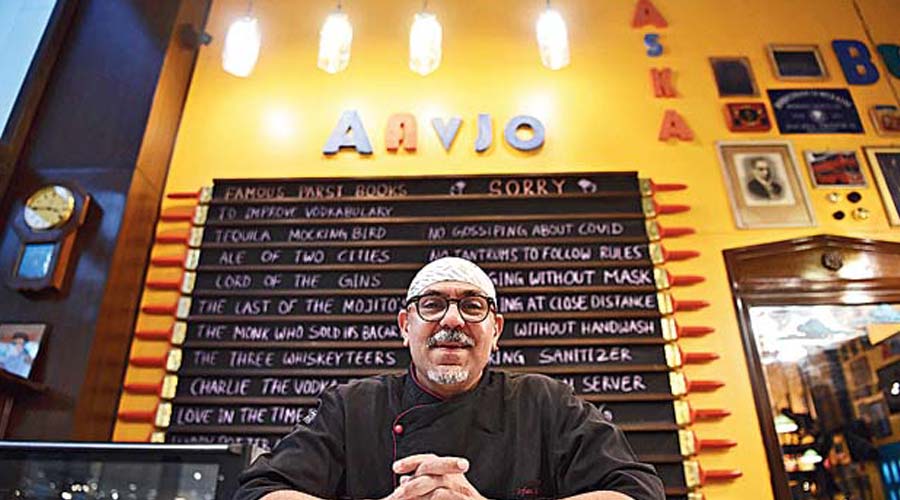 You can pair your food with cocktails and mocktails that are made mostly using local ingredients and have super fun names like Finding Frenny, Rustom Narangi, Rani Toh Pappa Ni, Bawasutra and so on.
Being a Bombay Irani Cafe, how can you give the good old nostalgic beverages a miss? The Classic Irani Chai and Pheteli Coffee are must-try. Smoothies and healthy juices like Ganna Nu Ras (freshly squeezed sugarcane juice), Watermelon and Basil Pomegranate are also on offer.
The Telegraph got an exclusive walkthrough of Sodabottleopenerwala and loved the vibrant, quirky and fun vibe. Snapshots...
#NOMNOM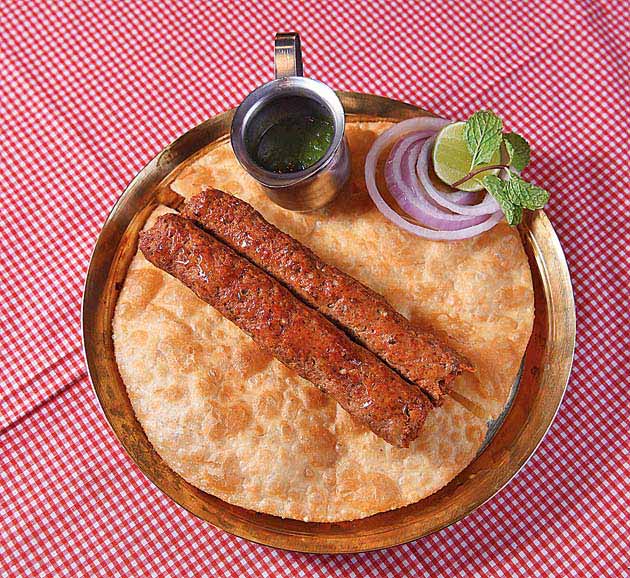 Just like they serve at Bhendi Bazaar in Bombay, try the Bhendi Bazaar Sheekh Paratha that comes with flaky Indian bread, juicy mutton sheekh served with onions and green chutney. Yum!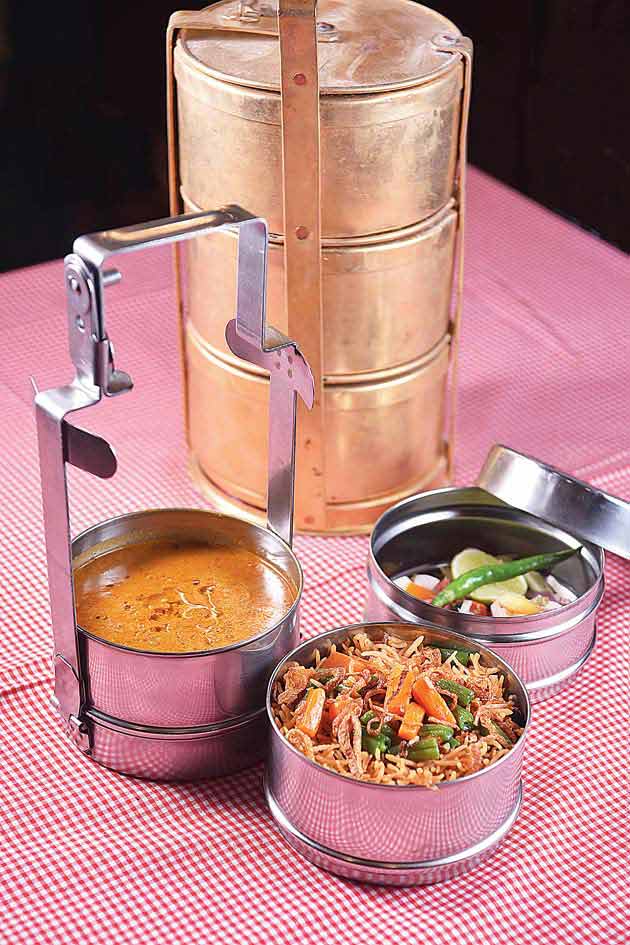 The humble Dhansak cooked with vegetables and two types of lentils packs a punch of flavours. It comes in a tiffin carrier along with kachumbar and caramelised onion rice. Non-vegetarian versions of Dhansak are also available.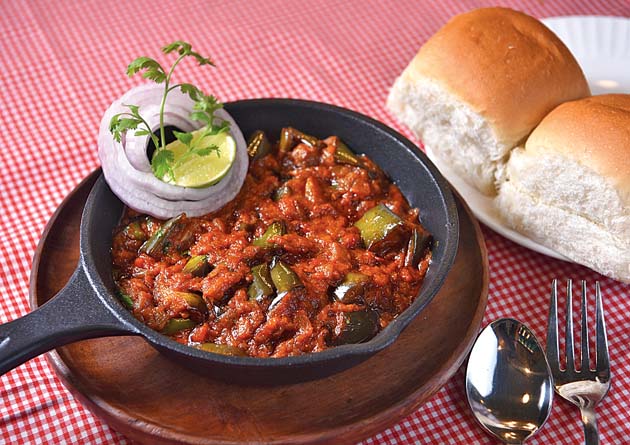 Relish the oh-so-delicious flavours of Smoked Aubergine Patio in which the aubergine is smoked for 45 minutes and cooked with tomatoes, gur and kolah vinegar along with other masalas. Little sweet, with a hint of sour, this one is droolworthy.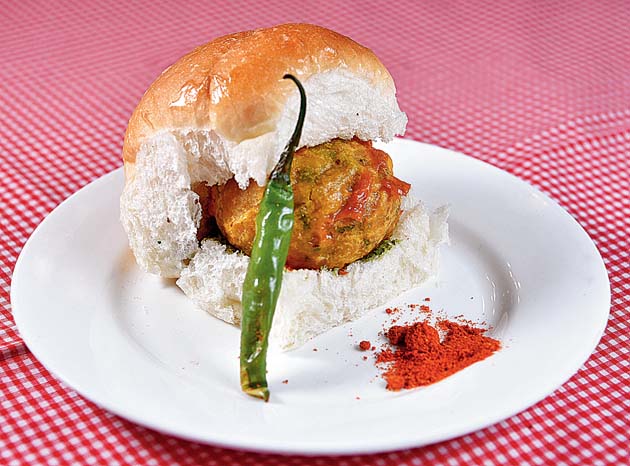 The classic Vada Pav is on the menu! The fresh buns, spiced potato fritters and the thecha masala made us miss Bombay!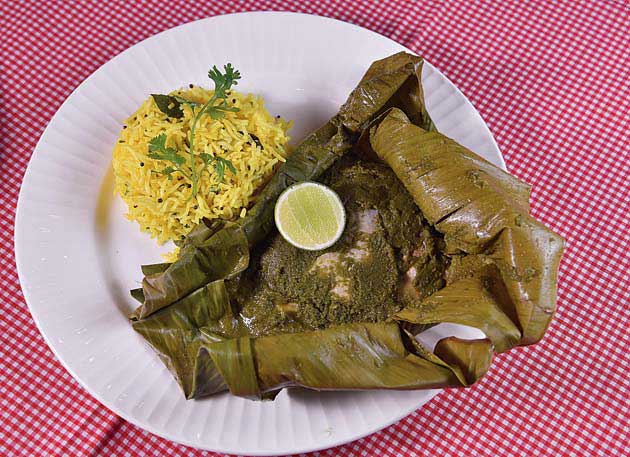 If you love Bengal's paturi, you will find similarities with the famous Parsi dish — Patra Ni Macchi that is also cooked in a banana leaf. Pomfret is used in this case and steamed with a coriander, garlic, ginger paste. Relish it with the simple lemon rice that's tempered with curry leaves and black mustard seeds.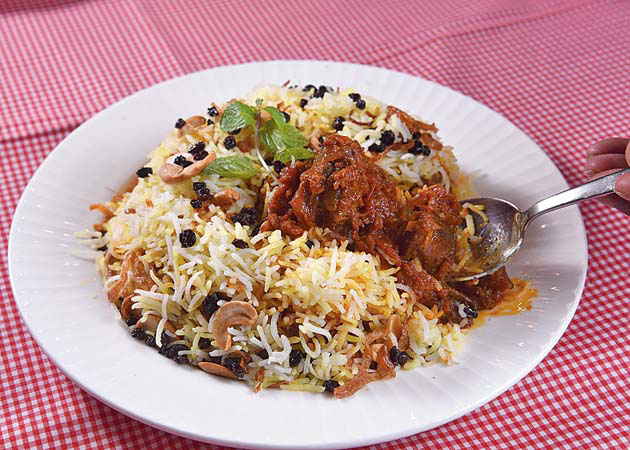 Mutton Berry Pulao, one of the signature dishes, is highly recommended. Succulent mutton pieces are cooked with fragrant Basmati rice, fried onions, berries, and nuts from Iran.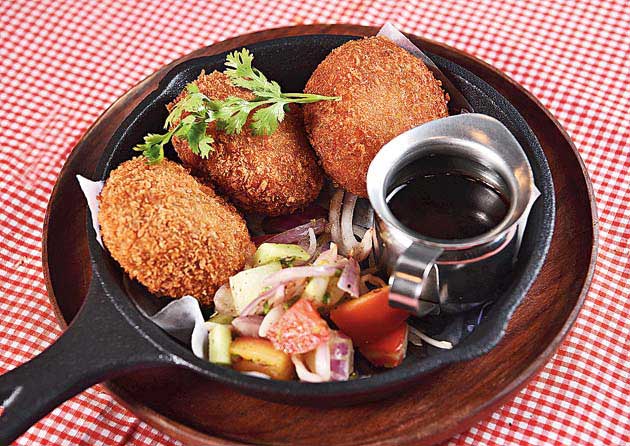 Aloo Aunty's Vegetable Cutlet will give you vegetable chop feels that we get in Calcutta but this one is stuffed with veggies like carrots, cauliflower, beans and the recipe comes from "Aloo Aunty — a colourful member of the Parsi family".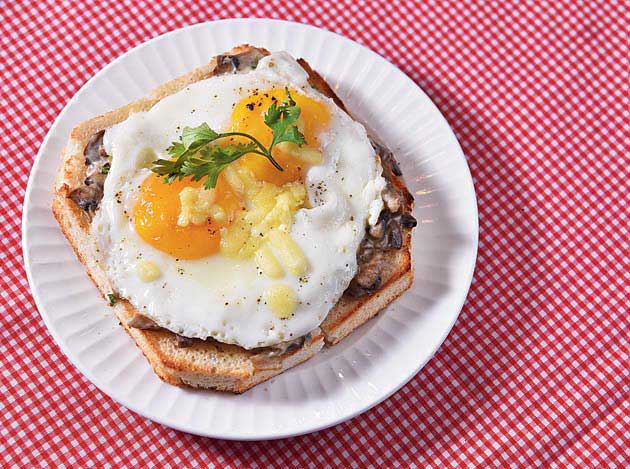 Looking for a quick bite? Try Eggs Kejriwal, just how Devi Prasad Kejriwal liked it at the Willingdon Club in Bombay — toasted bread with creamy, cheesy mushroom, chopped chillies and sunny side up egg on top.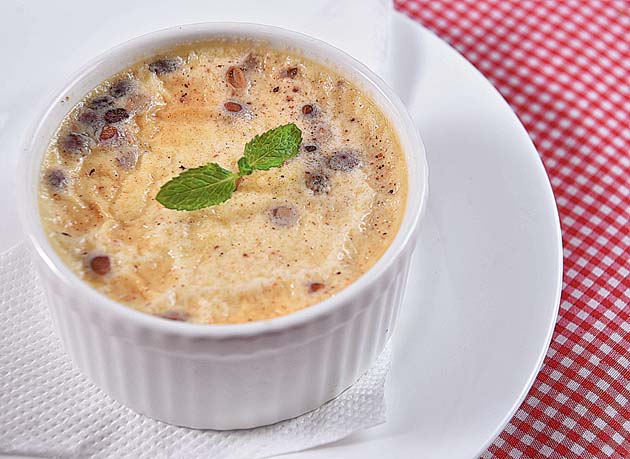 Named Lagan Nu Custard that means custard served at a Parsi wedding, this one is made with the usual egg, milk and sugar but has flavours of chironji seeds, nutmeg and cardamom. Ummm....
#CHEERS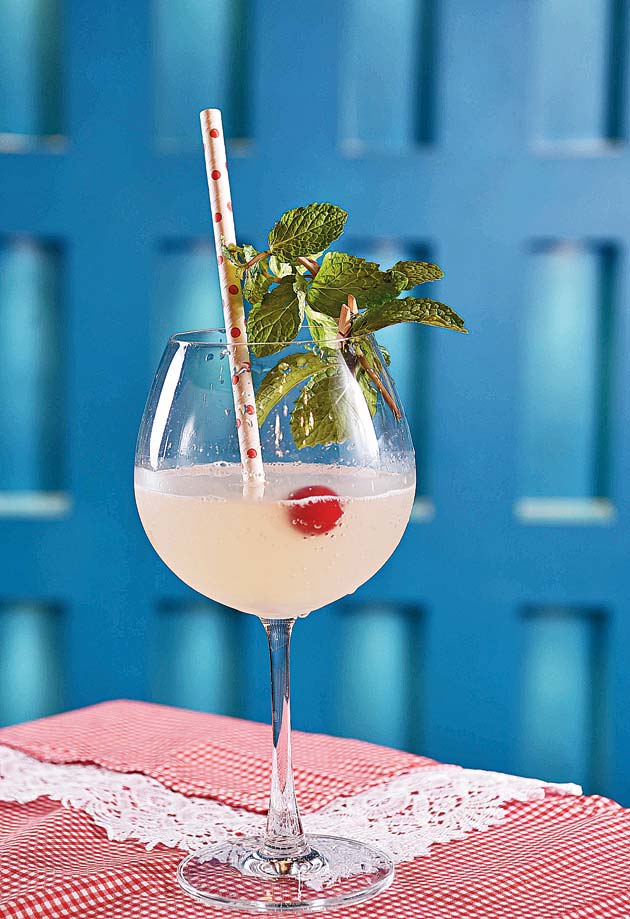 After a hectic day at work, if you are looking to chill, try Rani Toh Pappa Ni, a refreshing cocktail with passion fruit syrup, gin, tonic and mint leaves.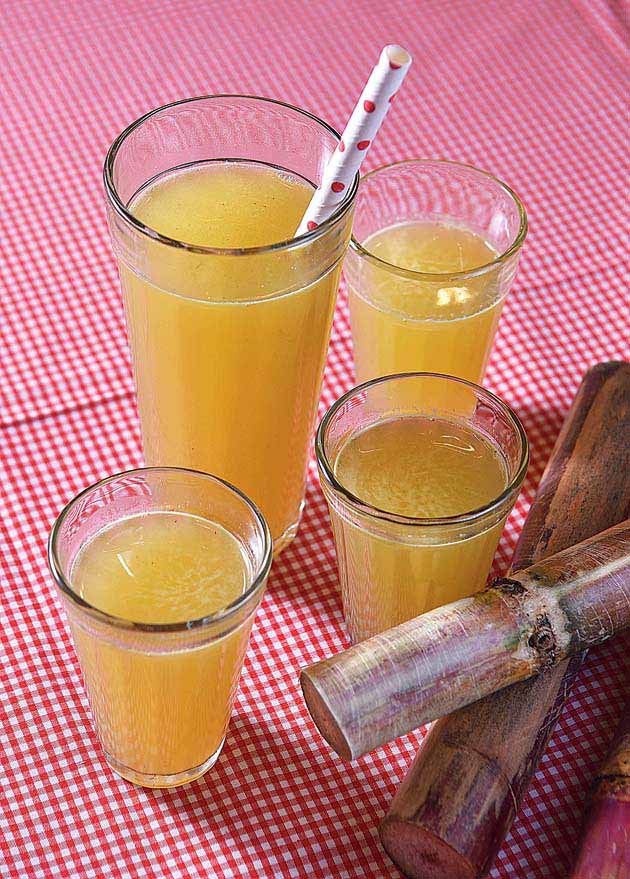 Nothing beats a glass of fresh sugarcane juice to rejuvenate oneself.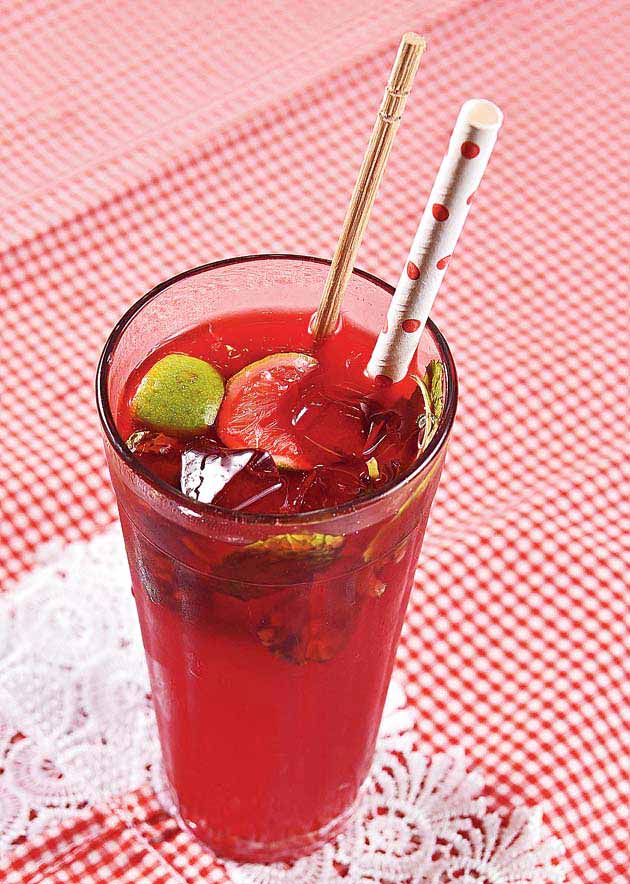 Chilli on the Juhu Beach is a fine concoction of vodka mixed with homemade raspberry shrub, lime, mint and mint leaves.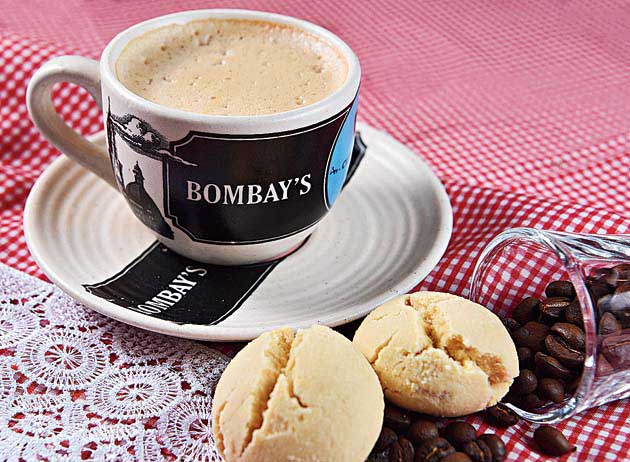 Remember how we would make coffee at home with sugar, coffee and water and beat it till it's fluffy? Yes, you can try the Pheteli Coffee that's on the menu too. Have it with naan khatai.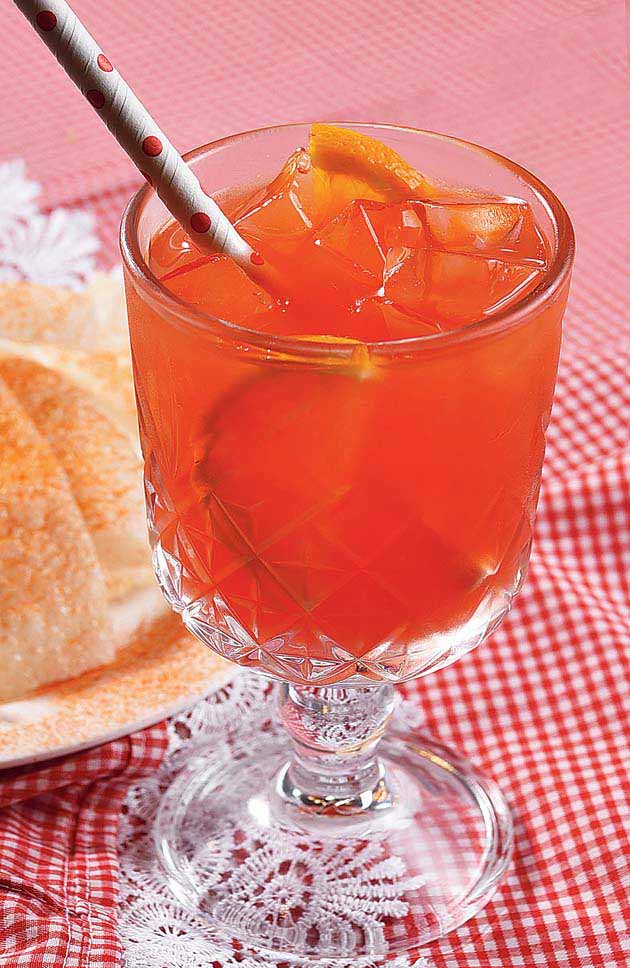 Gin lovers can try Rustom Narangi, a fine gin-based cocktail with orange, lime juice and blood orange bitters.
Know these Parsi words before you visit SBOW:
1) Dikra means guy
2) Dikri means girl
3) Bhonu stands for food
4) Aavjo: See you again. So if you are leaving, you say aavjo instead of goodbye
5) Say saras when you find the food fantastic!
6) Eedu is eggs
7) Want to have tea? Call for choy
8) Patra: Banana leaf
9) Bawa is colloquial for bhai/dada
10) Bawi stands for didi
Did you know?
SodaBottleOpenerWala was launched in 2013 at CyberHub Gurgaon with the purpose of reviving this dying legacy of the Bombay Irani Cafes
The Calcutta outlet is the biggest outlet in terms of space and has the maximum number of chandeliers that form a main part of the decor.
Parsi food uses two very common ingredients - the kolah vinegar and gur.
What: SodaBottleOpenerWala
Where: Fourth floor, South City Mall
Opening: November 21
Timings: Noon to 10.30pm (as per present government rule)
Meal for two: Rs 1,500 (with alcohol)