Refinery 091, Romaania and now Roots. The trio — partners Ramesh Agarwal, Karnesh Sethia and Jyoti Agarwal — are all set to welcome Kolkata to their new F&B outlet in the city that's a fine mix of a lounge and a nightclub. There is also a brewery coming up soon. Located at Exide crossing, Roots is gigantic, spread across 18,000sq ft and broadly divided into five segments that offers a panoramic view of the Kolkata skyline with a lovely view and view of Victoria Memorial, St Paul's Cathedral and Vidyasagar Setu. "We have been thinking about this place for a long time now. After changing the party scene in Sector V we wanted to come to this part of the city with a classy, high-energy space to give an experience to the party people that they haven't experienced before. The place is a premium place with different pockets that will cater to the different moods of the guest. You want to chill, and dance your heart out — we have you sorted. We have named the place Roots because it's like going back to our roots and also the use of the letter 'R' is deliberate because the other two outlets also begin with it," said Ramesh Agarwal.
The food menu curated by chefs Chanchal Datta (consultant chef) and Debojyoti Sarkar (executive chef), has a strong focus on Asian, Indian, Chinese and continental where they aim to stick to the "root of the cuisine" but also give a twist to the dish. There are exotic cocktails to be enjoyed too.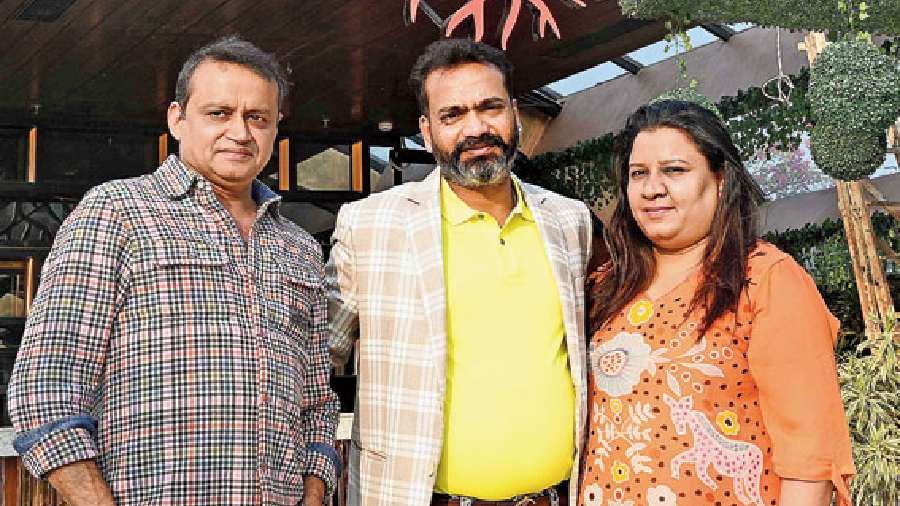 (L-R) Karnesh Sethia, Ramesh Agarwal and Jyoti Agarwal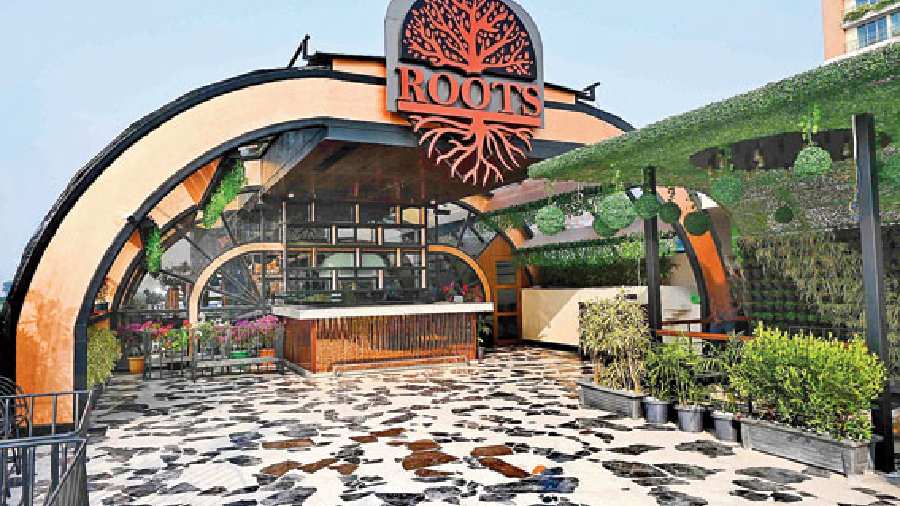 There are two outdoor sections — a 120 seater and the other is ideal for private parties. Both the sections are done up beautifully with planters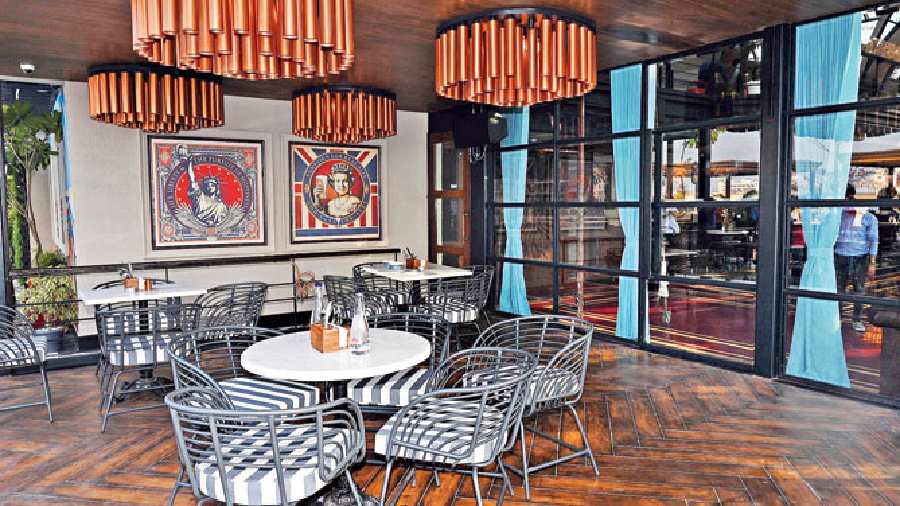 The enclosed dome-shaped space has high energy. Done up with cool paintings, warm lights and comfy seating, the space is bound to catch your attention instantly!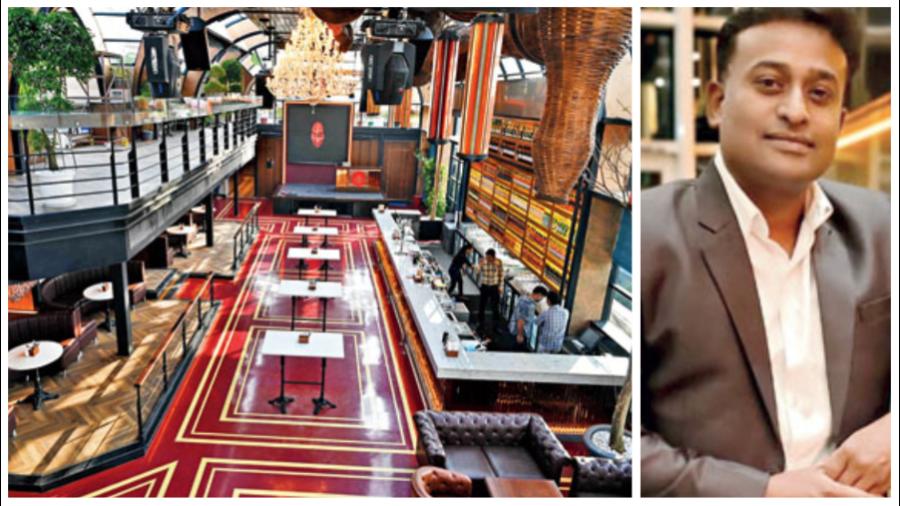 The indoor section boasts of a 35ft long bar and 26ft ceiling height. There is also mezzanine floor done up with giant chandeliers. "We have a the DJ console here and also a performance stage where live acts can take place," said Sk Samim, corporate GM Roots, Refinery 091 and Romaania
The Telegraph picks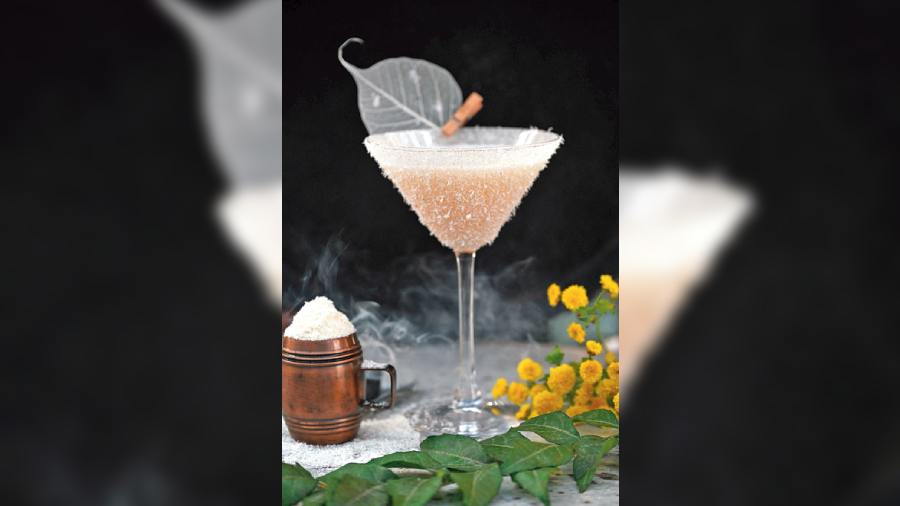 Old City: This pretty fruit-based cocktail has coconut syrup, guava juice, lime juice and garnished with curry leaves and coconut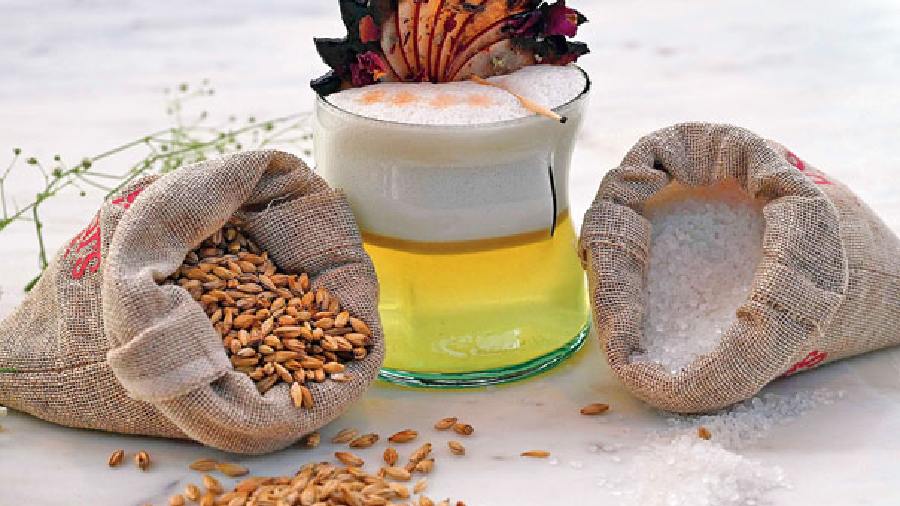 Apple Mapple: Bourbon whisky, maple syrup, apple juice, cinnamon, egg white (optional) are punched together and served with cinnamon stick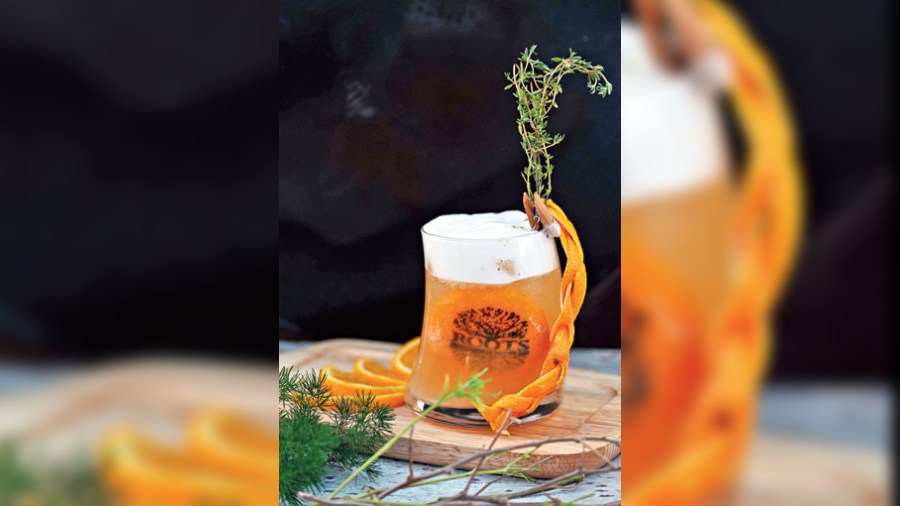 Roots Whisky Sour: Indulge in the aromatic signature cocktail that's crafted with whisky, pineapple juice, Angostura Bitters and sugar syrup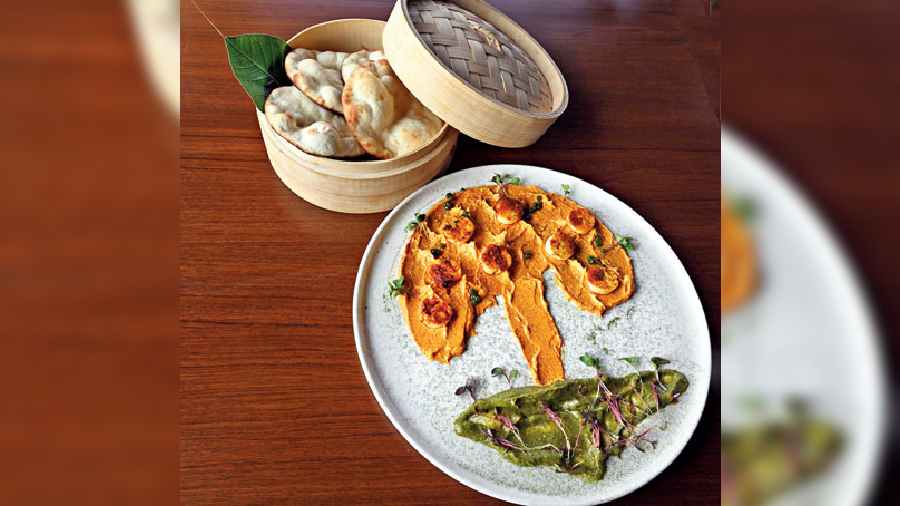 Cheese Sandoz Tree: An cold item replicating the Roots logo on the plate, this one has pita bread served with an unconventional yam pate and paneer tikka yam pate served with homemade coriander and soya caviar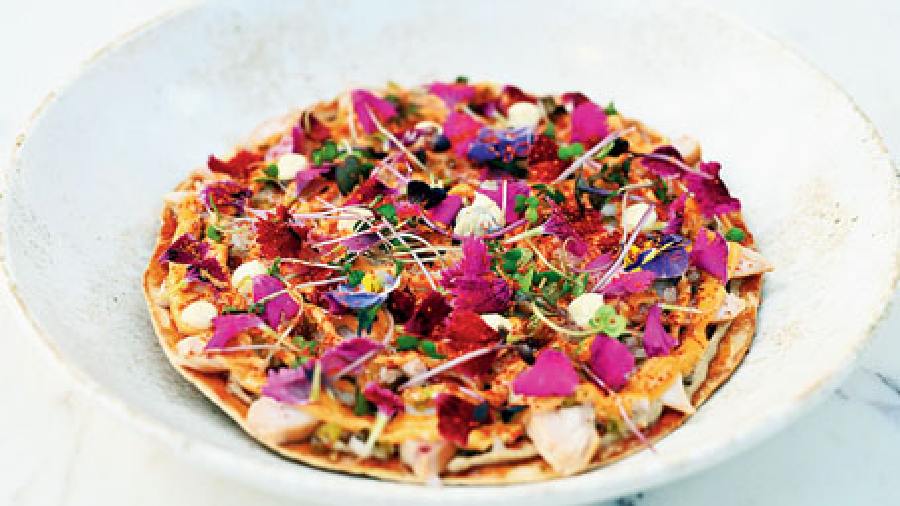 Togarashi Smoked Chicken: An interesting one on the menu, this cold pizza is too pretty to bite into. Garnished with edible flowers and chunks of delicious smoked chicken and a crispy base, this is a must-try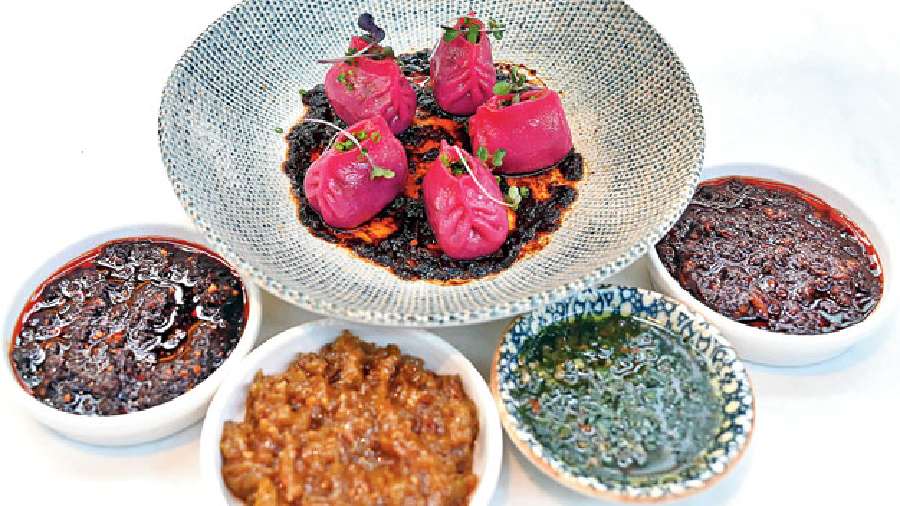 Spicy Wild Mushroom: These violet translucent dim sums have three kinds of mushrooms — button, straw and enoki, cooked as a spicy filling. This comes with four interesting dips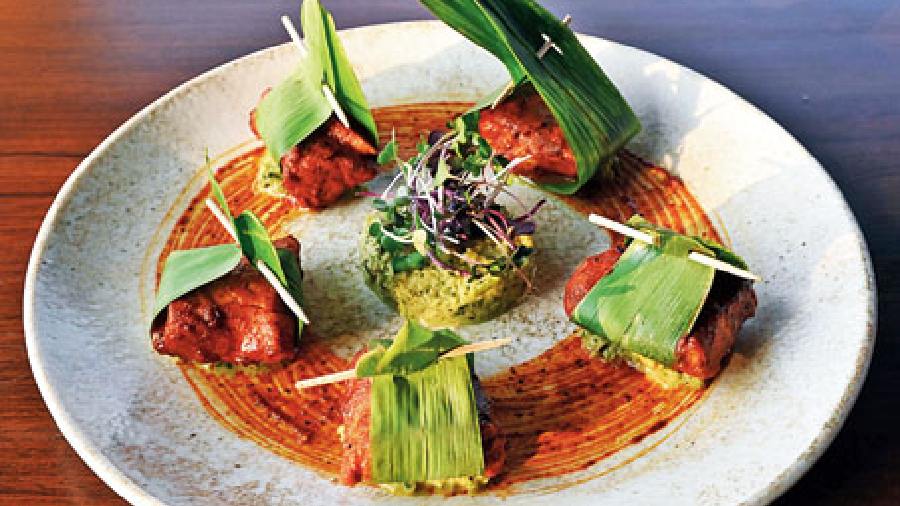 Ghee Roast Bhetki: A spicy fish starter that has ghee roast bhekti wrapped in banana leaf and served with raw mango chilli salsa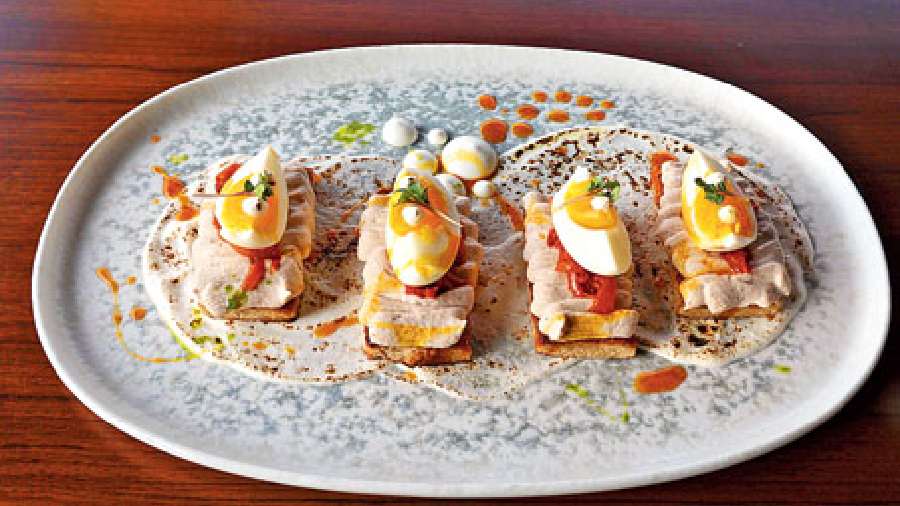 Chicken Egg Toast: A bite-sized starter made with in-house whole wheat bread that comes with malai chicken tikka mousse and is topped with organic ghee roast egg. Relish this with drops of orange marmalade that lend a bitter-sweet taste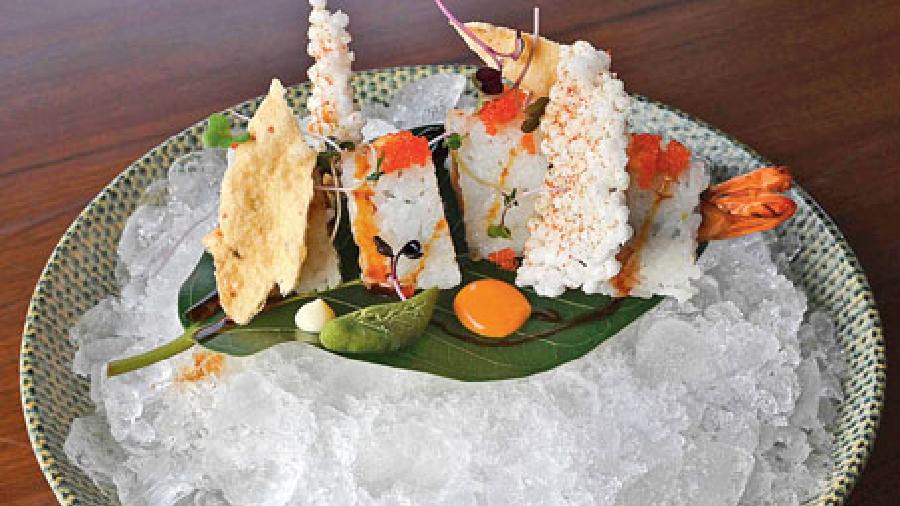 Roots Pyramid: Made with prawn tempura, this sushi pyramid comes on a bed of crushed ice and is served with an array of Indian papads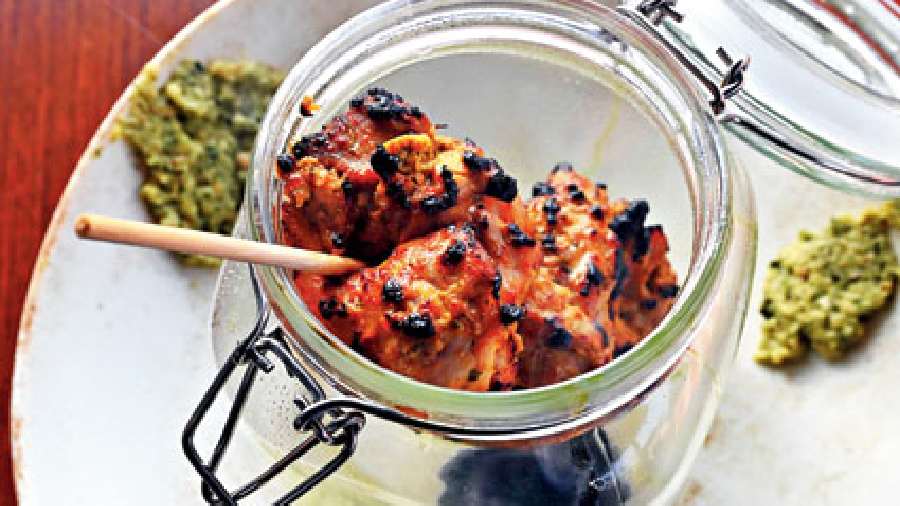 Bottle Chicken Tikka: This insanely addictive starter has live drama on your table. The smoky and spicy juicy chicken are to be savoured with a mango salsa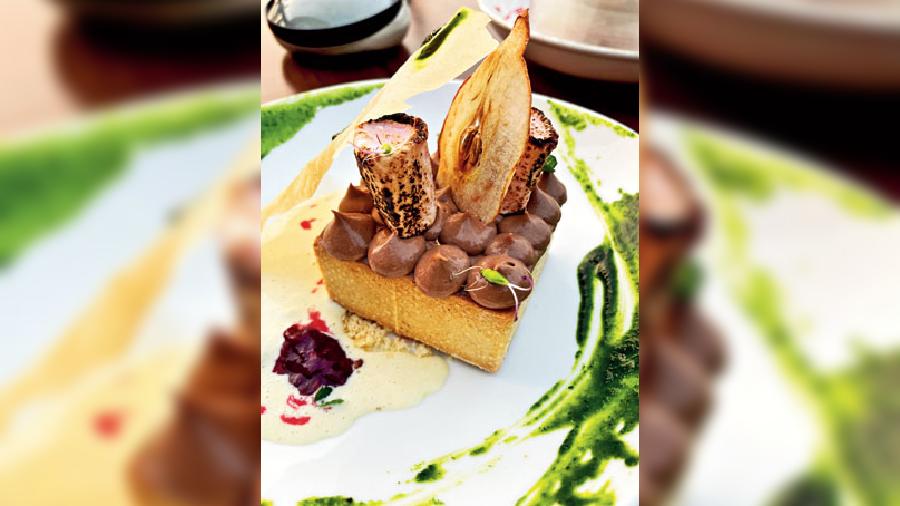 Dark Chocolate & Cumin Tart: Conclude your meal with olive sponge-infused cumin tart, that's garnished with dark chocolate inside, marshmallow, dehydrated apple and fresh sweet basil sauce on the side
What: Roots
Where: 55 & 55/1 Chowringhee Court, 6th floor roof top, Chowringhee road
Timings: Noon to midnight (weekdays) and noon to 2am (weekends)
Meal for two: Rs 2,500 (without alcohol) and Rs 3,500 (with alcohol)