Alarmed at the rise in sporadic incidents of lawlessness, residents of New Town are banding together to provide resistance. A volunteers' group has been formed and brainstorming is happening for ideas to improve security after a bike-borne miscreant stalked, abused and tried to waylay a teenaged girl on a two-wheeler who was accompanied by her much younger brother in the evening on August 16. The night before, residents of a large part of Action Area 1 had to suffer a sleepless night after loud music and bursting of crackers continued till past 2am following midnight flag-hoisting near New Town bus stand.
Representatives of New Town Forum and News, a social welfare group formed by local residents, met senior police officers at the deputy commissioner's office in Action Area 1 on Tuesday, where the inspectors in charge of the three police stations of New Town were present along with senior officials of the Bidhannagar Commissionerate.
"We will see in what way things can be improved. One of the points raised at the meeting was the diffidence among women to report cases (of harassment). We have decided to interact directly with women residents to increase their confidence. We will also see in which stretches closed circuit television coverage needs to be extended or illumination improved," said Bishop Sarkar, deputy commissioner, New Town, on Wednesday.
He agreed to implement a suggestion from The Telegraph to highlight the name of the police station which an area is under along with its contact number through public signages across New Town. "This is a good suggestion, which we will take up," he said.
The culprit who had stalked the youngsters from Greenfield Heights had been apprehended a couple of days ago, he added. "Though the area where the incident took place was not under CCTV coverage, we found some footage from the camera in front of New Town police station and asked around, using our sources. The man is from the fringes outside NKDA area and is now in judicial custody."
Sarkar admitted that one of the hurdles faced by both complainants and police was the overlapping of jurisdictions of police stations in several pockets of New Town. Things get especially complicated in Action Area 1D which is divided among Techno City, New Town and Kolkata Leather Complex police stations, the latter belonging to a different commissionerate (Kolkata Police).
"The New Town police station building itself is under the jurisdiction of Techno City police station. That is why the girl who was stalked had been asked to address her FIR to Techno City when she came to New Town police station. It was a matter of a technicality which would have speeded up the investigation process as transfer of a complaint lodged at one police station to another under whose jurisdiction the incident falls (a zero FIR) requires multiple clearances from the commissionerate senior brass," explained a police officer.
In many areas, the jurisdiction stretches far from the thana in question. "New Town police station is 10 minutes away from Greenfield Heights, which is under KLC thana, from where it would take them close to an hour to reach," said the officer.
A suggestion is lying with the government for dividing New Town into five police stations in place of the current three, with the aim of rationalising the policing areas.
Meanwhile, the New Town police stations have been instructed to lodge zero FIR (an FIR irrespective of thana jurisdiction), if the complainant so insists, in sensitive situations.
Fear and fightback
The residents are also doing their bit to increase their own security. After the news of the stalking of raised a furore on social media, a contact number was shared on behalf of the forum where people were asked to voice their own experiences of harassment on the streets.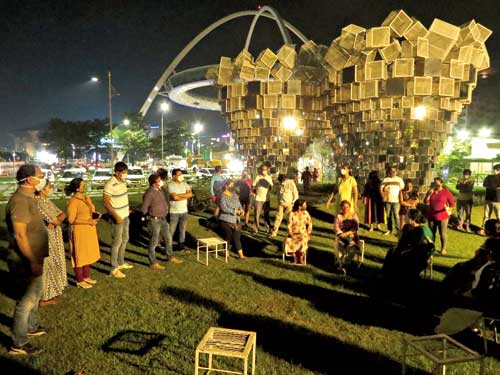 A residents' meeting under way at Unbox Park on Monday evening.
Sudeshna Banerjee
"Many women, who had not reported the matter to the police, came forward and shared the incidents with us. A Whatsapp group on women's security has been formed which reached the highest permissible limit and still has people wanting to join. We will now identify volunteers from each Action Area whose phone numbers we will publicise for residents to reach out to in case of security-related emergency," said Samaresh Das, chairman of the forum.
On Monday evening, a public meeting had been convened by NTFN at Unbox Park at the foot of Biswa Bangla Gate, where about 50 residents turned up.
Many of them pointed out that such cases were on the rise since the lockdown, wondering if it was a social malaise linked to joblessness.
Deepsikha Das, an artist staying in DC Block, recalled returning from her block's Saraswati puja pandal where she was supervising the decoration earlier this year. "From the crossing of Visarjan Ghat and Street 300, I could sense a bike with multiple riders was following me. Luckily, my house was two minutes away and I walked fast without looking back. On spotting my domestic help at the gate, I quickly got in, took off a shoe and hurled it at them, at which they drove off." A family lost their clothes left out to dry on the ground floor backyard last year. About a month ago, two cases of snatching, one of a chain and another of a chain and mobile phone, have taken place in the block for which arrests were made.
CE Block has started night patrolling employing a private security agency from August 10 after a theft was reported from a ground floor flat some days earlier. "Unsavoury practices were also suspected to happen in cars parked at the dead of night in unlit stretches," said block secretary Alok Das.
Mallika Sarkar works at a performing arts centre near Akankha More.
"Twice a week, our classes give over around 8pm. That area behind Westin hotel and near Astra Tower is semi-lit, lonely and has dozens of trucks parked in a row. Once I saw a girl walking by with someone close at her heels. I kept driving my car slowly parallel to her till she reached a locality. Another time, I saw a girl being slapped by a male companion which prompted me to flash my headlight at them, which made the boy step away." Once her car was followed from Akankha More to Westin by a biker who kept zigzagging the road.
Debjani Lahiri likes to take her cycle out for a ride or go for a walk in the evening. "The street in from of Eco Urban Village is full of people from the fringes. They stare at me when I am in my biking shorts. Drinking sessions take place in parked cars. I don't feel safe passing by these cars. Once a biker grazed by me. The area has several gated communities but the security guards are neither visible from outside nor do they care about what happens on the street outside," said the resident of Highland Willows.
Moumita Maity Rana of AC Block had witnessed a chain being snatched from a pedestrian around 9pm from her verandah. "It was during the Covid second wave. Three bikes converged on the girl, one snatched the chain and threw it to another and the three sped away in different directions. Two bikes were stolen in the block around the same time. All this happens as we are at the exit point to Kestopur," she said. Her building has installed CCTV now.
Sarbani Das Roy of Tata Avenida suggested self-defence training and a centralised police helpline for women.
Do you feel unsafe now in New Town and why? Email to saltlake@abp.in