From amazing dance performances with the backdrop of grand illuminated palaces to nightstays at renovated centuries-old mansions and from exotic cuisines with an east and west India mix to heritage tours covering terracotta temples, ruined mosques and colonial mansions — enjoy all this and more at the Murshidabad Heritage Festival scheduled on February 24-26 this year.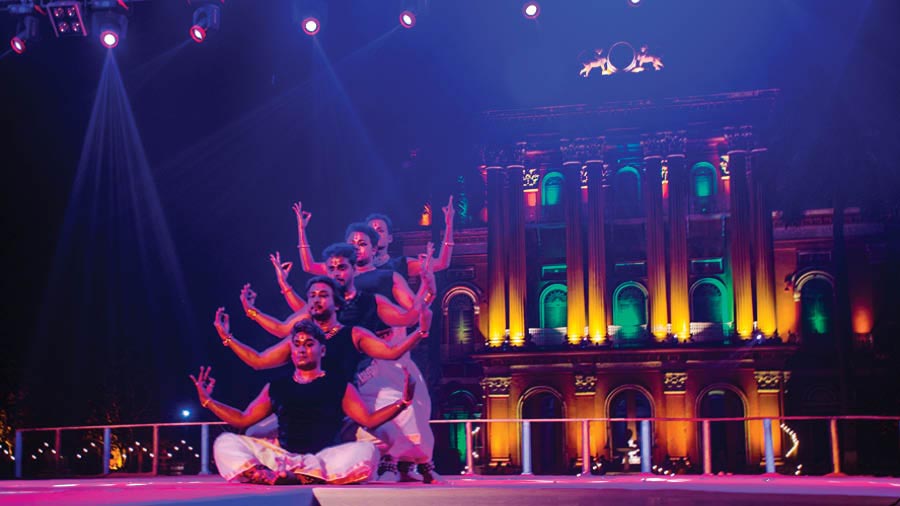 Dance performance in front of the illuminated Kathgola Palace
The beginnings
The festival is an initiative of Murshidabad Heritage Development Society (MHDS). Formed in 2010, the society aims at restoring and reviving the heritage of Murshidabad along with those of Azimganj, Jiaganj and Cossimbazar. The society is aimed at preserving the past and integrating it with the present and to bring Murshidabad back in the tourism, cultural and heritage map of India. This led to the Murshidabad Heritage Festival, which was first celebrated in 2011.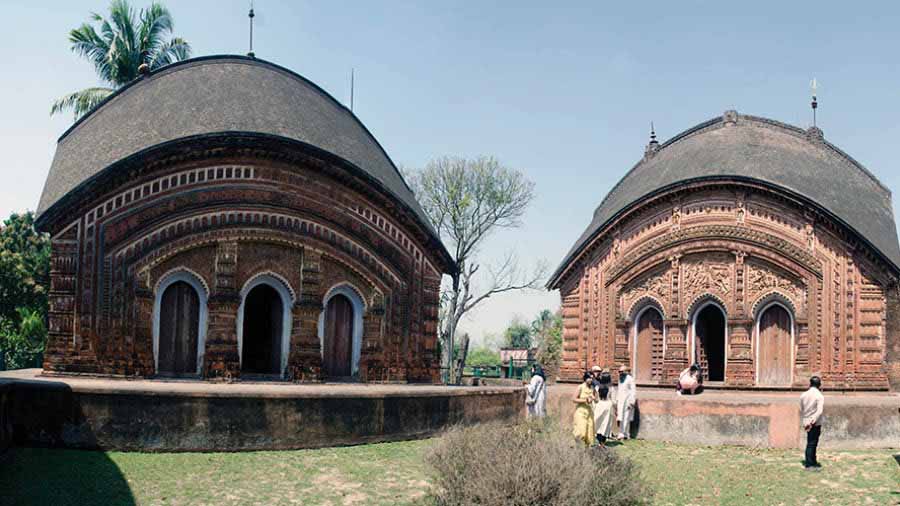 Char Bangla Temple at Baranagar
The three-day long festival showcased the art and splendor of Murshidabad and its surrounding region. The festival focused on exploring the tangible and intangible heritage through heritage walks, cultural shows and local cuisines. The aim of the festival was to take the participants on a journey back in time when Murshidabad was a flourishing business centre and contributed a significant part of the world economy.
The festival now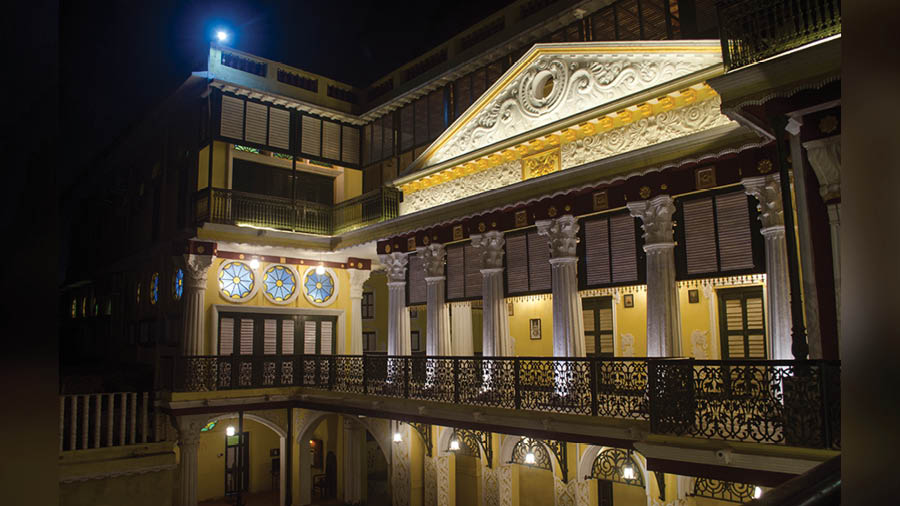 Illuminated Bari Kothi at night
The festival offers an option of staying in restored centuries-old mansions, which includes Bari Kothi in Azimganj and Cossimbazar Palace of the Roys (Rajbari). Bari Kothi, which means house of the elder brother, is a 250-year-old mansion of the Dudhoria family. Recently, it has been restored and renovated into a boutique heritage hotel.
Located south of Murshidabad, Cossimbazar is another historic town housing a couple of mansions, out of which the Roy family mansion has been restored into a boutique heritage hotel.
Sambhavnath Jain Temple, Azimganj
Several heritage tours are part of the festivities including a terracotta temple tour of Baranagar and a Jain Temple tour of Azimganj. There is also a boat ride along the Bhagirathi from Bari Kothi to Hazarduari, in Murshidabad. The tours continue by car with visits to popular tourist spots of Murshidabad, including Hazarduari complex, Kathgola, Jagat Seth House, Nashipur Rajbari, Katra Masjid and a few more places. There are also tours of the interiors of Bari Kothi and Cossimbazar Palace of Roys (Rajbari).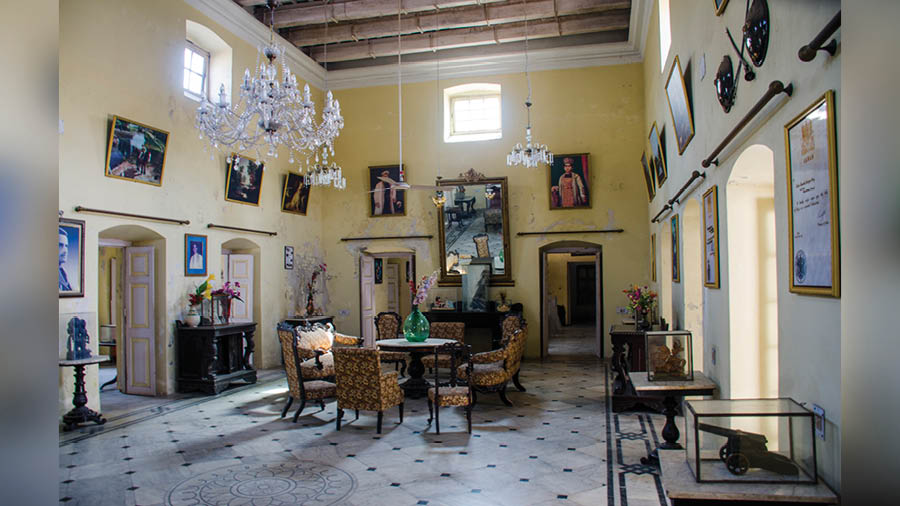 Interiors of Cossimbazar Palace of Roys (Rajbari)
Evenings are marked by cultural programmes enjoyed over high tea. They are an amazing cultural mix combining traditional local dances like Raibenshe to modern contemporary fusion dance. Crafts bazaars are also part of the festivities, where the local artisans showcase and sell their wares. The crafts bazaar includes live demonstrations of craft making with weavers working on handlooms. Several shops display stone carved statues, models made of wood, silk saris, shola art, dokra artifacts and much more.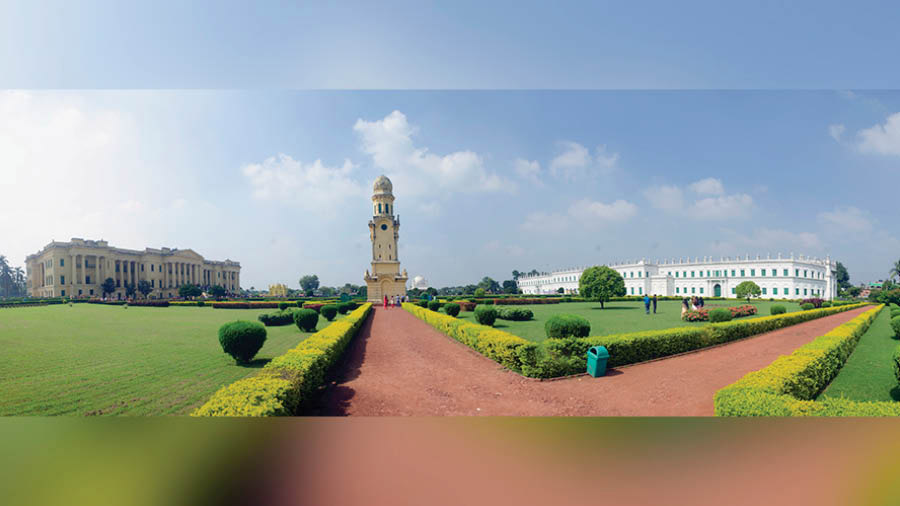 Panoramic view of Hazarduari complex
The food served during the festivities is purely vegetarian but don't be disheartened as the elaborate spread consists of Bengali, Awadhi and Sheherwali cuisines. Sheherwali cuisine is an interesting mix of eastern and western Indian cuisine and dates back to the days of the nawabs. During its heyday, Murshidabad attracted trading communities from far and wide and the Marawaris were also part of the ever flourishing trade. The Jain Marwaris travelled from one town to another looking for better opportunities and came to be known as the Sheherwali, an identity which they continue to use to this day. Food features prominently in the Sheherwali community and is known as the Sheherwali cuisine — a strictly vegetarian spread with a unique blend of flavours from west and east India.
Murshidabad Heritage Festival '23: A sneak peek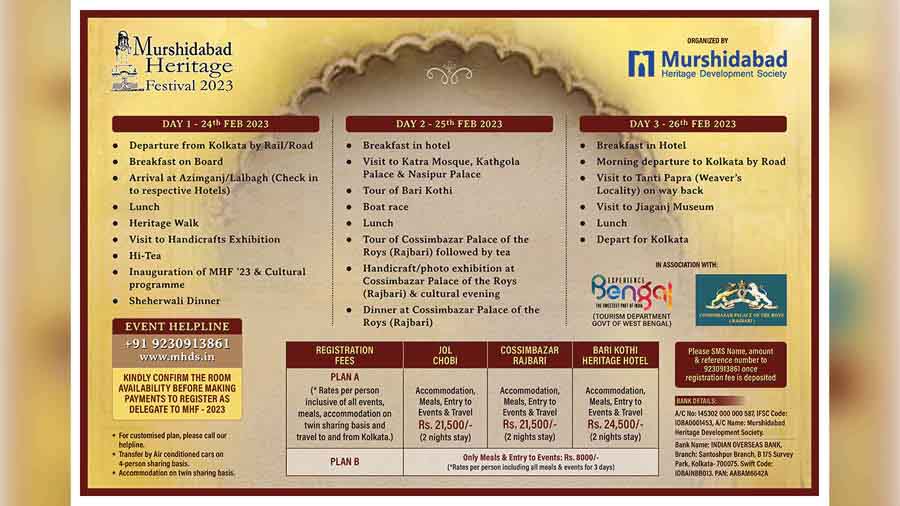 Programme schedule for Murshidabad Heritage Festival 2023
Murshidabad Heritage Development Society
Dates: Feb 24 – Feb 26
Package: All inclusive Kolkata – Kolkata ₹21,500 – ₹24,500. Without stay ₹8,000