I was standing beside a waterbody with dense fog around. I could only see several silhouettes of human beings walking in front of me besides this shallow mass of water. I felt as if I was dead and standing in the afterlife. The shadows seemed like spiritual aatmas. The waterbody looked like the Vaitarani River, which lies between Earth and Hell as mentioned in many Hindu religious texts. It is also said that all sinful souls are to cross this river after death to purify themselves.
Suddenly, the shadows started getting into the river splashing water around. That commotion broke my trance and I realised that I was standing on the banks of River Ajay at Joydev Kenduli village. People were getting down into the chilly waters of the river on a cold January morning on the occasion of Poush Sankranti or Makar Sankranti, the last day of Bengali calendar month.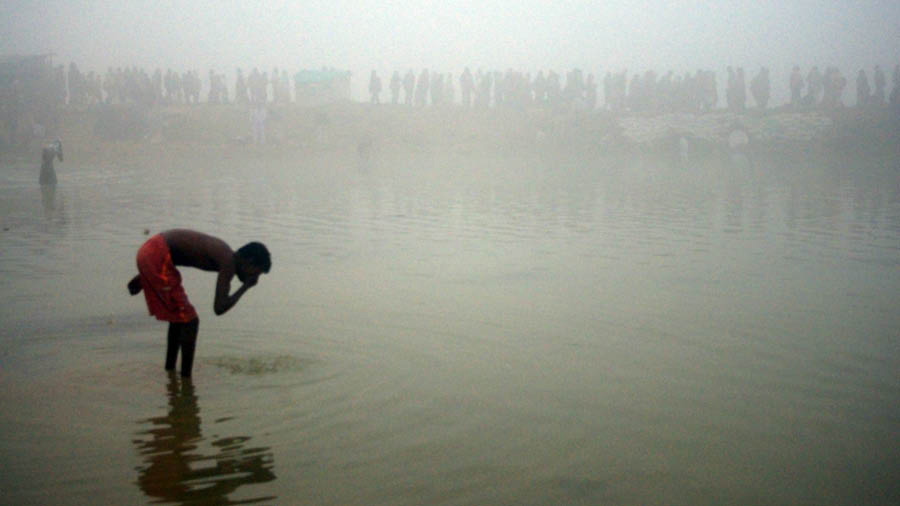 Silhouettes of several devotees walking besides Ajay River
Joydev Kenduli is a small village located on the banks of River Ajay in the Birbhum district of West Bengal. The village is the birthplace of poet Joydev, who wrote the famous Sanskrit poem Geet Govinda in the 12th century. The poet worshipped at the Kusheswar Shiva Temple at Kenduli, where his square meditation stone still exists. The present temple is just about 100 years old (1910 built), while the original temple was a small earthen structure located in the midst of deep forests of Kusha trees. Other important temples of the area are the famous 17th-century Navaratna Radhabinod temple and joint Shiva Temple of Rameshwar and Ratneshwar.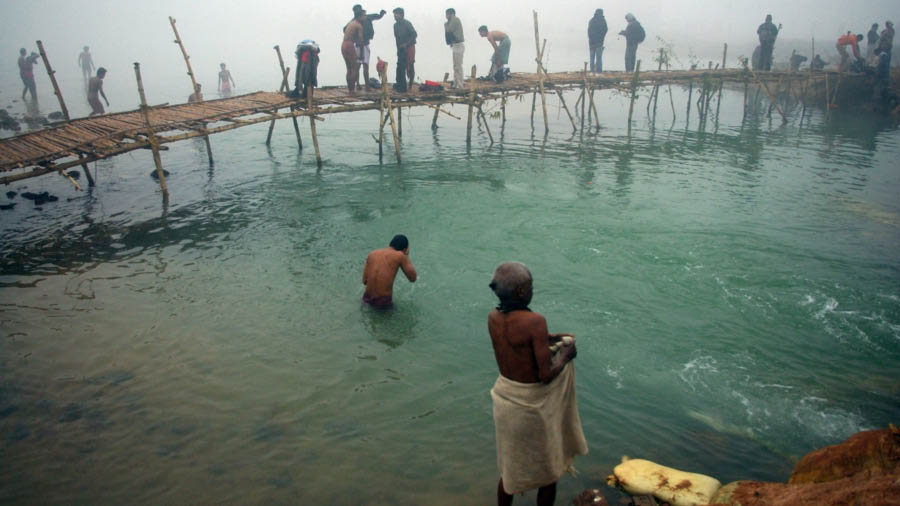 Devotees taking a bath in Ajay River during Makar Sankranti
Every year from January 14 onwards a three-day long fair is organised at Joydev Kenduli village. The origin of the fair dates back a long time ago. The story goes that the poet Joydev had to walk some 30 km plus distance from his village, Kenduli, to take a dip in the Ganges. This became tiresome for the poet and one day Lord Vishnu asked the Holy Ganges to bestow her holiness in River Ajay of Kenduli at least on the day of Makar Sankranti. From then, on this holy day, the Ganges starts flowing back to River Ajay. Legend says anyone who takes a dip on this auspicious day in the River Ajay has his /her wishes fulfilled specially on the love front.
From 1982, Kenduli fair has been under the control of district authorities, who have tried to provide quality basic needs like drinking water, sanitation, lighting, makeshift accommodation arrangements and security.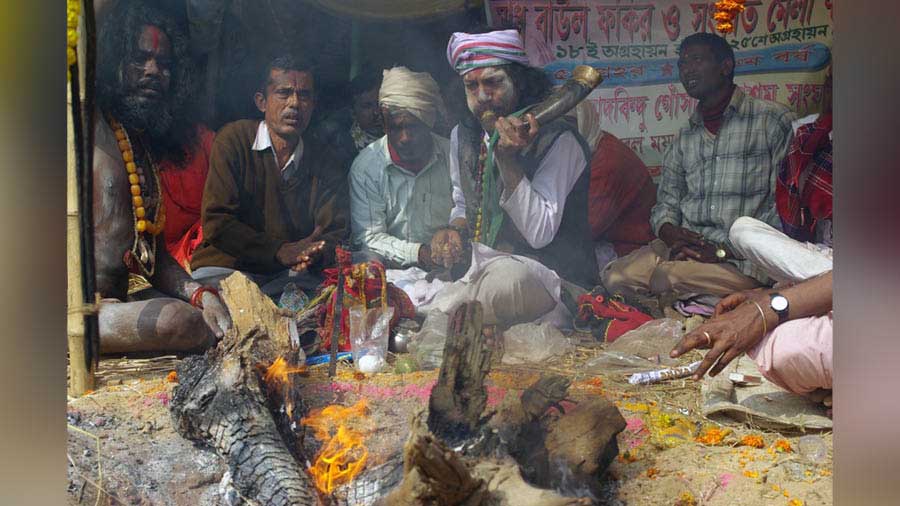 Various sadhus at an akhara at Joydev Kenduli fair ground
Though during Makar Sankranti the Gangasagar Mela of Sagar Island attracts more urban visitors and photographers, the fair at this small village of Birbhum has its own charm. To start with, there is an everlasting chaos in the area, especially in the early morning hours when people make a frenzied rush to take holy dip in the waters of River Ajay. Kenduli fair provides an opportunity for masses to listen to Baul songs over three days. Bauls are singers who travel and sing soulful songs. They are mainly Vaishnava Hindus or Sufi Muslims, but their music spreads love above religion. Recently, the kirtaniya singers are also making their presence felt in the fair.
We had stayed the night earlier at a friend's house in Bolpur and started early at around 5 am. The fog was extremely thick and headlights of trucks falling from the opposite directions were of more discomfort. We drove through Ilambazar to reach the gates of the fair at around 6 am. It was still foggy and as we went walking with a crowd on a pathway with several tents and shops around towards the river.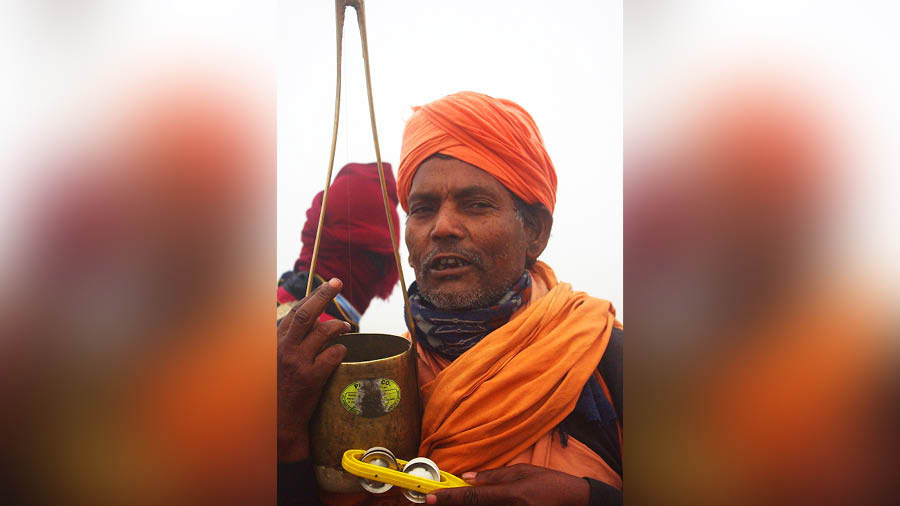 A baul singing with an ektara at Joydev Kenduli fair ground
Like Gangasagar, Kenduli fair is full of characters. At first, I noticed several people sitting on the side of the path with uncooked rice, coins and some potatoes scattered in front of them. These are poor villagers, to whom people offer rice, money and other edibles on this day. On the same path a group of musicians chanting "Hari Bol" soon came along.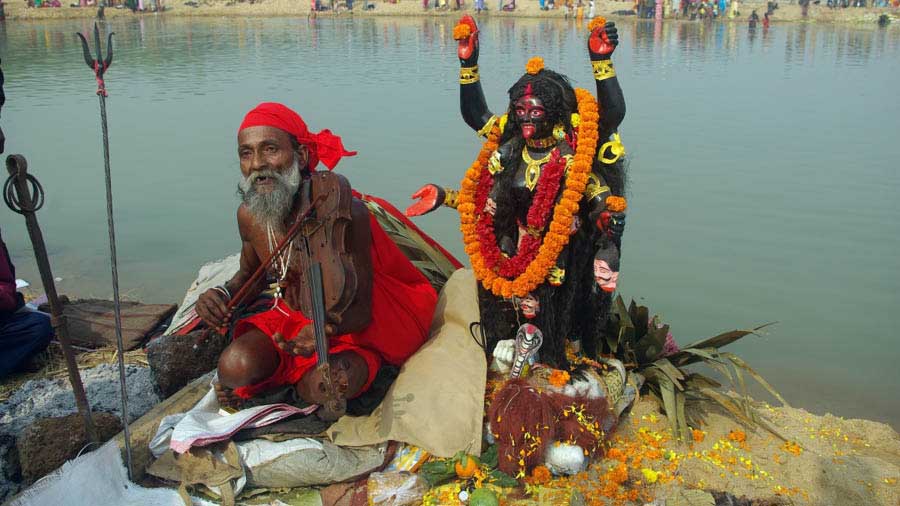 A sadhu playing a violin sitting besides the Ajay River
As we were shivering in the fog with a chilly wind blowing around, devotees around seemed to have forgotten the feeling of cold. From child to feeble old all were busy taking their holy dip to get their wishes fulfilled. I spotted a smiling sadhu playing a violin out in front of a Goddess Kali Idol. Then there was a middle-aged lady singing Lord's name with the small musical instrument khanjani. She was singing so devotedly with teardrops rolling from her eye that she didn't seem to notice me in front of her. In many places fires were lit up where people were drying themselves after taking the holy bath.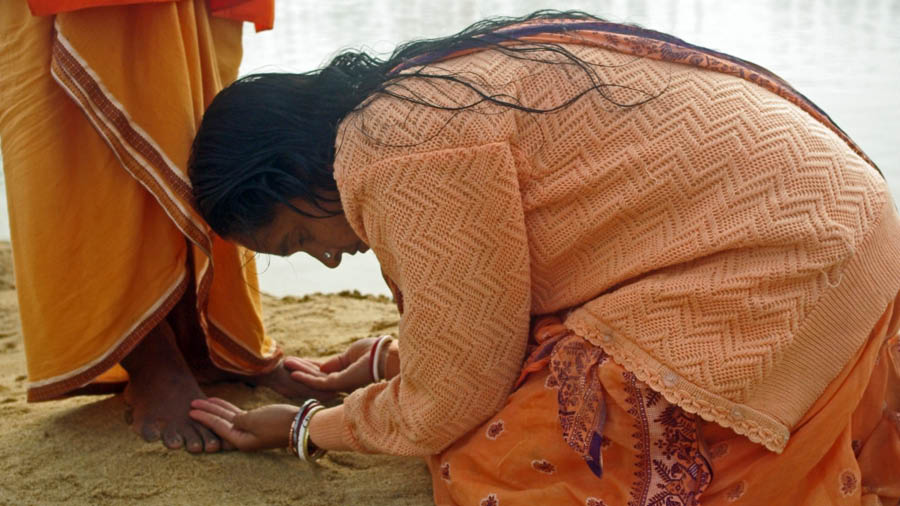 A Vaishnavi woman touching her Guru's feet
Some Vaishnavas had completed their bath and were putting chandan tilak on each other's forehead. There was a woman in them too, who bent down on her knees and touched her Guru's feet. A mother was about to give her small child a bath in that freezing water. The child was crying, but the lady had a trance look in her eyes. As if the very thought of getting her child the privilege of getting a holy dip in the river was giving her a thrill.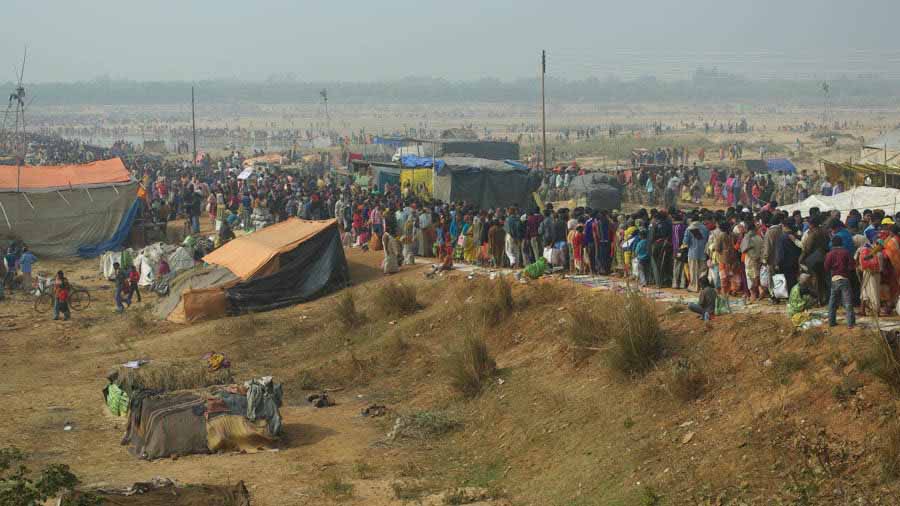 A wide angle view of Joydev Kenduli fair ground
There used to be more Bauls singing beside the river earlier, but most of them sang inside their tented akharas on the stage. Many of them were, however, sitting outside their tent singing loudly. Not everyone was singing melodiously, but then if you follow the lyrics it mainly speaks of eternal love and human bonding.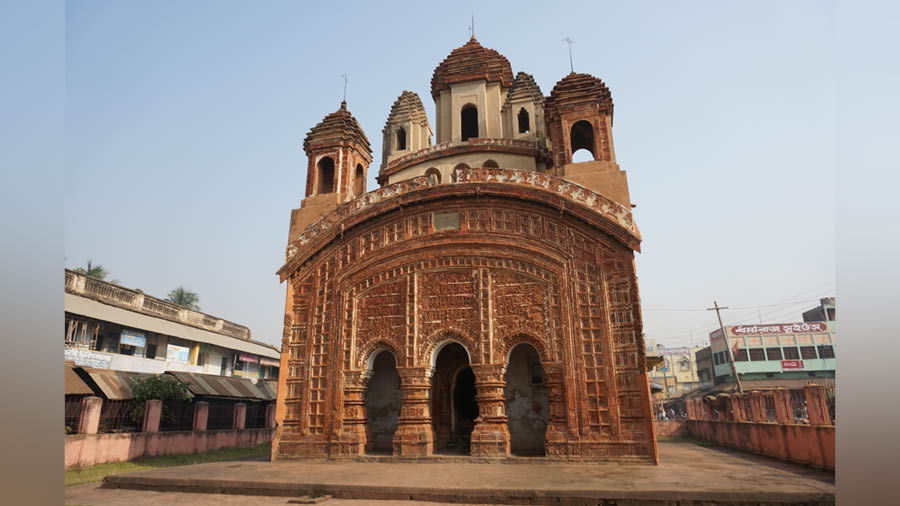 The 17th century Navaratna Radhabinod temple
The fair has several stalls from eateries to clothes, cooking utensils and paintings. Most popular is the paintings of poet Joydev and his wife Padmavati. It may be worth mentioning that Chaitanyadev himself was very much fascinated with Geet Govinda.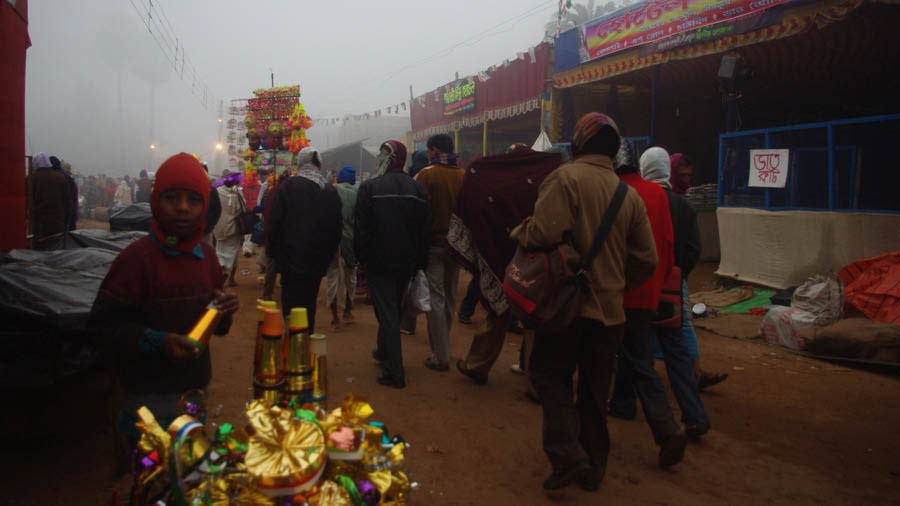 Various shops inside the Joydev Kenduli fair ground
Spiritual love is the essence of Joydev Kenduli fair. To feel the pulse of love you need to get your mind out of the crowd here and emphasise deep inside your heart.
How to go and where to stay: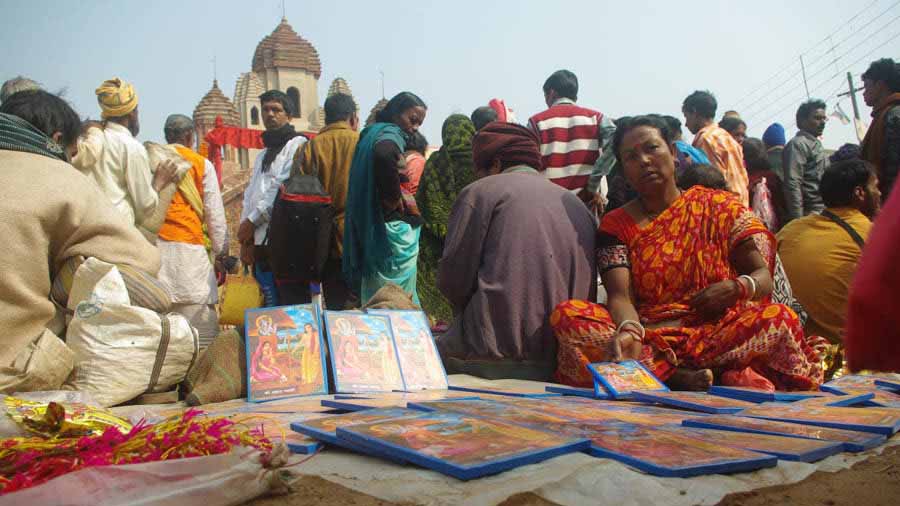 A woman selling paintings of poet Joydev and his wife Padmavati in front of Radhabinod temple
Bolpur is just 40 km from Kenduli. Make your base at Bolpur and drive there in a hired car. Bus service is available from Jambuni bus stand at Bolpur to Jaydev Kenduli. It takes about two hours. Several trains go from Sealdah to Bolpur which is around a 3-hour journey. You can drive from Kolkata via Burdwan and Durgapur. The distance is around 185 km and takes three hours. It can be a day trip as well.
Bolpur has several accommodation options. Accommodation options at Kenduli are very basic and Spartan.