Seven years ago, south Kolkata got a shiny new shopping mall that offered 
everything — from shopping to entertainment. Acropolis Mall changed the very character of its neighbourhood, with apartment blocks and retail outlets coming up faster than Jasprit Bumrah's yorkers.
The mall, located off the Rashbehari-EM Bypass connector, opened its doors in 2015 and soon became a cool hangout place with people of all age groups dropping in with friends and family. 
"Shop, work, play and eat — that was our vision. Acropolis Mall has become a landmark destination in this area and also led to the development of the neighbourhood. The strong infrastructure and huge parking lot are added advantages the mall offers," said Sushil Mohta, chairman, Merlin Group, developer of Acropolis Mall.
On the seventh anniversary of Acropolis Mall, My Kolkata lists seven things that make it a unique address.
Location
Located in Rajdanga, Acropolis Mall is the first large shopping mall of the area. The area around Acropolis has been fast evolving — be it Balaram Mullick or Banchharam's, 6 Ballygunge Place Thali, Pabrai's Ice Creams or Krazzy for Waffles, the area houses a lot of retail and F&B options.
"Acropolis Mall has changed the landscape of the area with its tall glass edifice. It has given the entire area a much-desired facelift. The Kasba area is now popular as 'Acropolis Zone'. Even the bus stop is called the Acropolis stop. The mall has become a favourite hangout spot for many and the retail and food and beverage outlets in and around the mall are thriving," said Sarbani Bhattacharya, vice-president, corporate communications, corporate affairs & CSR, Merlin Group.
Starbucks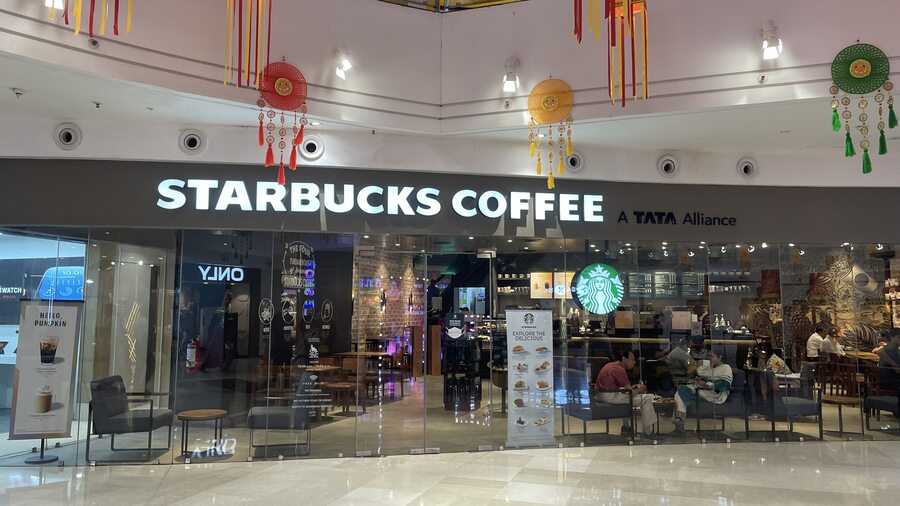 Work or catch up with friends at the Starbucks coffee shop on the ground floor
Aatreyee Mohanta
The first name that catches your eye as you step into the Acropolis Mall is Starbucks. This premier coffee shop functions as a co-working space as well as a hangout spot. Located on the ground floor, it's easy to reach from all entrances. So, whether it is for an evening out with friends, a date with your newest crush or family adda, order yourself a steaming cup of Coffee Frappuccino or a cool Caramel Java Chip and chill. And don't forget to click a selfie! 
Shopping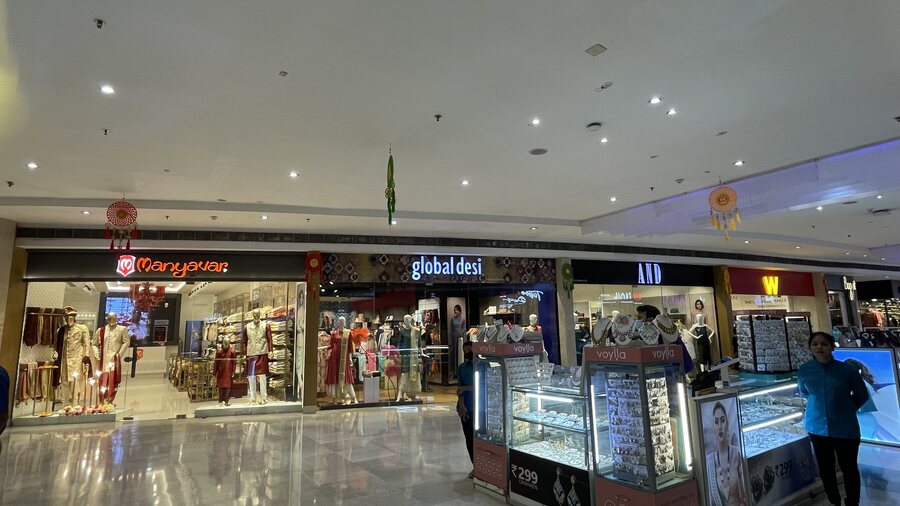 From budget-friendly brands to aspirational brands, the mall has it all
Aatreyee Mohanta
If you are in a mall, you've got to shop! And Acropolis offers a variety of options across all price segments. You can buy everything from clothes to shoes and electronics under one roof. The mall houses brands like Puma, Mia by Tanishq, Biba, Jack & Jones, Shoppers Stop, Bata, Fab India, Manyavar and others. What's more? Shoppers can even pick up their groceries at the Spencer's outlet. The latest addition at Acropolis is Croma — a one-stop electronics store — on the first floor. 
The mall authorities feel the best way to make sure shoppers return is by offering them amenities. You'll find a parking lot with a capacity to accommodate 1,500 vehicles. Besides, clean washrooms, good housekeeping and eye-soothing interiors ensure a comfortable and pleasant experience for visitors.
Beauty brands galore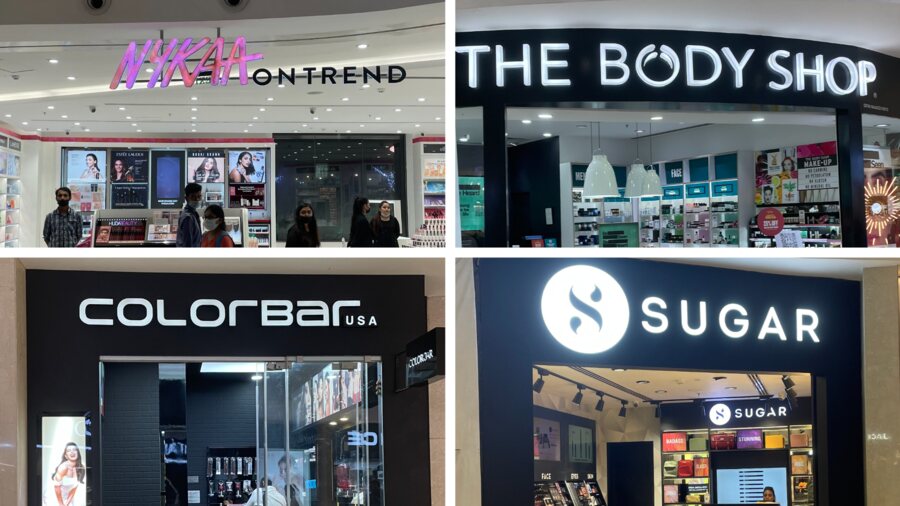 If you're a makeup lover, you will surely love shopping from your favourite brands here
Aatreyee Mohanta
If you're looking for a place where you can get all your beauty and self-care needs attended to, Acropolis Mall is the place to be. From Nykaa to The Body Shop, Lotus Naturals, Sugar Cosmetics and Color Bar, shoppers are spoilt for choice.
Food court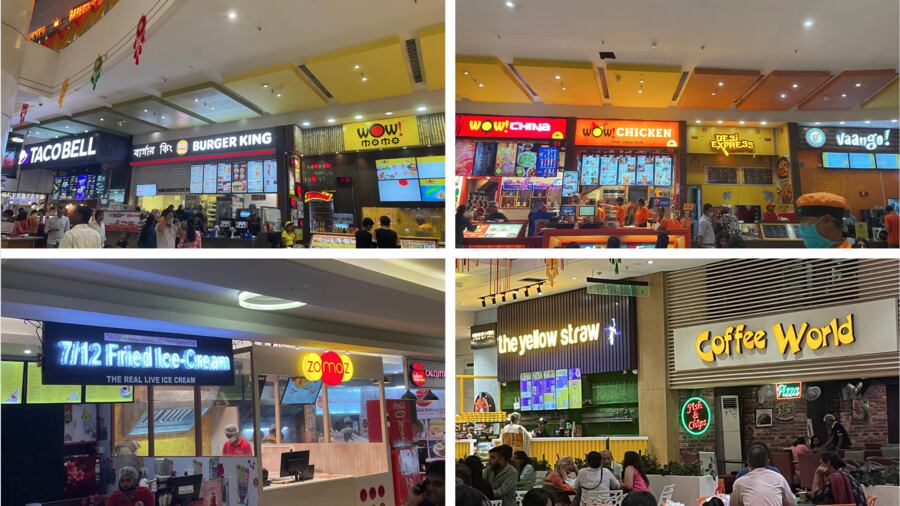 Enjoy a meal at the food court that offers an array of cuisines
Aatreyee Mohanta
Shop till you drop and then grab a bite. The Acropolis food court is perhaps the most popular spot in the mall. The spacious seating arrangement and variety of options to choose from make the food court a popular haunt for students from nearby schools as well as the shoppers. 
The food court houses fast-food brands like Burger King, KFC, Subway, Domino's, Taco Bell, WOW! Momo, WOW! Chicken and WOW! China. 
The footfall is around 20,000 on weekdays and goes up to 35,000 on weekends.
Dining destinations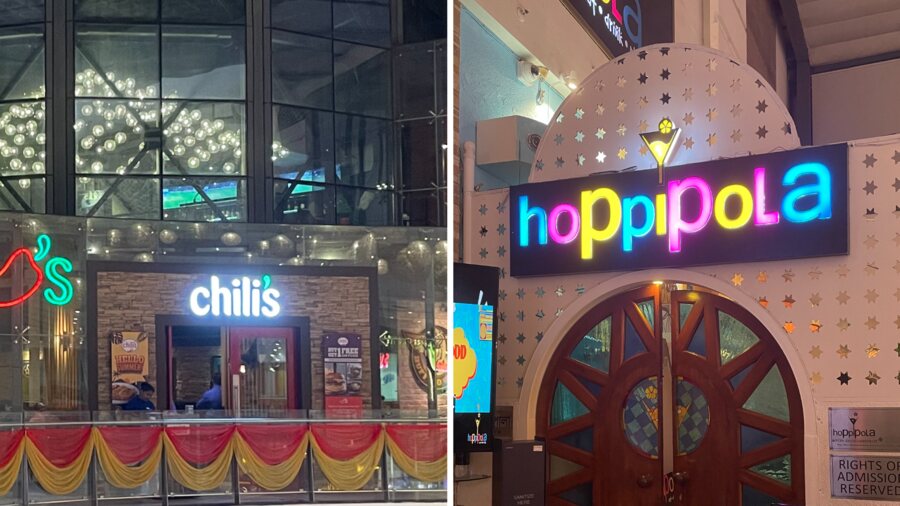 Pick from a number of fine dining options for a feast of your choice
Aatreyee Mohanta
Whether you are partying with friends, spending an evening with family or on a work lunch, Acropolis Mall offers several fine dining options like Asia Kitchen and Chilli's. Hoppipola has become a popular party destination in town and has been drawing even bigger crowds since its renovation recently. Asia Kitchen, on the other hand, is a favourite joint for diners who come to the mall with families. 
The newly opened Barbecue Nation on the fourth floor is also a hotspot for foodies. The sumptuous buffet, with an assortment of kebabs and desserts, entices many people on weekends.
Play zones
Acropolis Mall has recently added another feather to its cap with the opening of Simbaa Playzone. Caregivers can watch your kid while you step out for some quick shopping. There is also a lounge area, where parents can wait and enjoy some quick sips and snacks. The play zone can also be booked for birthday parties and other events. 
The mall also has a Timezone that offers arcade games for older children and even adults. Not to forget their Virtual Reality experience right next door. 
As one enters the mall, kids can take a joyride in toy cars on the ground floor. This play zone is open from 10am to 11am every day and one can even avail a one-to-one nanny service for their children.
More in store
"Our aim is to make Acropolis as one of the most coveted malls around. We are contemplating the possibilities of bringing more mini anchors and to give the property a facelift," said K. Vijayan, general manager, Acropolis Mall.