Have you been bitten by the baking bug this pandemic? Are you itching to make your own towering dessert but don't know when to begin? Follow your calling to a store in Jodhpur Park, where the red signboard above the entrance reads L'oven Cake Decor & Academy: Serves with Passion. Inside, the shelves are spilling over with sprinkles, fondant, chocolate and all the equipment you might need to create the dessert of your dreams.
Not only does the proprietor of this well-stocked store, Manisha Paul, have a knack for baking, she also creates desserts for her own cafe – Cafe Plot 15 in Jadavpur. "Looking for baking ingredients was a huge challenge I have been facing since 2017, and I had to run from pillar to post to get everything I wanted. The shops in New Market only stocked the basic tools and ingredients. If I wanted to create a more intricate design, I had to head to Maniktala for supplies. I noticed that there were no shops in South Kolkata that could cater to a baker's requirements, but there was a huge demand," said Paul. 
This gave her the idea to establish a store which would serve as a one-stop solution for all baking essentials. Paul explained that it took great courage to start things up because the other vendors didn't make it easy for her. She set up shop in 2019, entirely unprepared (like everyone else) for the pandemic that was looming ahead. But for Paul, things actually turned for the better. "To my surprise, my business sky-rocketed. I could not keep my store closed even for a day, because even if people were not able to come to the store, they were ordering supplies online," said Paul.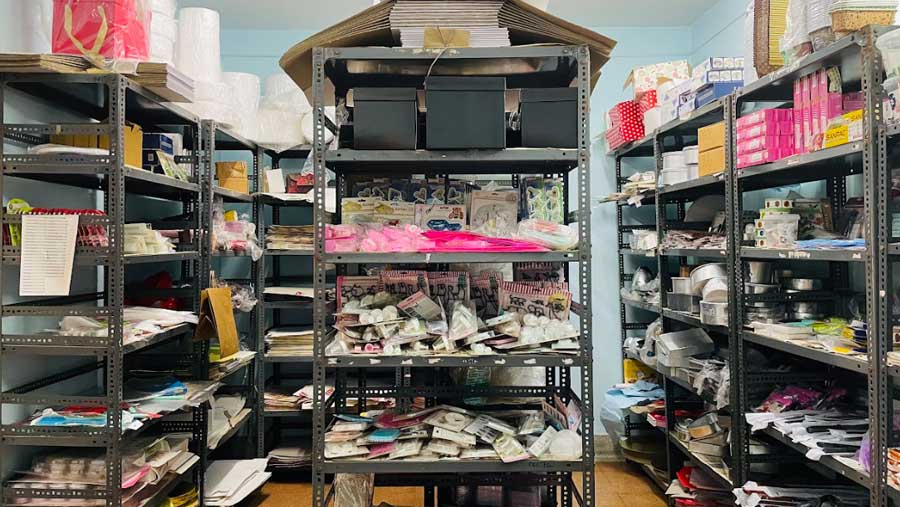 Browse the shelves at L'oven Cake Decor & Academy
Paul registered her business with BNI (Business Network International, a networking organisation), where she met her business partner, Somiran Ghoshal. The two have recently opened a second outlet of L'oven Cake Decor & Academy, in Dum Dum Park. "Many of the home bakers have various ideas but are not aware of the different uses of the products. We try to make sure that all our customers choose the correct products based on their usage. This has helped us form a strong community of home bakers who have now become our family," said Ghoshal.
One of their most popular products is … you've guessed it… chocolate! "We have couverture chocolate (glossy chocolate made with extra cocoa butter) which is very popular. Our store was the first to stock the Belgian brand Van Houten in South Kolkata. We also have callets and compound chocolate which are best sellers." It's evident that Paul is proud of how far the little store has come. Looking around, you'll spot all kinds of baking tins and baking tools like spatulas, silicone brushes and moulds. Sniff out the essences (vanilla, butterscotch, lemon to name a few), food colouring (in both liquid and gel) and fruit (canned or puree) in these shelves. Besides, just looking at the variety of sprinkles and decorative sugar candy might give you an immediate sugar rush.
"Our customers usually come to look around, choose and buy what they need. I believe that this is a safe space for bakers to shop at," said Paul, who also hosts weekend workshops. There are courses designed for levels basic to advance for Baking and Fondant Design. Other sweet treats are also taught from time to time. L'oven Cake Decor & Academy also has plans to expand into an accredited pastry school where she can continue teaching as well as keeping the store well-stocked for all your baking needs.