Abhishek Poddar, born and raised in Kolkata, is today a successful industrialist, one of India's greatest art collectors and sits on the world stage with major art philanthropists. On Saturday, February 18, his dream to share some of his art permanently with the public comes true when the private Museum of Art and Photography (MAP), devoted to Indian art of all kinds, opens in central Bengaluru. It will be the first major purpose-built art museum in South India since India won Independence.
When I walk up the stairs to his fourth-floor office to meet him, I am surprised that there is as much art there as on my last visit, if not even more. It is everywhere, on walls, floors, narrow ledges, tucked into corners, even piled up. The range is infinite but connected by his fine-tuned aesthetic. Greeting me on the top landing, for instance, is a bronze Nataraja balanced on an almost life-size wooden calf in front of Jitish Kallat's black and gold 'Continuum' depicting phases of the moon as a progressively consumed roti.
Hadn't he left it a bit late to move the art into the museum? "Oh no!", he says laughing. "Nothing has left here. If something goes, something somehow replaces it," as if the art he is so passionate about finds its own way to him, which in some ways it does.
Abhishek has charted his own art path. Born in 1968 into a successful industrialist family, the Ballygunge family home was decorated with "what the British left behind", he says affectionately. Decorative art from Europe, large landscape oils, marble statues. There was not much Indian art, just "two or three Satish Gujral paintings because Dad knew him".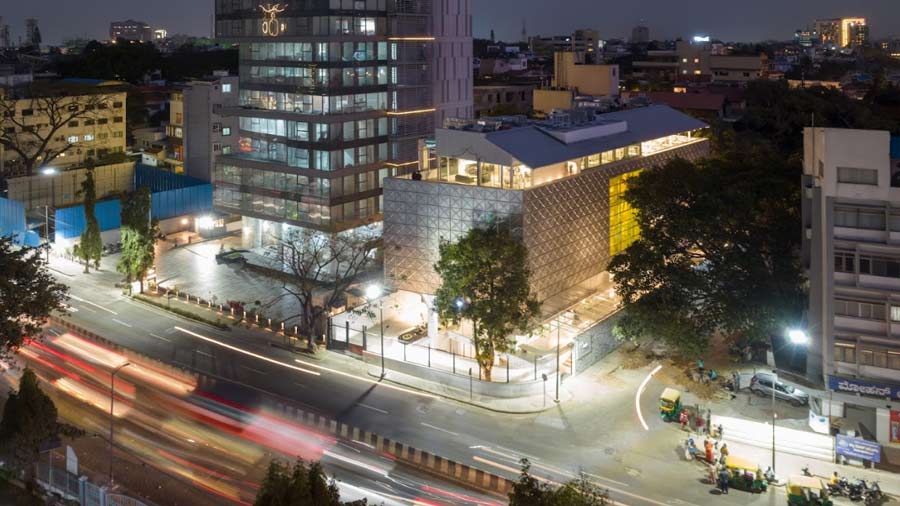 Abhishek was firm that the museum should be 'bang in the middle' of the city — MAP is on Kasturba Road
First buys: Jogen Chowdhury and Jatin Das
The teenage Abhishek began to look at new Indian art. "In the winter of 1984-5, I think, there was an exhibition in the grounds of The Park hotel. We'd just taken a house in Coonoor and were furnishing it." (The house would become a gathering place and retreat for his artist friends.) "I met Shuvaprasanna, Jogen Chowdhury and other artists there. We picked up some pieces. They were more affordable back then!" His friends thought he was crazy. When he bought a Chowdhury work for Rs 700, one told him that "for another Rs 500 you could have had a designer Lacoste T-shirt like mine". He remembers distinctly the first piece of art he bought with money he had earned, a drawing by Jatin Das.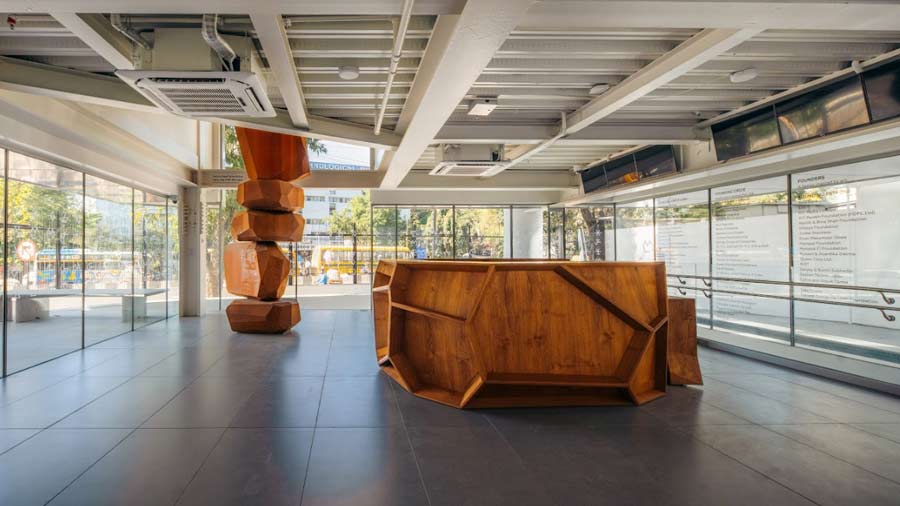 Abhishek gave the 7,000-piece foundation collection for the museum
First gurus: MF Husain and Manjit Bawa
He also started to make important lifelong friendships. One was MF Husain, whom he saw outside his home in the early '80s and invited in for tea. Another was Manjit Bawa, an early mentor who introduced him to artists. "This collecting happened because of the gurus who came into my life." He reels off others, assuming everyone has his embedded knowledge of India's art trailblazers of the 1980s and '90s – the great collector Jagdish Mittal, Jyotindra Jain (founder of the National Crafts Museum) for popular culture, Dayanita Singh for photography, the art historian B.N. Goswamy "who took me into painting and traditional art". His respect for these and many others is huge. "I really had the best teachers. I was the willing student, a sponge, a kid in a candy shop."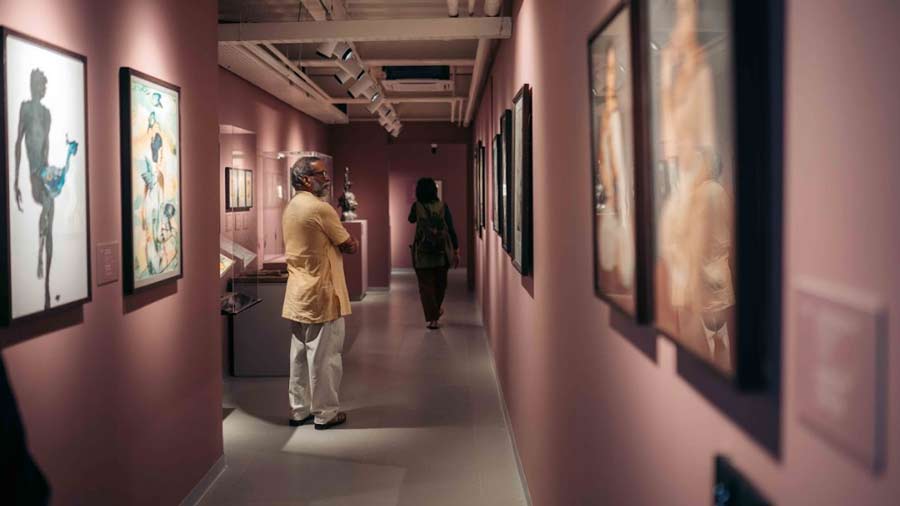 MAP houses about 60,000 artworks and the collection is still growing
First exhibition influences: Vishwakarma and Visions
Meanwhile, two seminal exhibitions fed the flame of his growing passion: Vishwakarma, the spectacular Indian textile show of 1983 created by the legendary Martand Singh, known to all as Mapu; and Rakhi Sarkar's 1986 show, Visions, Kolkata's first major contemporary art exhibition which showcased 200 works. "They were fantastic, brilliant. They opened my eyes," remembers Abhishek.
His collecting would have no boundaries, it would range from old to new, tribal to textiles, craft to film posters. At MAP, all art will be given equal status. "We are trying to show what is art in all these mediums, whatever their monetary value."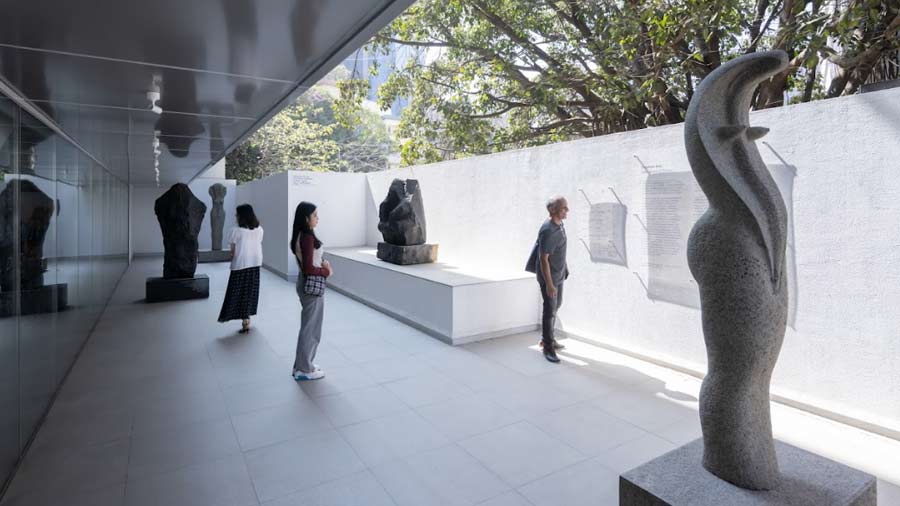 The museum's design concept is to wrap art the way a water tank wraps and protects water
'The art somehow smells me out, turns up on my doorstep'
Abhishek left Kolkata for Bengaluru in 1990. Why? "The weather!" And business. "When my father and his brothers decided to divide the family assets, my father and I moved down south because our assets were here, in Chennai, Coimbatore, Kochi." He continued to buy art with the same fervour he gave to growing the business. How did he find the time? His gurus encouraged him and, increasingly, he says with a wry smile, "the art somehow smells me out, turns up on my doorstep."
In 2006, he opened Tasveer in the basement of his office building. A commercial art gallery dedicated to showing photography, old and new, its only criteria were creative excellence and originality. It produced quality catalogues, built a digital archive and soon had a network of galleries across India. It was a glimpse of things to come.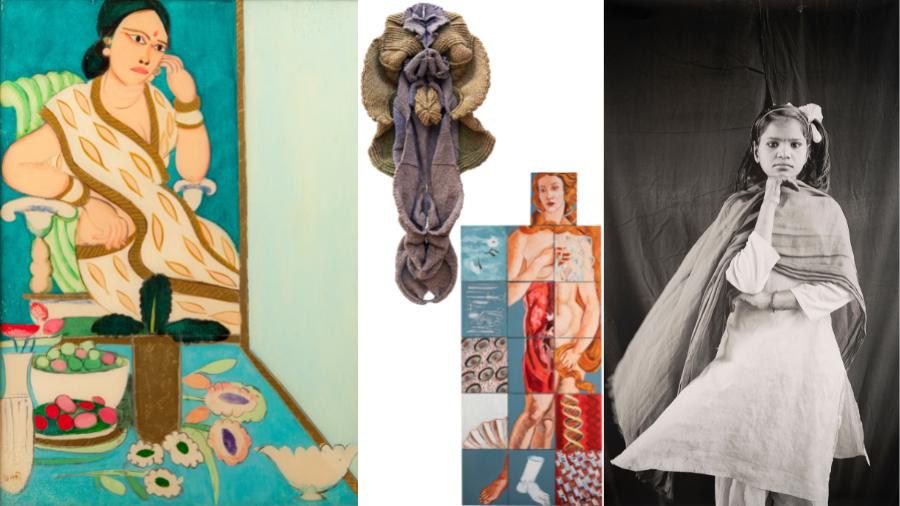 Visible/Invisible: Representations of Women in Art: (L-R) 'Woman in The Blue Room' by KG Subramanyan, 1981; 'Naag' by Mrinalini Mukherjee, 1986; 'Reconstructing Venus' by M Shanthamani, 2004; and 'Rampyari' (Balika Mela series) by Gauri Gill, Bikaner, 2003-2010
The leap up to creating a whole museum came out of various thoughts. "India did not have the kind of museum experience one can have abroad despite its progress in so much else," Abhishek says. "Also, there were amazing shows of Indian art abroad but not here. In my life, I'd tasted success in a certain way but felt something was missing. I wanted a purpose. I'd been told that doing something one is passionate about is not work, and I believe the museum is deeply needed."
So, mixing passion and exceptional business entrepreneurship, he quite simply got on the job.
'MAP is all about using the collection to engage with the community'
He was firm that his museum should be "bang in the middle" of the city. Finding a small plot on Kasturba Road, he addressed the sky-high real estate prices in Bengaluru by selling 41 classic pieces from his collection at Christie's in 2016. Next, he needed an architect. His board dissuaded him from his temptation to use an international star. "Rahul (Mehrotra) and Mapu said it was more sensible to go local because I wanted the museum building to be all about the collection, not a sculpture." He chose local architects Mathew & Ghosh Architects, who had built his offices. Their design is quietly distinguished, and its overall concept is to wrap art the way a water tank wraps and protects water because both are precious and vital for civilisation.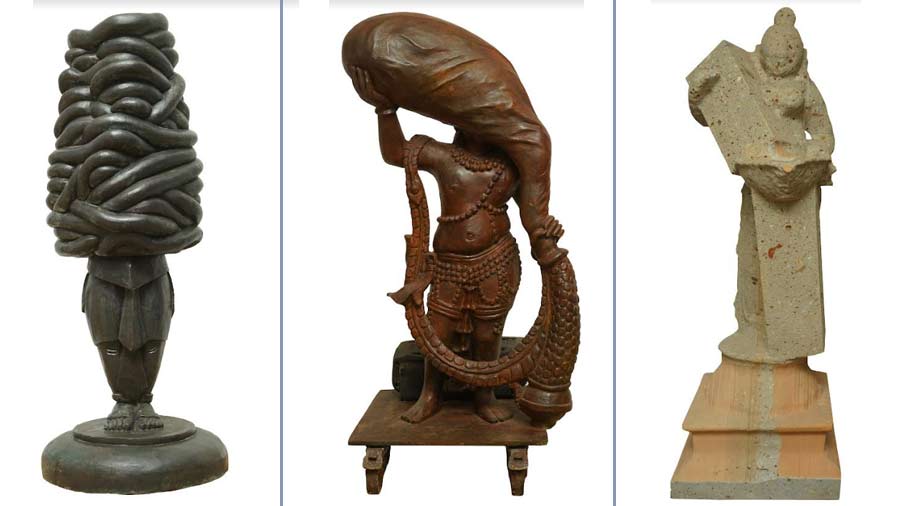 Art by L N Tallur: (L-R) 'Hack Geek', 2022; 'Heuritics', 2022; and 'Deep Learning', 2022
Abhishek gave the 7,000-piece foundation collection – and doubtless will add more although, he assures me, "my collecting is not at the same pace; now I'm focusing on completing the museum, fundraising, growing the collection". A plethora of gifts from India and around the world has already expanded it to 60,000 pieces! They include the Simon Digby collection from the UK, textiles from the Australian collectors Mary and Michael Abbott, Delhi-based Gautam Hemmady's collection of matchbox labels and Harsha and Srilatha Reddy's Krishna Reddy prints.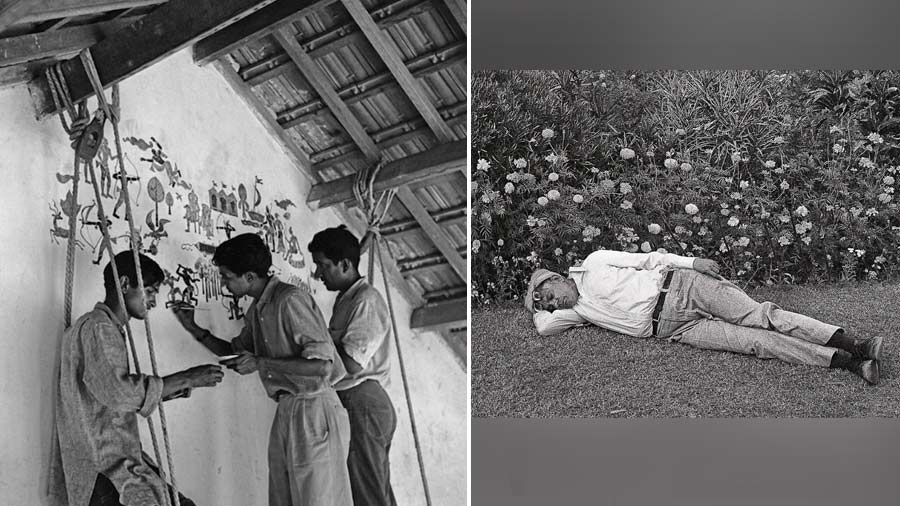 Photographs by Jyoti Bhatt: (left) painting a mural in a house in Gujarat, 1958, and (right) Bhupen Khakhar at the Sayaji Baug Garden, Baroda, 1983
He sums up his aim: "The museum is all about using the collection to engage with the community." He wants to dispel the common Indian notion that a museum is fuddy-duddy, for old people. "I want it to be relevant for today's citizens." To that end, information is in Kannada as well as English, there are QR codes leading to the museum's in-process art encyclopaedia, the museum is on the Bloomberg Connects app.
As to its name, why did he separate art from photography? "Many Indians don't think of photography as art." Also, he admits, smiling, "MAP sounds good as an acronym!"
As I leave the cornucopia of art that is Abhishek's offices, I spot two newly-delivered parcels wrapped in brown paper. Large, rectangular and flat, surely some more art had somehow smelt him out, turned up on his doorstep.
Louise Nicholson is a British art historian, journalist and writer who has focused her studies on India since 1978 and brings the curious to India. She has written 27 books, and writes a monthly wellness blog to inspire slow travel in India: https://www.louisenicholsonindia.com/#wellness