The India Art Fair has transformed into one of the most engaging and original art fairs anywhere, a big change since I last visited it a few years ago. For its 14th edition, curated by Jaya Asokan, the strapline said it all: 'We welcome you to take part in the India Art Fair experience – come visit to enjoy your favourite artworks and surround yourself with creative inspiration.' And that's what it was – an efficiently run, stimulating, immersive, four-day-long art feast at the NSIC Exhibition Grounds in Okhla, New Delhi.
It was not just about the 71 galleries and 14 institutions showing a hugely diverse range of consistently high quality and original art, much on show for the first time. There was also a packed programme of complementary talks and discussions living up to their theme 'Align & Disrupt'. There were snappy themed tours and about 30 artist-led workshops of all kinds (I made my first Warli-style story-painting). And there were four artists in residence to seek out, seven major outdoor projects to explore, performance art to watch, and even paper and paints on sale if you felt inspired there and then (many did).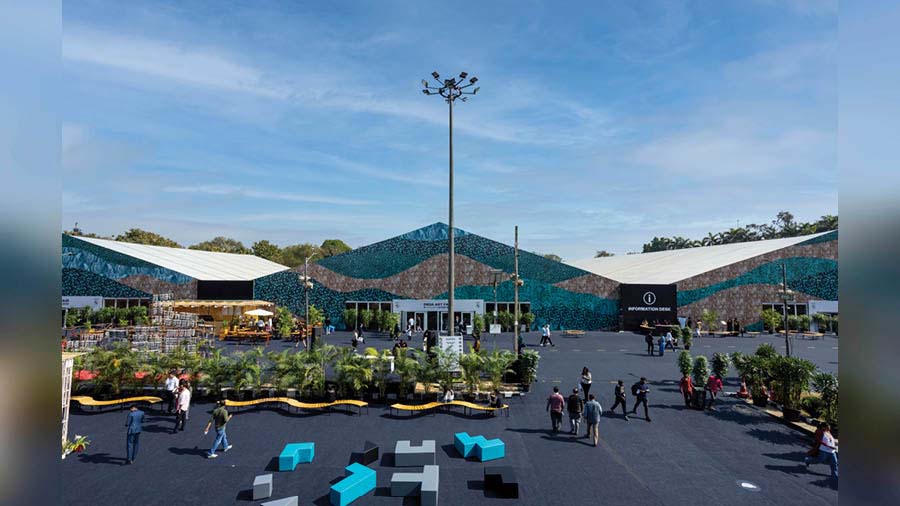 The fair at NSIC Exhibition Grounds in Okhla, New Delhi
Courtesy India Art Fair
The crowd was a rich mix of India's informed art world - enthusiasts, gallerists, curators, collectors – and, best of all, lots and lots of young people encountering the best of art being made in their country, inspired by their own rich cultures; I saw nothing derivative. They were engaging with the art, chatting and gabbling about it.  These will be India's next generation art world, and they were swinging from a booth of revival storytelling phads to provocative political and social statements to installations mixing photography, collage and video. And plenty dropped by for the free hour-long lessons from digital artists in residence on how to use the Apple Pencil and the Procreate app on iPad Pro to draw like David Hockney. It's important to dream...  
Bombay Duck to Tree of Life
Many artists showing at the fair have had those dreams come true. One is Parag Tandel, shown by TARQ gallery. His outdoor project, 'How to Cook Bombay Duck in Various Ways?' required viewers to take off their shoes and walk over a pink silicon 'sea' full of squishy bas-relief octopus, squid and other fish, enclosed with vertical drying racks hung with fish made of concrete and dental plaster. The experience was multi-sensory, from sight through moving body down to touch as the feet felt the soft silicon squishiness. Parag, whose father is a fisherman and mother a fish seller at Mumbai's old Thane fishing village, broke with tradition to attend JJ School of Art in Mumbai, then do his masters at Baroda. "We are losing our daily staple food," he said. "The city is encroaching into our ocean which we call our forest of sustenance. This is what we believe." The materials for his installation represent the exterminators of his forest: noise, plastic, chemicals, soaps, pollution. "My pink ocean floor is made of silicon," he said, "which is a non-degradable petrochemical. The dental plaster is because we are chewing and eating everything."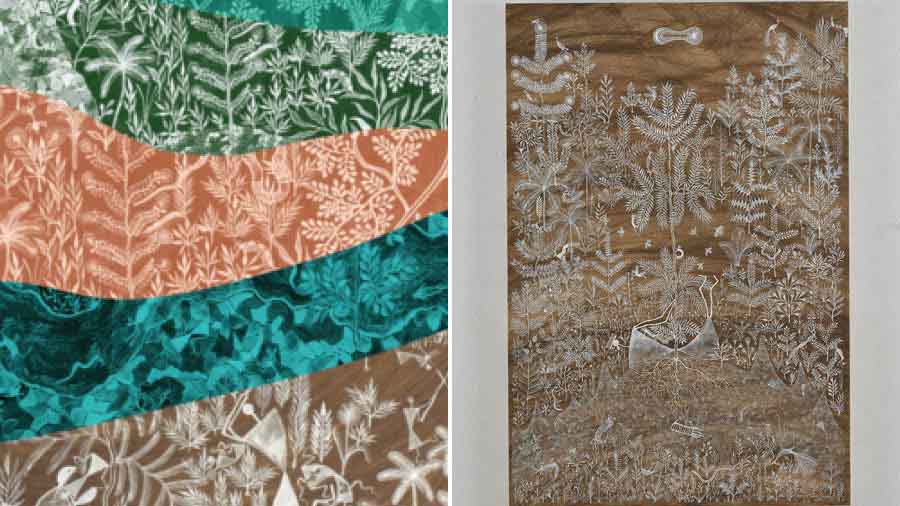 Forest of the Futures and Ashes to Ashes Rebirth by the Vayeda brothers, Mayur and Tushar
Courtesy Mayur and Tushar Vadeya
Another two artists whose dreams were realised at the fair are brothers from northern Maharashtra's Warli tribal community. Mayur and Tushar Vayeda, aged 30 and 34, were represented by Ojas Art. They were also one of the fair's four artists in residence. Modest, and with no formal art training, they were surprised that their rising fame drew a full house for their talk and a packed workshop to learn the symbolism of Warli paintings.
Mayur and Tushar always paint together on a canvas and whoever starts an area, such as a river or hillside of trees, will complete it. They reason that each has a slightly different style, though few other people might see this. In their community, they have a deep commitment to encouraging Warli women to keep making traditional wedding 'chowk' wall-paintings, and recording all the painting symbolism. "We always go back to the village to listen to the people," they said. "Our painting is a language that tells stories. We grew up playing with nature in the Sahyadri hills. We have local knowledge, we talk to the shermans, elders, women." With this knowledge, the brothers give new meaning to an old subject in their big 'Tree of Life' painting at the Ojas Art booth: their tree has two trunks, interlaced root systems, and one feathery mass of assorted leaves. "We imagined a forest where all the trees are one, connected, as they really are," they explained.
Bengal Connect: Experimenter to Emami to…
Bengali artists were represented in force. Experimenter, co-founded by Prateek and Priyanka Raja in 2009, now has two spaces and an artist-in-residence apartment in their home town, Kolkata, plus a gallery in downtown Mumbai. A major player in the global contemporary art world, their double booth was up front with other leading galleries such as Nature Morte, where Dhruvi Acharya's 'Save the Environment' drew constant crowds, and Galleryske, where Hyderabad-based Madhukar Mucharla's rows of little leather sculptures of forlorn migrants told the poignant story of his Dalit leather-working community's suffering during Covid.
Prateek has been coming to the fair for many years. We talked about the positive changes. "There is a new way of thinking among young Indian artists," he said. "The content is better, the quality is top-notch now. Indian contemporary art has come into its own." The reason, he believes, is that a much broader range of Indian people are now buying and living with new art. "They want to live with it in their homes and offices, the art world has elevated to meet this. Artists are finding their own voice and India is collectively finding a contemporary art language of its own. It's a coming-of-age." And, with such a vibrant culture, plenty of art is political: "The rise of dissent continues, it cannot be suppressed."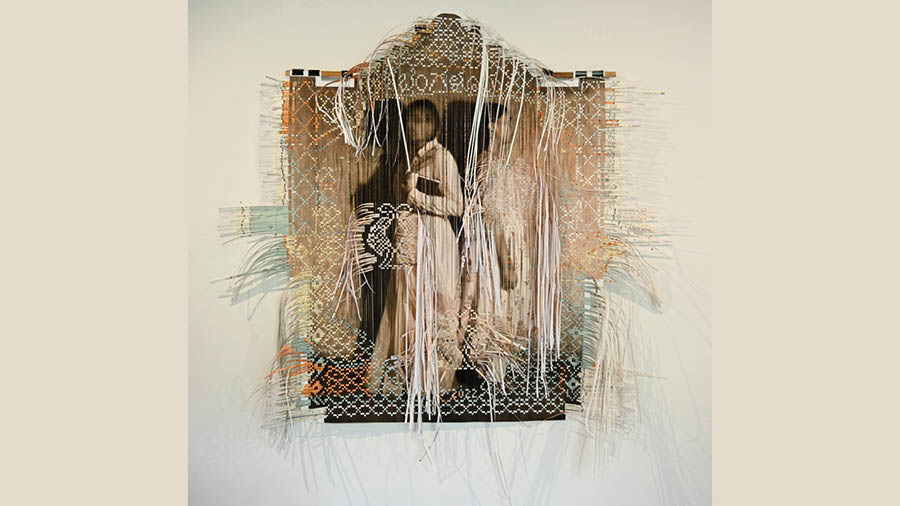 Arpita Akhanda's piece on the Partition using paper weaving
Courtesy Arpita Akhanda
He pointed to his artist Sohrab Hura's quirky, close-focused, diary-like paintings of daily life, collectively called 'Things Felt But Not Quite Expressed'. Many of the images are menacing: blood being washed off hands, a mother's foot kicks a child in the face, a man reads his phone instead of enjoying a spring picnic with his lover. A piece by 33-year-old Soumya Sankar Bose called 'A Discreet Exit Through Darkness' questions another 'felt' but unexpressed aspect of society: through photographs and a 360-degree immersive film he makes a visual investigation into his mother's kidnap and disappearance for three years, something the family never spoke about after her return.
Among several other Kolkata galleries – Akar Prakar, Ganges Art, Gallery Art Exposure – Emami's artists stood out. Ushmita Sahu, its director and curator, nurtures the young artists whom she shows in the galley's massive 50,000 square feet space on Kolkata's Eastern Metropolitan Bypass. Deftly, she brought 10 mostly Bengali artists to the fair and made a big impact in her little booth. They included Arpita Akhanda whose large work about Partition remembrance started with multiple images of herself which form a boatload of people fleeing in the middle of the night across a river, just as her grandparents had. Arpita arranged smaller photos around this, then sliced the whole panel into narrow strips and wove them back into one large piece with a fringe either side. "It's like a Bengali patachitra," says Ushmita. "It's about Partition but it goes beyond time, geography, socio-economic groups. It's about now as much as then."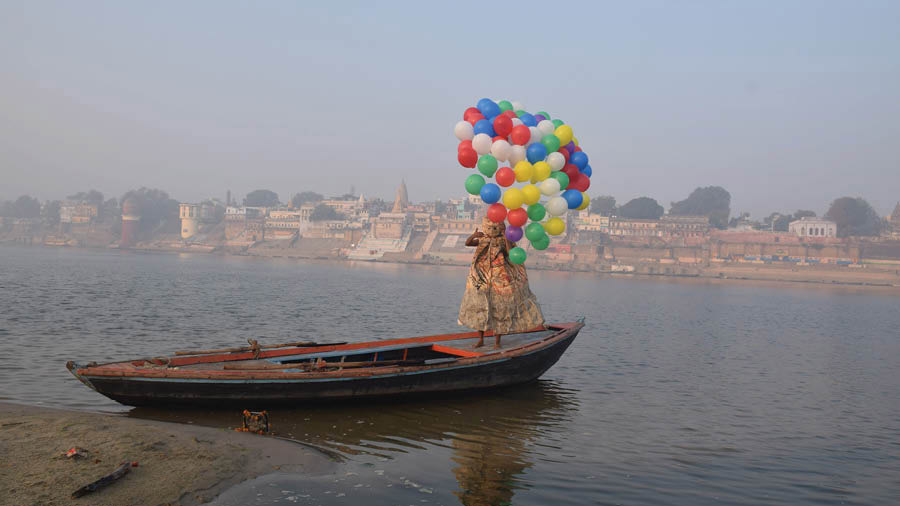 Debashish Paul's performance piece 'Me and My Pet'
Courtesy Debashish Paul
Two other artists tackle present social dilemmas: Prasanta Sahu – who comes from an agrarian family in Odisha, was the first generation to go to school and now teaches at Santiniketan – paints farmers' worn hands and feet to expose the sugar industry's crisis; Debashish Paul explores the relationship between body, attire and society in his multi-media performance piece 'Me and My Pet' which he made by first creating the patchwork costume and headdress, then starring in his own video wearing it, and adding photographs and watercolours.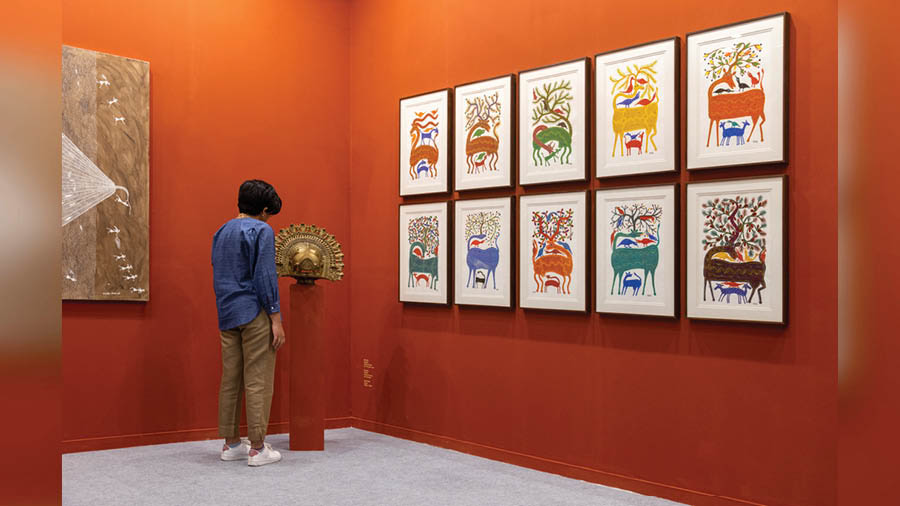 The art fair had 71 galleries and 14 institutions showcasing a diverse range of Indian contemporary artworks
Courtesy India Art Fair
The sharp-eyed could find Bengali art across the whole fair. DAG gallery, which has just opened a new space on Janpath in central New Delhi, showed two remarkable Bengali treasures: a late 19th Century oil painting of a fashionably dressed Krishna with his gopis, in glistening condition, and a lively sketch by Nandalal Bose of three Tagore brothers, the art historian Ananda Coomaraswamy and Bose himself, all sat in the artist's studio in Jorasanko, near the Tagore family home in north Kolkata.
Louise Nicholson is a British art historian, journalist and writer who has focused her studies on India since 1978 and brings the curious to India. She has written 27 books, and writes a monthly wellness blog to inspire slow travel in India: https://www.louisenicholsonindia.com/#wellness