An integral part of festivities in Kolkata is Puja parikrama, where people determine a route and visit all pandals along the way. But who said you need to be in Kolkata to do a parikrama? This year, Indian Bengalis in the United Kingdom (IBUK) have organised a Puja Parikrama that will cover not only the biggest pujas in the country, but also bring the Bengali community closer. 
IBUK is putting together not one but three parikramas, spread between October 1 and 2. "On October 1, people can visit six pujas across North London, West London, Reading and Slough. October 2 will see two parallel parikramas, one travelling to six pujas in East London and Kent, and the other to seven Pujas across Midlands, Nottingham and Birmingham," said Jaydeep Bhattacharya, committee member, IBUK. 
Bhattacharya added that when the tickets went live roughly one month ago, they were sold out in minutes like hot cakes. "This is a fabulous initiative by the association, which will bring like-minded people together. The parikrama has received a positive response not just from Indian Bengalis and Bangladeshis, but people across cultures, who hold a special place for Bengal,"he said.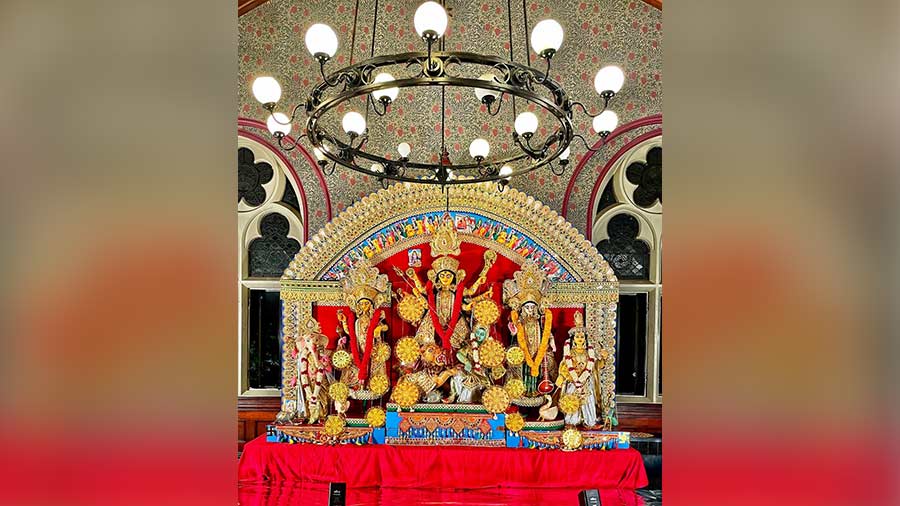 London Sharad Utsav's Durga Puja 2021 — one of the biggest pujas in the UK
Facebook
He elaborated that the goal wasn't just to see the Pujas, but to make an event around it. "We have received close to 450 registrations and booked five buses, with three reserved for the parikrama to North London alone. During the parikrama, sumptuous lunch and dinner bhog will be provided by the Puja committees we visit," said Bhattacharya.
The spread is expected to be quintessentially Bengali, including khichuri, begun bhaja, payesh, chutney and sondesh. Besides, stalls of both food and Indian handicrafts spring up around the Puja pandals and turn into economic hubs. People also get to wear their traditional attire like saris, designer kurtas and dhuti-panjabis that they usually don't get to wear.
Bhattacharya remarked that the festival brings different cultures and families together. "The bus ride itself is joyus, with people playing antakshari and dumb charades. It is like a day-long picnic. Earlier, families here would go pandal-hopping by themselves, but now we visit some of the biggest pandals in the UK including London Sharad Utsav, Prabashi and Adda Slough as one big family," he added.
The numbers are enough to validate the frenzied response, and Bhattacharya joked that if this enthusiasm continues, IBUK may well have to hire 10 buses next year. "Here, Durga Pujas are done with the strictest of customs and people, too, are very traditional," Bhattacharya signed off.