Celebrating Holi in the last couple of years seemed more like a risky ride rather than a fun custom. However, now with the pandemic receding, people are back to celebrating the festival of colours.
For many people in the city, Basanta Utsav is connected to Bolpur and the festivities in Santiniketan. The festival, rich in Tagorean tradition, might have been put a stop to by the Visva Bharati authorities after the pandemic, but many others have now taken the cue and started organising similar festivals with a rural flavour at various locations in the districts. So this Holi, if you are looking for destinations where to enjoy the festivity away from home, visit some of these locations that have come up, offering ways to celebrate Basanta Utsav 2023.
Nimdih Gandhi Ashram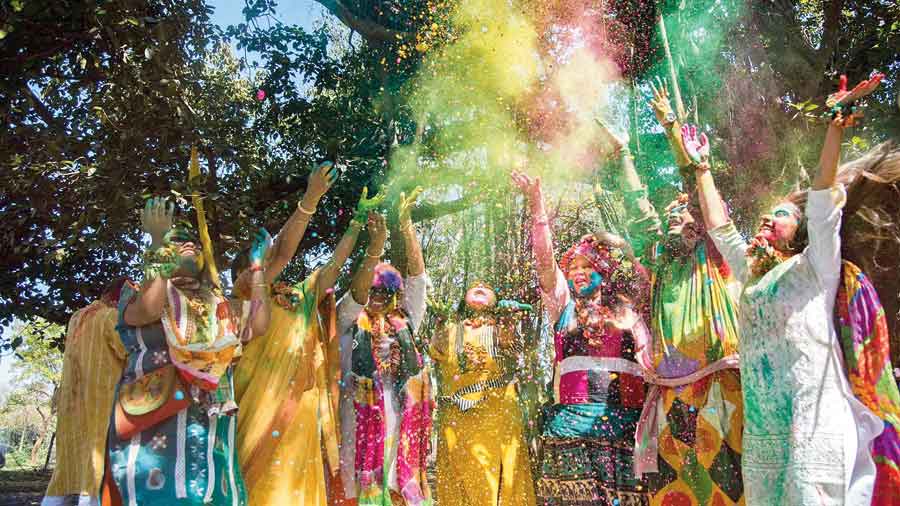 Playing with abir at Nimdih
Location: The ashram is located in the foothills of the Dalma Range. Located on the outskirts of the city of Jamshedpur, at a height of 3,000 ft above sea level, Dalma Hills are surrounded by dense forests and the pristine Subarnarekha river.
How to reach: There are several trains from Howrah which leave for Nimdih. You can book yourself a ticket online. The train journey will take four to five hours. However, you can also drive from Calcutta; it will take approximately 5-6 hours.
What to expect: The Holi schedule at Gandhi Ashram is spread over three days between March 6 and 8. The Folk Holi Mela and cultural programme will be inaugurated on March 6 at Nimidh Gandhi Ashram at 5pm. This will be followed by an evening of cultural programmes put together by local folk artistes and musicians. On March 7, dol will be celebrated with all the guests at the ashram. This will be followed by a cultural programme in the evening. On March 8, guests can attend a workshop on chhau dance and organic farming in the morning, followed by post-lunch departure.
Pocket pinch: Rs 3,000 per person for the entire festival (with living arrangements in a tent with common toilet). A sum of Rs 4,500 will be charged per person for the entire festival with living arrangements in a room with six beds and a common toilet. A sum of Rs 7,500 will be charged per person for the entire festival for stay in a cottage with two beds and attached bathroom.
Contact: 8420106396, 9661464540.
Tepantor Basanta Utsav and Mela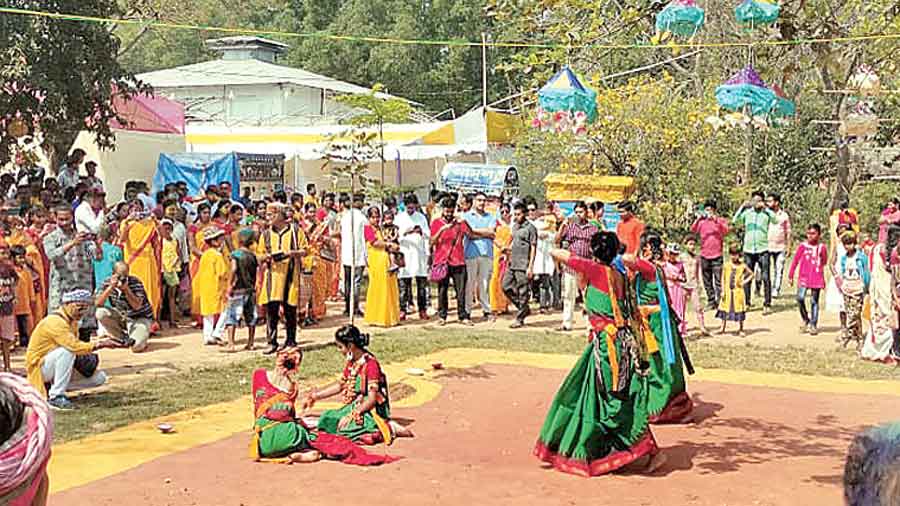 A dance performance at Tepantor
Location: Tepantor village is situated at Satkahunia, West Burdwan. It is 30 km from Bolpur and 20 km from Panagarh.
How to reach: Take a train either from Calcutta to Bolpur or to Panagarh.
What to expect: The programme will begin at 7pm on March 6. There will be performances by reputed artistes from rural Bengal, Raibeshe from Murshidabad followed by a campfire, Holika Dahan and tribal dance. Dol will be celebrated by the guests in the morning on March 7. In the evening, bands such as Arshinagar will perform, followed by a dance recital in Gotipua, a dance form unique to Odisha. On March 8, one can visit the local heritage sites followed by a chau dance performance in the evening.
What else to see: Popular heritage sites near Tepantor include Kalikapur Rajbari complex, 108 Shiv Mandir, Durgapur Barrage, Curzon Gate, Christ Church, Sat Deul, Nawab Bari, Garh Jungle Maharshi Medhashram, etc.
Pocket pinch: Dormitory charges for three nights including food will amount to Rs 3000 per head. Cottage charges Rs 4,000 and Rs 5,000 per head including food for three nights.
Contact: 9563014447.
Bari Kothi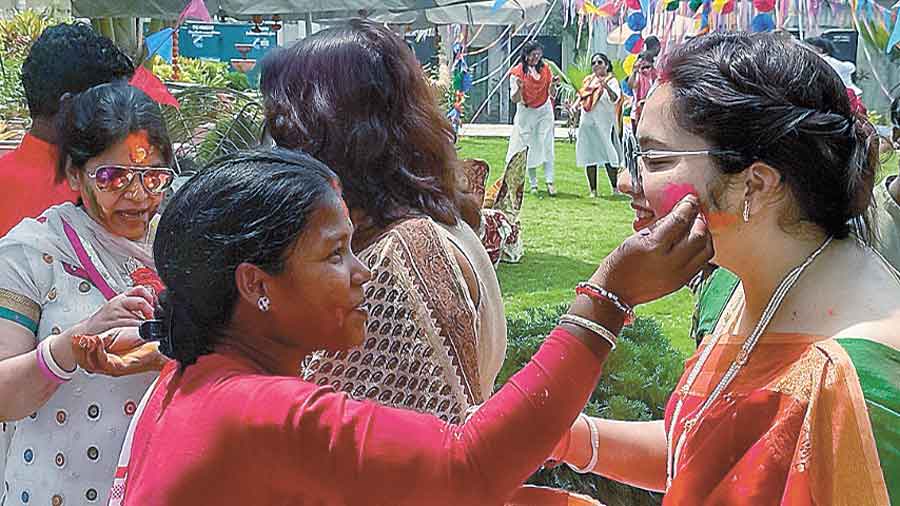 Guests being greeted with colours at Bari Kothi. A file picture
Location: Azamganj, near Murshidabad. The twin towns of Jiaganj and Azimganj were important trade centres during the Subah reign in Bengal, considered as the 'Varanasi of Bengal' during the period of Rani Bhabani, a renowned zamindar of Bengal.
How to reach: Bari Kothi is a five-hour drive from Calcutta or a four-hour train ride from Calcutta.
What to expect: Five-course royal meal including breakfast, lunch, high tea and dinner, special heritage walk, terracotta temple visit, cultural evening, tour of bari kothi along with holi celebration. All food is vegetarian. Check in March 8, check out March 9.
What else to see: Murshidabad is famous for brass and bell metal ware, for traditional Bengali muslin and silk weaves, brocades and Jamdanis. There are plenty of shops offering mouthwatering Bengali sweets to take home for family and friends. The must visit heritage sites include Hazarduari Palace Museum, Katra Masjid, Kathgola Gardens, Motijheel Park, Charbangla Temple, Imambara, Khosh Bagh, House of Jagat Seth, Jalangi River, Kiriteshwari Temple, etc.
How much to pay: Rs 19,000 onwards for double occupancy royal rooms.
Contact: 9051200800