Google 'The world's coffee capital' and you're likely to see Melbourne show up right on top of the page. I'm a self-confessed coffee snob, which should come as no surprise for I am often torn between the coffee in India's two best coffee cities — Bengaluru and Chennai.
If there's one thing I miss when I'm not home it's a cup (tumbler in my case) of filter coffee. But there's one city in the world where I'm sorted — Melbourne. A city where almost everyone is a coffee snob. A city where almost everybody has an opinion stronger than the coffee they drink. And a city where the cafe culture is almost unparalleled.
Riding the coffee wave
Melbourne is one of the cities in the world to truly ride the Third Wave of Coffee in the 2000s that saw cafes and serious players sourcing beans from farms instead of countries and the focus shifted to bring out the unique characteristics of each bean during the roasting process. It set the stage for one of the world's most vibrant coffee cultures well ahead of the rest of the world. 
India's tryst with coffee is strongly linked to the legend of Baba Budan, a wandering Sufi 17th-century cleric who risked his life and smuggled seven coffee seeds out of the port of Mocha in Yemen. Now you can make the connection when you sip on a Cafe Mocha! It's no coincidence that Mark Dundon and Bridget Amor, who are widely credited for pioneering Melbourne's Third Wave of Coffee Culture, called their cafe Seven Seeds. This cafe with its industrial-chic vibe, near the University of Melbourne in Carlton, remains a popular destination with the city's coffee aficionados.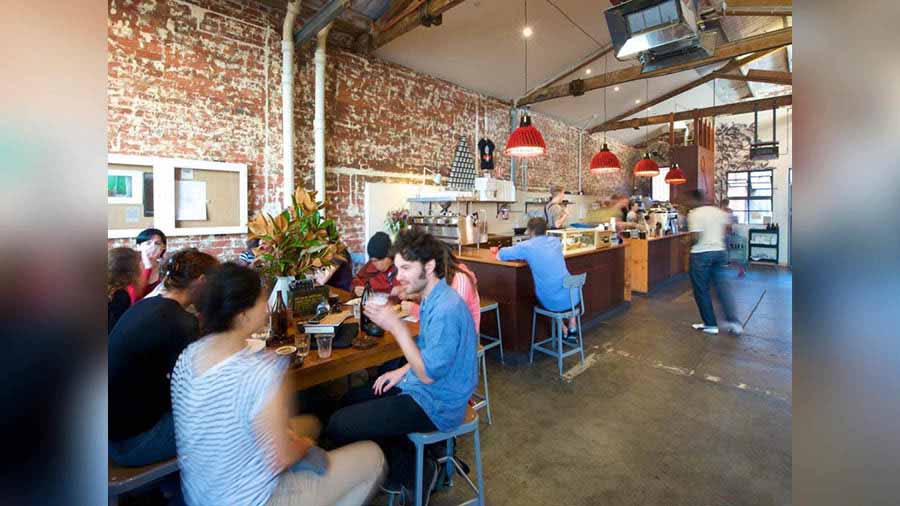 Established in 2017, Seven Seeds led the third wave of coffee culture in Melbourne
Courtesy: Visit Victoria
Baba Budan's bold move (there's one legend that he hid the beans in his flowing beard) in 1670 might have been the key to take coffee to the West. He planted these seeds at his mountain abode at Chandra Drona Parvatha near Chikmagalur, an area now called Bababudanagari. Seven Seeds is not the only cafe that pays tribute. One of my favourite Melbourne hangouts is Brother Baba Budan cafe in Little Bourke Street in the heart of the CBD. It's easy to miss this tiny cafe but once you walk in, you won't forget it in a hurry.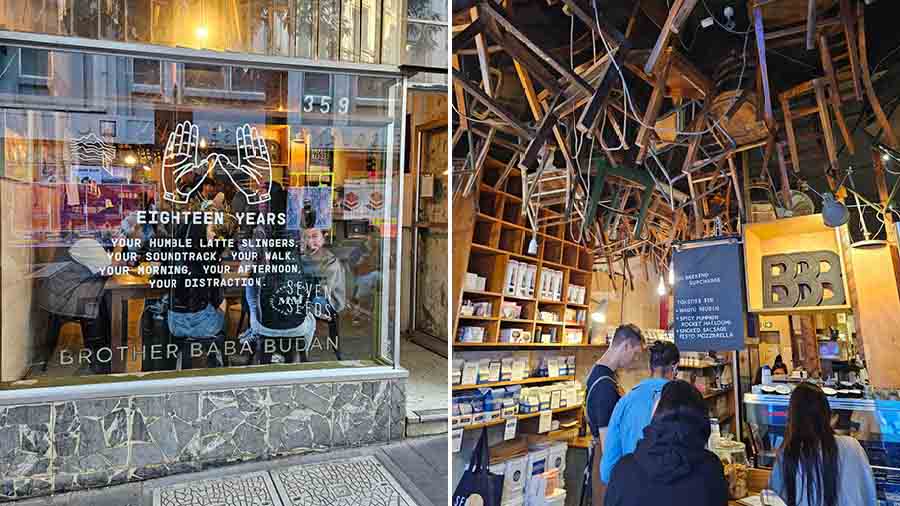 Brother Baba Budan is one of the seats of the city's coffee culture, chairs hanging from the ceiling notwithstanding
Ashwin Rajagopalan
Blending in
Whether you're a coffee connoisseur or looking to amp up your Insta game, I'd suggest a pit-stop at Degraves Street, a short walk from the iconic Flinders Street Station. This isn't just one of Melbourne's best-known landmarks but also a popular meeting spot for Melbournians who usually just tell their friends to "Meet me at the clocks". I was sad to see my favourite hole in the wall coffee spot – Cup of Truth, shut down since my last visit due to upgradation work being undertaken in the Degraves subway. I don't just keep coming back to Degraves for the coffee, there's Pidapipo, one of the city's finest artisanal gelaterias. Melbourne's Italian and Greek immigrants have played a big part in the city's food and drink culture.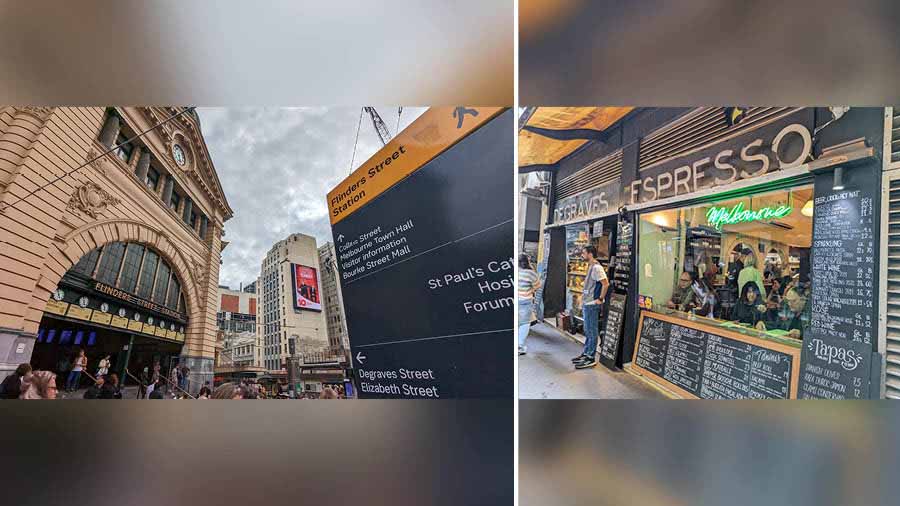 Flinders Street Station and (right) Degraves Street
Karo Christine Kumar, Ashwin Rajagopalan
The Italians brought the first Espresso machines to the city. Australians embraced the Espresso faster than many other nations, setting a higher standard for coffee in Melbourne's cafes. Even today Lygon Street, the city's traditional Italian quarter, is one of the best places to savour a fine Espresso.
Ask a local for his or her recommendations and chances are you will need more than a week to tick off a long list of popular cafes. There's Monk Bodhi Dharma that specialises in plant-based food along with exceptional coffee, or Higher Ground with its long stainless-steel bar that brews a range of coffees. Housed in a heritage-listed powerhouse, Higher Ground has a separate coffee menu that includes a barista's breakfast tasting board of Five Senses coffee and several pour-over and batch brew options.
Higher Ground has a (right) has a Darling Blend espresso, with white rum, caramel and salt called Toffee Coffee
@highergroundmelbourne/Instagram
Auction Rooms is another trend-setting Melbourne coffee institution. You could sign up for one of Melbourne's many coffee tours or curate your own trail. Either way, you will sample some of the best coffees in the world.
Flat White – the hot order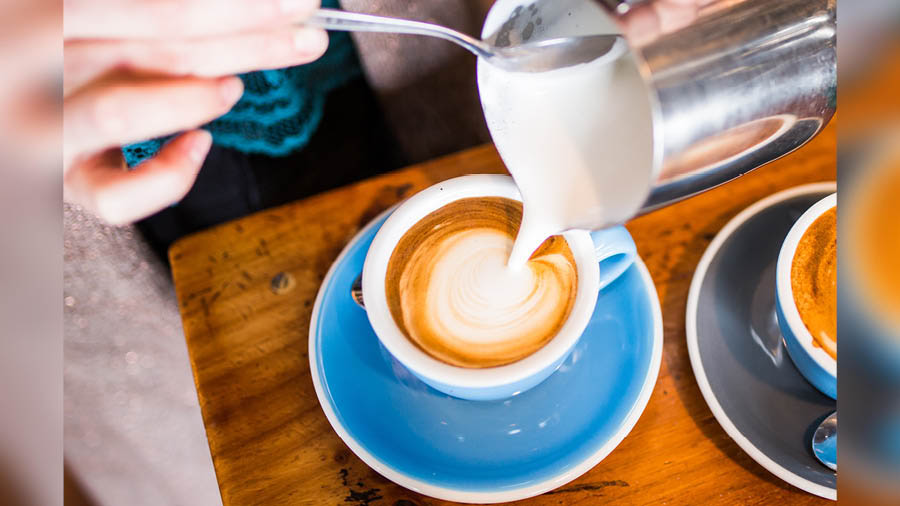 A barista pours a Flat White, which almost finds that perfect balance between coffee and milk
Shutterstock
No city does a Flat White better than Melbourne. I still remember my conversation with Jon Freeman at Cup of Truth around my second most favourite type of coffee. The New Zealanders stake claim to its invention but the Flat White is still seen as the quintessential Aussie brew. It was first added to a menu in 1985 in Sydney (at Moors Espresso Bar). Usually crafted with a single espresso with less milk and foam compared to a cappuccino or a latte, the Flat White almost finds that perfect balance between coffee and milk. Experts like Freeman attribute Melbourne's success as a coffee destination to its city's highly talented baristas.
Like they say, the barista knows best.