Both Melbourne and Kolkata are examples of "great tram cities" outside of Europe and the US that have kept the trams running since the 19th century.
With the West Bengal Transport Corporation celebrating 150 years of trams in Kolkata, we spoke to four Kolkatans living in Melbourne about the shared love for trams by both cities.
Indranil Halder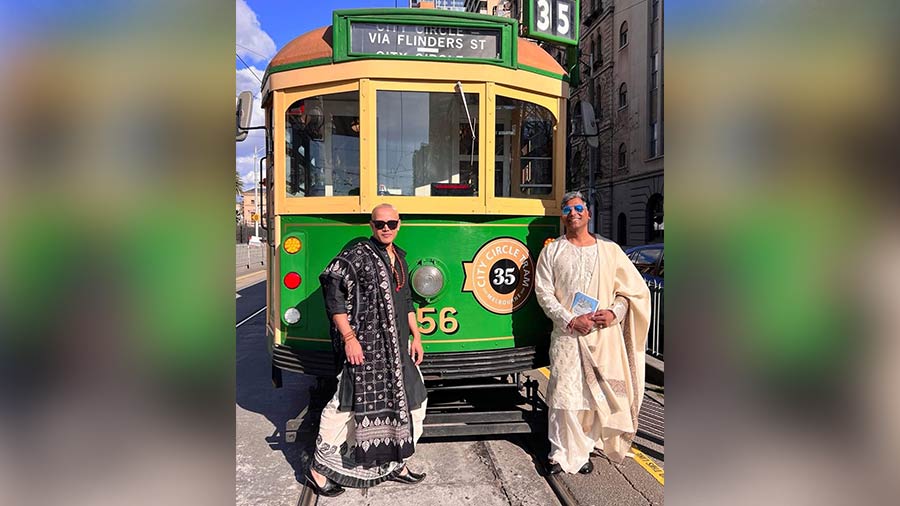 Indranil (right) poses with a friend in front of the 35 City Circle Tram, a free tram for tourists in Melbourne
We Bengalis in Australia are thrilled to celebrate 150 years of Kolkata trams in the land Down Under. I lived in Ballygunge and remember taking tram rides to attend tutorials in Hindustan Road or to visit Kalighat Temple or go to Gariahat to meet friends. I used to love sitting in the last seat of the tram, because I could watch the electric cable as we left the city behind us. Our parents used to say, 'Take the tram, not the bus' because they were afraid we'd fall off the bus!   
'Our parents used to say, 'Take the tram, not the bus' because they were afraid we'd fall off the bus!'
— Indranil Halder, a South Pointer and a crusader of the friendship between Bengal and Australia
During Durga Puja 2018, I went on The Victoria on Wheels, a Calcutta Tram restaurant that travelled from Shahid Minar in central Kolkata to Kidderpore, passing through one of the city's more picturesque stretches, the verdant Maidan and Victoria Memorial, while I enjoyed tasty Bengali dishes such as vegetable chop, fish try, rice and dal and mishti doi. The Victoria tramcar restaurant experience was similar to the Melbourne Tram Restaurant. I believe that the modernisation of the tram system is key to the future of Kolkata trams.
Andrea Braganza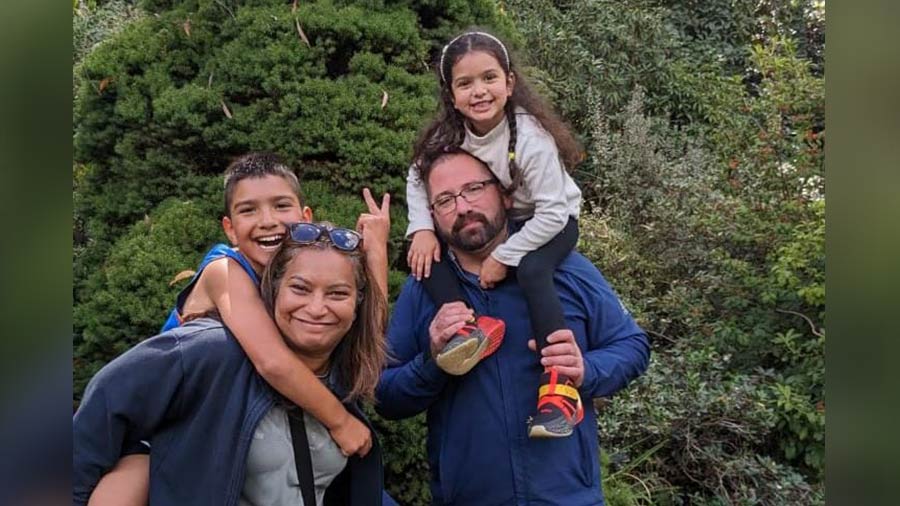 Andrea Braganza, a Xaverian from Kolkata, lives in Melbourne with her family
The trams in Melbourne are a warm reminder of home and instantly transport me to Wellesley in Kolkata. My grandma used to pick us up from primary school and take us on a tram down Ripon Street, and we'd finally end up in New Market for a treat.
'The tram was like my own little capsule – to pass the world by'
— Andrea Braganza, a 2004 batch Xaverian, who now lives in Mooroolbark, Melbourne
When I moved to Melbourne in 2005 after graduating from St. Xavier's College, I would take the tram home from work if I wasn't in a hurry – I felt as if I were in my own little capsule watching the world go by. In 2017, I remember reading about the Kolkata-Melbourne tram alliance, and I was very excited to spot the tram on Melbourne's streets! It's wonderful to live in one of the few cities in the world still home to tramways – a warm reminder of my past.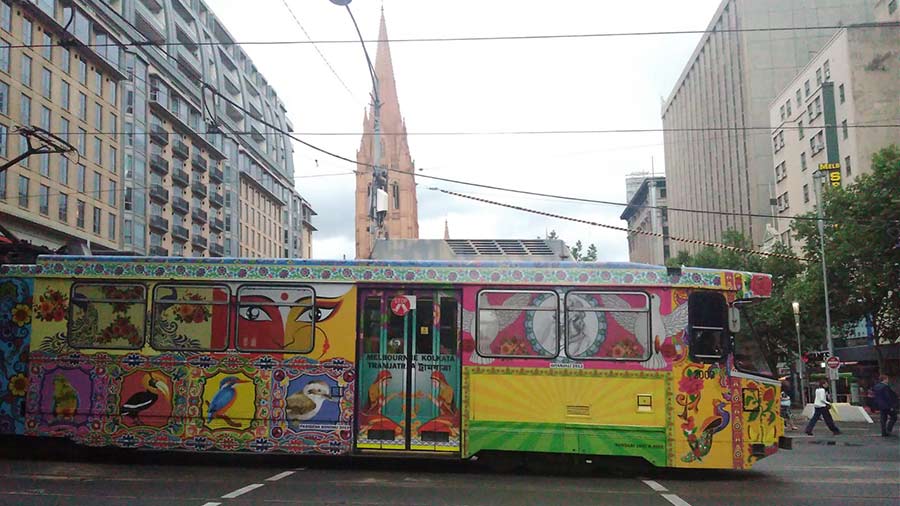 The Melbourne Kolkata Tram Jatra Tram, one of the two special trams launched as part of the 2017-18 Melbourne Festival Arts Trams by the Victorian Government
Sourced by the author
Maneka Kumar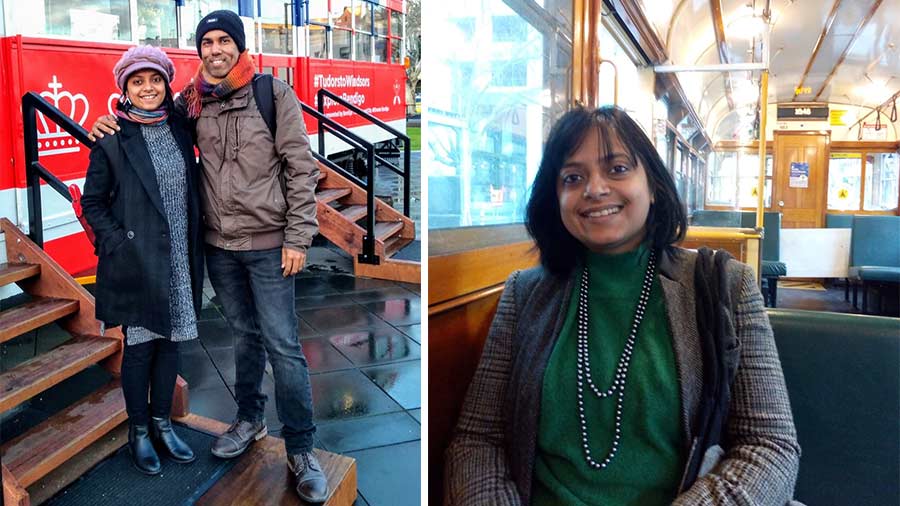 Maneka and husband Navin in front of a heritage tram by Bendigo Tramways, Australasia's largest tourist tramway; (right) inside the 35 City Circle Tram, free for tourists in Melbourne
The Kolkata trams are special to me because they were an integral part of our wedding. We hired a tram to make our wedding special for outstation guests and after the wedding ceremony in Christ the King Church, Park Circus, the tram ferried guests from the Park Circus tram depot to Calcutta Cricket & Football Club (CC&FC) for our wedding reception.
'The Kolkata trams are special to me and they were an integral part of our wedding'
— Maneka Kumar, who grew up in Kolkata and now lives in Southbank Melbourne
So, you can imagine my surprise when my husband Navin and I moved to Melbourne almost four years ago and we realised the city shared a common love for trams. We lived on Flinders Street in Melbourne's CBD for a while and we could see the trams from our window! The 'ding ding' of the trams transported me to Kolkata. As a child, trams were always a magical way to travel the city and take in the sights and smells. We didn't even mind the hard seats!
Partha Mazumdar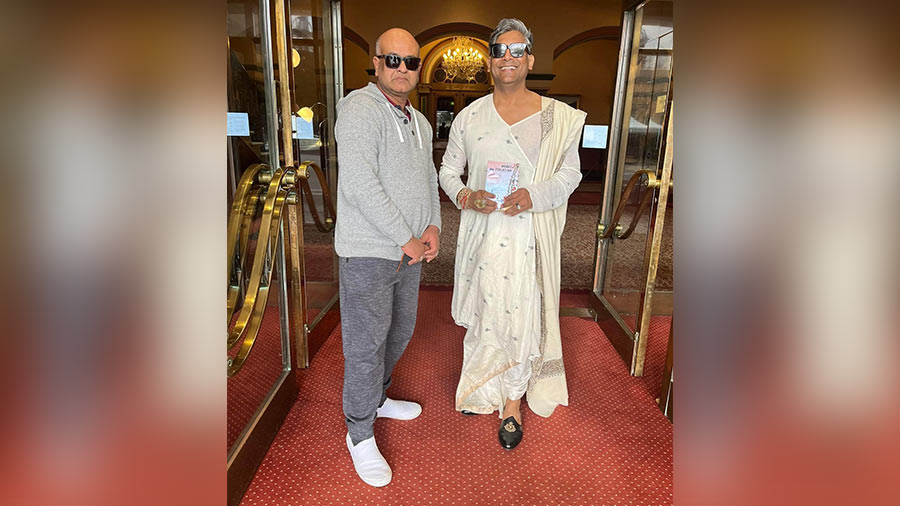 Partha Mazumdar (left) with fellow tram aficionado Indranil Halder
My memory of the Kolkata tram goes back to childhood, some 30-40 years ago. The trams' bodies were made of wood and sometimes I would sneak into the driver's area and he would allow me to pull and push all the old parts. The tram used to be so slow that one could get on and off while it was running. You could buy lozenges and toffees from hawkers on the tram and sucking on a toffee on a tram was a treat for me as a child. We would visit Shyambazar panch matha more (Shyambazar five-point crossing) and what would amuse me were the overhead wires that would run from one end to another. I thought it was an engineering marvel!
'I wrote a book about a Bengali girl, Nandini, who came to study in Melbourne, and found love on a tram'
— Partha Mazumdar, a Bengali living in Melbourne for the last 25 years. He loves football, cricket and tennis in equal parts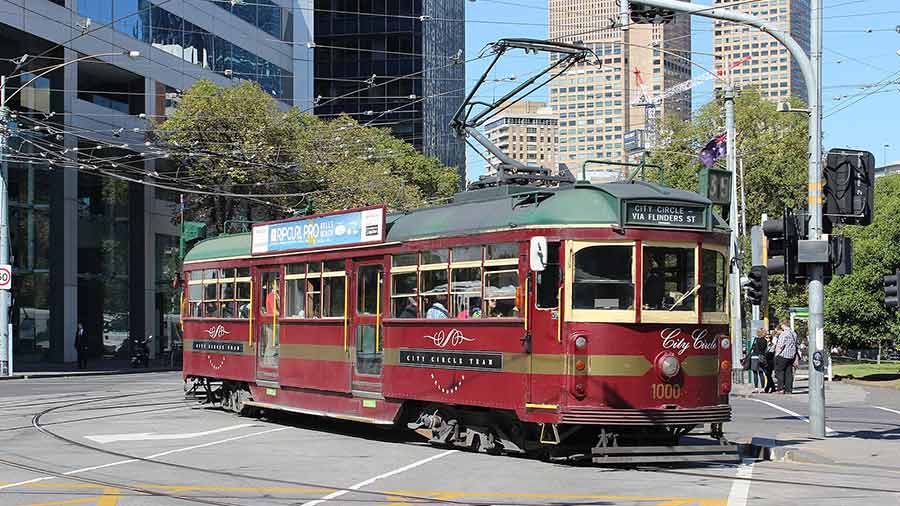 The 35 City Circle Tram or Free Tourist Tram
Wikimedia Commons
When I came to Melbourne in 1998, the trams looked similar – they also had the electric wires, but everything else was electronic. The first time I saw the red tram (35 City Circle Tram or the Free Tourist Tram) it looked exactly like the Kolkata tram.
During Covid, a friend of mine (Indranil) was launching a short story mosaic on the Internet. This ultimately led to a book, Living Dreams, I wrote about a Bengali girl, Nandini, who came to study in Melbourne, and found love on a tram. Somehow, trams have journeyed with me throughout my life…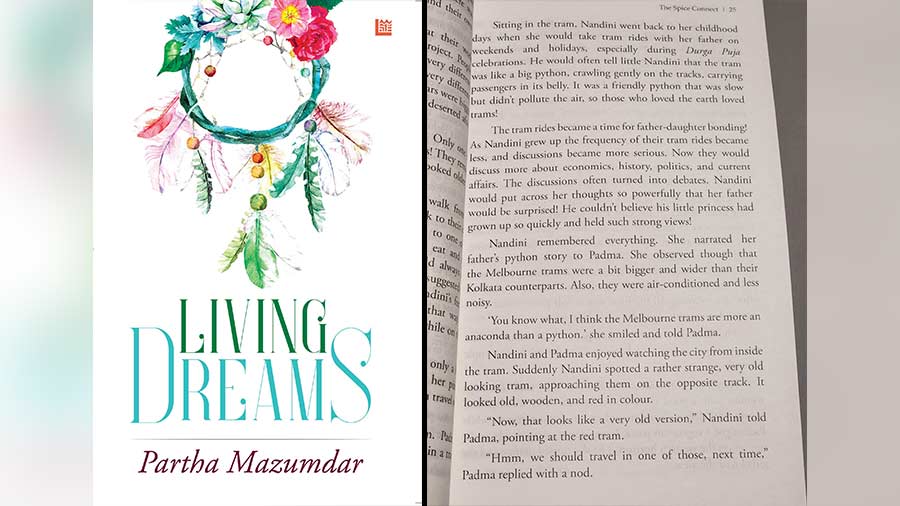 The chapter in 'Living Dreams' about Nandini reminiscing about Kolkata trams