Dense evergreen forests criss-crossed with a series of rivers and rivulets have always been a key feature of southeast Asia's natural vegetation. Over the years, this unique vegetation has led to the development of an amazing water transport system along with a unique water-based lifestyle, revolving around floating markets. For centuries, the floating markets have played an integral role in shaping the lives of the citizens of southeast Asian countries like Thailand. In recent years, the Thai lifestyle has changed and water transport has largely been replaced by road transport running along the network of highways stretching all across Thailand. The floating markets have lost much of their significance. But Thailand authorities have come up with a unique plan of revamping the floating markets and turning them into tourist hot spots.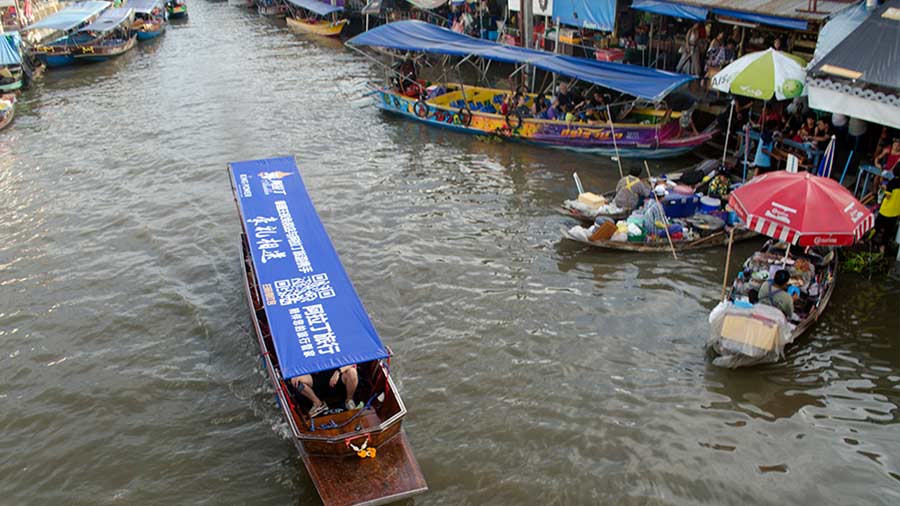 Food boats at Amphawa Floating Market
No trip in Thailand is complete without a visit to one the numerous floating markets that dot the entire country. A prime attraction for tourists, it is an ideal place to shop and bargain. The shopping extravaganza ends with the most amazing Thai food. Amphawa Floating Market, located about 90 km southwest of Bangkok, is one such market attracting tourist from far and wide. The journey from Bangkok takes around one and a half to two hours and the market operates only on weekends, Friday to Sunday, from noon to 8pm.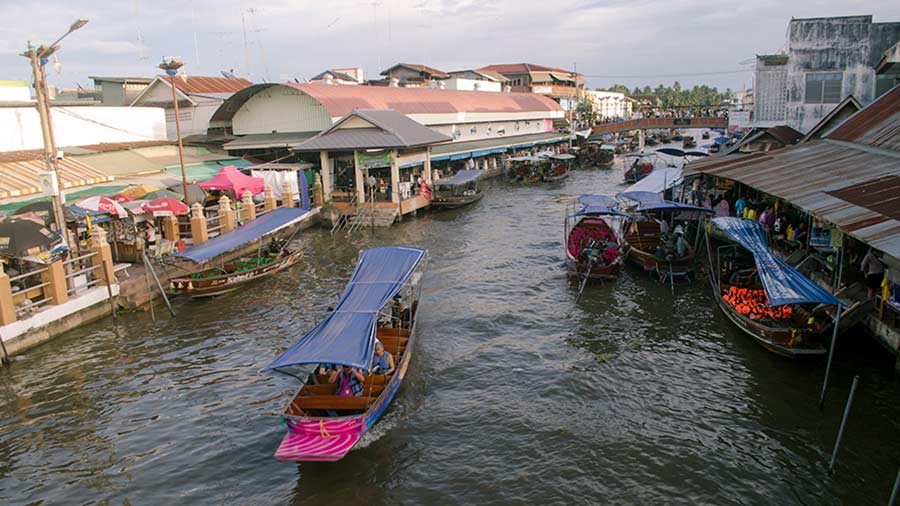 Amphawa Canal lined with walkways and shops on both sides
The market operates on the Amphawa Canal, with both ends connected to the Maeklong River. The journey to the Amphawa Floating Market starts with a boat ride — diesel powered boats are operated with a long propeller shaft extending into the water. The operator operates from the back of the boat and passengers sit on narrow benches along the two sides of the boat. Life jackets are compulsory and the boat operators are extremely strict about it.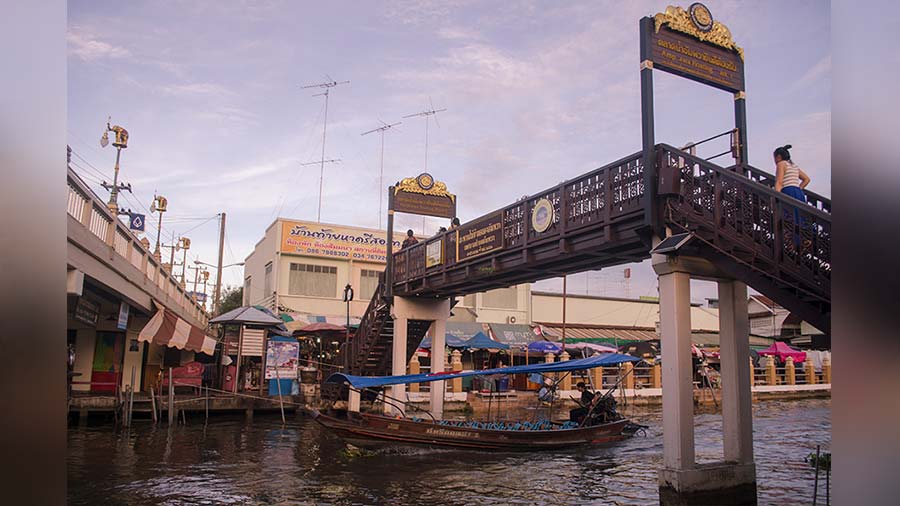 A wooden pedestrian bridge spanning across the Amphawa Canal
Paved walkways separate the canal from the shops selling souvenirs, garments and local handicrafts. These walkways allow tourists to enjoy the walk while they shop. The shops and walkways extend on both sides of the canal and several wooden pedestrian bridges spanning across the river allow travellers to access both sides of the river. A few boats on the canal sell fresh Thai food as well.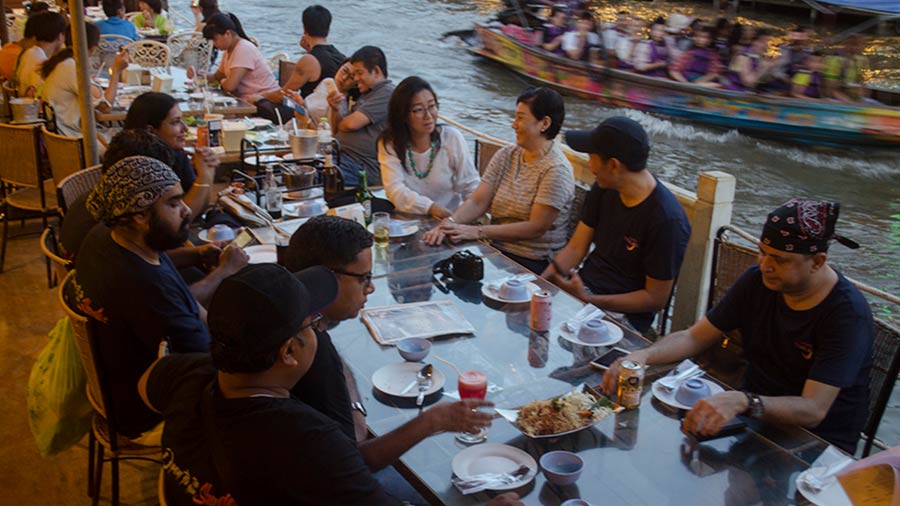 Tourists enjoy a fine dining experience at the Amphawa Floating Market
There are several eateries and fine dining restaurants along the walkway providing a unique culinary experience. Seafood like octopus, squids and prawns dominate the menu but chicken and pork items are not far behind. Some of the restaurants have seating arrangements right on the edge of the canal and dinner is complete with live musical performances, creating an out-of-the-world experience.
Travel Information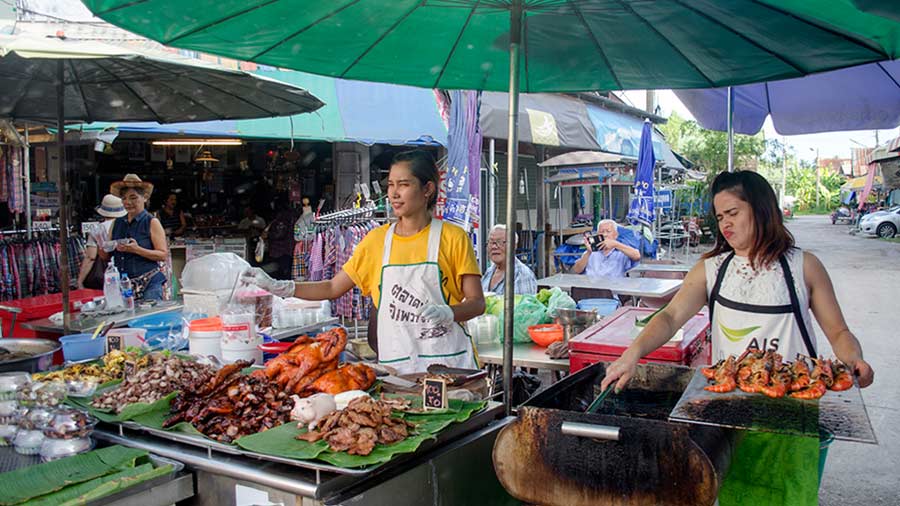 Food vendors do a brisk business at Amphawa Floating Market
Amphawa Floating Market can be visited on a day trip from Bangkok
The trip can be clubbed with a trip to the Maeklong Railway Market. Tour packages are available from Bangkok
There are several resorts near the floating market. A night stay will provide the opportunity of a firefly watching tour at Amphawa