One of our favourite coffee shops in the city, The Bridge at The Park is coming up with an exciting new menu that comprises a range of items such as kebabs, hearty mains, chaats, soups, pizzas with varying bases as well as some signature roasts and grills.
"This is a technique and ingredient centric menu approach that revolves around seasonality of ingredients, taste and texture. We have tried to keep the food simple and focused on the aspect of comfort. Whenever people visit hotel coffee shops, they look for a comforting menu that is fuss- free and that's exactly what we have tried to create with this menu," said Balpreet Singh Chadha, executive chef at The Park.
The Telegraph sauntered in to the Park Street address one winter afternoon and sampled a variety.
Bridge Signature Mushroom Soup: Porcini, portobello, enoki and button mushrooms come together to create the umami body of this hearty soup. Topped with crunchy mushrooms, porcini dust and full-fat cream froth along with herb oil, the soup shines new light on mushrooms. @Rs 445-plus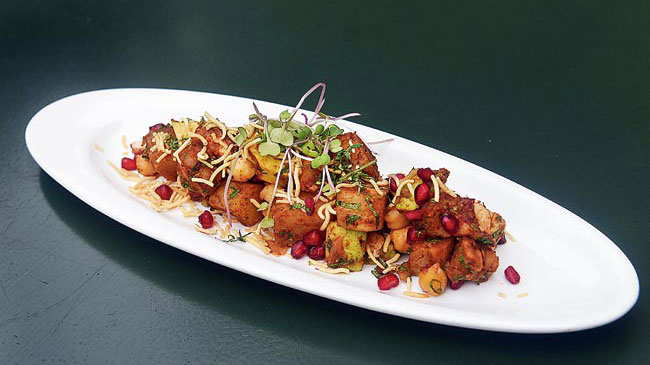 Sweet Potato and Avocado Chaat: This is a take on Delhi's Shakarkandi Ka Chaat. Chef Balpreet Singh Chadha, executive chef at The Park remembers his childhood with this one as he used to get it right outside his school in Mussoorie. It's a dry and tangy chaat, that has a wonderful natural sweetness from the sweet potatoes, and crunch from chickpeas and pomegranates. @Rs 545-plus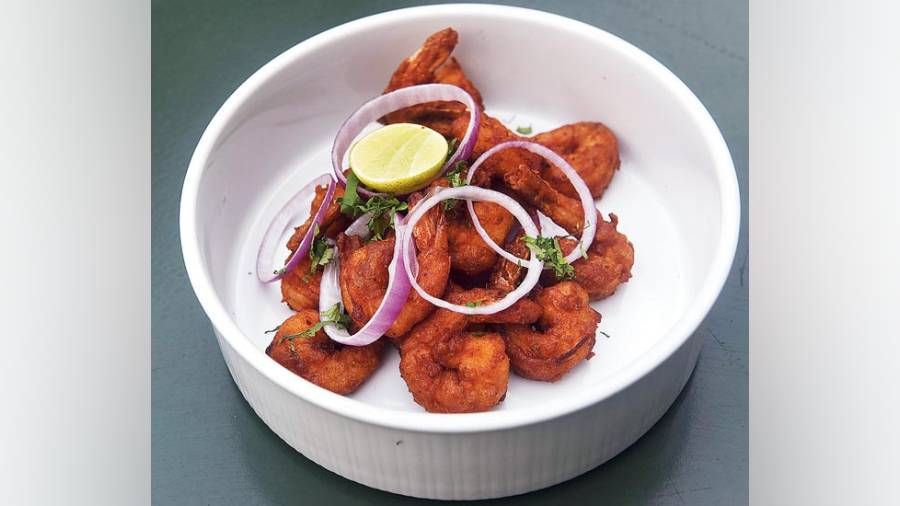 Koliwada Prawns: "This dish was innovated by Punjabis who moved from Amritsar to the Koliwada region in Mumbai, hence it is very similar to Amritsari Machli," explained chef Chadha. The prawns are coated in a spice and flour batter that has a distinct ajwain flavour and are fried till crisp. Best relished with lachcha pyaaz and some lime juice drizzled over. @Rs 1,200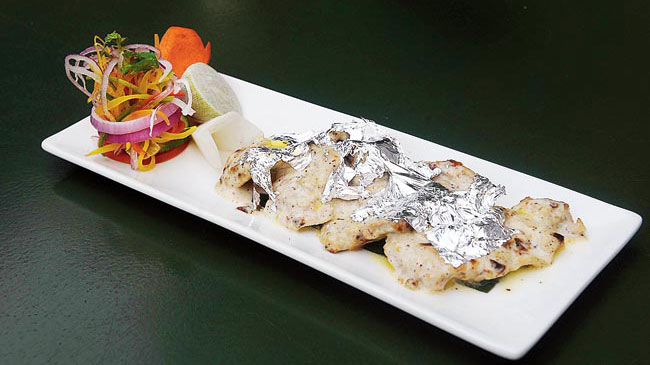 Murgh Chandi Kebab: A fresh take on the regular malai kebabs, this dish has chicken breast marinated in melon seeds and khas instead of cream that lends it a light yet creamy taste. Garnished with gold leaf, the pieces just melt in your mouth. @Rs 995-plus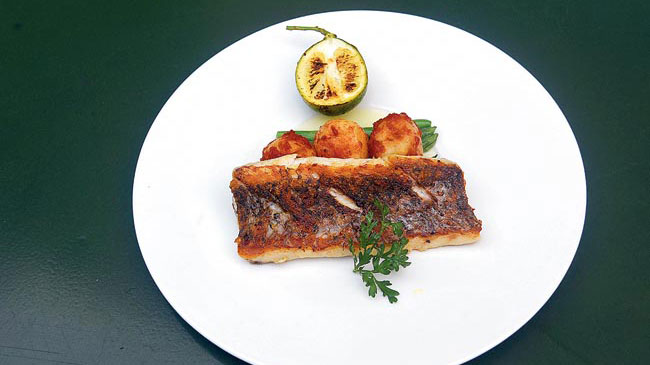 Kolkata Bekti: Grilled Kolkata bekti fillet is pan- seared and served along with a Sauvignon Blanc and white butter emulsion, roast potatoes, tomato coulis and gondhoraj lemon. The potatoes cooked in the tomato emulsion cuts down on the heaviness of the white butter sauce, while the beans add a fresh crunch to the dish. @Rs 1,200-plus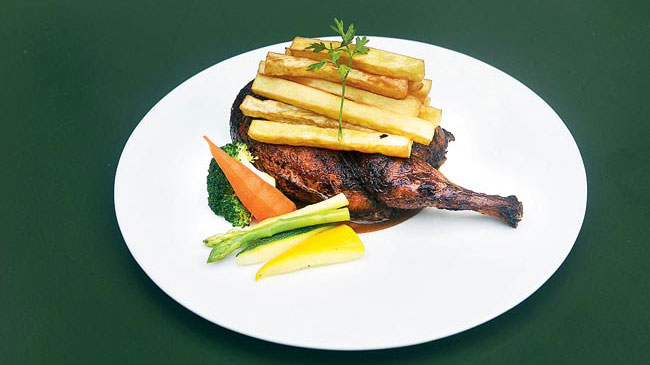 Five Spice Roast Chicken: Half a chicken marinated in Chinese five spices, double roasted and served with a Shiraz Red Wine Jus. The roast is served with sweet potato chips and seasonal vegetables. This is a signature dish from the revised menu. @Rs 1,200-plus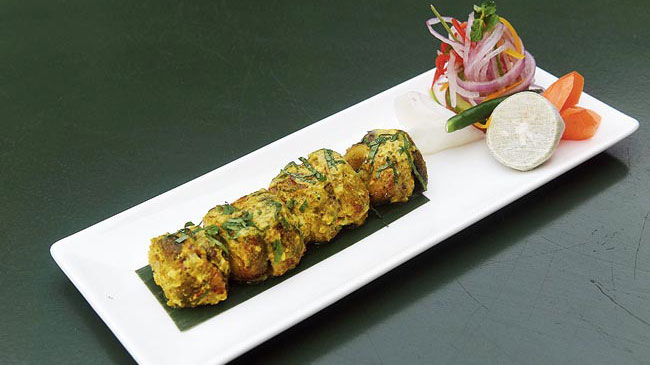 Bharwan Kumbh: Button mushrooms are filled with a mix of nuts, paneer and a raisin to create this sweet and tangy starter. Cooked in the tandoor, the mushrooms are soft yet have a slight bite to them. @Rs 595-plus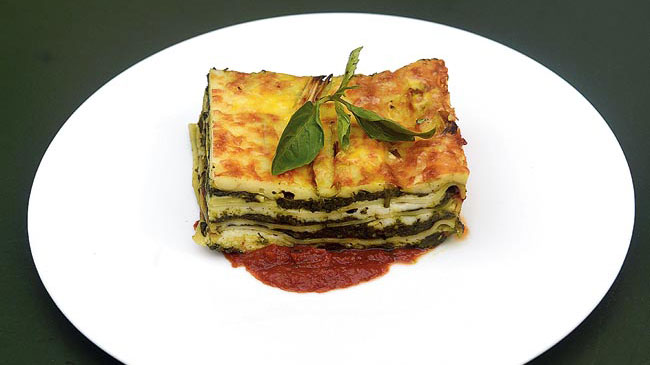 Bridge Signature Lasagne: Spinach, ricotta, pine nuts and leek come together in this creamy lasagna. It has ricotta made in- house and sauce made from Rosso tomatoes. This is yet another Bridge signature dish. @Rs 1,400-plus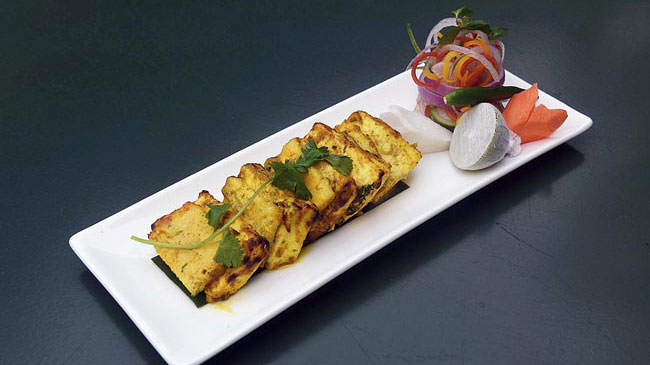 Ananas Paneer Tikka: Soft paneer pieces are marinated in yellow chilli powder and are topped with sliced pineapples before they are cooked in the tandoor. The pineapple cuts through the heaviness of the paneer for a tangy taste. @Rs 595-plus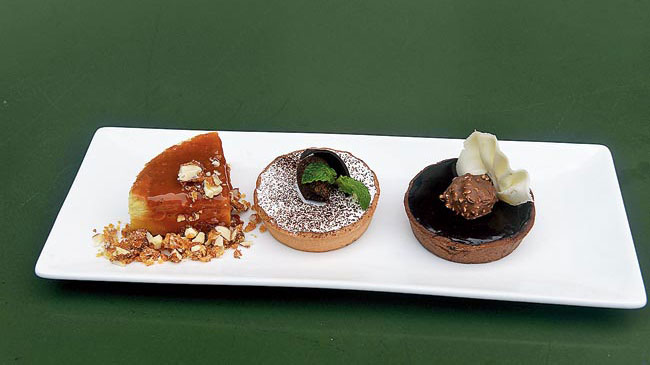 Desserts: We sampled three bomb desserts namely the Salted Caramel Cheese Cake, Banoffee Tart and the Chocolate Rocher Tart and each has its distinct flavour profile. From the nutty creaminess of the cheesecake to the banana flavour of the Banoffee Tart and the decadent chocolatey profile of the Rocher Tart, you'll not be able to stop at just a spoonful. @Rs 495-plus for each dessert.
What: New Menu @The Bridge
Where: The Park,Park Street
When: January 19 onwards
Timings:11am to 9.30pm
Meal for two: Rs 1,200-plus