I still remember my first visit to the Skydeck on Eureka Tower. That was 2014. Back then, this Melbourne landmark was Australia's tallest high-rise building and one of the world's tallest residential towers. The Skydeck still offers the best views of Melbourne and beyond. It was also here that I first heard about the Eureka Stockade, a rebellion during the Victorian Gold Rush of the 1850s. You will see design elements like the building's gold crown that make the connection with the Victorian Gold Rush that in many ways reshaped Australia's political and social landscape. At its peak, two tonnes of gold per week made its way to the Treasury Buildings in Victoria. The gold exported to Britain during this period paid off a significant chunk of her foreign debts. It all began near Ballarat, where I enjoyed many moments under the 'golden' sun. The perfect setting for an epic lunch.
The world's longest lunch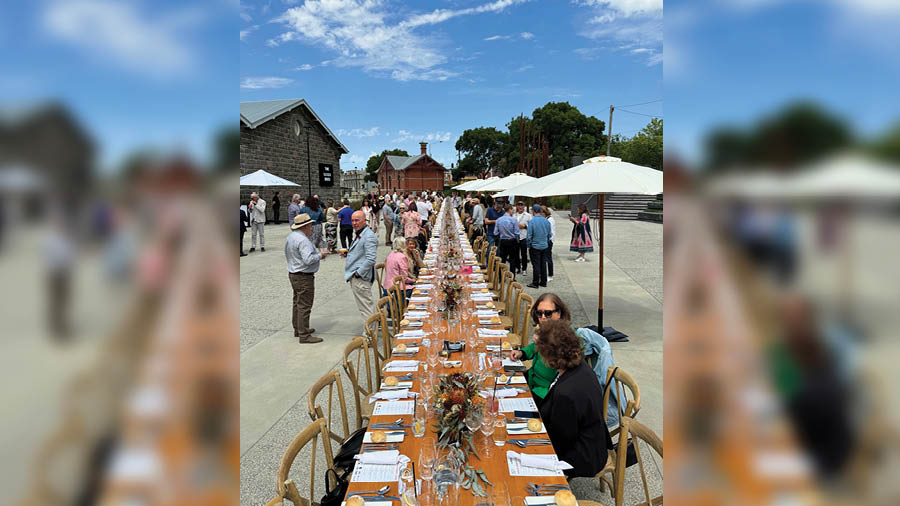 The world's longest lunch — with 150 diners that day
Ashwin Rajagopalan
It's been exactly 30 years since the Melbourne Food and Wine festival kicked off. It's grown from grassroots beginnings with a handful of events to become one of the world's preeminent food and wine events. Back in 1993, even the most optimistic Victorians would never have imagined this festival would grow beyond the boundaries of Melbourne. Just like Melbourne has grown by leaps and bounds over the last few decades, this event has now begun to play out in locations across the state of Victoria. The table was never-ending, local produce was the star at the Goods Shed located next door to the historic Grand Railway Station that dates back to 1862. Award-winning chef Konstantin Putkin took centre stage as I raised my glass with 149 other diners to raise a toast for a memorable afternoon and a terrific lunch.
Fields of gold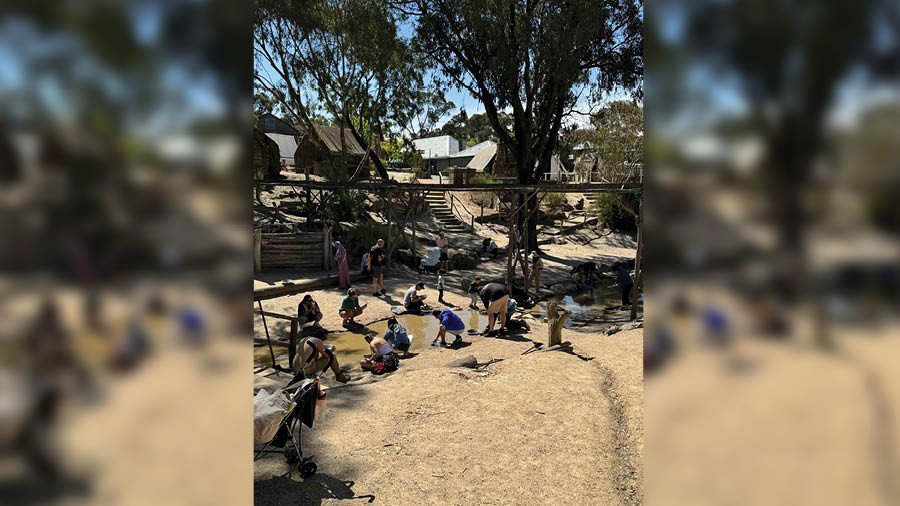 Panning for gold in 2023
Ashwin Rajagopalan
Ballarat became a boom town soon after the first gold discovery in 1851. It almost challenged the hegemony of Melbourne both in terms of wealth and cultural influence for a brief spell. Unlike other gold boomtowns in Australia, Ballarat's rise continued almost till the end of the century until the gold extraction began to dwindle. The Art Gallery of Ballarat was one of the most significant additions during the city's boom; it's also the oldest regional art gallery in Australia. I walked through gallery as part of a unique 'progressive' dinner with different courses served in key sections of the gallery. The gallery is part of one of Australia's most painstakingly preserved historic thoroughfares – Lydiard Street.
Lydiard Street – one of Australia's most painstakingly preserved historic thoroughfares
Shutterstock
A construction boom during the late 19th century saw the city become home to fine examples of colonial architecture like the Mining Exchange and Her Majesty's Theatre. You can explore Ballarat's historic precinct with walking tour companies like Ballarat Heritage Tours or plot your own trail like I did through the three key heritage streets that also include Sturt Street and Camp Street.
Say G'day to the cutest koalas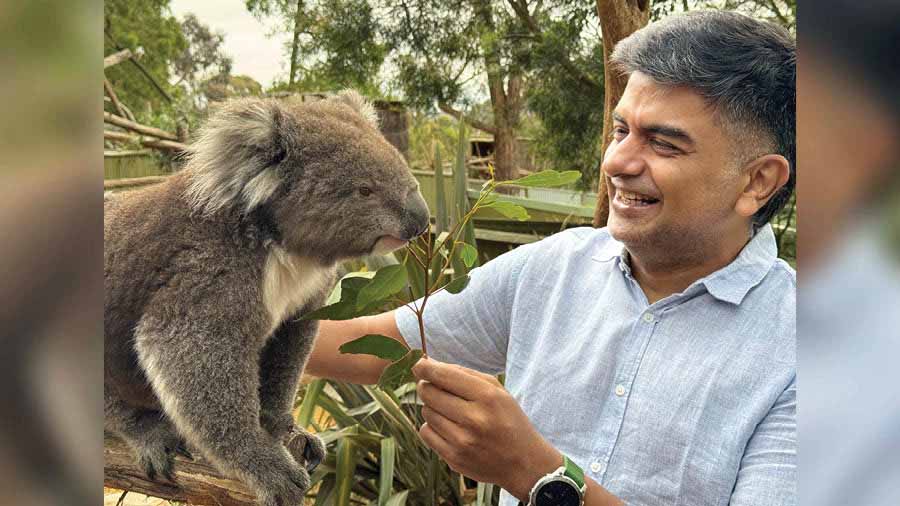 The author's koala encounter
Ashwin Rajagopalan
The Tasmanian Devil is Australia's largest carnivorous marsupial and one of the country's most endangered animals. It's one of the animals you will encounter at the Ballarat Wildlife Park, that's involved in the conservation of this marsupial. But that's not the only reason this family-friendly destination is worth checking out. You can get up, close and personal with the park's friendly koalas; you can't cuddle and pose with them in Victoria (and in quite a few states in Australia) anymore. This follows studies by scientists and rangers who observed that these shy, low-energy animals experience increased stress levels during such encounters. Leave the hugging to the park rangers and feed them with the help of these rangers if you want to get up close.
Start your own gold rush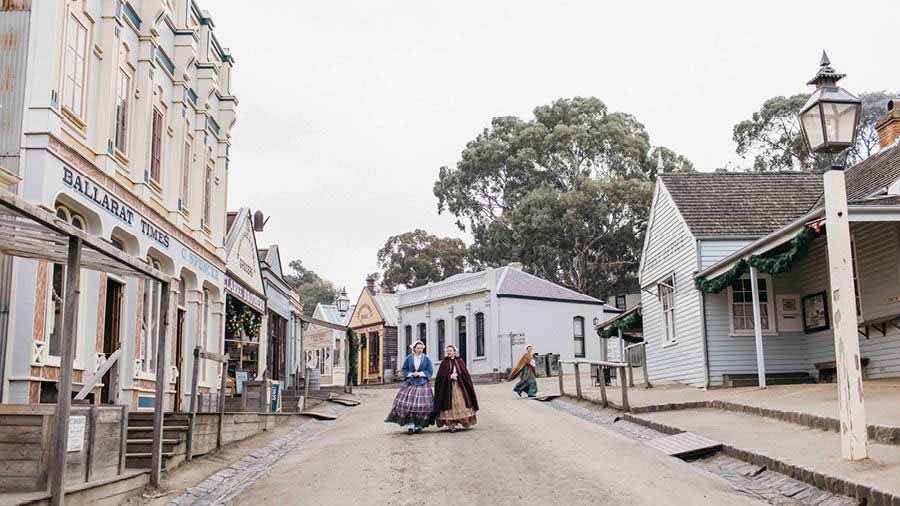 Sovereign Hill takes you straight back to the 1850s with over 60 historically recreated buildings
Victoria Tourism
Sovereign Hill is arguably Ballarat's most popular tourist stop. Although this 25-hectare attraction was launched in the 1970s, it takes you straight back to the 1850s with over 60 historically recreated buildings. You will need about three hours to truly discover this tourist attraction replete with a mine tour and a street with antique shops and gourmet food. The staff might be dressed in period costumes, but don't expect 1850s prices here. One of the highlights is the Gold Pour where a pure gold is melted and poured into a 3kg bullion bar. You can also try panning for gold in a winding creek. I just managed to mine a tiny speck of gold. Not enough to start a gold rush.
Many visitors to Melbourne plan Ballarat as a day trip, but I'd recommend a weekend drive. Walk through the historic streets, check into one of the city's many charming hotels set in heritage buildings like Craig's Royal Hotel or The Provincial. And before you drive back to Melbourne, stop for a lazy breakfast at The Yacht Club that overlooks the shimmering Lake Wendouree. It typifies Ballarat's charm as a nice and easy destination that's rooted in richest alluvial gold rush in the world.