Ruins have the mesmerising quality of attracting curious onlookers – especially if the ruins are of a sprawling zamindari mansion spread over a large area. On a foggy winter morning, when the sun is yet to brighten up the day, a stroll in and around such a place gives the visitor a feeling of nostalgia, a romance of a bygone era. One feels transported to the past and everything seems surreal.
A handful of such mansions exist in Bengal, mostly belonging to local landlords, and have been favourite shooting locations for many filmmakers. Helped by the films, such locations have become popular weekend driving destinations for tourists. One such destination is the Kalikapur Rajbari in Purba Bardhaman district – located about 175 km north-west of Kolkata – close to Santiniketan. The mansion has been used as a shooting location by directors like Mrinal Sen, Rituparno Ghosh, Sandip Roy, Anik Dutta, Bappaditya Bandopadhyay and Dhrubo Banerjee.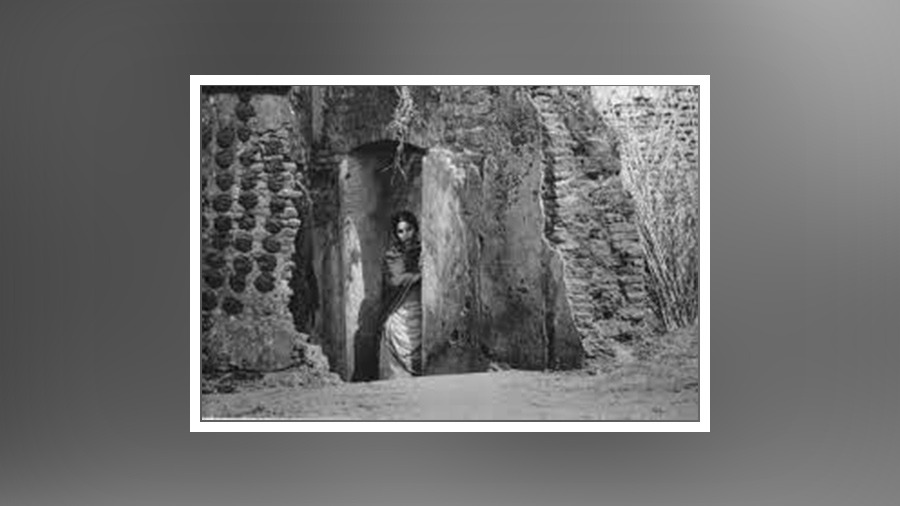 A scene from Mrinal Sen's 'Khandhar', shot at the Kalikapur Rajbari
The Kalikapur zamindar house was built by about Sadgop Zamindar Paramananda Roy. Parmananada came here from Guskara town of Birbhum district and established a zamindari. Initially, he stayed at Maukhira village, four km north of Kalikapur. However, with the expansion of his family and troubled by annual monsoon floods in Maukhira, he shifted to elevated grounds at Kalikapur.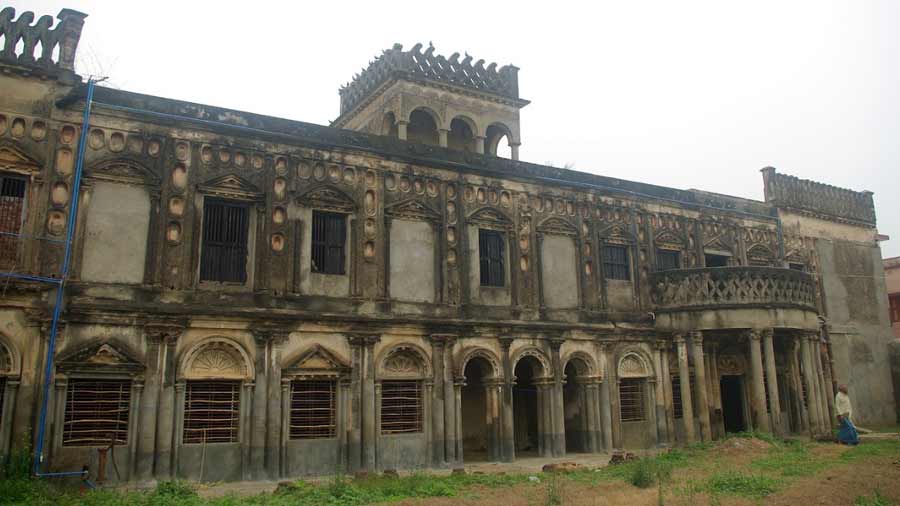 The Roy family mansion in Maukhira, where Paramananda Roy initially settled, is a 10-minute drive from Kalikapur
Amitabha Gupta
There, he built a huge mansion with seven sections – one for each of his seven sons, as well as a Durgadalan with a Nat Mandir. Such mansions are referred to in the local dialect as "Saat Mahala Bari" (mansion with seven parts). Though the present family members cannot confirm it, researcher Jaggeshwar Chowdhury mentions in his book, Burdwan: Itihas O Sanskriti – Volume 3, that the year of establishment was 1819.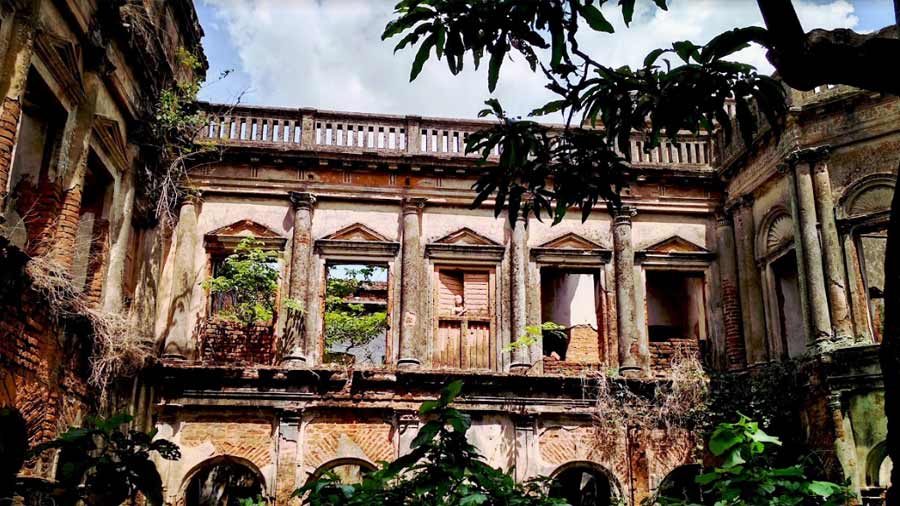 Most parts of the 'Saat Mahala Bari' (mansion with seven parts) are in ruins
Amitabha Gupta
At present, of the seven sections, only two are suitable for living and only one lone descendant of the family stays in this huge mansion. There are twin Shiva temples just outside the mansion, which feature exquisite terracotta work. The Deul temples – Parameshwar and Hanseshwar – were established in 1839 as mentioned in their foundation stones.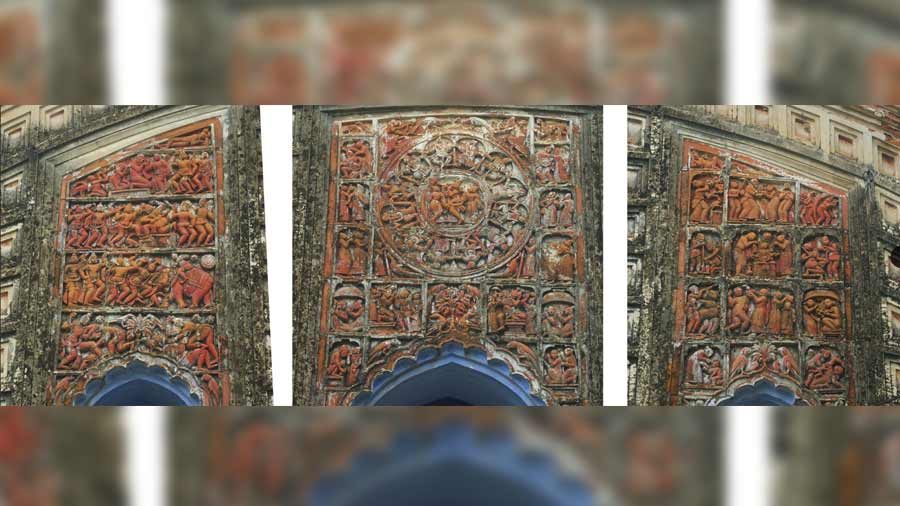 The terracotta panels of one of the Shiva temples outside the mansion
Amitabha Gupta
As one enters the large courtyard, a number of huge, worn-out pillars first draws attention. This is the remains of the Nat Mandir, whose roof collapsed long ago. On the left is the Durgadalan, where Durga Puja is still performed every year. There is stucco decoration on the Durgadalan as well as remaining parts of the courtyard.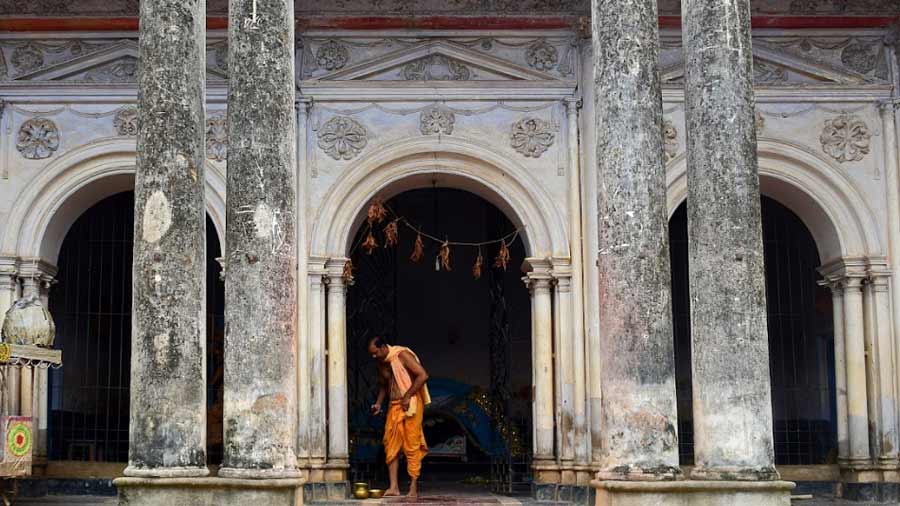 Durga Puja is still performed every year at the mansion
Amitabha Gupta
There are rows of corridors with many windows on three sides of the Natmandir, where, in the earlier days, women would stand and watch the pujo.
Apart from the Durgadalan area, one can take a stroll around the mansion to get a feel of the place and is excellent for photography. Apart from the two Deuls, there is a modern temple built outside the Durgadalan. One abandoned mahal has a life-size stucco face of a woman on a false window on its outer wall. On a rainy day with low light, the face looks very realistic. Such sculptures were very common decorative elements in temples and mansions of rural Bengal. It is referred to as 'Batayanbartini' (The lady at the window).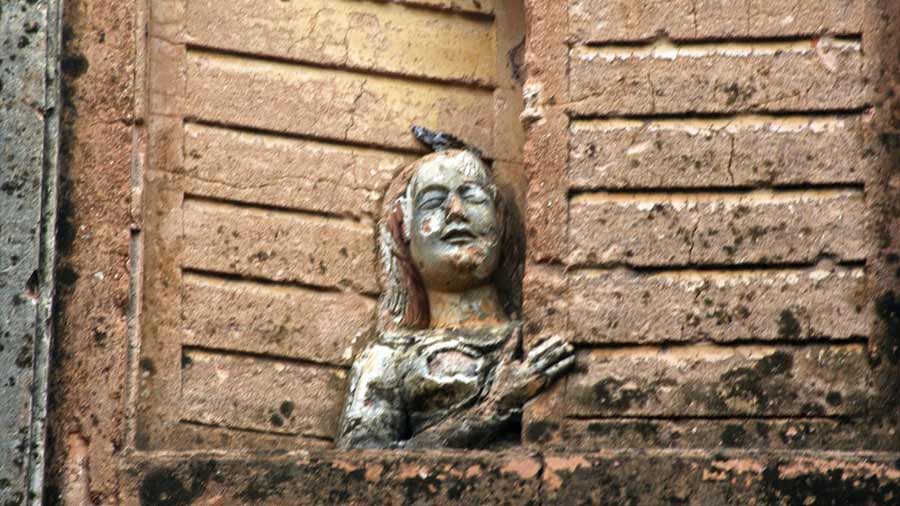 A 'Batayanbartini' (The lady at the window) on the outer wall of one of the mahals
Amitabha Gupta
Maukhira, where Paramananda Roy had initially settled, is hardly a 10-minute drive from Kalikapur and has a smaller mansion that was the first residence of the Roy family. There is a number of temples near this house. The first is a cluster of six temples, which have no foundation stones. There are two aatchala temples after the cluster. One of them has a foundation stone dated to 1793, which gives an idea about the period when Roy family first settled in Maukhira.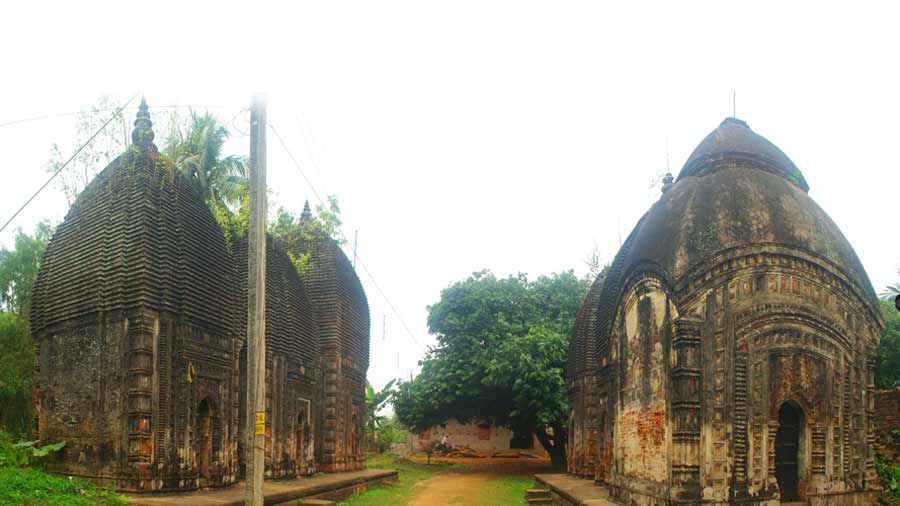 A cluster of six temples in Maukhira
Amitabha Gupta
Finally, there is the 1801-built five-pinnacled Bishnu Temple. This temple showcases the life of young Krishna in its terracotta panels – from his birth till killing of Kansa. Maukhira also has other temples scattered around the village. 
Visiting the mansions and all the temples without hurry takes around three hours. For anyone seeking a day-long date with Bengal's historic but lesser-known temples and mansions, Kalikapur remains a must-visit destination.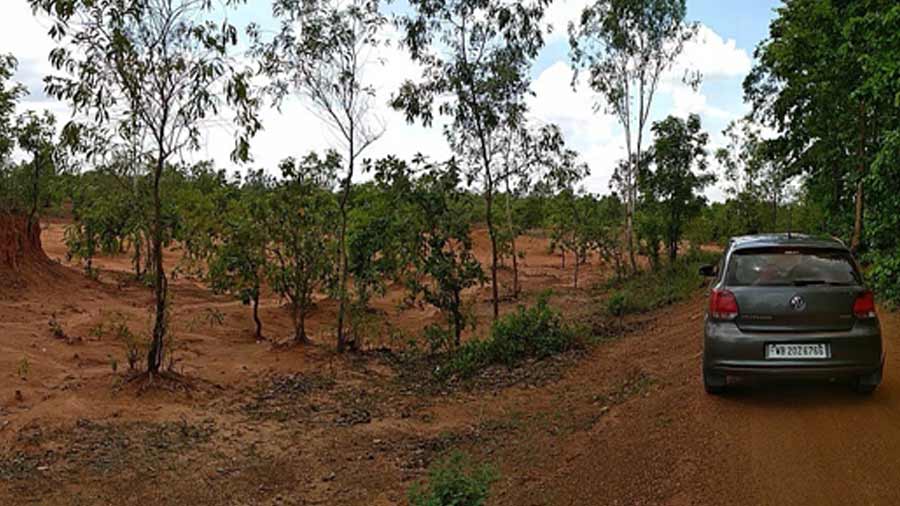 The 'kancha' road to Kalikapur
Amitabha Gupta
How to reach
By train: Ganadevta Express reaches Bolpur by 9am. From here, hire a car to Kalikapur Rajbari via Illambazar and Basudha (28 km one way)
By car: Kalikapur is 175 km north-west of Kolkata. The route via Burdwan and Panagarh, and finally Aduria Forest, is usually the fastest.
By bus: Basudha is the nearest bus stand that can be reached from Bolpur. The mansion is a 10-15 minute ride by toto from there.
Where to eat
There are roadside eateries near the 11-mile bus stop past Panagarh and Darjeeling More. Rik Restaurant and Bar, near Kunur Bridge halfway between Darjeeling More and 11-mile bus stop, provides a variety of dishes with clean restrooms. For visitors coming from the Santiniketan side, there are plenty of eateries on the way.
Tip for the trip
If you reach late in the day and the gate to Kalikapur Rajbari is closed, look for the priest of the temple, who stays nearby. He is an amicable person, who, usually upon polite request, opens the gate to visitors.
Amitabha Gupta is a travel writer and a photographer who specializes in heritage and history of West Bengal. His work has been featured in many magazines and newspapers — both online and offline. He also conducts heritage walks and tours in and around Kolkata.