For long, popular imagination bathed the Swiss city of Lucerne in a kind of perpetual spring. Travel posters would give us brilliant flowers and cloudless skies with a village or two tucked away behind misty mountains and the blue waters of the lake poised tantalisingly in front. 
It came as a bit of a puzzle to touch down in Zurich and drive to our hotel in Kastanienbaum, a knot of houses and tugboats 20 minutes away from the Old Town of Lucerne on the banks of the lake, amidst a sweltering heatwave of tropical intensity. The sun beat relentlessly down on the tiny pier and the trestle tables of our outdoor restaurant as Hans took our lunch order and suggested an Aperol Spritz. "It is hot, yes, but it will cool down soon," he said soothingly, as a bead of sweat rolled down his brow. "I hope so," I murmured, wondering why I had taken the trouble to lug two cardigans along.
As Europe's heatwave made it to world news, I remembered the troubled gaiety I saw in its picturesque towns and cities in June. Kastanienbaum was our last stop. Although situated on Lake Lucerne, not a breath of air stirred the deep blue waters. A small table fan had been placed in our room as a concession to the heat. Visitors tried bravely to enjoy summer in Switzerland, plunging into the lake for a swim or skimming the waters on a speedboat, but it was a lost case. The bed of lavender in the hotel garden was shrivelled and clearly gasping for air; only a Dubai-style palm tree, faintly incongruous against the alpine slopes, grew tall and sturdy.
We ate our antipasti and talked of the war…
Our holiday had begun on the outskirts of Rome, in a tiny town called Castel Gandolfo on the shores of Lake Albano. The vine leaves trembled in the hot breeze on the trellis over our cafeteria and the gelato shop was crowded. A Carabinieri car with two Italian policemen took a hopeless turn around the square and crawled back. There wasn't much crime about! Men and women were too busy shading themselves from the sun and fanning themselves. A child fed some pigeons grain from a shoe-bag and ran back to the car where her parents were waiting, her mother dressed in crisp white linen, lovely tanned arms and shoulders, hair pulled back from a regal forehead, the picture of Italian elegance even if it was a battering 32 degrees Celsius.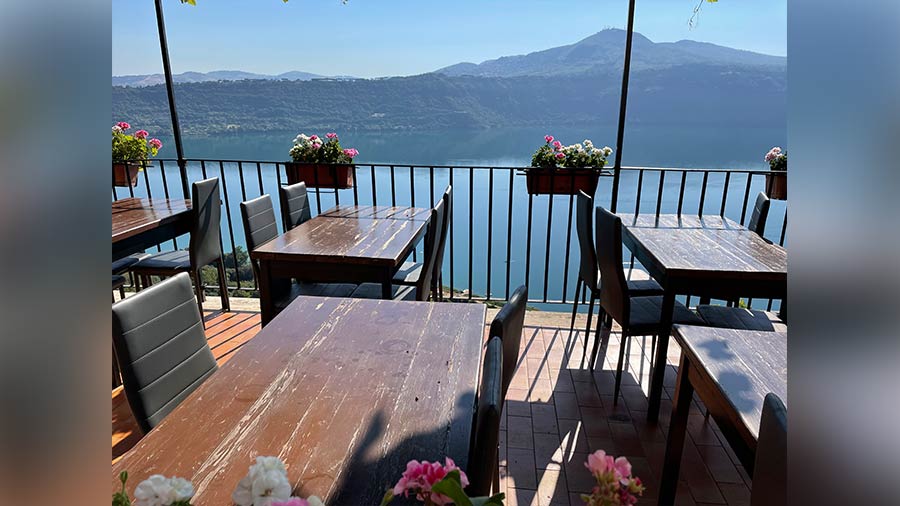 Lake Albano from Castel Gandolfo
From Rome to Florence, from Amsterdam and Bruges to Lucerne, a holiday mood was in the air. Everywhere the tourists were out in droves trying hard to make up for the past two years lost to the virus, but everywhere there was an edginess to the laughter. "If this year we had not opened up for the tourists, I was worried. I would have to do something else for a living and I had no idea what," said Gherghana as she guided me towards Caravaggio's painting of Medusa at the Uffizi Gallery. Gherghana had a sister and a mother in Romania but worked in Florence as a private tour guide. Was it difficult, I asked tentatively. "I haven't seen them for two years. And now, with Ukraine and the war, I do not know when we shall meet." Over lunch, looking past the shops selling tote bags with Michelangelo's David blowing bubblegum, past the magnificent marble of the Cathedral of Santa Maria, we ate our antipasti and talked of the war. "It is the common people who suffer the most," she said bitterly. "These rulers, they come and go, and after wrecking our lives they build these lofty edifices for themselves but our voices drift into the wind," she said in parting. And remembering her words, I sat at the Medici Chapel and gazed at the statues of Dawn and Dusk, of Day and Night, carved by Michelangelo on the tomb of Giuliano de Medici, signifying the passing of time and the inevitability of death.
Rath Yatra in Florence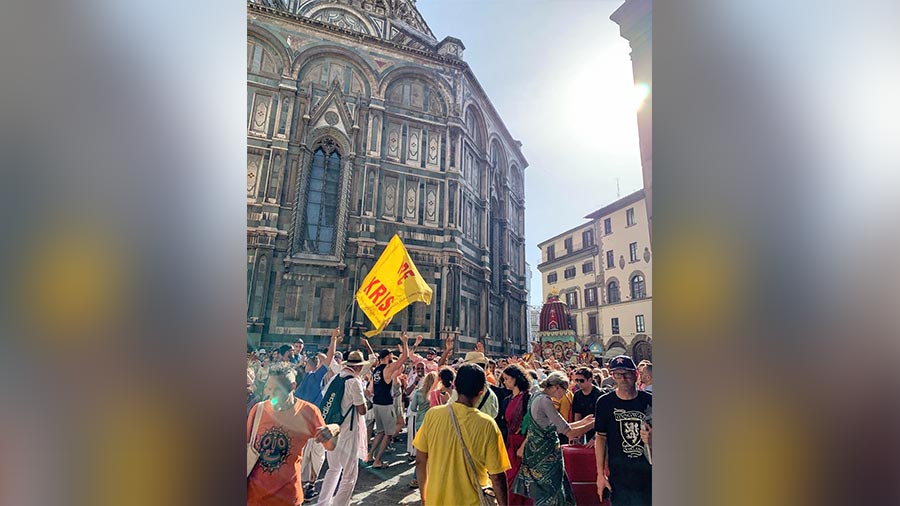 A Rath Yatra procession in Florence with the Cathedral of Santa Maria del Fiore in the background
Outside on the Piazza Della Signoria a large Rath Yatra procession was in full swing. Radha Kamal Das, an Italian from Milan who looked after the Florence commune of ISKCON, paused in his decoration of the idol to speak to us in Bengali. He had trained in Kolkata for five years and was elated when told that I teach at Scottish Church College, the college in which Abhay Charan De had been a student of the department of Chemistry before he set off to spread the word of Krishna as Srila Prabhupada. Was this going to be a large gathering? Radha Kamal shrugged and said he hoped it would be but things were difficult. Afterwards he was proved wrong. A joyful procession of about 500 devotees sang and danced down the Square, past the Cathedral of Santa Maria and the Bell Tower, past the ancient cobbled streets and the cafeterias, the Gucci and Chanel shops. People were walking and shopping and eating as if the world would end tonight and there was no war, no disease, no inflation.
"India, Afghanistan, Pakistan, what does it matter?"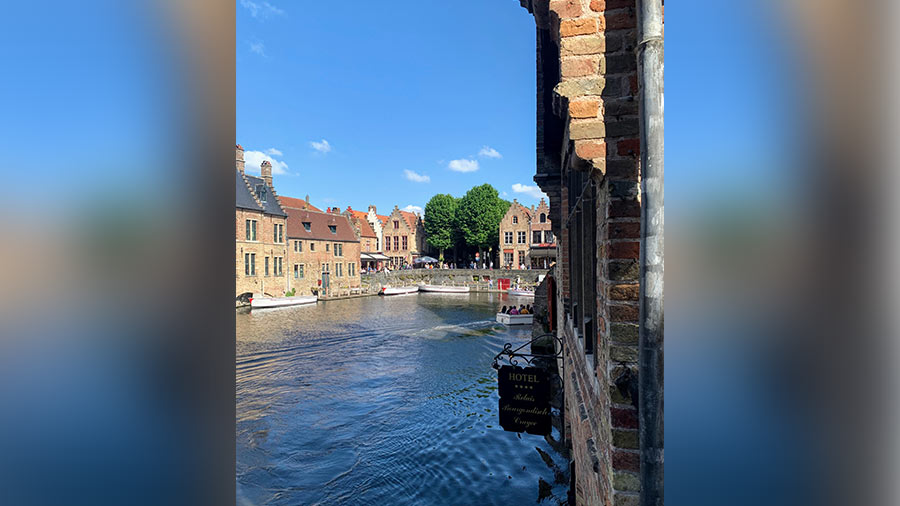 Bruges — a fairytale city
The war! Afzal had a different take on it as he drove us to Bruges. "All wars are difficult, but coming on top of the pandemic it is quite something," he stated firmly. Afzal had left Afghanistan and settled in Brussels 10 years ago. He loved cricket, Hindi movies and, above all, the chance to chat in Hindi. For close to four hours as we purred through the highways at 150 kilometres per hour, I stole anxious glances at the speedometer and murmured nervously while Afzal spoke without stopping. "India, Afghanistan, Pakistan, what does it matter? We are of the same homeland, the same culture. We share the same dreams and anxieties." 
At Ghent, Afzal took a long time giving us directions to a particular spot on a bridge where the scenery was just right for the best photographs on earth. And as we slid back into our seats, he insisted on checking the photos before driving out. "If they hadn't been good, I would have sent you back again," he said sternly as he handed out Mars bars and coffee. "We have a duty to our guests from the homeland, you see."
Like Punjab in June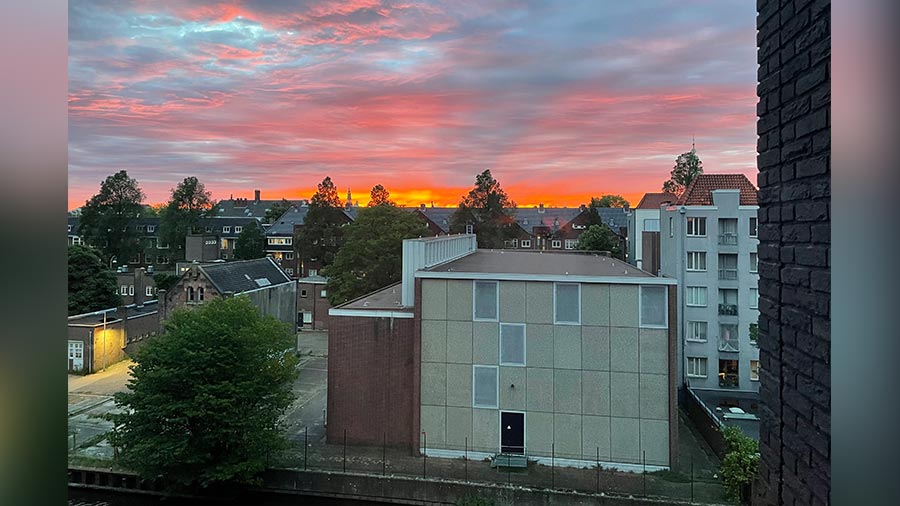 It was Midsummer Day in Amsterdam
In Amsterdam, it was Midsummer Day and the canals were busy with revelry. Beer was being downed with ferocious fervour as men and women chugged up and down the steamers that went past my hotel window till midnight. At 10 in the night, it seemed like noon. The ducks swam out to snag bits of bread before scuttling back to their nests as the next boat passed. A Dutch family had pulled out chairs in the patch of green before their house and were having a party. They were elderly men and women, one of them nodding in a wheelchair as the others passed the wine and snacks around. "They are Covid survivors and deserve some fun," said Maninder as he vacuumed the carpet in my room and caught me at the window staring out. 
We slipped into Hindi as we discussed the pandemic, the heat and homesickness. "I don't feel as if I'm in Europe really," he finished, "temperature-wise, that is. It's almost like being in Punjab in June." As a touching gesture, he recommended the Samrat Hotel for some good tandoori and chapati. "Everything is fine here, save the food. I sometimes need to taste some fiery green chilli-and-onion salad and I reckon you might want some also," he sighed before stumping off.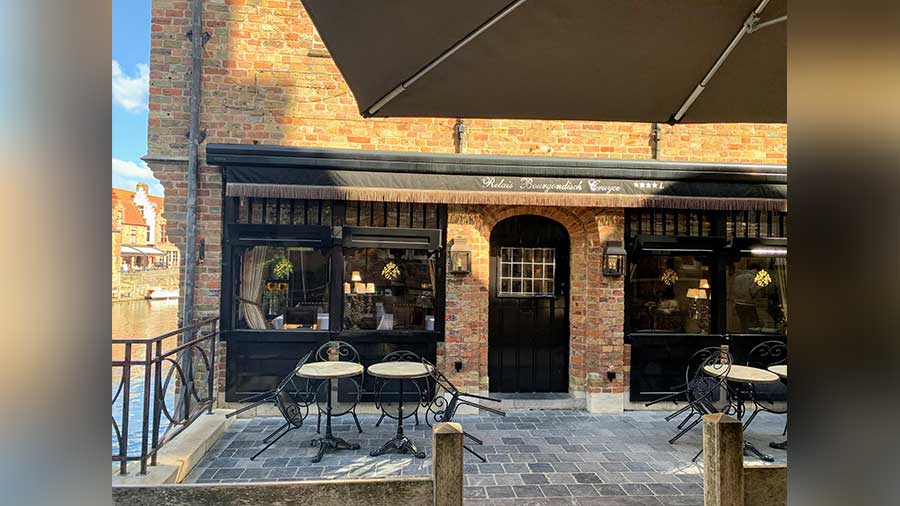 The shops looked rather empty in Bruges, the location for the film 'In Bruges'
The square in front of the Van Gogh Museum had sprouted scores of tables and shops selling hotdogs, chips and pasta, but the biggest queues were in front of the ice-cream shops. The dogs that were being walked by their owners spent all their time panting and puffing, tails firmly down. And in Bruges, the chocolate shops looked rather empty. The streets and canals were filled with people taking selfies and group photos before settling down to beer and cocktails. There were few takers for the regulatory climb up the bell tower that featured so prominently in the movie In Bruges. Most of us sank down on a bench, mopping our foreheads and settling our sunglasses. Above us the clock chimed every 15 minutes, the sweetest, most dulcet tune I have ever heard, hurry up please, it's time, climate change is here upon us.
And over it all, relentlessly, mercilessly and blisteringly beat the sun.
Monabi Mitra teaches English at Scottish Church College, Kolkata, writes crime fiction and is a heritage enthusiast. You can connect with her on her blog at www.monabimitra.blog.