Kolkata bid a tearful goodbye to Mona Saldanha, owner of the iconic Goan-run Saldanha Bakery, on the morning of August 27. Mona was instrumental in introducing Kolkata to the world of cheese puffs, walnut cakes, and of course, coconut macaroons, our favourite tea time delight. 
In 1964, Mona took on an entrepreneurial role at the business when she, along with her late husband, Denzil, transformed the 1930s bakery to a new-age confectionery, introducing wedding cakes,  improved distribution channels, and a brand new tea-time menu.
Mona was born on January 14, 1942, in Bombay, Byculla. She was the youngest child of Joseph Phillips and Louis Marie Phillips and the youngest sibling to five brothers and two sisters. She first came to Kolkata in 1964 when she married the late Denzil Saldanha, whose family owned the Kolkata-based Saldanha Bakery. She was the mother of two children, Conrad and Debra Saldanha, and later a grandmother of three, Alisha Alexander and Zara and Nicholas Saldanha.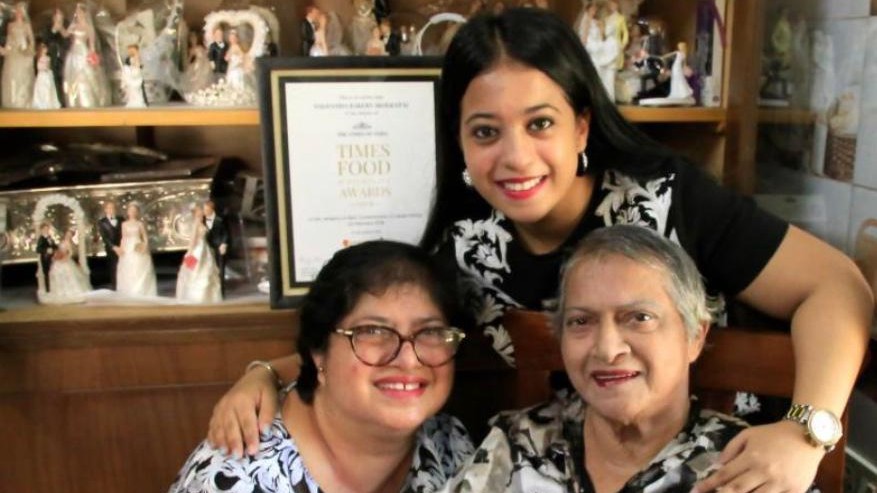 Mona (right) with daughter Debra and granddaughter Alisha
Courtesy: Saldanha Bakery
"If you've ever visited Saldanha Bakery, the first person to greet you at the top of our staircase was my mother (Mona). Her warm and welcoming smile was something that all our customers looked forward to seeing whenever they took a trip down to the bakery. My mother was a hospitable, gentle, generous, and kind woman. She was the epitome of a mother!" said Debra.
Till the age of 78, Mona played a key role in the daily running of the business and no decision was final without her approval. She took enormous pride in maintaining the cash register and accounts of the business, carrying out quality checks of ingredients, and looking after employee morale.
"Granny (Mona) had a zest for life. She had an incredible smile that brightened up all our lives. My love for wedding cakes stems from my grandmother. As a child, I used to return from school and watch her design cakes with such finesse, it inspired me to do the same," said Alisha.
Mona was a trailblazer. Be it revamping the bakery's menu in 1964 or rebranding the bakery in 2020, she was the true example of moving with the times. "We will try to carry on her legacy every day here at the bakery," said Debra.
"Mona was a wonderful wife, mother, grandmother, and also a very successful entrepreneur. She knew how to enjoy life to the fullest and was always an inspiration to us that age is just a number. We will miss her dearly but heaven is now a better place with her in it," said Derek Fernandes, a close family friend.
The funeral service will be held at St. Mary's Church, Ripon Street, at 2:30 pm on August 30. It will be followed by the interment at Lower Circular Road cemetery. The service and burial will be streamed live.